After dropping by 2% to $167 billion in 2022, global mobile app revenue is showing signs of recovery in spite of the economic slowdown. A new report from data.ai revealed that worldwide consumer spending on mobile apps is set to reach a new quarterly record of $33.9 billion in Q1 2023.
According to the report, spending on iOS apps increased by 4% YoY to $21.7 billion and Android apps grew by 6% to $12.2 billion during the first three months of the new year.
While Android apps have seen slightly more growth than iOS apps, Apple's App Store still has the biggest slice of the cake accounting for 65% of the total revenue, and 71% among non-gaming apps.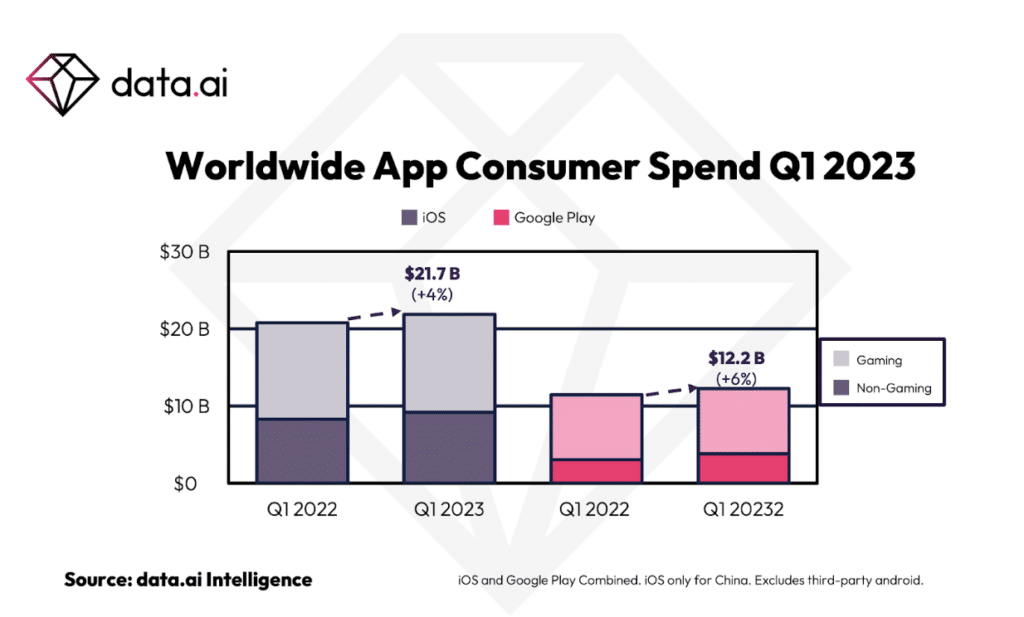 Data.ai suggests that the success of iOS is largely boosted by the growing demand for in-app subscriptions and apps that offer them, like the popular meditation app Calm.
Android users, on the other hand, spent their money on Games, Entertainment, and Social categories the most during the quarter. However, Video Players and Editors, House & Home, and Health & Fitness apps saw the most quarter-over-quarter growth in consumer spend, which grew by 21%, 21%, and 20% respectively.
On a regional basis, the biggest contributors to consumer spending were the United States, Japan and South Korea.
Global app downloads are also up
Unlike consumer spending, global mobile app downloads grew 11% Y/Y to 255 billion in 2022. Although downloads continued to grow and hit 38.2 billion in the first quarter of this year, it's still below the 38.7 billion milestone reached in Q3 2022.
According to the report, iOS downloads rose by 12% YoY to nearly 9.1 billion in the first quarter, while Android downloads grew by 1% to 29.1 billion.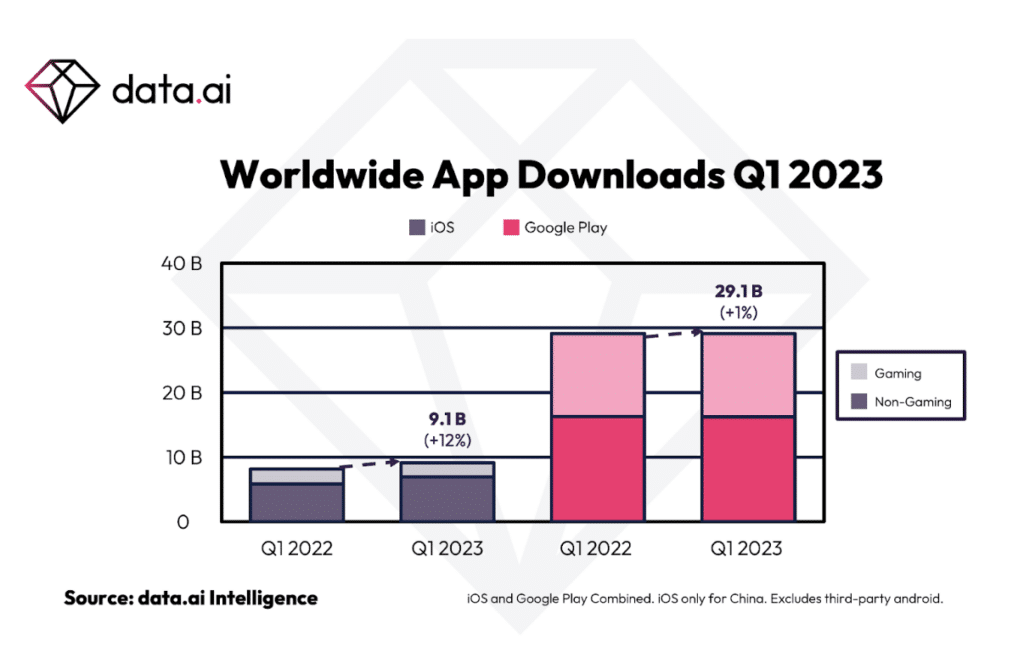 In terms of downloads, India and Brazil were the largest markets on Android while China and the United States dominated the iOS space.
However, when compared to the previous quarter, Turkey, Russia, and Iraq showed the most growth on Android, while the US, Brazil and Japan were the top growing markets on iOS.
Meanwhile, Health & Fitness, Navigation and Catalogs saw the most quarterly growth in iOS downloads, rising 17%, 15% and 12% respectively. The categories that generated the most downloads were Games, Utilities and Photo & Video, and the genres that had the biggest QoQ growth in absolute downloads were Games, Health & Fitness and Travel.
When it comes to Google Play Store, Games,Tools and Entertainment categories saw the most downloads, while Games, Productivity, and Education saw the most absolute increase in installs. In addition, Productivity, Books & Reference and Education apps experienced a growth of 12%, 10% and 9%, respectively.
---
Also Read: App Download and Revenue Statistics (2023)
---
Top mobile apps of Q1 2023
Data.ai also revealed the top mobile apps of Q1 2023 in terms of downloads, consumer spend, and monthly active users.
While there are no big differences in all of the charts, ByteDance-owned short form video app TikTok replaced Meta's Instagram as the most downloaded app of the quarter. They were followed by Facebook, WhatsApp, CapCut, Snapchat, Telegram, Facebook Messenger, WhatsApp Business, and Spotify respectively.
TikTok was also the No.1 app of the quarter in terms of consumer spend, followed by YouTube, Disney+, Tinder, Google One, HBO Max, piccoma, Bumble, Audible and LinkedIn.
Lastly, Facebook had the most monthly active users in Q1 2023, followed by WhatsApp, Instagram, Facebook Messenger, TikTok, Telegram, Amazon, Spotify, Twitter, and Netflix.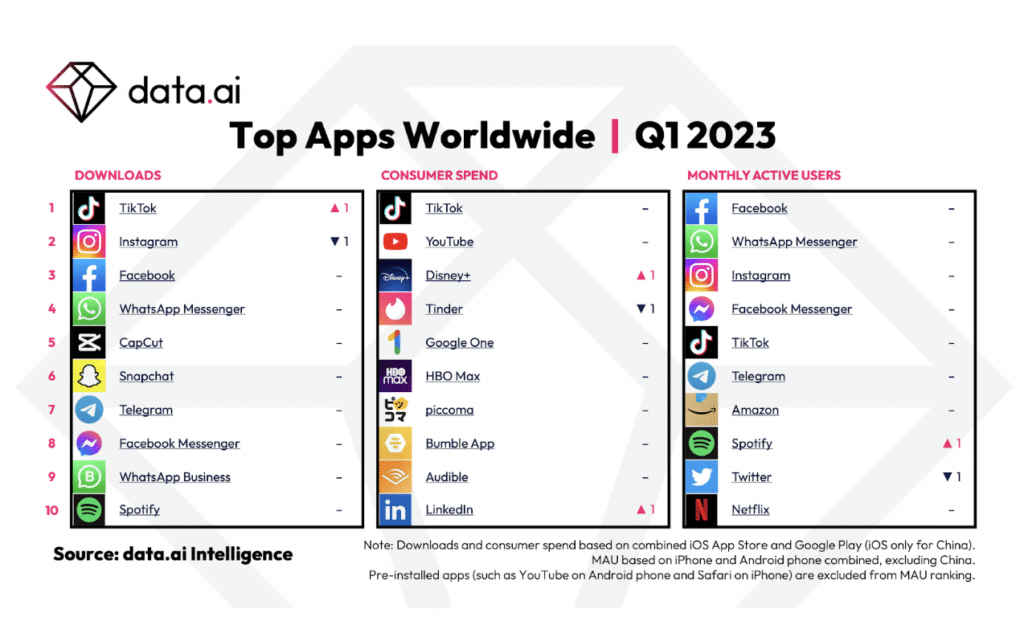 According to another report from data.ai, global mobile ad spend is expected to reach $362 billion in 2023.