According to App Annie's State of Mobile 2022 report, global consumer spending on mobile apps reached $170 billion in 2021, up 19% year-over-year. Consumers spent more than $320,000 per minute across the App Store, Google Play, and third-party Android app stores in China last year .
The United States added an additional $43 billion in consumer spending in 2021, $10.4 billion more than 2020, equating to 30% growth year-over-year as mobile gaming and in-app subscriptions go mainstream.
On the other hand, the growth in new app downloads was less than expected. Although consumers set a new record with 230 billion downloads in 2021, year-over-year growth in new app downloads was only 5%.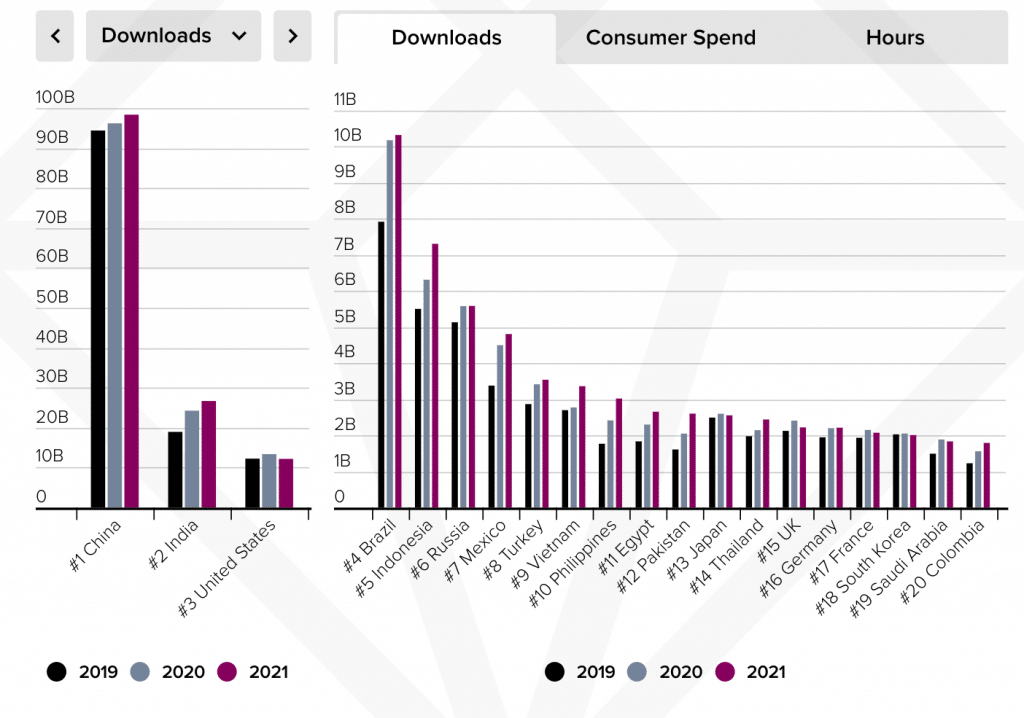 Last year, daily time spent per user on mobile apps in the top-mobile first markets was 4.8 hours, about a third of daily waking hours. App Annie said the average American watched 3.1 hours of TV a day, whereas they spent 4.1 hours on their mobile device in 2021. Users in South Korea, Brazil, and Indonesia surpassed 5 hours per day in mobile apps last year.
When it comes to gaming, an additional $16 billion in gaming consumer spend was added in 2021, bringing the total to $116 billion. Mobile games reached 82.98 billion downloads in 2021, with hypercasual genre rose astronomically with 4 billion installs. 4X March-Battle Strategy games, however, emerged as the most monetizable genre for mobile games, with $9.7 billion consumer spending.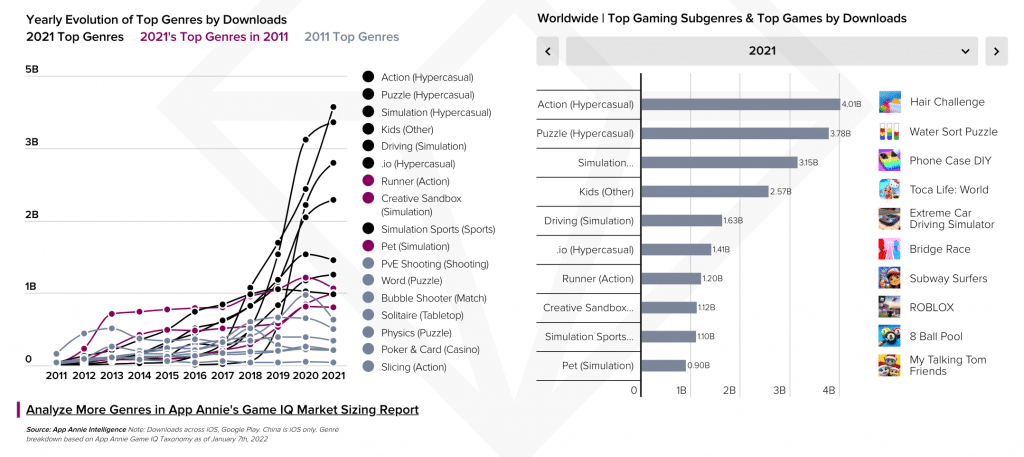 In 2021, 2 million new apps and games were released by publishers, bringing the total of apps and games ever released on the App Store and Google Play to more than 21 million. As expected, Google Play accounted for 77% of all games and apps releases in 2021.
Last year, over 230 apps and games surpassed $100 million in annual consumer spend, with 13 of them surpassing $1 billion. This was up 20% from 2020 at 193 apps and games over $100M in annual spend, and only 8 over $1 Billion.
Despite the rollout of Apple's ATT, mobile ad spend reached $295 billion in 2021, an increase of 23% year-over-year. App Annie forecasts that mobile ad spend will top $350 million in 2022.
App Annie also released findings for other app categories other than gaming. Here are some important highlights for popular app categories from App Annie's findings:
– Finance app downloads in India surpassed 1 billion in 2021, fueling the 28% year-over-year increase in finance app downloads worldwide to 5.9 billion.
– Time spent in shopping apps reached more than 100 billion hours spent globally, up 18% YoY.
– Total hours spent watching video streaming apps grew 16% globally since pre-pandemic levels.
– Globally, users spent 49% more sessions year-over-year in 2021 in Food & Drink apps.
– Worldwide Health & Fitness app downloads surpassed pre-pandemic levels in 2021, with 595.8 million installs.
– In 2021, time spent in the top 25 live streaming apps outpaced the social market overall year over year by a factor of 9 — YoY growth of 40% compared to all social apps at 5%.
– Downloads of travel apps rebound by 20% in the second half of 2021, with 1.95 billion downloads worldwide.
– Worldwide consumer spend on dating apps surged past $4 billion in 2021, up 95% from 2018.