​​Whether on our phone, PC or other platforms, we generally expect a game to be immersive and have a world where we can get lost for long hours. But this is not always the case. Especially on our phones, we are looking for the best mobile games that you can play both enjoyable and in a short time most of the time.
For this reason, many of us turn to games called "hyper-casual", which have simple and short gameplay but are just as enjoyable. In addition to the short-term, simple, and fun games that we search for on our phones, we are also looking for games on PC that we can play and distract ourselves with, in line with the same request. In our list of the best games to kill time, we take a closer look at some free games available on mobile and PC platforms.
The Best Games to Kill Time on Mobile
The 10 Best Games to Kill Time on Mobile
Sandwich!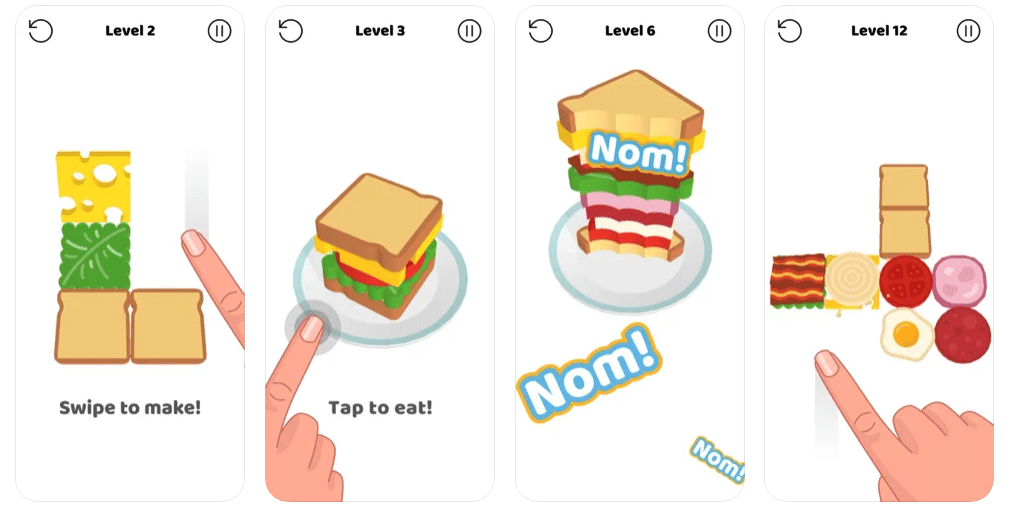 Sandwich! is a very enjoyable kitchen game with its very warm and immersive graphics and delicious ingredients. As a puzzle game in which you have to combine slices of bread with ingredients such as tomatoes, lettuce, salmon, cheese and onions, it manages to both surprise and entertain the players with its well-thought-out sections.
Aquapark.io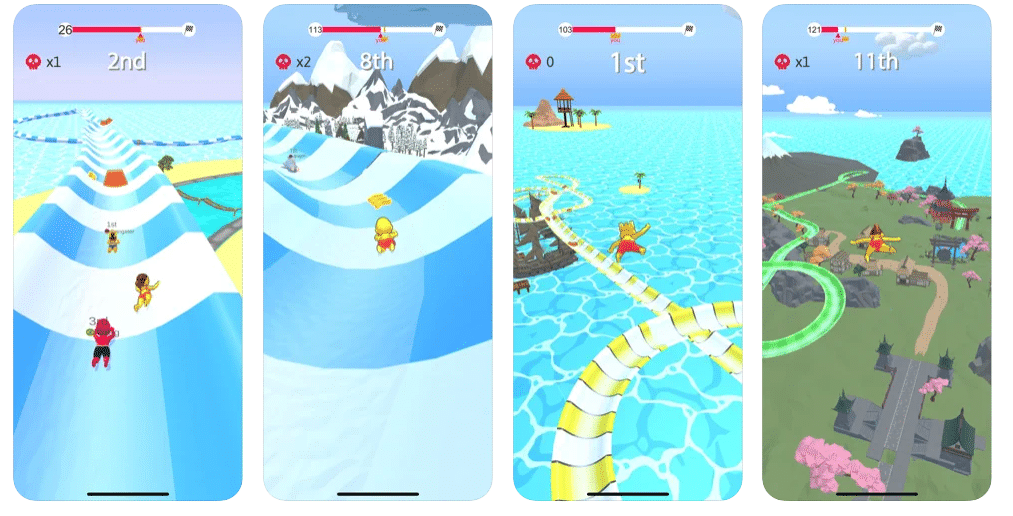 The game, which has a beautiful and enjoyable atmosphere of hot summer days, takes you to the refreshing and sparkling world of water parks. Aquapark.io, where you try to overcome obstacles and your opponents while sliding down a water slide in an aqua park, offers players a fun, enjoyable and different concept racing game.
Dig Dog!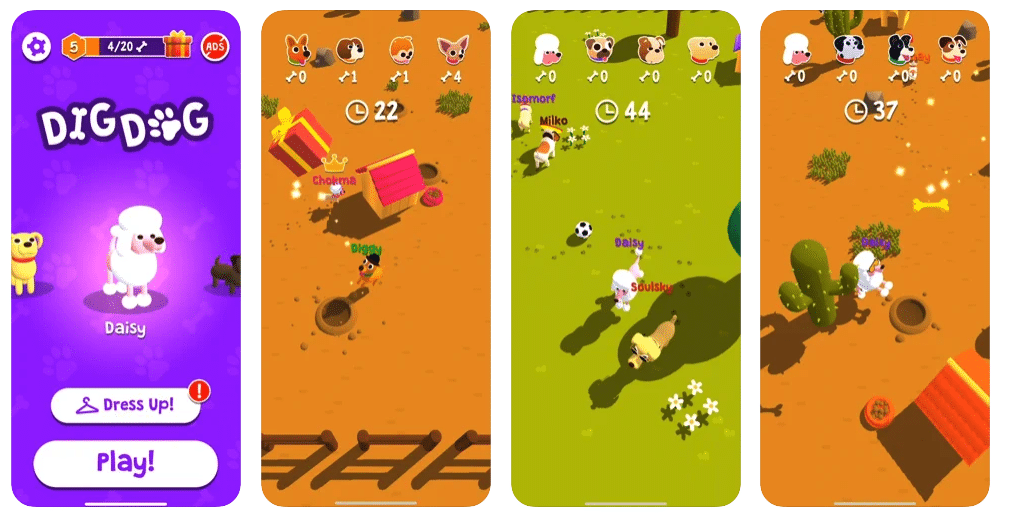 Dig Dog!, perhaps one of the sweetest games on the mobile platform and arguably the sweetest game in our list of the best games to kill time, is a game that everyone can enjoy at some point with its warm graphics, fun parts and cute friends that we control.
In this game where you play a cute dog trying to find buried bones using his strong sense of smell, your opponents are other dogs. As a matter of fact, our goal in this game is to dig up the maximum number of bones before your opponents find them, and try to prevent other dogs from stealing your bones.
Train Taxi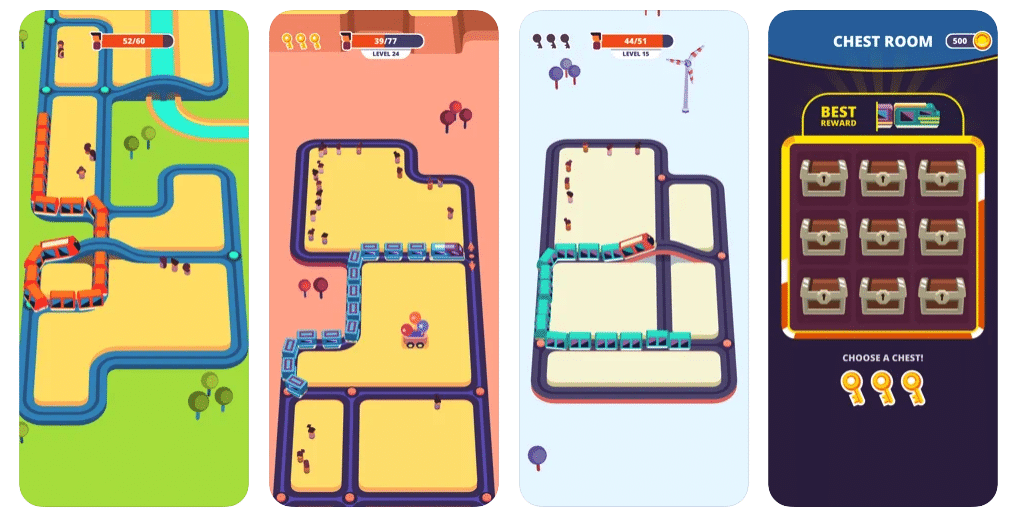 Train Taxi, which we can consider as the train version of the Snake game, which we all remember from our childhood, includes many different gameplay factors. We have to pay attention to our long wagons when we take private passengers in Train Taxi, where we collect all the passengers on the map and we grow up while collecting these passengers, just like in the Snake game. So, in order to pass the sections, we need to collect all the passengers before we hit our tails and crash.
Clean Road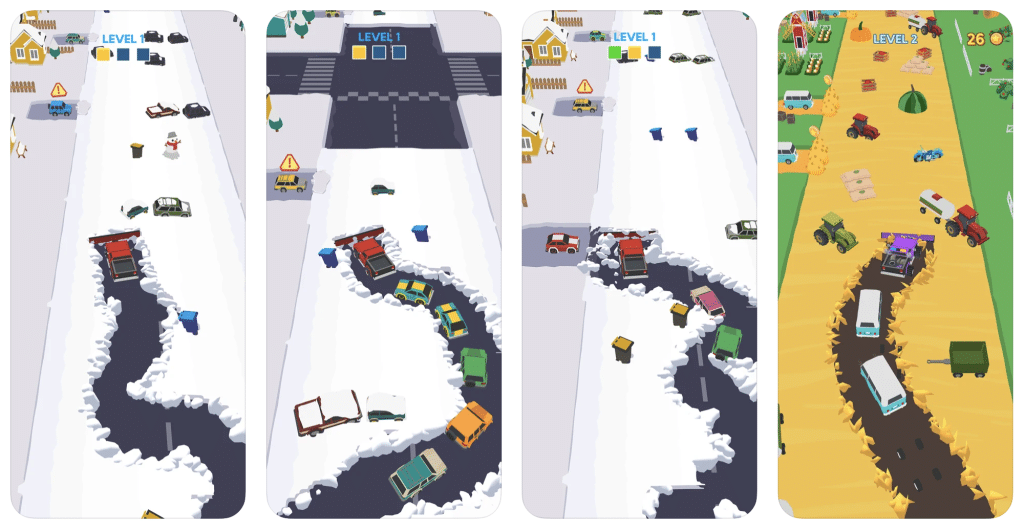 This game, in which we help people reach their homes by clearing the snow that blocks the roads in harsh winter days, stands out with its sweet graphics, easy gameplay and beautiful level designs.
In Clean Road, in addition to the levels where we move forward by clearing the snow on the highway, there are also level designs where we move forward by reaping the crops between fields with different concepts. Although the game seems easy at first glance, as the levels progress, the obstacles that we encounter can be quite challenging.
Dig This!
Different from many puzzle games on mobile platforms, Dig This! offers players an interactive puzzle solving experience. Unlike most games where we try to deliver an object to a specific destination, in this game we control the platform instead of the object. In this direction, we need to dig and shape the obstacles in front of us properly with our fingers in order to pass the ball given to us through the hole in the target.
Five Hoops
Although it is a small game, Five Hoops, which has levels where you can compete online, although it seems like a classic basketball game, it manages to attract players with its many sections, costumes and character designs. In addition to performing the challenges in the single player mode, being able to compete with other players in levels of various difficulties adds a more exciting atmosphere to the game.
---
Also Read: The 10 Best Basketball Games for Android
---
Bike Rush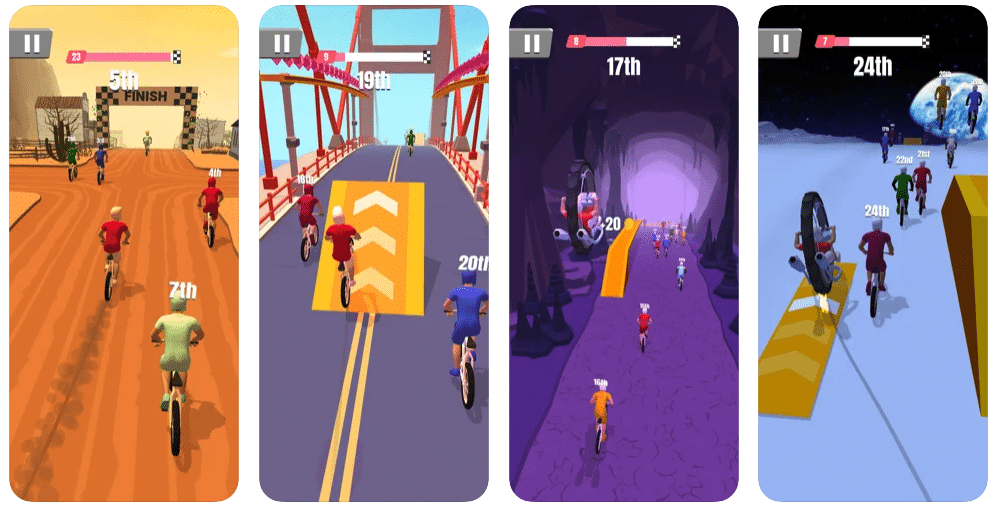 Thanks to Temple Runner and Subway Surfers games, we all know the games in which we run endlessly, which are indispensable concepts of mobile platforms for a long time. Just like these games, we use bicycles instead of running in this game, which proceeds on a flat platform with various obstacles. Bike Rush, in which we try to be the first by making right and left and jumping over obstacles, is a very enjoyable arcade game where you can spend your short time with its graphics, gameplay and section designs.
---
Also Read: The 14 Best Endless Runner Games for iPhone and Android
---
Drop & Smash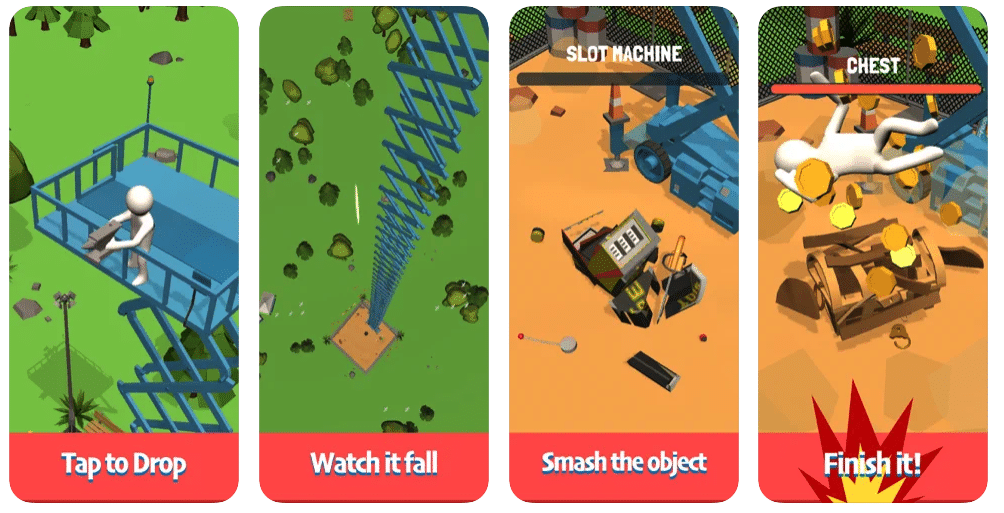 Drop & Smash, which has a very different concept and enjoyable gameplay, comes across as a game that increasingly satisfies your desire to break something. In this game, where we start from a certain height and try to break the objects by dropping them down from here, as we progress, we increase our height and power and increase the difficulty of the objects we want to break. Drop & Smash, one of the most interesting games in the mobile category of our best games to kill time list, plans to offer a game experience that the players are fully satisfied with.
Perfect Slices
Instead of just cutting in an endless mode, Perfect Slices, which progresses step by step and presents various vegetables, fruits and items, asks us to cut perfect slices, just as the name suggests. In this game where you cut all kinds of vegetables and fruits you can think of, you can even cut gold nuggets like butter.
Perfect Slices on the App Store
The 10 Best Games to Kill Time on PC
Path of Exile
Considered one of the best free-to-play role-playing games since its launch in 2013, Path of Exile offers players places with a Diablo-like atmosphere, enjoyable gameplay and unlimited character customization. Path of Exile, which is a game based on killing creatures and loot (collecting items from creatures), was released in 2013, but it manages to catch up with today's quality with constant updates in terms of both graphics and gameplay.
---
Also Read: The 7 Best RPG PC Games
---
Gwent: The Witcher Card Game
The card game Gwent, which came to the PC platform in April 2021, managed to reach a good player base in a short time. Although it is not very well known due to its new release, Gwent is a card game that may soon become popular like Hearthstone with its familiar characters from The Witcher universe and its unique gameplay features. It is a nice card game alternative for those who are tired of cutting creatures in The Witcher games and cannot leave the universe.
---
Also Read: The 15 Best Minigames Inside Video Games
---
Warframe
Warframe, which has a very beautiful and interesting science fiction world and graphics, could not achieve the desired success in the number of players, although it had a nice gameplay. In this TPS type game where you hunt alien creatures with your team, there are also levels with very satisfying designs that you can play alone.
Dauntless
In Dauntless, which comes out with the slogan "Live for the Hunt" and takes place in a very interesting fantasy world, players take on the role of a Hunter hunting creatures called Behemoths at an unknown point in the world. This game, in which you will kill creatures with your team in multiplayer and have various improvements and equipment, is offered for free on the Epic Games Store.
Ironsight
Having a gameplay and concept in the style of CS: GO and Rainbow Six Siege, Ironsight has a classic mode where 2 different teams fight, just like in CS: GO, and Team Death Match style modes where everyone is alone. If we give an example of the most prominent gameplay difference of Ironsight, which has some gameplay differences unlike these games, you can feel full when you wait in a safe spot where you don't take damage.
This difference also changes the gameplay of Ironsight a lot. Ironsight, which has more modern map designs and weapons than CS: GO, can be a different alternative for those who are bored with classic FPS games.
---
Also Read: The 19 Best FPS Games for PC
---
Smite
Smite, which emerged as an alternative to such games with the popularity of Moba games especially after the release of League of Legends, offers players a different experience than the classic Mobas in terms of gameplay. In this game, where we manage our character from a third-person point of view, two teams of 4 each try to destroy the opposing team's base, as in classic Mobas.
There are also over 100 mythological gods and characters for players to choose from in Smite. Smite is an enjoyable alternative for those who are bored with classic Moba games such as Dota 2 and LoL.
SCP – Containment Breach
SCP – Containment Breach, an open source horror game developed and presented by Joonas Rikkonen, is one of the best free horror games to play on PC. In the game, which is about the famous fictional association called SCP, which was founded to hide supernatural events, beings and objects from people, we are trying to get rid of the beings that were released as a result of an error in the association.
The SCP association, which is very famous in the internet world and hosts many stories, also inspired the game Control, which was released in 2019 and is a big production. It would not be wrong to say that SCP- Containment Breach is one of the most interesting games in our list of the best games to kill time.
---
Also Read: 9 Fast-Paced Games to Get Your Heart Beating
---
Hyper Scape
Hyper Scape, the new "Battle Royale" game released by Ubisoft on Windows, PS and Xbox platforms, was released in July 2020. In this game, which takes place in 2054 and has FPS gameplay, players try to survive by fighting each other as we are familiar with from other Battle Royal games, just like PUBG and Fortnite. Hyper Scape, which has more futuristic images and atmosphere compared to other games, plans to offer players a different Battle Royale experience.
Heroes & Generals
If you are looking for an FPS war game that you can play online with Call of Duty mechanics, Heroes & Generals may be the game for you. In this game, where we play one of the two groups that want to dominate Europe with its story and level designs during the Second World War, the first team to capture 15 cities wins the game. If you like Call of Duty and war-themed games, Heroes & Generals can offer you an enjoyable gaming experience.
---
Also Read: All Call of Duty Games in Order
---
AdVenture Capitalist
AdVenture Capitalist, which has a lot of games of this type on mobile platforms and has the concept we are familiar with, is a simple click-based Indie game. In this game, where you will own businesses in various business sectors, you try to improve your business and earn more money as a brave entrepreneur.