The first examples of battle royales appearing on mobile platforms are PUBG Mobile and Fornite, which already have millions of players on computer and console platforms.
However, after PUBG Mobile, many mobile battle royale games were released as alternatives. Some of these games took all their systems from PUBG Mobile, while others offered a completely different game. We have listed the best games like PUBG Mobile in the mobile battle royale genre for mobile players. If you are also looking for alternatives to PUBG for PC, here we have listed the best battle royale games like PUBG.
The Best Games like PUBG Mobile
Call of Duty: Mobile
Fortnite
Garena Free Fire
Cyber Hunter
Guns Royale
Rocket Royale
Knives Out
Rules of Survival
Badlanders
Call of Duty: Mobile
Call of Duty: Mobile is a battle royale with the biggest mobile game release of all time. It, the mobile battle royale version of the legendary series, also features various PvP modes, including a 100-player battle royale mode. On top of all that, Call of Duty Mobile has a ton of weapons, customizations, and lots of characters to unlock.
Call of Duty: Mobile, one of the biggest rivals of PUBG Mobile, seems to remain one of the best battle royale games that can be played on mobile devices, unless the developers spoil the game in any way.
Call of Duty: Mobile on the App Store
Call of Duty: Mobile on Google Play
Fortnite
Fortnite, one of the most played games in the world, continues to maintain its success on mobile devices. Fortnite, one of the best games like PUBG Mobile, is a game that looks at battle royale from a different perspective. There are 100 people on the map in Fortnite, which offers its players very different gameplay with its construction mechanics, which are not found in most games in the list and genre.
The mobile version of Fortnite also lets you sync your data between the console and PC version so you can use all your skins on mobile too. Officially released on the Play Store in early 2020, you need to download Fortnite from Epic Games' store.
---
Also Read: The 14 Best Battle Royale Games for Android
---
Garena Free Fire
Garena Free Fire is one of the most popular battle royale games in the world. With 100 million downloads, the biggest reason why it is not talked about as much as Fortnite or PUBG is the game's activity in the Far East market. Slowly making its way to the Western market, Garena Free Fire begins with 50 players landing on a map. As in the classical battle royale logic, with games of about 10 minutes, players try to be the last player in Garena Free Fire.
Like almost every battle royale game, Garena Free Fire uses shooter mechanics. The graphics of the game, where you can voice chat with random people and form teams of 4, are also very good and fluent. There is almost nothing wrong with the fast loading game.
Garena Free Fire on the App Store
Garena Free Fire on Google Play
Cyber Hunter
In Cyber Hunter, 100 people are thrown onto an island and the goal is to be the last survivor. For this, you need to take advantage of the weapons and other equipment spread around the island. According to the story, a power shield on the island is shrinking over time, and the playing field is shrinking with it. Of course, this situation pushes the players to clash with each other.
---
Also Read: The 20 Best FPS Games for iOS
---
Guns Royale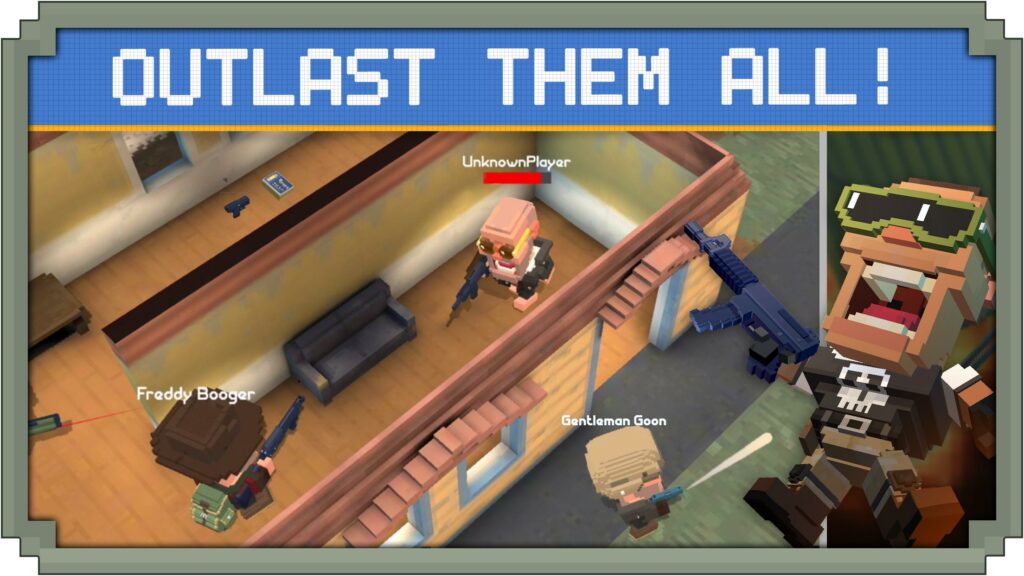 Guns Royale is a pretty standard battle royale game in terms of pure mechanics. In the game, you fall on a battlefield to be the last one among a group of players in a shrinking game zone. This perspective in the game, which you can play with a three-quarters isometric view rather than a first-person perspective, gives you the ability to see your opponents around you, even behind corners. This makes the dynamic of the game quite different.
A free-to-play game like any other battle royale game, Guns Royale offers its players AR elements for an even more unique experience. Although the gameplay perspective is different, Guns Royale is a mobile game that offers its players a Battle Royale experience.
Rocket Royale
One of the best games like PUBG Mobile, Rocket Royale is a battle royale with an extremely familiar look. However, this reputation in gameplay is not very permanent. In Rocket Royale, you're not trying to be the last person standing, but the person who builds your rocket and tries to escape the island before someone kills you.
In the game, you first have to collect resources from all over the map, then you have to find an area away from enemies where you can combine your resources. While there are 24 enemies around you, you must complete your rocket and be the name that leaves the island. Rocket Royale, which is separated from all the games on the list and in its genre, is a fun game that should definitely be played.
Rocket Royale on the App Store
---
Also Read: The 16 Best FPS Games for Android
---
Knives Out
Knives Out, which has much faster gameplay, will be an ideal choice for those who want to feel both PUBG Mobile and battle royale dynamics to the fullest. The production, which can be played on iOS, Android, and PC, is among the most popular battle royale games.
We strongly recommend that you watch the movie of the same name.
Rules of Survival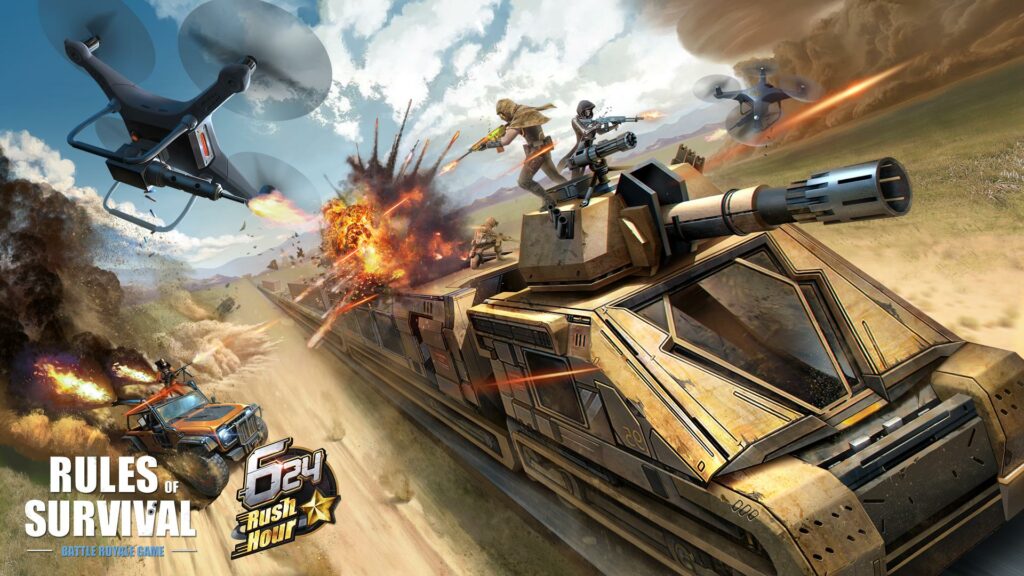 Rules of Survival, which has exceeded the 280 million download threshold, offers an unmeasured challenge with its huge 8×8 kilometer map. Offering every element that the genre promises at the last level, Rules of Survival also allows 300 people to fight on a single map at the same time.
Rules of Survival on Google Play
---
Also Read: The Best Survival Games for iOS
---
Badlanders
Badlanders, on the other hand, adopts a very different gameplay style, unlike its peers. The production, in which you improve your equipment by looting, promises a very different system than a classic battle royale game.
We can easily say that Badlanders is a great alternative for those who are tired of the cycle of jumping to the zone, collecting weapons and trying to survive.