Tencent's popular free-to-play battle royale title PUBG Mobile has surpassed $7 billion in lifetime player spending worldwide, according to Sensor Tower. The title has generated $8.1 million a day on average so far in 2021. 
The popular battle royale was the highest-grossing  mobile game across the App Store and Google Play in 2020, accumulating close to $2.6 billion since January 2020, with an increase of 64.3% as compared to 2019. It reached another milestone in March 2021, surpassing one billion downloads worldwide in three years.
So far in 2021, PUBG Mobile, combined with player spending from its Chinese variant of the title , Game for Peace, has accumulated $2.6 billion in revenue, ranking as the No. 2 grossing mobile game worldwide behind Honor of Kings. It has consistently generated over $700 million per quarter this year, hitting a record $771 million in the Q3.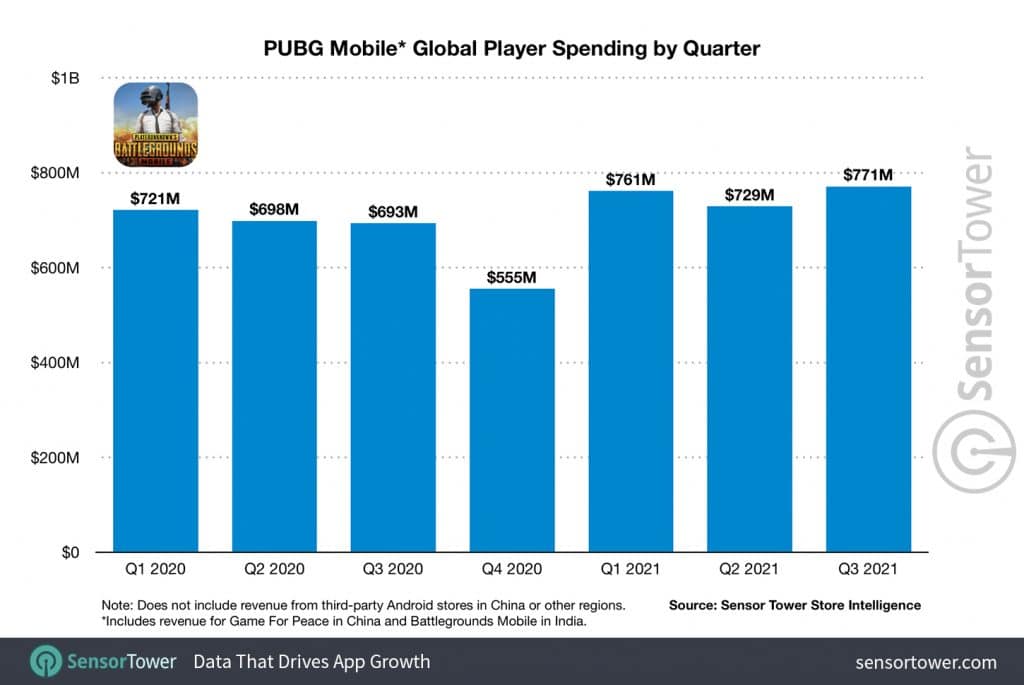 China accounts for around 57% of PUBG Mobile's total global player spending with Game for Peace, generating close to $4 billion in the country so far this year. The United States ranks second in player spending with 11.8% of total revenue, while Japan rounds out the top three countries with 4.2%.
The App Store represents 81% of total player spending, while Google Play accounts for only 19% of revenue. Outside of China, the App Store accounts for 56.6% of total spend, while Google Play represents 43.4%.
PUBG Mobile had been banned in India alongside 200 other apps in last September due to "being engaged in activities which [are] prejudicial to sovereignty and integrity of India, defense of India, security of state and public order." 
Earlier this year, Krafton brought the title back to India as Battlegrounds Mobile, generating around $7 million in player spending to date, while the publisher also recently launched spin-off PUBG: New State worldwide, with the game accumulating $2.6 million in its first seven days.