Tencent-owned popular battle royale game PUBG Mobile (including its Chinese version 'Game For Peace') has generated $500 million in the last 72 days and surpassed $3.5 billion in lifetime player spending, according to the latest data by Sensor Tower.
The game hit $3 billion in July following the spike in global revenue during the Coronavirus lockdowns. So far in 2020, it has generated over 198 million app downloads as well as $1.8 billion from user spendings.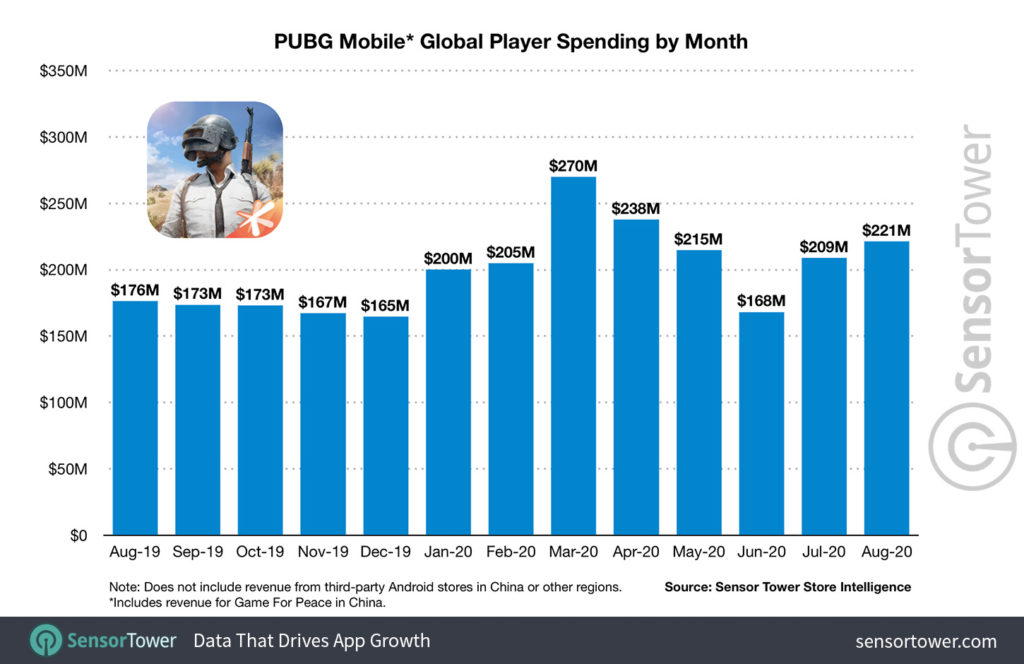 According to the report, the Chinese version Game For Peace generated around $1.9 billion in player spending on the App Store so far, which equals to 53% of the total revenue (excluding third-party Android marketplaces). The United States is the second top market with 13.6%, followed by Japan with 5.5%.
Apple's App Store accounted for 80% of the total player spending while 20% came from Google Play Store.
Without including the Chinese version Game For Peace, Sensor Tower estimates that PUBG Mobile has accumulated around $1.7 billion in lifetime revenue globally.
Outside of China, the US is the top market in lifetime revenue with around 29%, followed by Japan with 12% and Saudi Arabia with 8.8%.
Again, without the inclusion of the Chinese version, the App Store accounted for the majority of total player spending with 57% while Android users accounted for 43%.
The report also shows that PUBG Mobile has generated over 770 million downloads in all countries so far. India is in first place with 188.5 million downloads (24% of all downloads), followed by China with 16.4% and the US with 6.3%.
While Google Play accounted for the majority of the downloads with 65.3%, Apple's App Store accounted for 34.7%.
Excluding Game For Peace, PUBG Mobile has generated 644 million app downloads outside of China. India ranked first with 28.8% of the game's total installs.
However, the Indian government recently banned PUBG Mobile citing national security concerns and the game is not available there anymore. Now, PUBG Corporation is looking for ways to bring the game back to the country without Tencent.