In the first half of 2020, mobile consumer spending on apps and games increased by 23.4% year-over-year and reached $50.1 billion, according to the new data from Sensor Tower.
---
Latest data from Sensor Tower shows that mobile users spent $50.1 billion on the Google Play Store and App Store, in the first half of 2020. This suggests a very significant growth since the same period of the last year when customer spending was estimated at around $40.6 billion.
On the App Store, iOS users spent $32.8 billion on premium apps, in-app purchases and subscriptions, 24.7% more compared to the last year.
At the same time, Google Play Store generated $17.3 billion which is almost half of the money spent on the App Store.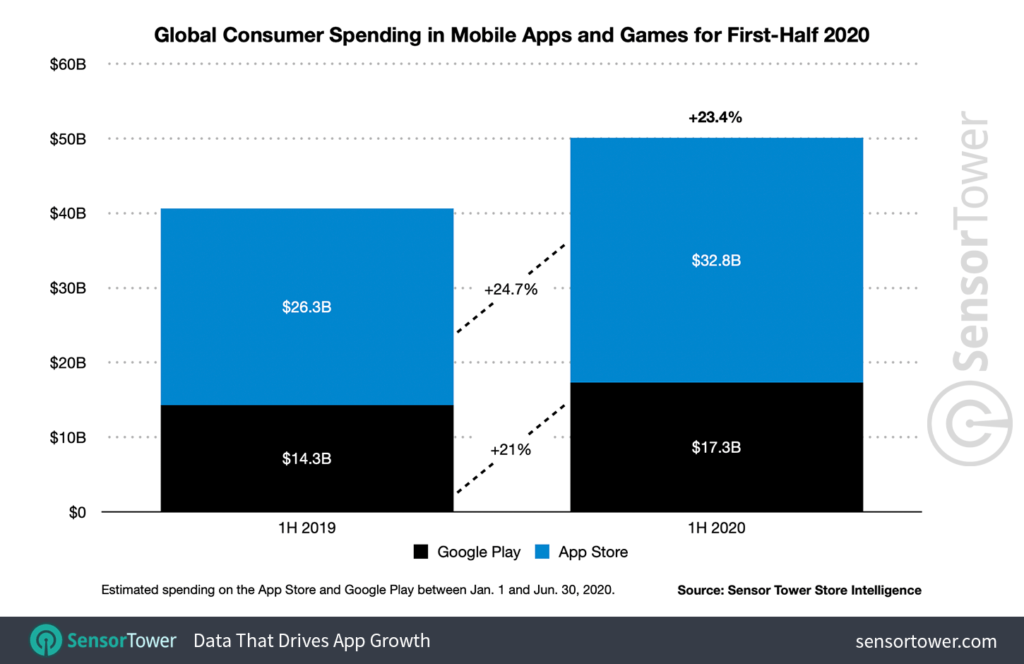 On both the iOS and Android marketplace, Tinder was the most grossing app with $433 million user spending. In fact, it is 19% less than it generated in 2019 ($532 million).
Sensor Tower says that it might be due to changing user spending behaviours or the premium Passport feature that was made free for all the users.
After Tinder, Youtube was the second top-grossing app worldwide with $431 million and TikTok was the third one with $421 million.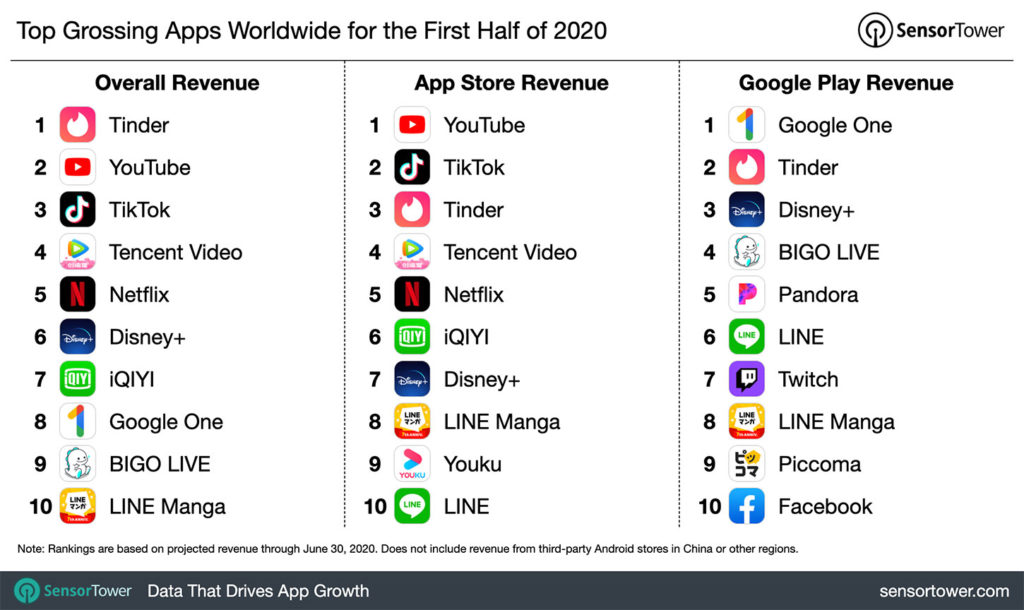 Mobile users were also more likely to discover and use new apps. In the first half, first-time app installs reached 71.5 billion, 26.1% more compared to the last year.
App Store accounted for 18.3 billion of the new installs, 22.8% higher than the first half of 2019 (14.9 billion).
Play Store accounted for 53.2 billion of these new installs, 27.3% more than the first half of the previous year (41.8 billion).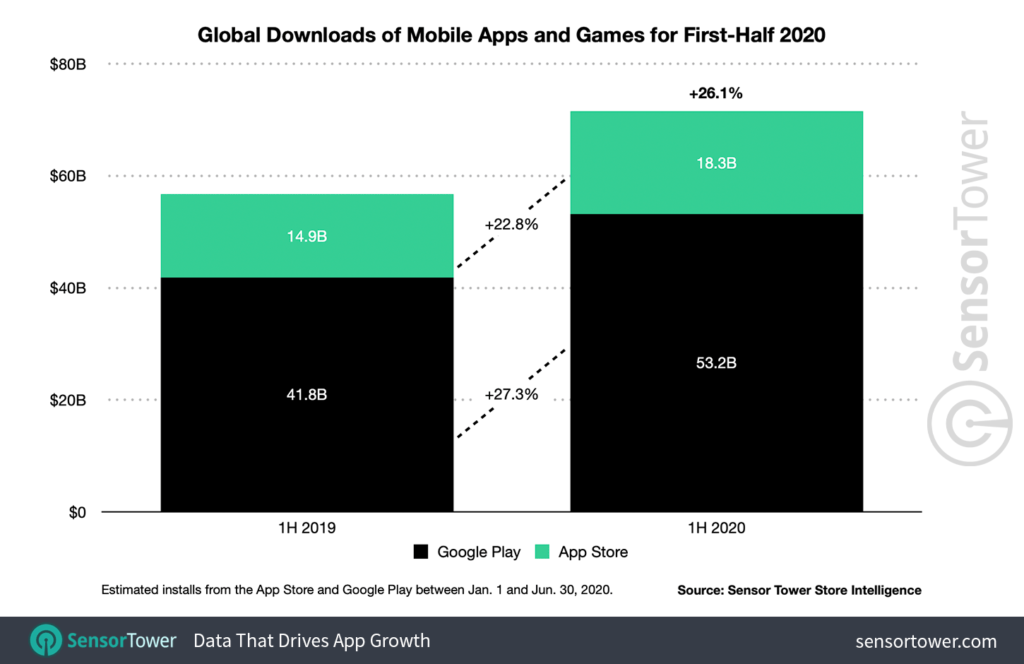 What about the downloads? TikTok was the most downloaded non-gaming app on both Google Play and Apple's App Store, with a total of 626 million installs (including Douyin, the Chinese version) followed by the popular messaging app WhatsApp and the video conferencing app Zoom.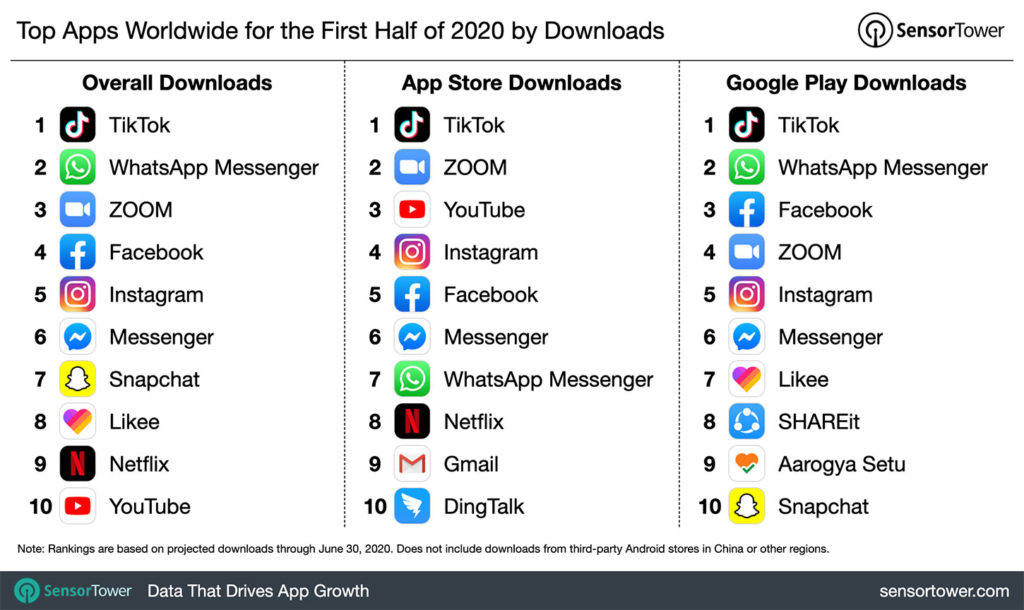 In addition, the report shows that users spent $36.6 billion on mobile games, with a 21.2% increase compared to the previous year.
On the iOS platform, in-game spending increased by %22.7 and reached $22.2 billion while Android users spent $14.4 billion with an increase of 19%.
PUBG Mobile, developed by TENCENT, was the most grossing gaming app in the first half. The game and its localized versions Game for Peace & Peacekeeper Elite generated a total of $1.3 billion on Google Play & Apple's App Store.
Honor of Kings was in the second place with $1 billion, with a 24.5% year-on-year increase. It also comes from TENCENT, so the publisher generated over 2 billion in just 6 months.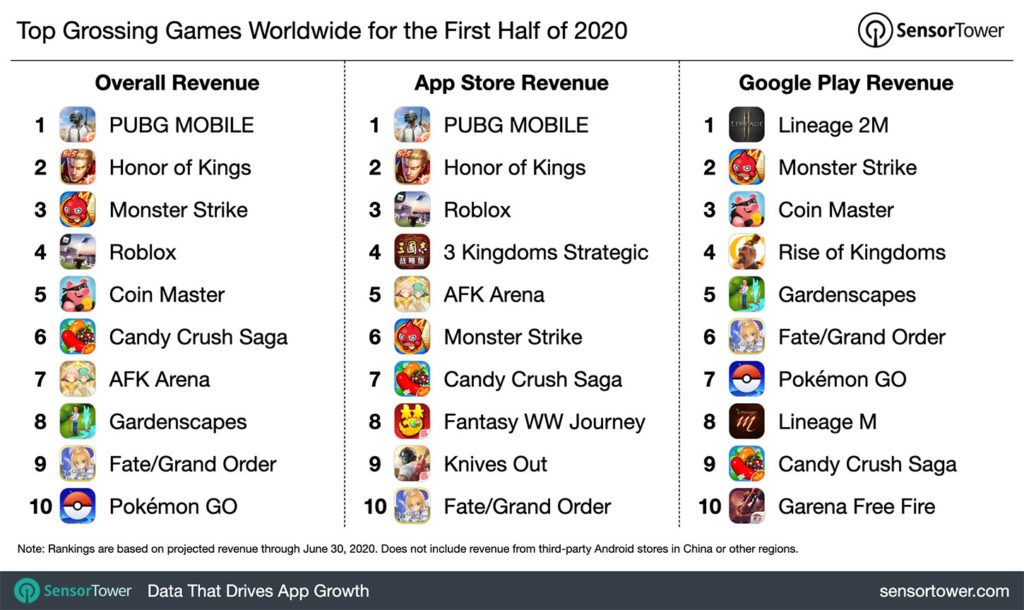 What do you think?