As our lives are getting more and more digital every day, our smartphones have replaced portable music players. We can now play songs, albums, podcasts and more with music streaming apps whenever and wherever we want.
As Mobile Marketing Reads, we continue to introduce you the top mobile apps for 2023 and today, we'll talk about the best music streaming apps on the App Store and Google Play Store.
Spotify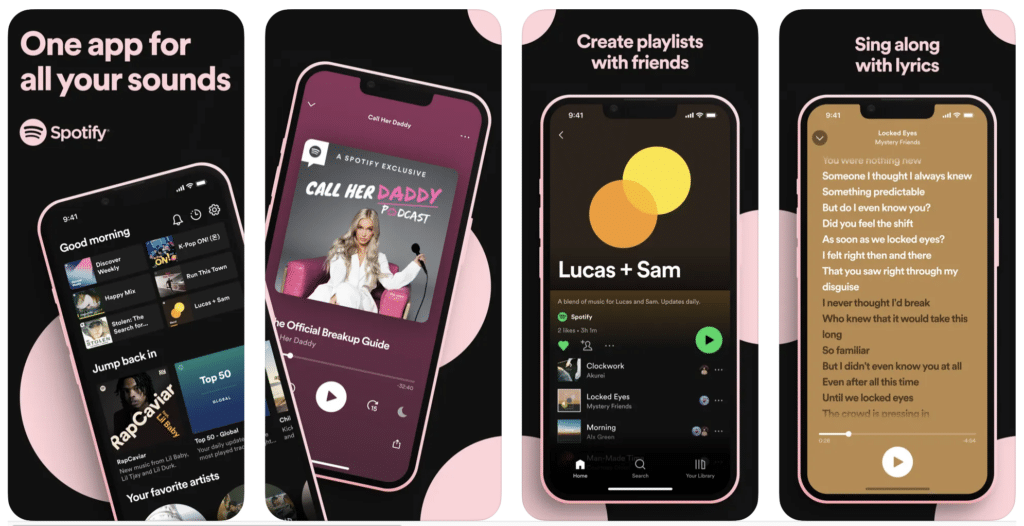 We're starting our list with, of course, Spotify which has more than 489 million monthly active users worldwide. 
Spotify allows users to access millions of songs and podcasts for free. You can search for tracks, albums, artists and listen to them in the shuffle mode. It also lets you share your playlists with your friends and share a track or a podcast on your Instagram Story.
Spotify hosts more than 4 billion playlists, 70 million tracks and 1.9 million podcasts. The widely popular music streaming app's premium subscribers grew 14% year-over-year to 205 million in the last quarter of 2022 (Check out Spotify Revenue and Usage Statistics for more.)
Yes, Spotify lets you access millions of tracks. However, the free version is a little bit limited. But the Spotify Premium offers everything you expect from a music streaming app. It lets you listen to music and podcasts without any limits, any ads and with better sound quality. 
With Spotify Premium, you can play tracks on any device of yours. It also allows you to save your favorite songs and podcasts, up to 10.000, so that you can listen to them when you're offline.
Spotify offers 4 different premium plans including the Student Plan ($4.99 per month), Individual Premium Plan ($9.99), Spotify Duo Plan for 2 accounts ($12.99) and the Family Plan for up to 6 accounts ($15.99). 
You can try Spotify Premium free for one month.
---
Also Read: The 6 Best Music Players for Android
Also Read: The 8 Best Music Players for iPhone
---
Soundcloud
Soundcloud is one of the best free music streaming apps downloaded over 100 million times on Google Play Store and App Store.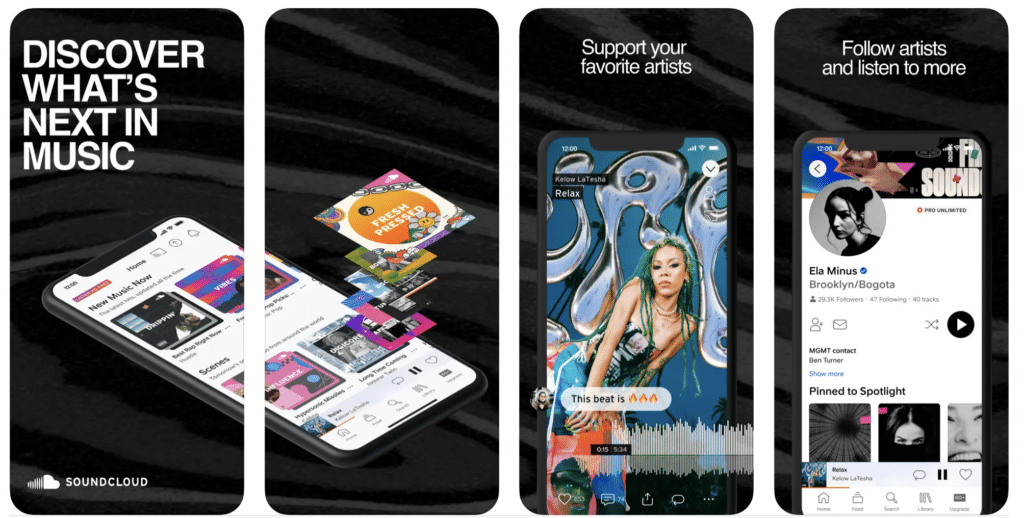 Just like Spotify, Soundcloud lets you listen to music, podcasts, DJ mixes, and more. There are currently more than 300 million tracks from over 30 million artists in 193 countries available in the app.
The app allows you to create your own playlists or discover new tracks with its personalized playlists. Also, you can easily upload your own tracks to the platform and share them with millions of users.
Another great feature Soundcloud offers is that it makes it very easy to connect with the artists on the platform and support them.
Again, just like Spotify and most of the other music streaming apps in this list, the free version of Soundcloud offers ads and doesn't let you access your favorite tracks when you're offline. 
If you want to use it without limitations, it offers two premium plans: Soundcloud Go for $5.99 per month and Soundcloud Go+ for $9.99 per month. You can try both plans for 30 days free.
Deezer
Next one is Deezer which hosts more than 56 million tracks, playlists and podcasts.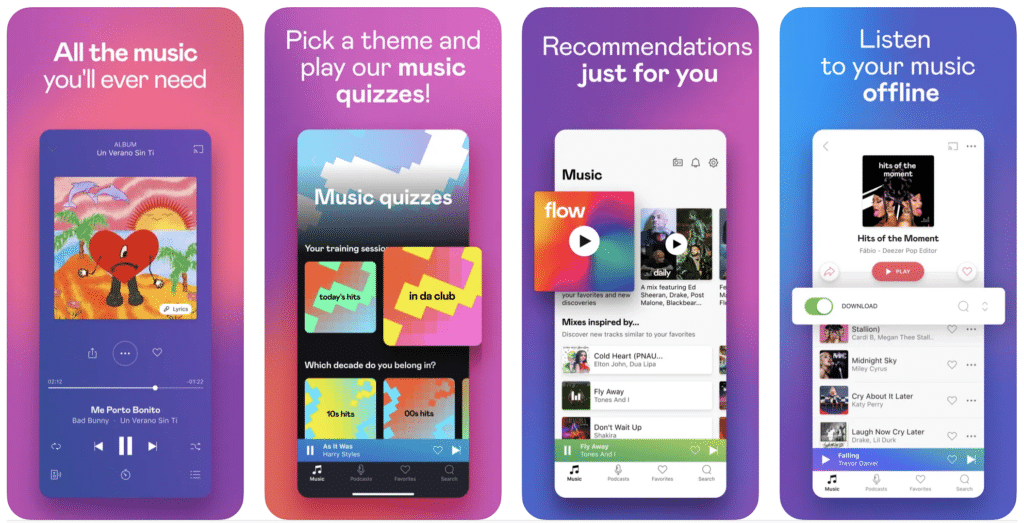 With Deezer, you can access your favorite radio stations, podcasts, songs, global hits and other user's playlists. It also lets you create your own playlist and save the tracks you love with Favorites.
Deezer's Flow recommends you new music styles based on your activity making it very easy to explore its vast music library. The app also makes it quite easy to organise your music by genre and artist.
Deezer has 3 premium plans including Deezer Family, Deezer Student and Deezer HiFi, which offer more advanced features such as higher sound quality and ad-free experience.
---
Also Read: The Best Offline Music Apps for iPhone
---
Apple Music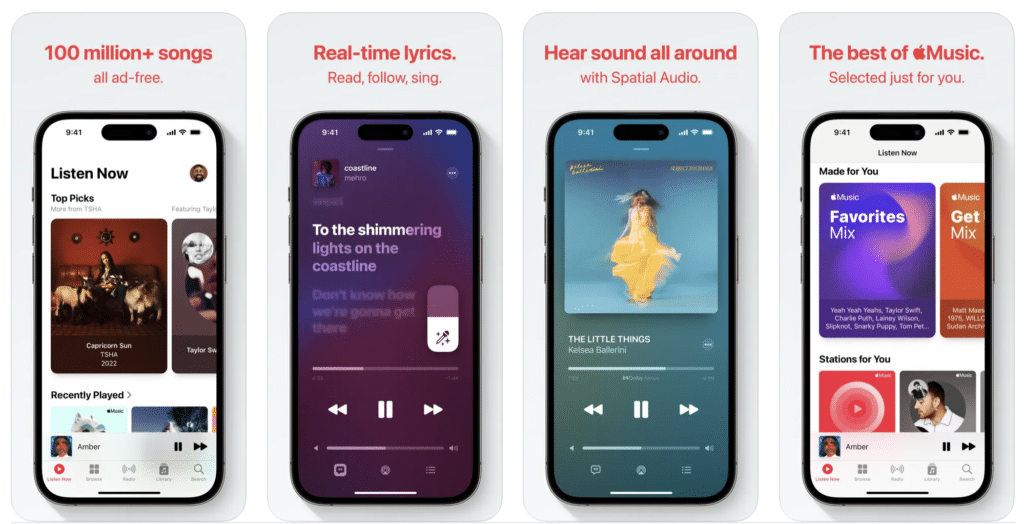 Our forth best music streaming app is Apple Music with over 100 million songs. iOS users make up the majority of its user base but it's also available on Google Play Store and has been downloaded by more than 50 million Android users so far. 
Check out Apple Music Revenue and Usage Statistics for more Apple Music stats.
It is not a free music streaming app. The current Apple Music price is $9.99 and you can try it free for 3 months without commitment.
As it's not free, it doesn't show any ads or gives you any limits. You can download your favorite music to your iOS/Android smartphone and access them on any device of yours.
You can create your own playlists, get personalized recommendations, create your own profile and follow your friends to see what they're listening to.
Apple Music also allows you to view lyrics while you're listening to a song and watch video content like documentaries, concerts and TV shows.
The app is available in 167 countries and supports 34 languages.
---
Also Read: The Best Lyrics Apps
---
Tidal
Let's continue with Tidal which offers more than 90 million audio tracks as well as +250 thousand HD video clips.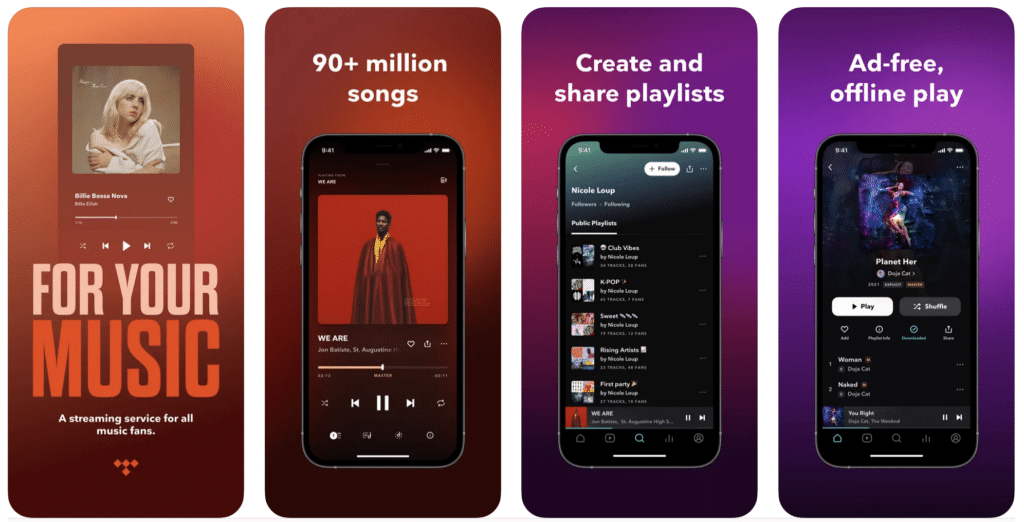 Tidal is a very successful music streaming service especially when it comes to sound quality. It uses HiFi (high fidelity) and MQA which offer much higher audio quality than many of the other apps here.
With unlimited skips, music and video mixes personalized for you, you can enjoy Tidal on your other devices too, including TVs, Amazon Alexa and voice speakers. It supports more than 150 integrations.
Just like Apple Music, Tidal is not a free music streaming app. Its Premium plan costs $9.99 and its HiFi plan costs $19.99 per month. You can try both of them free for one month. It also offers cheaper plans for families & students and offers military & first responder discounts.
Amazon Music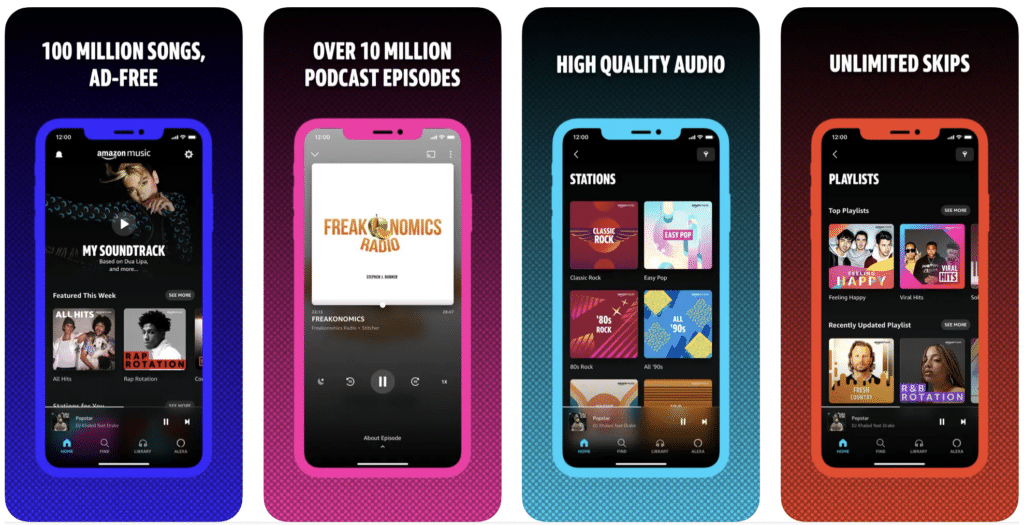 The free plan of Amazon Music allows you to stream music, access top playlists and listen to thousands of radio stations but it includes ads.
If you are a Prime member, you don't need to pay any additional costs. You can stream more than 2 million songs, access over one thousand playlists and stations without any ads and limited skips. It also offers a hands-free listening feature.
As well as the features above, Amazon Music Unlimited plan offers you access to over 100 million songs and the latest releases. 
And Amazon Music HD plan lets you listen to them in much higher quality.
---
Also Read: The Best Music Recognition Apps for iPhone and Android
---
Youtube Music
Let's continue with Youtube Music, which is one of the best free music streaming apps for both iOS and Android devices.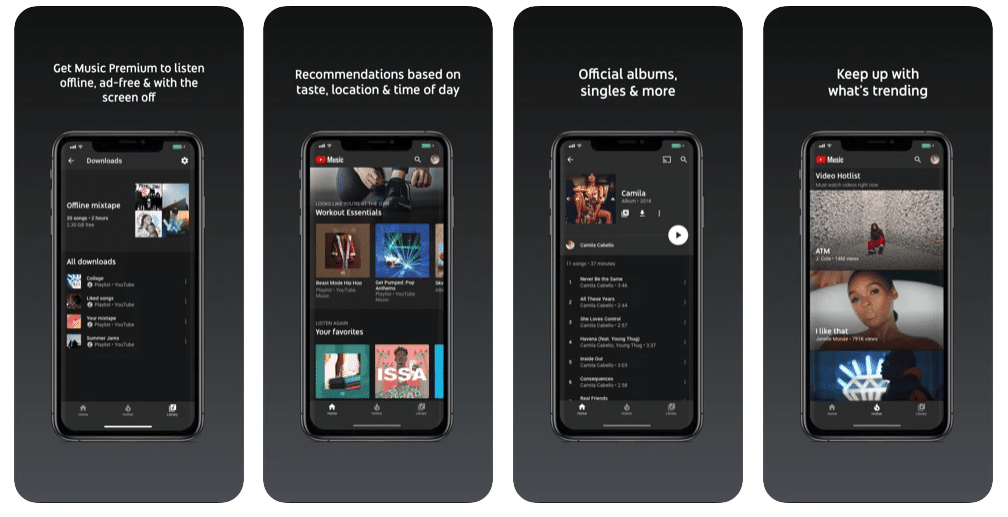 Launched by Google in 2015, Youtube Music lets you listen to all the albums, singles, live performances, remixes, covers and more available on the main Youtube platform.
It provides users with personalized playlists and music recommendations based on their activity and location.
---
Also Read: YouTube Revenue and Usage Statistics
---
With Youtube Music, it's also very easy to find a song you don't know the name of. Just type in the lyrics or describe it, then it'll show you what you're looking for.
If you want to use Youtube Music without ads, keep playing the music when you lock your screen and download your favorite songs to listen to them later when you're offline, you can get Music Premium which costs $9.99 for Android users and $12.99 for iOS users per month.
You can try it free for 30 days and if you're a Youtube Premium member, you don't need to make any additional payments.
Pandora
Next one is Pandora which allows users to create stations from their favorite songs, albums, artists or genres. It provides users with the ability to discover other stations based on their moods or activities.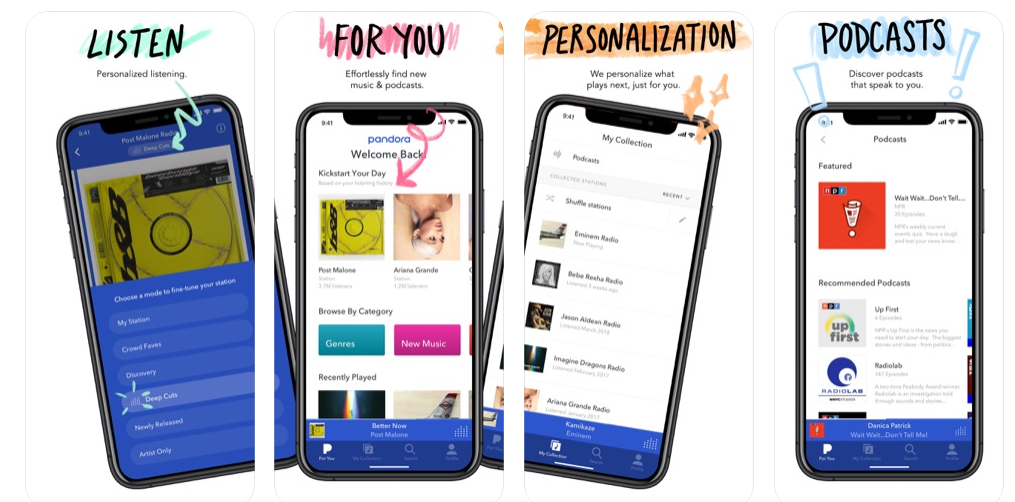 Its new voice mode allows you to control your music and podcast experience very easily. Just using your voice, you can search, play, pause and skip tracks and also add them to your favorites and adjust the volume.
The Crowd Faves feature lets you access the most liked, or thumbed-up- songs by other Pandora users and Deep Cuts shows you lesser-know tracks by other artists.
Newly Released feature lets you know about the most fresh releases and Artist Only enables you to listen to songs by the station artist.
Just like the other apps, Pandora offers premium plans for users who want to use more advanced features such as higher sound quality.
You can get Pandora Plus for $4.99 and Pandora Premium for $9.99 per month.
---
Also Read: The Best Classical Music Apps
---
iHeartRadio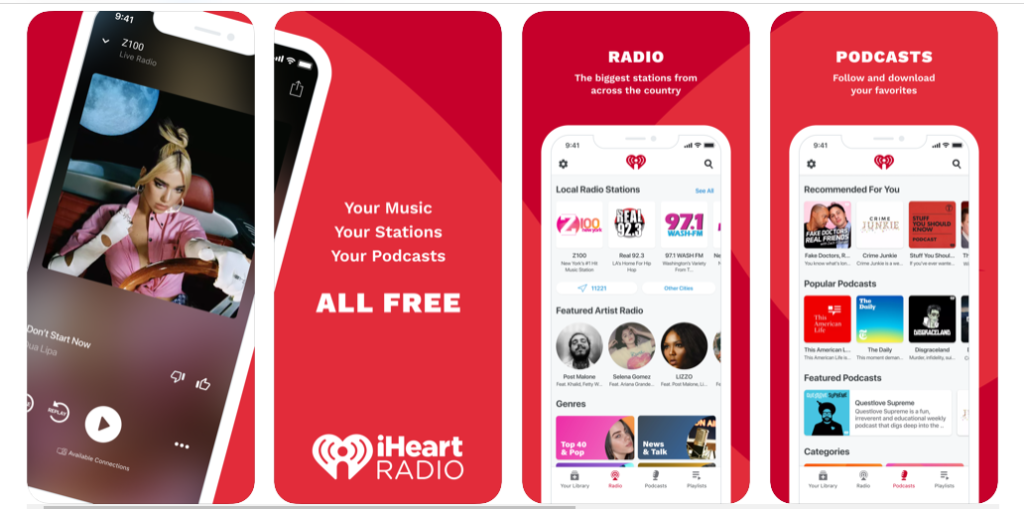 Our last app is iHeartRadio which allows users to stream unlimited music, create their own personalized station for their favorites, play thousands of local and global AM and FM radio stations, access popular podcasts from NPR, How Stuff Works, TED, Wondery and more for free!
To enable you to have more control over your music, it also offers iHeartRadio Plus™ for $5.99 and iHeartRadio All Access™ for $12.99 per month.
---
Leave a comment below and let us know which one of these best music streaming apps is your favorite.