If you constantly say to yourself "I love to read books, but I can't find the time", the audiobook apps that have been increasingly popular lately are just for you. Audiobooks, which you can listen to while cooking, doing sports and briefly doing other work, save time and also allow you to listen to your favorite books like a fairy tale.
As the interest in audiobooks increases, the number of apps that allow you to listen to audiobooks in many categories is increasing. We have brought together the best audiobook apps for iPhone that you can listen to comfortably on your phones and tablets.
Things to Consider When Choosing the Best Audiobook App for iPhone
There are some features that an audiobook app must have in order to be counted as the "best". We paid attention to these items while choosing the best ones for you. Here are the important features…
CarPlay Support
Offline Use and Downloading Support
Support for different content types such as eBooks
Device Syncronization
Speed of narration control
Sleep timer
Built-in store
---
Also Read: The 6 Best Reading Apps for iPhone
---
The Best Audiobook Apps for iPhone
1- Audible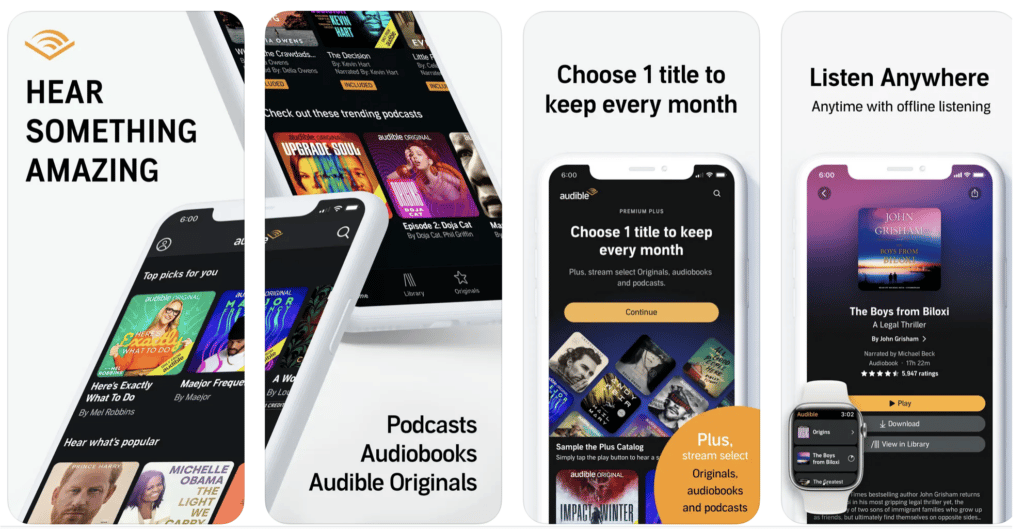 Price: Free / $15.99 per month
Amazon is the parent company of the Audible app, which hosts more than 425,000 audiobooks. That's why you can sync your Amazon account with the app.
By using Audible, one of the best audiobook apps, you can determine the speed of narration and speed up the narrations that seem slow to you. The app, which allows you to download the book offline when you do not have internet access, also allows you to change the book if you do not like the voiceover.
Audible is free to download but has a 30-day trial period. If you want to continue using the app, you can subscribe for $ 15.99. If you want to cancel your Audible membership, the books you have purchased are not deleted and are kept.
2- Audiobooks.com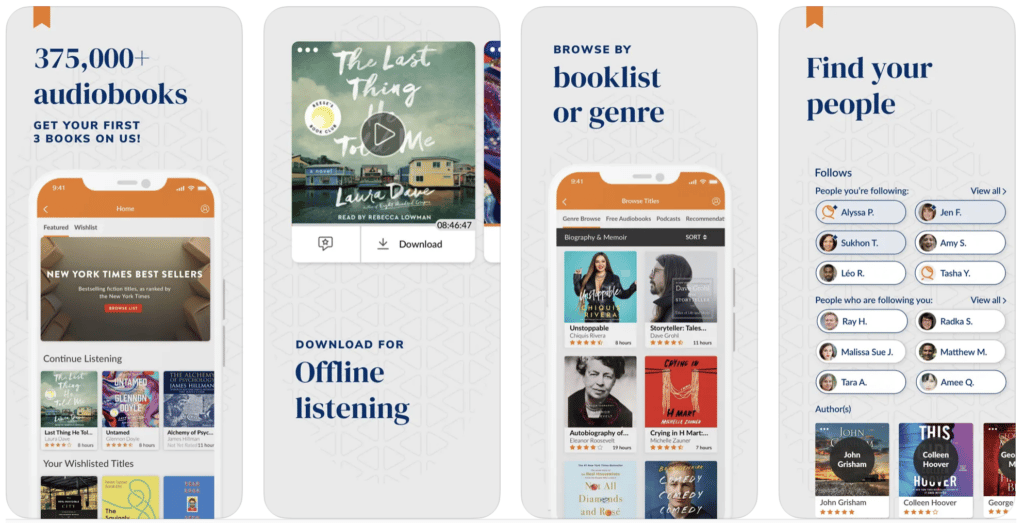 Price: Free (first 3 books)
The second in our list of the best audiobook apps for iPhone is Audiobooks.com that offers more than 375,000 audiobooks, more than 10 thousand of which are free. You can also listen to more than 100 million podcast episodes on the app.
Audiobooks.com app, which you can use with your iPhone, iPad, and Apple Watch, stands out with many advanced features such as offline listening, setting alarms for bedtime and smart book suggestions.
Audiobooks.com on the App Store
---
Also Read: The 5 Best Podcast Apps for iPhone and Android
---
3- Scribd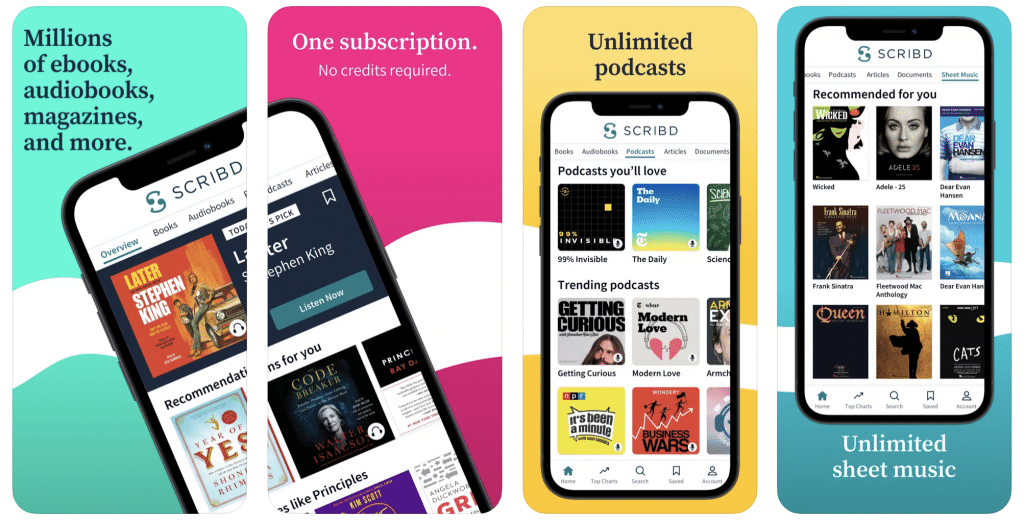 Price: $9.99 per month
A digital library of books, audiobooks and magazines, Scribd is another of the best audiobook apps for iPhone. Hosting more than 1 million books, Scribd allows you to set the app to turn off after a certain time with its sleep timing feature.
In Scribd, as in other apps on the list, you can listen to audiobooks offline and customize the narration speed.
---
Also Read: The best free scanner apps for iPhone
---
4- Google Play Books & Audiobooks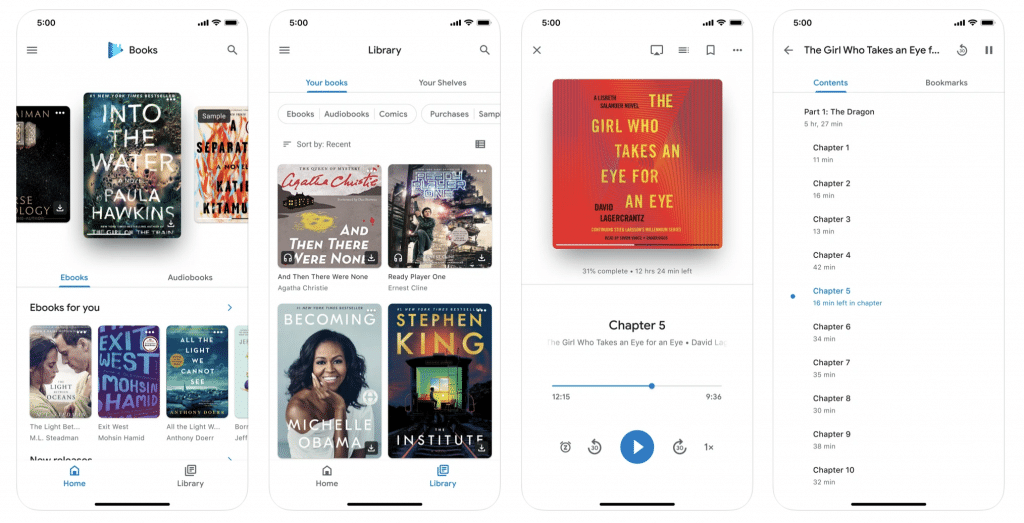 Price: Free
If you are looking for the best free audiobook app for iPhone, one of the apps you can give a try is Google Play Books as it does not require a monthly subscription. Pricing is per book and you can listen to a free preview of an audio book before you buy it.
Since the app is synchronized with Google Drive, you can take notes while listening to your book. It also has Siri Shortcuts so you can just say "Hey Siri, play my audiobook" to start listening. You can also listen to audiobooks in your car by using CarPlay.
Google Play Book on the App Store
---
Also Read: The 5 Best Alarm Apps for iPhone
---
5- Apple Books

Price: Free
Available only to iOS users, Apple Books is one of the best audiobook apps for iPhone. You can listen to some of the books for free thanks to the preview feature it provides before purchasing the audiobooks from the library.
There is also an automatic night mode in the Apple Books app, which allows you to listen or read the audiobooks you have purchased.
---
Also Read: The 5 Best Sleep Apps for Apple Watch
---
6- Libby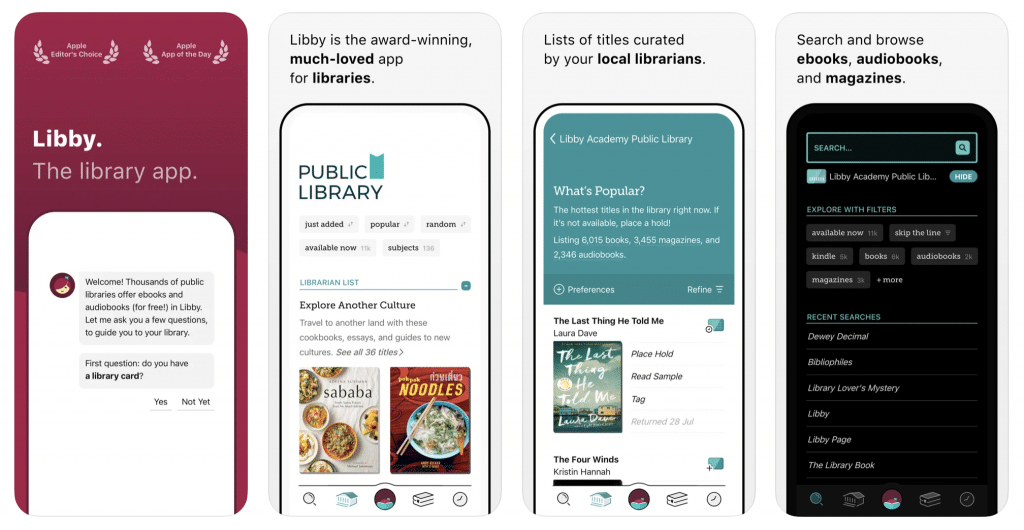 Price: Free
Libby, which includes both ebooks and audiobooks, is one of the best free audiobook apps for iPhone. What differs it from the other apps in the list is its working mechanism.
In Libby, you browse your local public library's audiobook catalog and borrow it for free. It also allows you to download audiobooks for offline listening, and to listen to them via Apple CarPlay.
7- NOOK by Barnes & Noble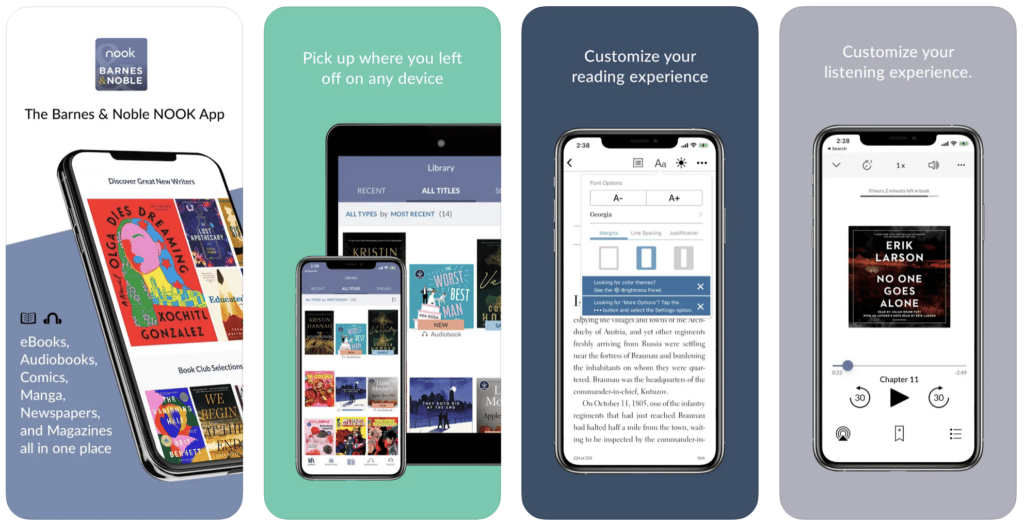 Price: Free
Offering a large library with more than 4 million sources, Nook Audiobooks is iOS-compatible. Users can purchase, download and listen to books online through the Barnes & Noble app. Offering more than 300,000 audiobooks, the app also includes thousands of manga, eBooks, novels, and comics. You can access more than 10,000 audiobooks in the app for free. Nook also lets you sync your audiobooks, bookmarks, notes, and highlights across all your devices for a seamless reading experience. Yo can also listen to your audiobooks safely while driving with CarPlay.
---
Also Read: The 7 Best Apple Carplay Apps
---
BONUS: Spotify
Starting out as a music streaming app, Spotify has become a platform that also contains content for both podcast and audiobook listeners. In May 2021, the company announced that it partnered with Swedish subscription-based audiobook streaming service provider Storytel to enable subscribers to get access to its wide audiobook library on Spotify.
Although it doesn't have as large a library of audiobooks as the other apps on the list, you can also browse Spotify Audiobooks if you already have a paid Spotify account.