Are the bookworms here? There are many eBook apps where you can read your favorite books on your devices with pleasure. These apps usually include e-books, audiobooks, magazines, and manga. Recently, the audience of the books has increased as well as the readers. What is your preference? eBook reader apps come with a giant library that you can listen to while on the bus, in the car, walking on the road, waiting for someone, and lying in bed. These apps are usually synchronized with cars and are often preferred in traffic, long journeys, and trips. If you're wondering what the best eBook reader apps are, read on!
Amazon Kindle
Price: Free/In-App Purchase: Up to $9.99
Amazon Kindle is a fantastic ebook app with millions of books, magazines, newspapers, comics, and manga, including audiobooks. Amazon Kindle is a highly preferred app and ranks among the best eBook reader apps. The app offers many customization possibilities such as text size, font, brightness, and page orientation. Users can look at words, places, and people without opening extra tabs while reading the books they are curious about.
In addition, Amazon Kindle offers reading progress tracking information, so users can know their reading speed and how long they have left. The app has device synchronization, and readers can finish the reading they started on the phone from the tablet. The app offers audible books for those who enjoy listening rather than reading. Check out Amazon Kindle's website for more information.
Amazon Kindle on the App Store
Kobo Books
Price: Free/In-App Purchase: Up to $400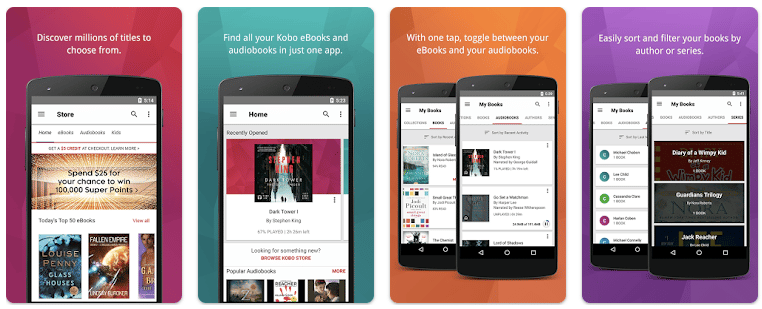 Kobo Books is an eBook Reader app with an extensive catalog of the best eBooks, comics, kids' books, and more. Kobo Books offers the ability to search by title, subject, genre, and author. Users can tailor their reading experience and fine-tune text size and font style with Kobo Books. The app has a night mode feature, so readers can enjoy reading eBooks at night.
Furthermore, Kobo Books offers options based on reading preferences and offers free previews to facilitate book selection. Users do not need to keep in mind the number of pages or take notes, as the app will establish synchronization between devices. Kobo Books allows you to share on Facebook, Twitter, and Instagram and offers books in Turkish, English, French, Spanish, Dutch, Portuguese, Brazilian Portuguese, Italian, Japanese or German options. Browse the website of the app to get more detailed information.
---
Also Read: The 6 Best Audiobook Apps for Android
---
Wattpad
Price: Free/In-App Purchase: Up to $89.99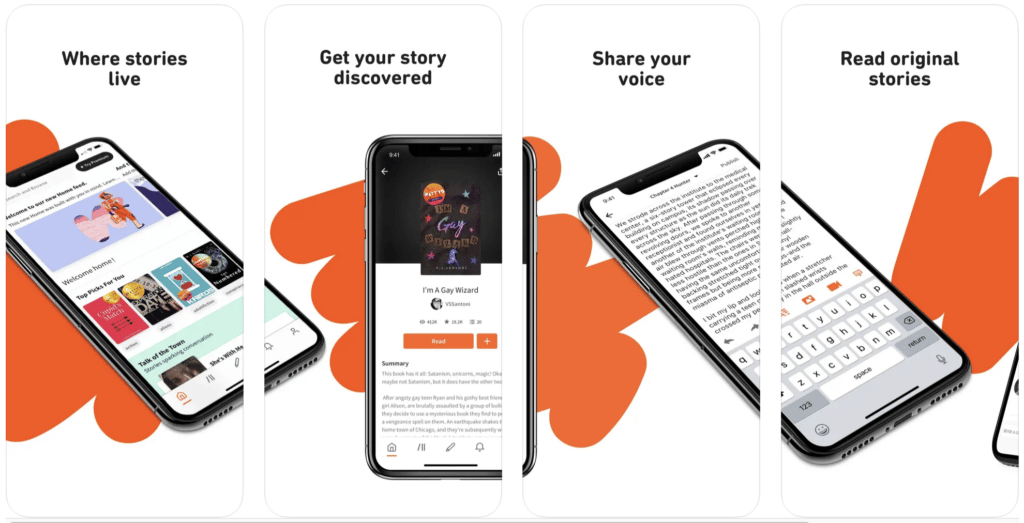 Wattpad is one of the best eBook reader apps for the beloved social storytelling platform. The app offers unique stories and encourages story writing. Wattpad Studios gives original stories a chance to discover talented writers. The app presents the stories and tales of famous and beloved authors to users. Wattpad includes many categories such as action, fantasy, science fiction, romance, and fiction.
In addition, Wattpad allows users to communicate with other readers and authors. Users can create personal reading lists and libraries with Wattpad and share them with their friends. Visit Wattpad's website to learn more about the app.
Libby, by Overdrive
Price: Free
Libby is a popular eBook reader app that offers millions of eBooks and audiobooks. Users can enjoy free borrowing of audiobooks, magazines, and e-books with Libby. The app allows downloading for offline reading, so users can enjoy reading and listening wherever they want. Libby is compatible with cars and users can listen to eBooks while traveling and in traffic or for their children.
Additionally, readers can customize the background color, text size, and book designs in the app. Libby allows us to identify and search for words and sentences in the book. Note-taking readers can take notes and bookmarks in books with Libby. eBook listeners can adjust volume slowdown, speed up, forward and backward, and set a sleep timer in Libby. For more information, visit Libby's website.
Libby, by Overdrive on Google Play
Libby, by Overdrive on the App Store
---
Also Read: The 6 Best Reading Apps for iPhone
---
FBReader
Price: Free/In-App Purchase: $6.99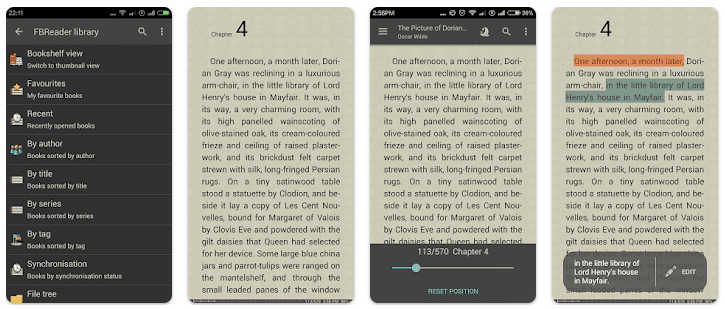 FBReader is a free ebook reader that helps you open and manages stored books. eBook forms such as ePub, Kindle azw3, fb2, RTF, doc, HTML, and plain text are supported by the app. Users can open PDFs by installing a free plugin or purchasing the premium version of FBReader. The app works in offline mode, and users can access the e-book catalog while the device is offline. Also, FBReader has TrueType/OpenType fonts and allows customization. Users can adjust screen brightness and background according to their taste in FBReader. To learn more about the app, browse FBReader's website.
Google Play Books & Audiobooks
Price: Free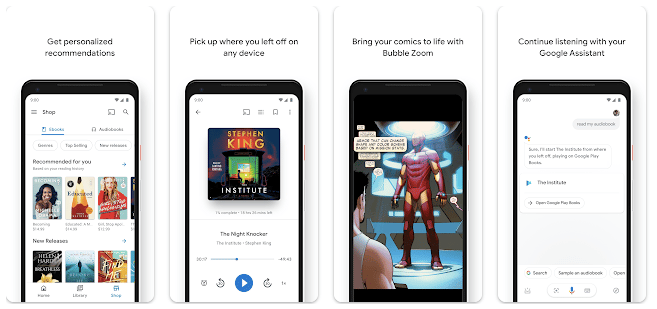 Google Play Books is a pretty handy and popular app that does not require a subscription and deserves to be among the best eBook reader apps. The app contains e-books, manga, audiobooks, comics, and textbooks. Google Play Books offers a sample preview so that users can make the right choice when purchasing. The app provides extra discounts on selected packages and sends notifications on price drops and new books.
Moreover, Google Play Books offers personalized recommendations according to your tastes and preferences in many categories such as horror, thriller, detective, science fiction, mystery, mystical, and romance. Users can use the app offline and can continue from where they left off from any device as there is device synchronization. Google Play Books offers many features to customize the reading experience, such as margins, text alignment, font, and size.
Google Play Books & Audiobooks on Google Play