Books, which are indispensable for our travels, beaches, and head end, improve our minds in many positive ways. Reading books is very effective from empathy to the development of your vocabulary.
Thanks to technology, we can now provide online access to books, so we can read books with our devices from anywhere we want. So where can we find these online books? Here we have answered this question for you and listed the best audiobook apps for Android. Here are the best!
Google Play Books & Audiobooks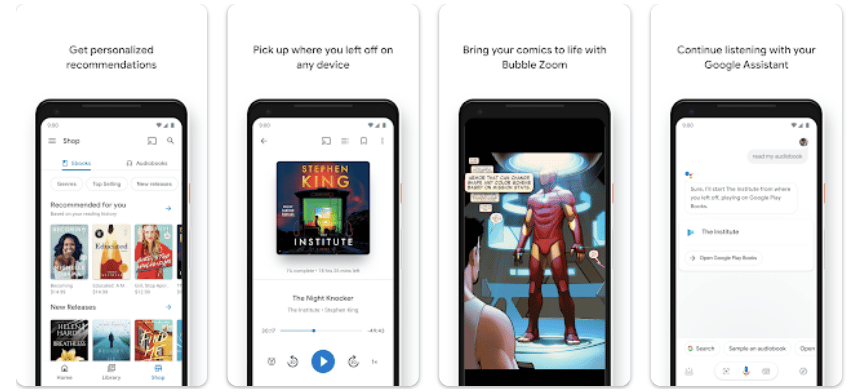 Price: Free
Google Play Books which is including millions of favorite ebooks, manga, textbooks, comics, and audiobooks is one of the best audiobook apps for Android. Google Play Books is a legendary app for reading or listening on the beach, on the road, on rainy days, or even on the go. The app offers personalized recommendations based on your book preferences and the books you've finished.
Additionally, the app requires no subscription and allows previewing samples before purchasing. Google Play Books offers extra discounts on selected packages, and you can earn Google Play Points with every purchase.
Moreover, Google Play Books works offline and can pick up where you left off on any device. You can save your device space for your favorite books with an SD card.
Furthermore, Google Play Books allows users to customize their reading experience by adjusting text size, font, margins, alignment, brightness, and background colors. Also, it is possible to get word definitions suitable for children, listen to certain words, or listen to the book aloud with the reading tools in children's books.
Google Play Books on Google Play
---
Also Read: The 5 Best Podcast Apps
---
Scribd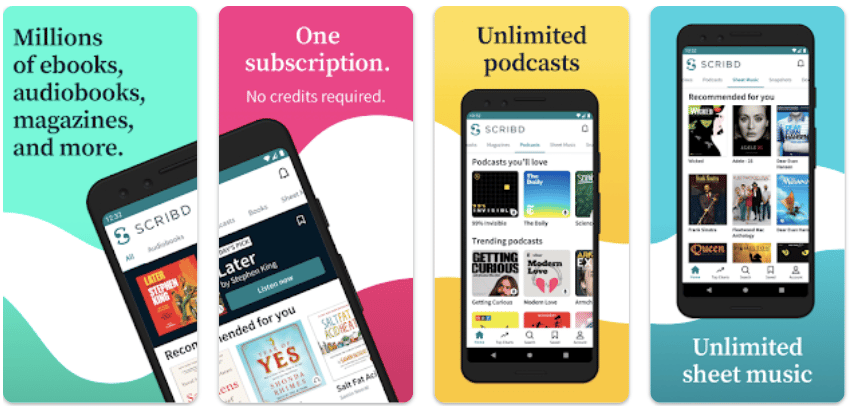 Price: Free/In-App Purchase: ​​$7,99-$19,99
Scribd is an app that lets you access audiobooks, books, magazine articles, podcasts, sheet music, and more. The app has a catalog of over one million books and allows users to access the books at no additional cost.
In addition, the app subscription comes with many features. You get access to articles from hundreds of journals containing People, Time, The Atlantic, Entrepreneur, and more, and the world's largest document library with over 60 million documents including academic dissertations, medical reports, and more with a subscription.
Moreover, Scribd works in offline mode, and audiobook listeners and e-book readers can easily use the app in offline mode. Audiobook listeners can customize their narration speed, and e-book readers can take notes in their books.
---
Also Read: The 6 Best RSS Reader & News Aggregator Apps
---
Audible
Price: Free/In-App Purchase: $0,99-$149,99
Offering top-quality audio content, Audible Amazon is one of the best audiobook apps for Android. Users can use the app anywhere and enjoy offline listening by downloading books or podcasts. The app offers popular categories and most listened users, so users can choose what they listen to more easily. Users can find many content types in the app, such as Crime and Detective, Sci-Fi-Fantasy, Health and Development, Fiction, Audio Originals, Non-Fiction, Business, History, Biography-Memoir, and Education.
In addition, it is possible to access over 200,000 documents first, and your first book is free. Audible Amazon gives users 30 days of free experience. Visit the app's website for more information.
Audiobooks.com: Books & More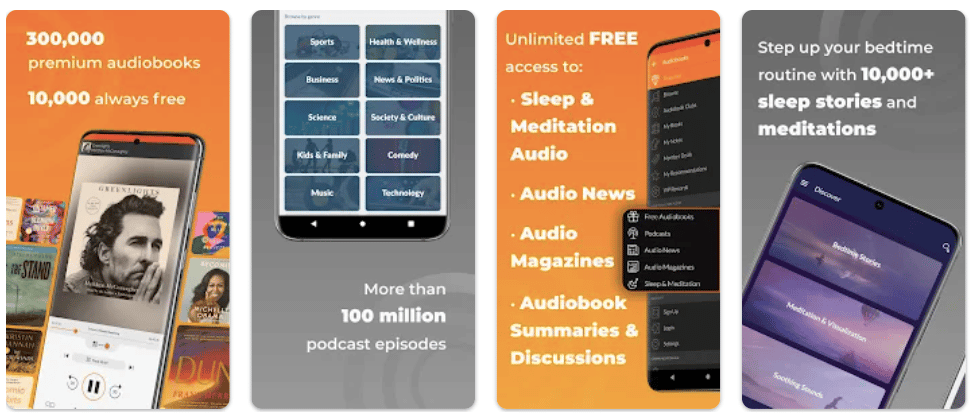 Price: Free
With over 300,000 titles to choose from, 10,000+ free audiobooks, and over 100 million Podcast Episodes, Audiobooks.com offers a free podcast feature. The first three audiobooks in the app are free. Users can browse books by genre and discover what others are listening to in the app.
Additionally, the app provides its users with daily Audio News Updates, Audio Magazines, Relaxation Audio, Meditation Audio, and Audio summaries. You can use this app anytime, anywhere.
Audiobooks.com: Books & More on Google Play
Amazon Kindle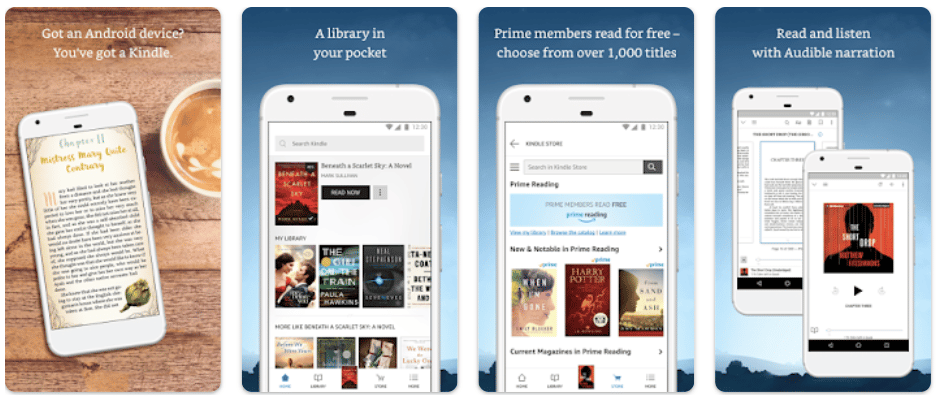 Price: Free
Kindle is an app that offers much content such as millions of books, magazines, newspapers, comics, and manga to book lovers and deserves to be among the best audiobook apps for Android. Users can access Amazon Charts bestsellers and books in genres such as romance, science fiction, children's books, self-help, nonfiction, religion, and more with the app.
Moreover, the app allows users to customize text size, font, margins, text alignment, and orientation (vertical or horizontal). bookworms can read their books to their taste with the app's adjustable brightness and background colors.
Also, users can effortlessly learn unfamiliar words with a Built-in dictionary, X-Ray, Wikipedia search, instant translations, and search in your book. Readers can quickly look up words, people, and places.
Kobo Books – eBooks & Audiobooks

Price: Free/In-App Purchase: $0.05 – $400.00
With over 5 million titles to choose from, Kobo Books offers content for all types of readers and listeners. The app allows users to search by author, title, subject, or genre. Thus that they can find the right books according to their taste.
Also, the app comes with a beautifully designed, easy-to-use player. The player displays how many minutes are left and is ready for you to start where you left off. You can also set the time it will turn off if you are using it before sleep.
In addition, for those who want to improve their foreign language or want to study in different languages, the app offers books in English, French, Spanish, Italian, German, Dutch, Portuguese, Brazilian Portuguese, or Japanese.