Android file manager apps are one of the must-have apps that you should use on your device with the features they offer. In this article, we have listed the best Android file manager apps that allow you to find the files you are looking for faster, manage your files better, and manage your storage space more effectively.
Files by Google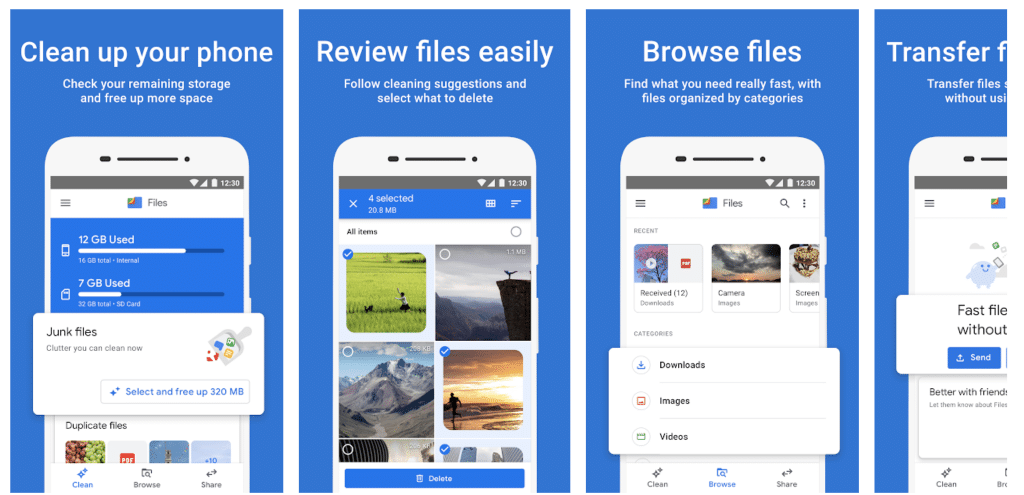 As one of the best file manager apps for Android, Files by Google allows you to check how much free space left on your device, find files quickly with search or browsing, back up files to the cloud to save space on your device, and share your files offline quickly with others.
The app, which was initially released as a trial, has become the most popular Android file managers over time, with over 1 billion installs, thanks to its features such as smart recommendations.
Files by Google on Google Play
---
Also Read: The Best Antivirus Apps for Android
---
X-plore File Manager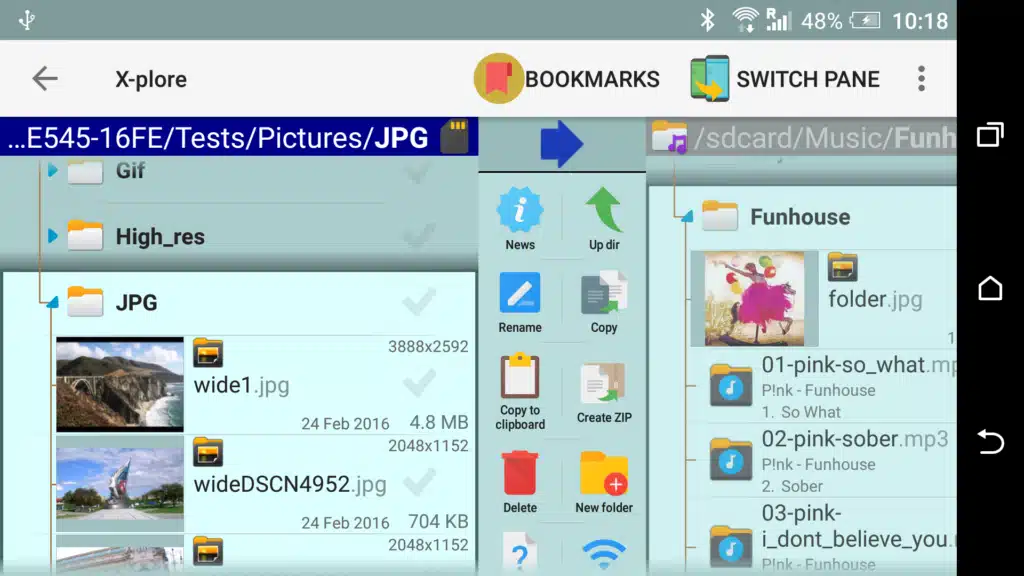 X-plore can see and manage files on your device, as well as on distant file systems (e.g. LAN, FTP) and the cloud, such as Google Drive, Dropbox, Mega. nz, and MediaFire. It has a dual-pane structure that allows you to simply copy and transfer files between multiple locations. It also allows you to access data stored in cloud storage providers.
The ad-supported app also features an image viewer and can compress and extract data in a variety of archive formats. Each file also has its own MD5 and SHA1 hash for validation purposes.
X-attractive plore's user interface displays the image's path to open on your device, MIME type, size, last changed date, EXIF metadata, and compatible programs.
X-plore File Manager on Google Play
Mi File Manager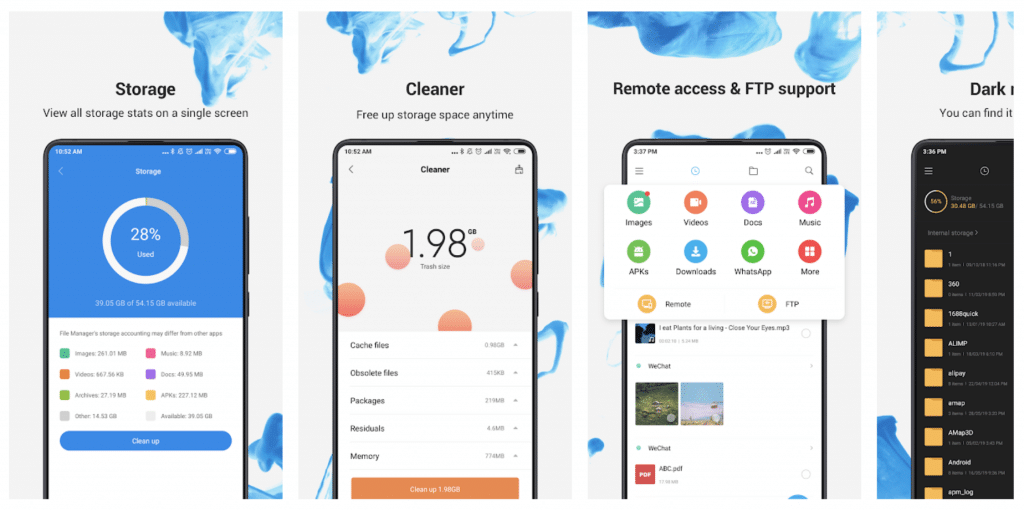 Xiaomi's File Manager is one of the best Android file manager apps with features including offline sharing, quick search, file compression, unzipping files, and renaming. The free app also recognizes multiple file formats, including music, videos, images, documents, APKs, and zip files. The app also supports multi-languages including Spanish, Chinese, and English. 
Mi File Manager on Google Play
---
Also Read:  The Best PDF Reader Apps for Android
---
Total Commander

Total Commander, one of the most capable and highly rated Android file management apps, is ad-free and unique in that it includes a text editor for editing files. The software also has a layout with two side-by-side windows for simple file management.
The app also includes plugins for additional functionality (eg FTP, LAN, and WebDAV support). You can see all visible places on the app's main screen, and touching one will take you there (e.g. internal storage, SD card, downloads).
It contains almost every feature you may want, such as network storage support, cloud storage support, bookmarks, and other features including an inbuilt text editor.
Total Commander on Google Play
Astro File Manager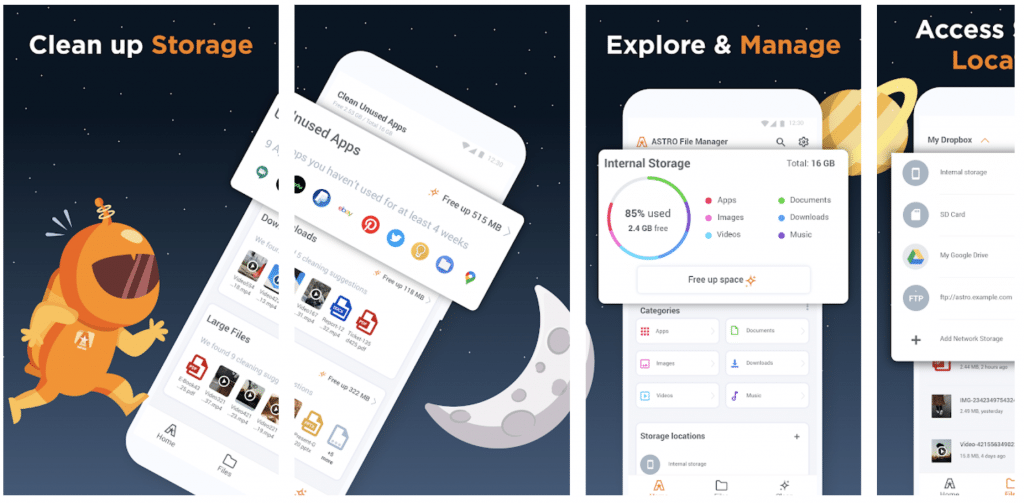 Using Astro File Manager, you can move, copy, share, and rename files on internal storage, SD card, and cloud space. The app offers an easy-to-use interface for straightforward folder management and navigation of your internal, external, and cloud storage.
Used by more than 150 million users worldwide, the popular Android file manager app also allows you to easily organize, move, and back up your files and clean up your phone's memory. 
Astro File Manager on Google Play
---
Also Read: The Best Android Keyboards
---
FileMaster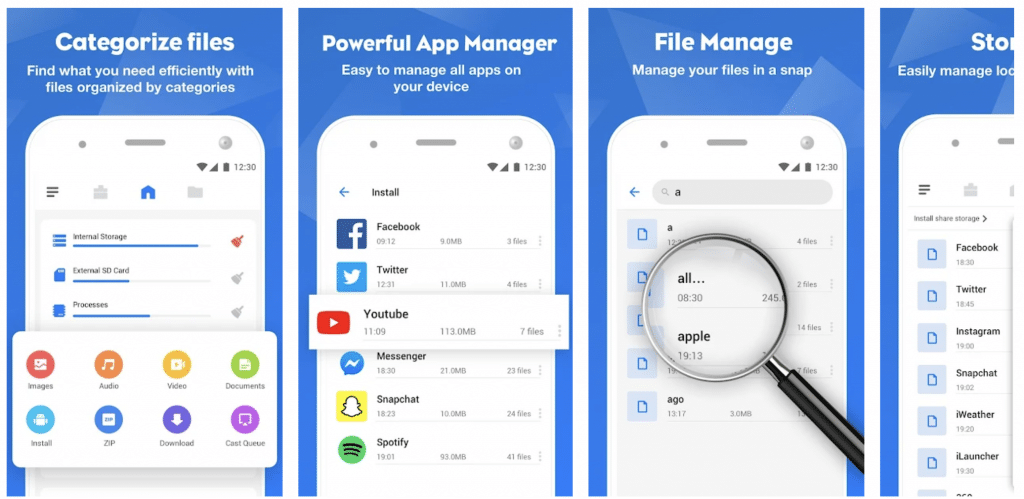 As one of the best Android file manager apps, FileMaster lets you clean cache trash, apps' installation apk, and residual junk files from uninstalled apps. The app also offers features including a CPU cooler, app lock, battery saver, Chromecast file manager, and WiFi share for file transfer. 
The app also allows you to automatically check installed apps, memory card content, and new apps to ensure that your device is safe. The app also includes a root explorer enabling experienced users to browse, edit, copy, paste, and remove data on the phone memory's root sector for development purposes.
P.S. You can also check out The Best Root Apps for Android article to increase your control over your smartphone
---
Also Read:  The Best Document Scanning Apps for Android
---
Solid Explorer
Solid Explorer, one of the best file manager apps for Android, allows you to manage all your files as well as protect them with encryption. You can organize multiple remote file locations in one place in the application which also offers a dedicated storage analyzer.
The app allows you to navigate to files on your device and arranges them automatically into collections. Using the app, any file may be viewed, deleted, moved, renamed, or shared. It also enables you to easily locate the files you want using an indexed search with filters.
File Manager Plus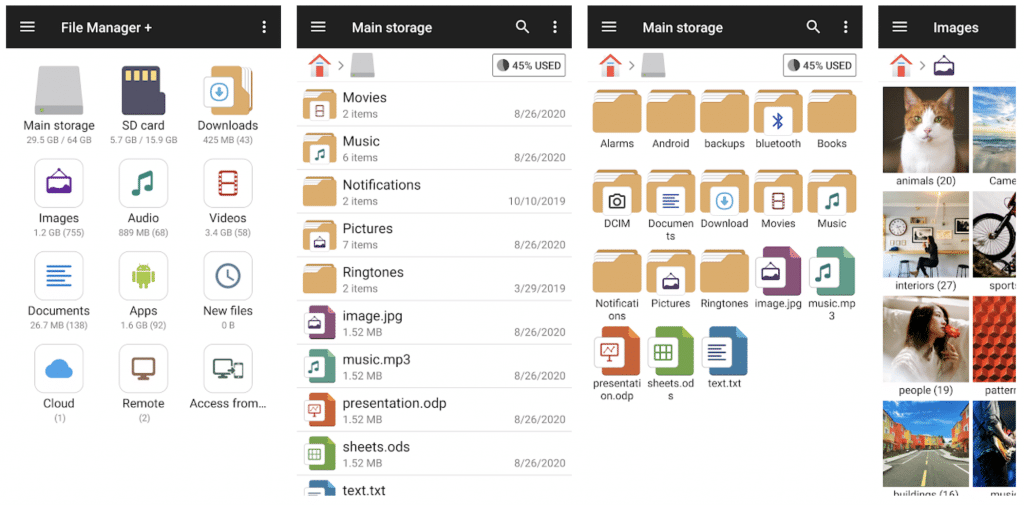 In File Manager Plus, an app that includes all basic file manager features such as storage analysis, searching, copy & paste, you can access your android device storage from your PC using FTP. You can manage all files and folders on both your internal storage and external storage.
Your files and folders are automatically sorted by their types and characteristics so that you can easily find what you are looking for.
File Manager Plus on Google Play