The best drawing apps for Android devices can make a huge difference when it comes to creating a piece of art. Regardless of the canvas you choose, you can make different and quality drawings by using the pens supported by the phone you use.
There are many different art and drawing apps for mobile device owners to choose from. From free and easy-to-use drawing apps to professional and premium paid apps, in this article, you'll find the best drawing apps for Android.
The Best Drawing Apps for Android
Infinite Painter
Price: Free / $10 with a 7-day free trial
Offering hundreds of different built-in brushes, Infinite Painter is a very successful drawing app that will be familiar to Procreate users on iPad. You can share your favorite brushes and brush sets, apply realtime color adjustments, and import or export custom brushes and brush sets if you wish.
The app, whose pressure responsiveness is very successful, also has pressure and tilt support for the stylus. Other key features of the app include layer support with 30 blend modes, over 40 live filter effects, Solo & Trace modes, PSD support, timelapse capture, and Lasso fill tool.
Infinite Painter on Google Play
---
Also Read: The Best Drawing Apps for iPad
---
Sketchbook
Price: Free
One of the best drawing apps for Android, SketchBook app was developed by Autodesk and has all the power and ease of use one could ever need. The app comes with a variety of options that you can customize all instantly, as well as ten brushes, six blend modes, and a 2500% zoom.
You can create a free Sketchbook account to access more features such as layering and symmetry tools. If you prefer, Premium Sketchbook subscription comes with more professional options like expanded brush library, more powerful layers and selection tools.
Ibis Paint X 
Price: Free
Offering artists a good collection of tools to work with on their mobile phone or tablet, Ibis Paint X is one of the best drawing apps for Android that allows you to get it all for free. The app comes with over 300 adjustable brushes, 58 filters, 46 screen tones, and 27 blending options.
Ibis Paint X also provides features such as unlimited layers, stroke stabilization, rulers, symmetry, and a tool to record the drawing process on video. Even though it's a free app, you can eliminate ads with an in-app purchase.
---
Also Read: The Best App Locks for Android
---
dotpict
Price: Free / $4.99
Using dotpict, the perfect app for those who love to create pixel art, you can zoom and move around to create small scenes or people just by filling pixel boxes. The popular painting app also supports features like autosave, undo and redo. When you're done, you can export your work. 
Concepts
Price: Free/ $5 per month / $30 per year
Concepts, which we include the best drawing apps for Android thanks to its infinite canvas support, lets you write notes and doodles with tilt + press, draw storyboards, product sketches, and design plans, then share with people and other apps. The main disadvantage of the app, which offers realistic pens, pencils, and brushes that respond to pressure, tilt, and speed with adjustable live smoothing, is that you cannot customize the brushes.
ArtFlow
Price: Free / $2.99 – $4.99
ArtFlow is an ideal option for anyone looking for a drawing app for Android that offers detailed drawing tools. It owes its fame in large part to the large number of brushes it provides. You can use one of 80 brushes, smudges and other tools to make your drawing shine. It also has layers and includes layer blending.
In addition, you can export your drawings to JPG, PNG and PSD. So you can handle them later in your photo editing app of choice. This app is one of the ideal versatile options for both children and adults. You can download the free version for trial, but the advanced features are in the paid version.
---
Also Read: The Best Camera Apps for Android
---
LayerPaint HD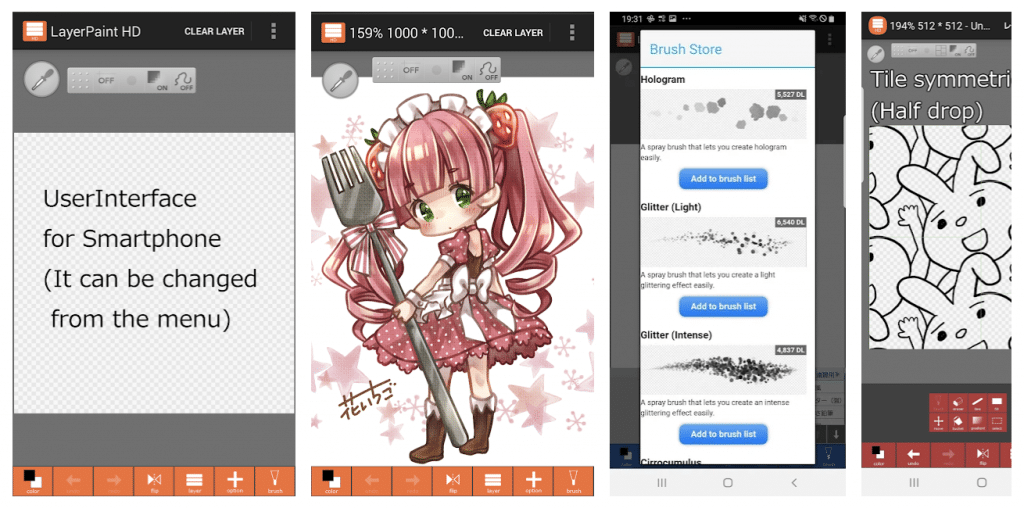 Price: $2.99-$6.99
LayerPaint HD is a very comprehensive drawing application that has loads of different features, including pen pressure support, PSD support, and layer mode. You can add various effects to your drawings thanks to the layer mode. The drawing app also supports various keyboard commands if you have a keyboard that you can connect to your device.
LayerPaint HD works better especially on Android devices with large screens because the controls and options in the app occupy a large part of the screen.
MediBang Paint
Price: Free
MediBang Paint is an art app for those who want to create manga and comics using their Android device. One of the best free drawing apps for Android, MediBang Paint comes with a variety of different features, including layers, rulers, lots of brushes, guides, and tracing aids.
The art app has multi-platform support so you have the chance to use a cloud account to transfer works between platforms.
---
Also Read: The Best Video Editing Apps for Android
---
PaperColor
Price: Free / $4.99
PaperColor, a drawing app that aims to imitate real life as closely as possible, has the basic features of many drawing applications such as different brush types so you can make your drawing however you want.
In the app, which also offers tracing feature, you can import a photo and set it to translucent mode, then trace the original photo. If you are looking for the best drawing app for Android for beginners, you can give a try to this free-to-download app.
Clip Studio Paint
Price: Free for 1 hour a day / $1 or $2.5 per month
Clip Studio Paint, the complete illustration, comics, and animation app used by over 25 million professional and hobby artists, offers over 50,000 free and premium brushes. Other advantages of the app, where you can create 3D models that will help you draw people, animals, and objects from challenging angles, include multiple layers and blend modes, comic layout and panel tools, S Pen air actions support, and animation capabilities.
You can use the app for free for 1 hour a day. If you need to use it more, you need to purchase one of the $2.5 or $1 packages per month.
Clip Studio Paint on Google Play
---
Also Read: The Best Stylus Apps for Android
---
Adobe Illustrator Draw
Prices: Free / Up to $53.99 a month
Adobe Illustrator Draw has a number of drawing tools, such as layers and five distinct pen tips, each with its own set of customization options. You can even zoom in up to x64 to add finer details to your work. After you're finished, you may export it to your smartphone for sharing or to your desktop for use with other Adobe programs.
Adobe Illustrator Draw on Google Play