There is now a comic for all age groups. Thanks to this list we have compiled, from apps that require monthly subscriptions to completely free ones, you can read comics wherever you want. There are even apps where you can upload your own works if you wish. Here are the best comic book apps for both iPhone and Android devices.
The Best Comic Book Apps
Marvel Unlimited
Comixology
DC Universe Infinite
BILIBILI COMICS
WEBTOON
CLZ Comics
Marvel Unlimited
Price: 7-day free trial /$9.99 per month
Thanks to Marvel Unlimited, you can access more than 30 thousand Marvel digital comics and over 80 years of comic books from wherever you are. Of course, for this, you need to download the free app and purchase one of the monthly or annual subscription packages after the 7-day free trial. The app, which also offers you special comic book recommendations, also allows you to download unlimited comics to read as many comics as you want offline. 
Marvel Unlimited on Google Play
Marvel Unlimited on the App Store
Comixology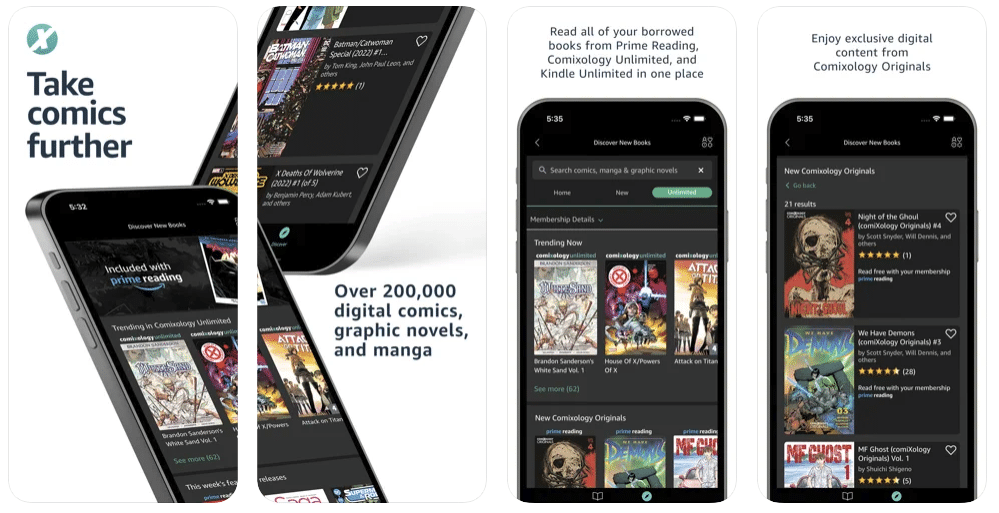 Price: Free / $5.99 per month
One of the best comic apps, Comixology is considered the ancestor of online comic publishers. The app, which can be downloaded for free, allows you to read the comics you purchased from the service's website offline. Hosting more than 230 thousand comics, ComiXology contains content from major publishers such as Marvel, DC, Viz and Image. In addition to comics, you can also find graphic novels and manga in the app.
---
Also Read: The Best Manga Apps for Android and iOS
---
DC Universe Infinite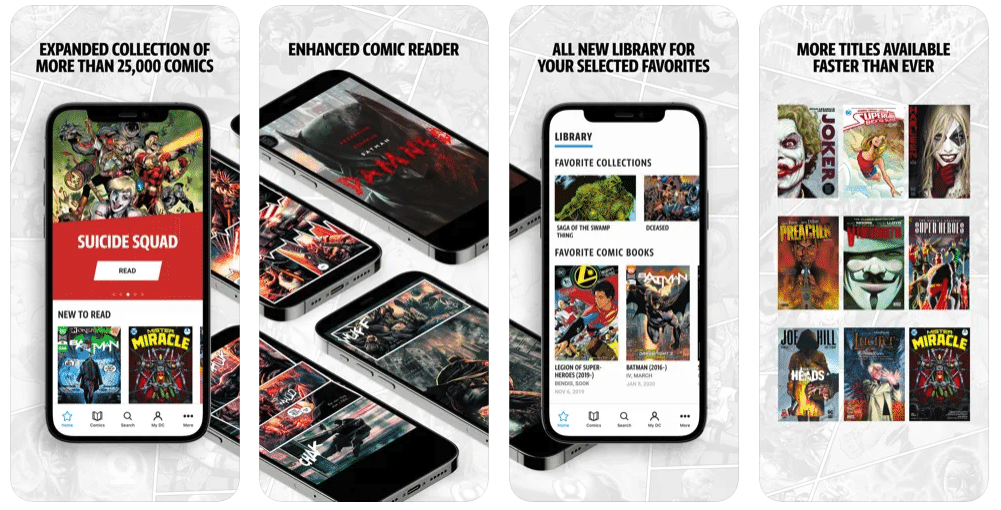 Price: 7-day free tri / $7.99 per month
With over 25,000 comics and graphic novels from DC, Vertigo, DC Black Label and Milestone Media, DC Universe Infinite is one of the best comic book apps especially for DC fans. Using the app, you can follow your favorite heroes like Wonder Woman, Batman, Superman and Aquaman through curated collections and key stories like Flashpoint and Dark Nights: Metal, save collections, favorites and specials to the MyDC library, and download content for unlimited offline reading.
DC Universe Infinite on Google Play
DC Universe Infinite on the App Store
BILIBILI COMICS
Price: Free / Starting at $0.99
Offering thousands of content for comic and manga lovers, Bilibili Comics is one of the most popular apps with offline reading, daily updates, premium content, and a large library it offers. The app's webtoon collection ranges from action and fantasy to comedy, romance, youth, BL, GL, fantasy, mystery, harem, thriller, historical, oriental, action, adventure, and horror.
Bilibili Comics on the App Store
Bilibili Comics on Google Play
---
Also Read: The Best Anime Games for Android
---
WEBTOON
Price: Free / Comic prices vary
As one of the best comic apps for Android and iPhone, Webtoon features thousands of comics across 23 genres including romance, horror, and comedy. With millions of users, you can also find manga, epic sagas, short stories, and manhwa.
CLZ Comics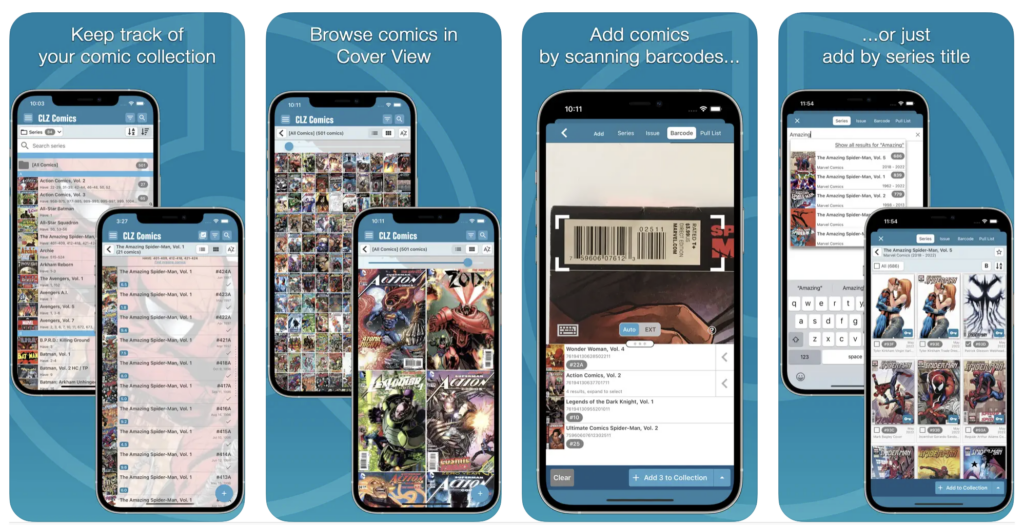 Price: Free / $14.99 per year
By simply scanning the barcode or manually inputting it, CLZ Comics assists users in keeping track of their physical comic book collections. It provides the ability to set up an account, which enables cross-platform compatibility, online backups, and data synchronization. You are unable to view comic books on your device in the app but you can use it to categorize huge collections to keep track of what you own. 100 comics can be added without charge in the app. If you need more space, you need to buy it $14.99 subscription.
–
We've come to the end of our list of the best comic book apps. Are there any other apps you think should be on our list? Let's meet in the comments.