Flashcards are a very effective learning tool as they facilitate and accelerate memorization and learning. Flashcards that help you quickly learn a lot of information about a variety of topics, such as language learning, also have a counterpart in app stores. In this article, we have listed the best flashcard apps that you can download from Google Play and Apple's App Store to make it easier for you to learn.
Quizlet
Quizlet, which is one of the most popular flashcard apps of both app stores, usually used for learning languages, is one of the best flashcard apps as it offers advanced features including tests to reinforce learning, sharing option, writing mode, learning games, and content on many subjects from math to history. Supporting more than 18 languages, you can also test your memory on the app using its write mode.
AnkiDroid Flashcards
Compatible with Windows, Mac, Linux, ChromeOS, iOS, and Android, AnkiDroid is a hugely popular cross-platform flashcard app. Key features of the app include text-to-speech integration, a progress widget, text, image, and audio support, and more than 6,000 free decks compiled for many languages and topics. The Android version of the app is free, while the iOS version is $24.99.
---
Also Read: The Best Apps for Productivity
---
DuoCards
DuoCards, a free app by Duolingo to make language learning easier, is one of the best flashcard apps for those looking for an app to improve their vocabulary. In the app, you can tap any information card to see its translation in the language of your choice. The app is very successful, with a vocabulary generator for finding new words or phrases, an integrated translator, and articles in the foreign language of your choice.
AnkiApp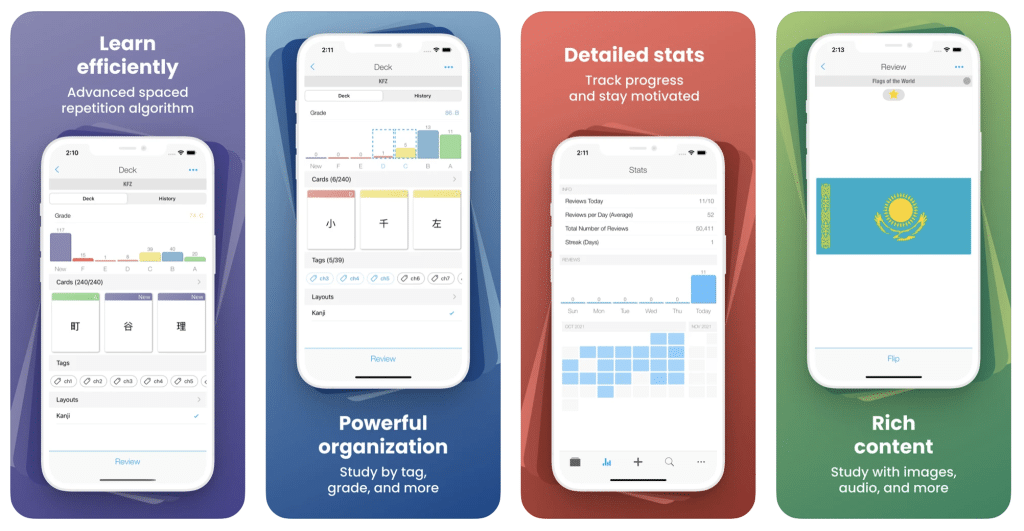 Using an advanced AI-generated form of Spaced Repetition (SRS) to maximize the amount of learning you gain in each study session, AnkiApp chooses which flashcards you need to study based on a detailed analysis of your progress. It also supports automatic synchronization with your desktop, web app and other phones and tablets.
---
Also Read: The 7 Best Mind Mapping Apps for Android and iPhone
---
Cram.com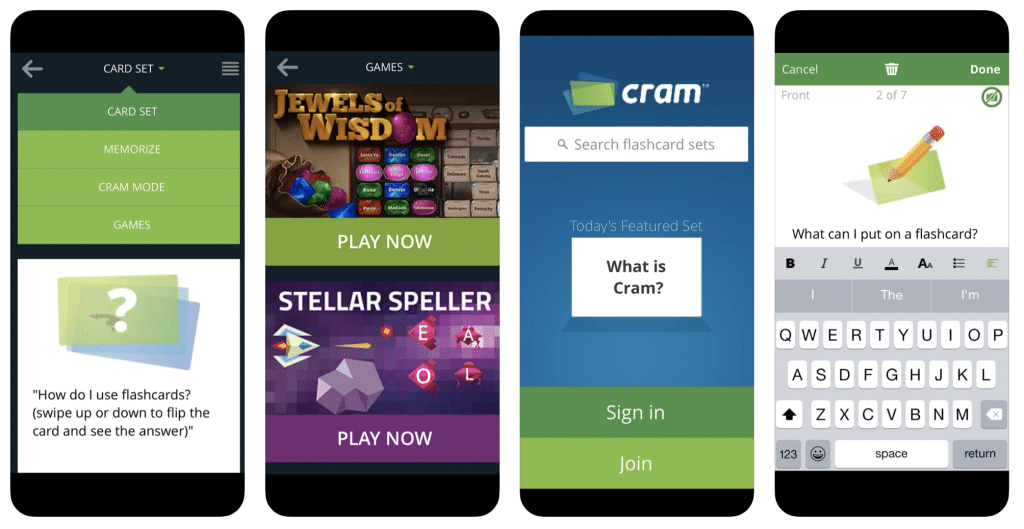 Cram.com, which is one of the most preferred flashcard apps because it is free and easy-to-use, has a memorize mode along with the card mode. The app, which has more than 75 million flashcards, also supports synchronization between accounts and offline work.
Flashcards World
Flashcards World, one of the highest rated apps on Google Play, offers many features you need such as being spaced repetition based, csv support, different review modes, sharing feature and offline working support. The free app is only available on Google Play.
Flashcards World on Google Play
---
Also Read: The Best Language Learning Apps
---
Brainscape
Offering a knowledge base created by millions of global users and experts, Brainscape allows you to keep all your content synchronized on all devices. It distills any topic into small-sized facts that are laid out as question-answer pairs, forcing you to actively recall information from scratch. You then rate how well you know each concept on a scale of 1 to 5, and the app determines the perfect time frame to repeat that flashcard.