When the responsibilities that take up all your time in the non-stop pace of the business world are added to the things you need to do in your daily life, you can become incapacitated. Business projects, especially with a team, can be quite difficult without a common management area. This is where mind map apps come into play. Mind mapping is actually a long-standing method for planning your daily life. Apps are the kneading of this method with technology.
Since you can easily use mind mapping apps on your mobile devices, you can follow and edit the plans made anytime, anywhere and direct your life flow accordingly. Be sure, it is much more advantageous to live in a planned way by using such apps instead of drowning in small details. Let's take a closer look at the best mind mapping apps that will make your work easier in every aspect of your life.
The Best Mind Mapping Apps
MindMeister
You can plan every aspect of your life with MindMeister, which offers a user-friendly organisation system. Through the app where you can create up to three mind maps, you can access your maps and folders online, organise them synchronously, easily add and remove them, make customizations, and add notes, links, images and presentations about the topics.
XMind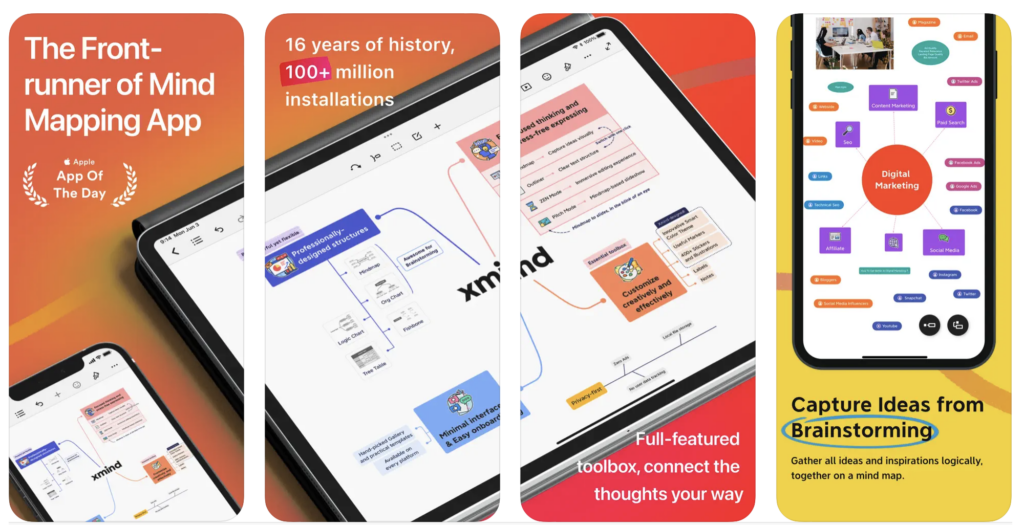 XMind, which has been a user-oriented mind map service for many years, has one of the most useful interfaces on our list. You can create 16 different mind map diagrams, including Fishbone and Org-Chart types, via XMind, which you can use synchronously with the desktop app. You can make file management unique by customizing your app with 10 different themes. XMind, one of the best mind mapping apps, also works in harmony with apps such as Google Slides, Microsoft PowerPoint, Keynote.
---
Also Read: The Best Apps for Productivity
---
Coggle
Through Coogle, which allows you to visualize even your most complex plans and organize them much more easily, you can also share the files you create with your team and friends. You can create up to three free mind maps through the app, follow all the work in real time thanks to instant notifications, and create countless diagrams with markdown support.
Mindomo
Thanks to the private cloud storage space it offers to its users, you have the chance to make direct presentations with the mind maps you created on Mindomo, which allows you to access all your works from anywhere. You can edit all the files you have prepared in the app, which is one of the best mind mapping apps, both online and offline. You can have a unique file management experience thanks to the customization options.
---
Also Read: The Best Note Taking Apps
---
miMind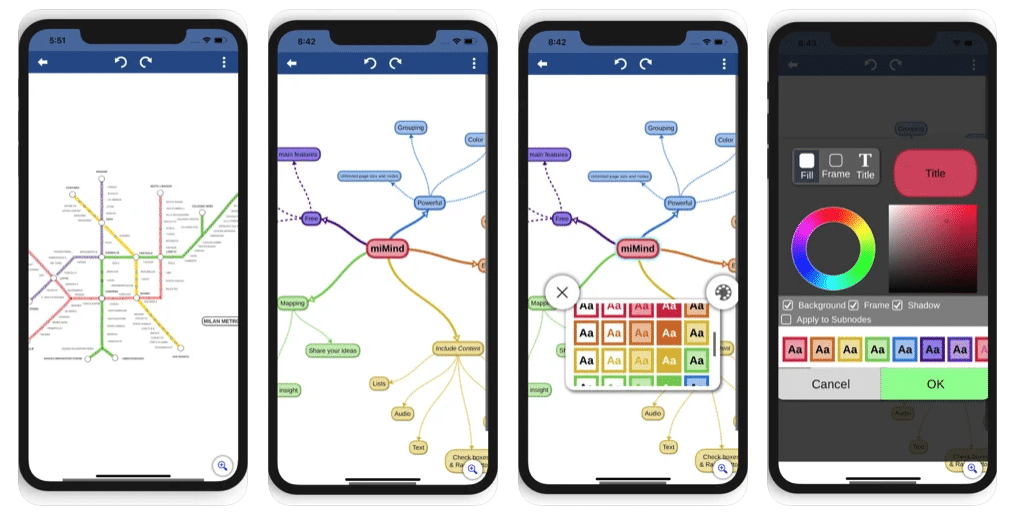 With miMind – Easy Mind Mapping app, which has an intuitive, user-friendly, and optimized interface for different devices, you can create files with special colors and schemes, share them as you wish, or add these files to different PDF, XML, and text files. Offering ad-free use, the application supports many different file formats. Thanks to its cloud storage space, you can access all your files from anywhere.
Ayoa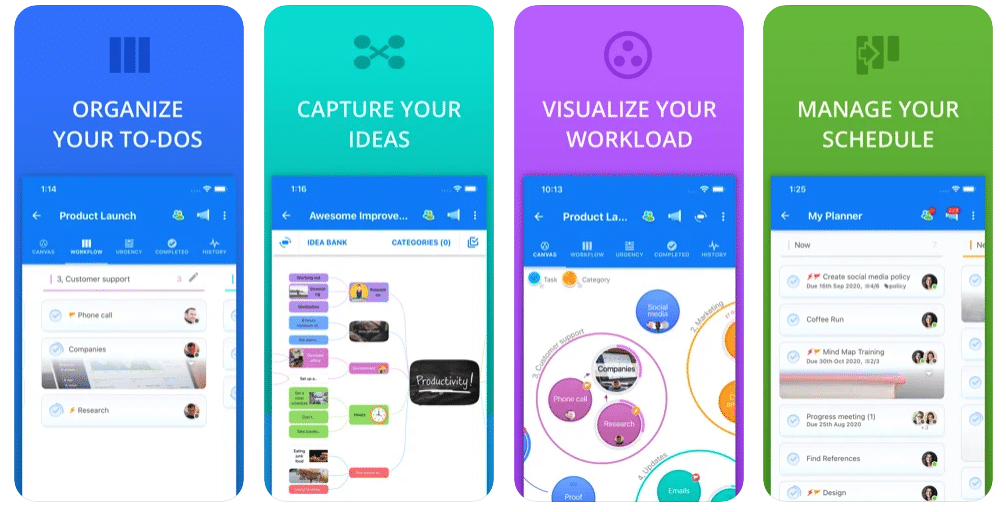 Ayoa, which has a very simple and useful interface, is one of the easiest-to-use mind map apps on our list. You can visualize all your plans, tasks, and thoughts through the app. You can easily monitor your business processes through simple diagrams and experience a unique file management experience with the app's customization options.
---
Also Read: The Best Apps for Apple Pencil
---
Mindz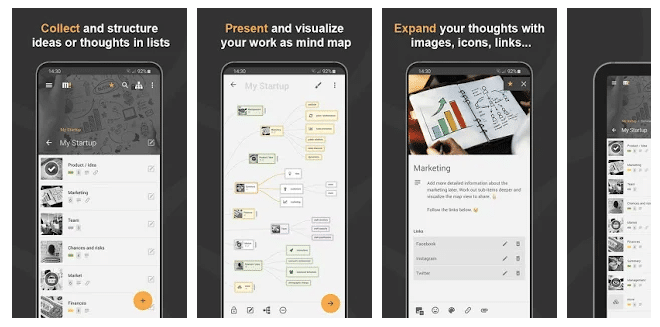 With Mindz – Mind Mapping Lite, the free version of Mindz, you can create up to three mind maps over 40 basic titles. You can see all the tasks in a single list through the app, which you can use without any ads, and you can create your own special files by adding icons, images, colors and links to the mind maps you have created. It is also possible to share all the files you create as images or PDFs.
Microsoft Visio Viewer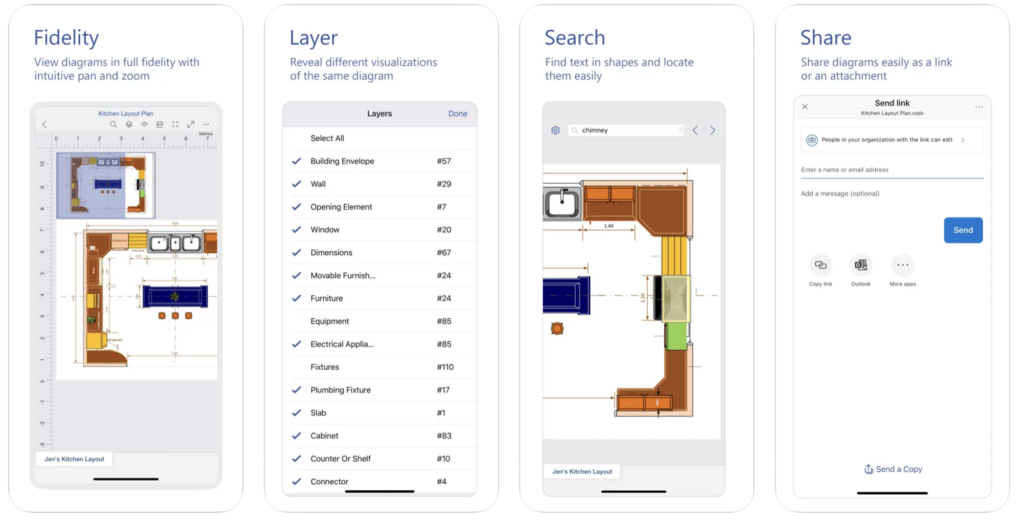 Offering many different services, software, and apps for the business world, Microsoft also has a mind map app called Visio. With the Microsoft Visio Viewer app on your mobile devices with the iOS operating system, you can access and edit all your data in the Visio system. The app also works in harmony with OneDrive, OneDrive for Business, and SharePoint apps.
Micrososft Visio Viewer on the App Store
---
Also Read: The Best Time Management Apps
---
Lucidchart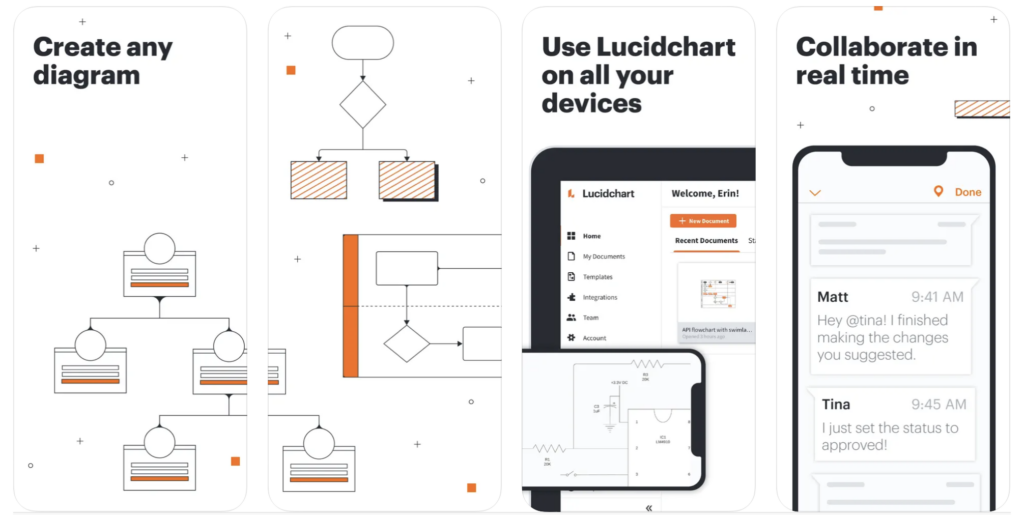 Lucidchart, which offers features that will accelerate your business process by supporting it with visual data, works in harmony with many different services such as Microsoft Visio. You can create new documents, edit existing documents, make quick starts with ready-made templates, comment on shares, and access all of these offline through the app.
–
We have listed the best mind-mapping apps that make your work easier by planning both your business and personal life, and we briefly talked about the prominent features of these mobile apps. You can share your thoughts and experiences about the apps on our list in the comments.