Apple Pencil has become a complementary tool that makes life easier for those who actively use their iPad for different purposes. Especially for those who like to keep their notes in writing; those who work with graphic design and illustrations as an amateur or professional; and those who use drawing apps as a hobby, Apple Pencil helps to make it simple, faster and more realistic with activity.
With the introduction of Apple Pencil in our lives and its further development, different apps compatible with Apple Pencil have also started to take their place in the App Store and their number continues to increase.
In this article, we have compiled the best free and paid drawing, note taking and coloring apps for Apple Pencil. If you are looking for an app for one of these three purposes, you can jump to the relevant title below without wasting time.
The Best Note Taking Apps for Apple Pencil
Notability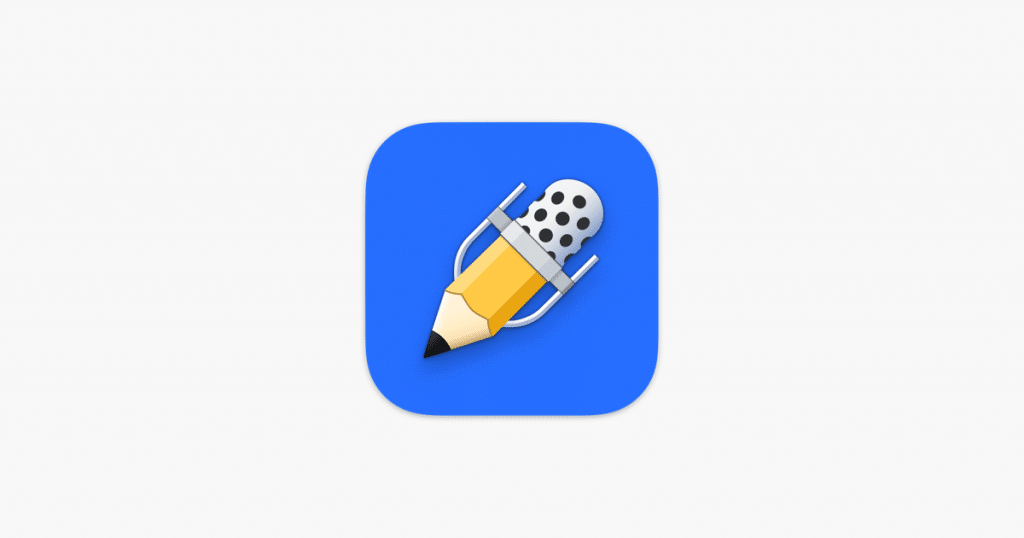 Price: Free / $11.99
With thousands of positive reviews, Notability has proven its success to note takers over the years, with its ability to record audio to users' notes and to synchronize handwriting with notes in a way other apps cannot. Of course, it owes this success to many useful and practical features besides recording audio.
Notability, which has a very simplified interface for note taking and filing, connects most of its users to it thanks to this simplicity. Although the organizing options are limited for most users compared to its competitor GoodNotes, it has quite a lot of users who love this style.
You can create digital notes from scratch, as well as take notes on the files you import into the app. By splitting the screen in half, you can work on both documents. Notability can also recognize your handwriting and convert it to text or scan and import your documents. It also offers many options for exporting and sharing your files, including Notability Google Drive, Dropbox, and AirDrop.
Its Ink feature is fine-tuned for the Apple Pencil for the most responsive, precise writing experience.
As one of the best apps for Apple Pencil, in Notability, you can make automatic backups to avoid losing your notes. You can use cloud storage services or backup can be done by changing the backup destination. Backup in different formats is available. In addition to documents, there are options for backing up audio files. You can use Notability, a paid application, on all your iOS devices once you purchase it. If you want to keep your notes on the iPad permanently, it is definitely worth the price you pay.
App Store: Store Link
---
Also Read: The 7 Best Note Taking Apps for iPad
---
Evernote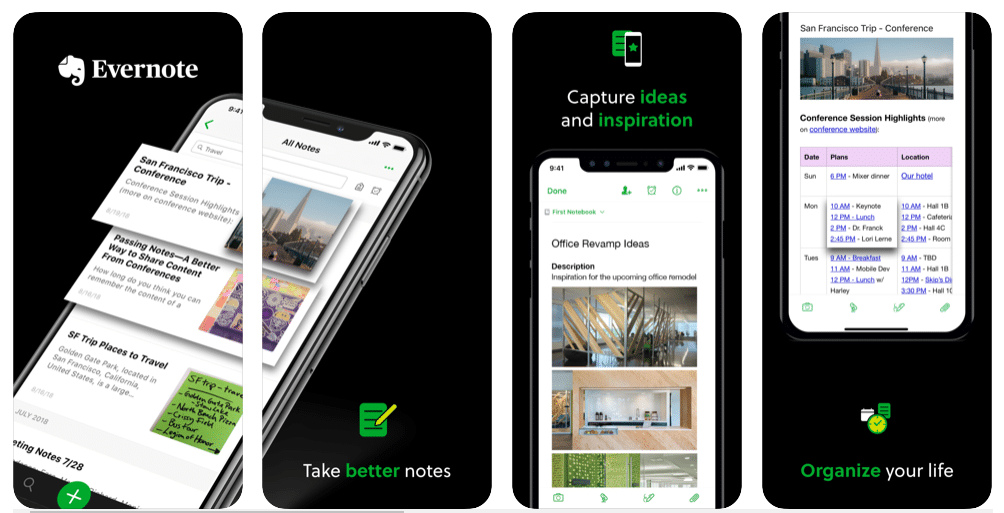 Price: Free
For those who want to take notes on both iOS and Android operating systems, Evernote on both platforms provides easy synchronization between your notes. You can add various options such as picture, link, audio file, table, drawing and check box to the notes you create. In particular, we can say that the document scanning option is very successful.
It allows you to upload 60MB per month on the free plan and use 2 devices synchronously. Also note that the free version is limited to 25MB per note. However, if you switch to a premium account, you can access unlimited devices, 10 GB uploads per month and 200 MB per note.
App Store: Store Link
Nebo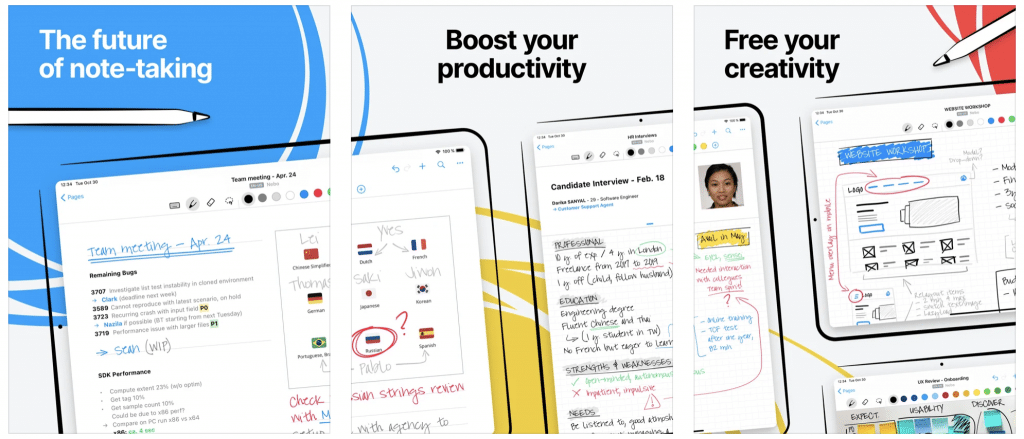 Price: Free
Nebo's handwriting recognition feature is designed to make it easy to translate your handwriting into text. It has a number of productivity shortcuts (strikeout, scribble, underline, etc.) that make it easy for you to organize and structure your notes. You can use the free version or you can purchase the paid full package after downloading the app.
Nebo, as an app compatible with Apple Pencil, improves your writing experience based on how you use your palm. In the free version, you can create pages for taking notes. You can upgrade to the paid version to import documents. It will also charge a fee for exporting your documents.
App Store: Store Link
---
Also read: The 10 Best Note Taking Apps
---
The Best Drawing Apps for Apple Pencil
Procreate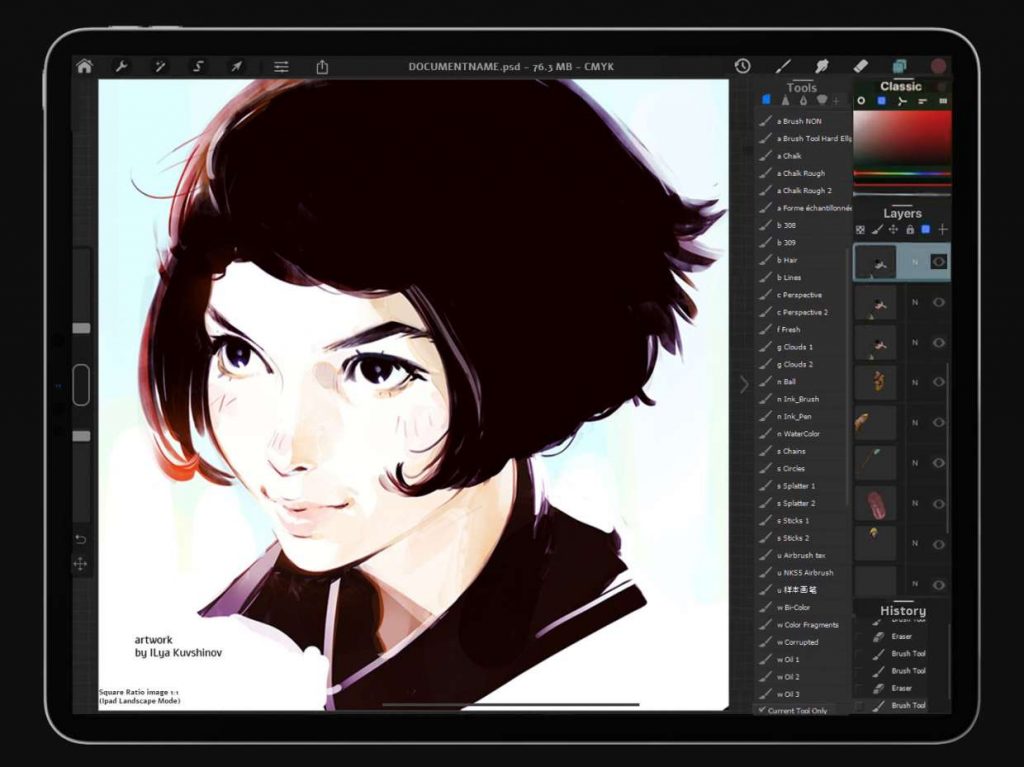 Price: $9.99
Procreate from Savage Interactive, one of the most popular iPad drawing and design apps, won the Apple Design Award and has been used by many Digital Artists, including Sam Gilbey and Pete Fowler.
Mainly preferred by professionals, Procreate has more than 200 handcrafted brush models and work in perfect harmony with the Apple Pencil. Using Procreate, you can create sketches, rich pictures, illustrations and animations.
Featuring dual texture brushes, alpha locks, highly responsive smudge tools, blend mode and clipping masks, it also lets you save your work in PSD, native .procreate, TIFF, transparent PNG, animated GIF, MP4. multiple PDF pages and JPEG formats.
As one of our favorite apps for Apple Pencil, Procreate also supports high resolution canvases up to 4K up to 16k on iPad Pro. It also provides 250 levels of undo and redo.
App Store: Store Link
Linea Sketch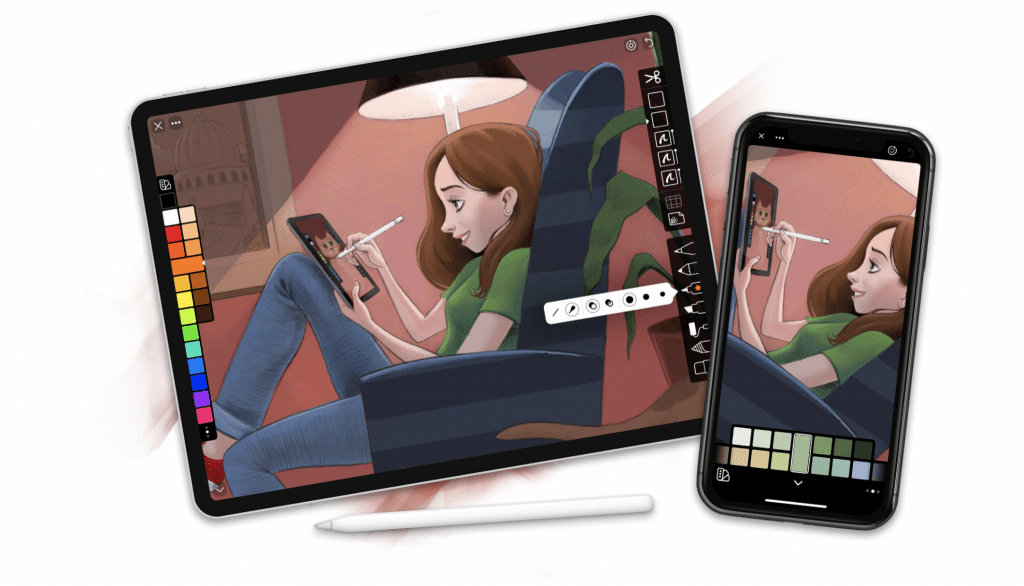 Price: Free
Linea Sketch is an iPad app that is extremely easy to use and allows you to take notes with your handwriting as well as drawing. At the same time, the app is optimized for Apple Pencil.
The feature that differentiates Linea Sketch from its competitors is its structure that allows you to create perfect shapes and suggest matching colors for the shapes you have already created. At the same time, you can save your work as PSD, JPG or PNG with the app that has layer support.
App Store: Store Link
Astropad

Price: $29.99
With Astropad, one of the best apps for Apple Pencil, you can turn your iPad Pro into a professional graphic tablet. It connects your tablet with the Mac, allowing you to draw on your Mac with the help of Apple Pencil using your iPad. 
It allows you to use your iPad to draw directly into Photoshop, Illustrator, Lightroom, Affinity, Corel Painter, Manga Studio, Pixelmator, Mischief, and many other Mac creative tools.
With this highly innovative app which requires a Mac, iPad Pro replaces Wacom tablets preferred by professionals such as graphic artists and painters.
App Store: Store Link
---
Also read: The 7 Best Drawing Apps for iPad
---
The Best Coloring Apps for Apple Pencil
Pigment

Price: Free
If you are looking for the best coloring app for adults, you will do well with Pigment which fully supports Apple Pencil.
Pigment is among our favorite coloring apps, with over 3,400 designs to choose from and a wide variety of painting tools and brushes, including pencils, felt-tip pens, glitter, pastel, sand, oil, and more.
Additionally, you can review the work of other aspiring coloring book artists or import your photos for a customized experience. The app is free for seven days.
App Store: Store Link
Colorgram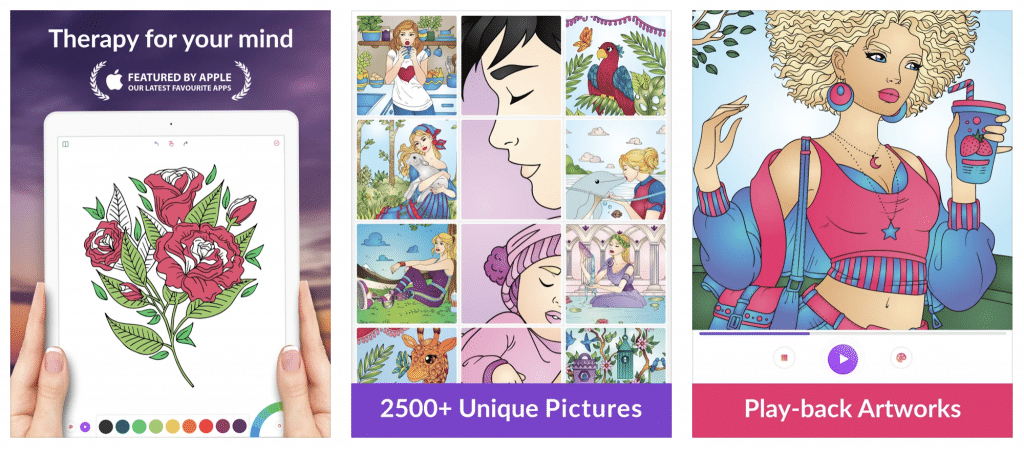 Price: Free
Having more than 2500 coloring pages and supporting over 500 flat and gradient colors as well as custom color palettes, Colorgram is one of the best apps for Apple Pencil that will allow you to have a pleasant time with your iPad for free.
It also provides a social community to meet and interact with other app users around the globe. You can also watch the playback coloring videos with soothing background music to release your stress.
App Store: Store Link
Lake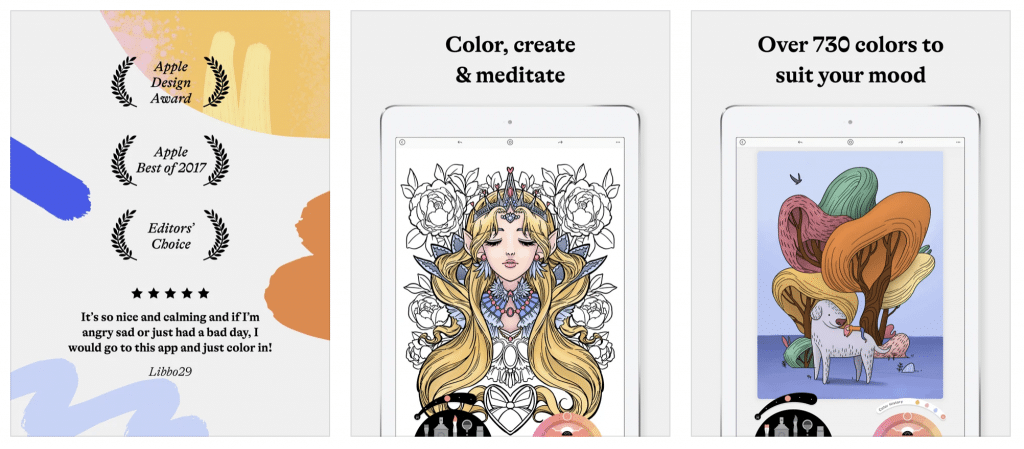 Price: Free
As Apple said while giving the Apple Design Award, Lake is a "a beautifully designed, best-of-breed coloring app", that provides over 85 coloring books by worldwide indie illustrators and 5-piece tool set including acrylic brush, watercolor brush, spray, fill, and eraser.
Having synchronization with iCloud and supporting Apple Pencil and 3D Touch, Lake will allow you color, create, and meditate.
App Store: Store Link
---
Also Read: The 8 Best Coloring Apps for iPad
---
Bonus: LiquidText

Price: Free
LiquidText, a free app with in-app purchases, helps you annotate PDFs, brainstorm on and organize documents. Featured by Apple, Mashable, and TIME, LiquidText is app for Apple Pencil for the ones who work on documents a lot during the day and use their tablet actively.
Using LiquidText, you can create a workplace to import all your documents in PDF format from Drpobox, email, and iCloud Drive or you can importa content directly from a webpage.
You can pull excerpts from all docs in your project into your Workplace, add notes to the Workspace area, draw on your notes, and organize excerpts and notes into groups.
App Store: Store Link
—
We've come to the end of our list of best apps for Apple Pencil. Are there any other apps you use? What do you think about the apps on the list that you use? We welcome your valuable comments below.