As we adapted to the digital world, we could easily handle our work in the digital environment. The increasingly popular use of the iPad has eliminated the necessity of paper-pencil, especially with Apple Pencil. You can easily keep all kinds of notes on the iPad, providing an experience that is as good as physical paper and pen use. 
In this article, we have listed the best note taking apps for iPad that have won the appreciation of users with their advanced features and ease of use.
The Best Note Taking Apps for iPad
Notability
GoodNotes 5
Microsoft OneNote
Nebo
Evernote
Noteshelf
Bear
BONUS: Apple Notes
Notability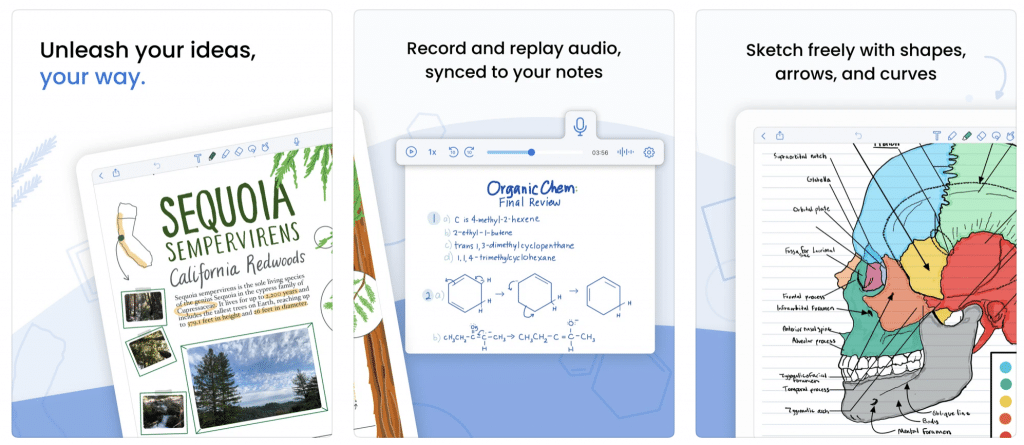 Price: Free / $12.99
Notable Features
Sketch support
Recording and replaying audio, synced to the notes
Presentation mode
Working with two notes side-by-side
Notability, which is very popular among iPad users with its advanced features such as the ability to record sound in notes and support for synchronizing handwriting with notes, also has a very simplified interface for filing and organization.
In Notability, you can either create a digital note from scratch or overwrite imported files. Other important features of the application include the ability to work on two documents by splitting the screen, scanning and importing documents, automatic backup, cloud storage, and backing up audio files.
It is also one of the best apps for Apple Pencil with its Ink feature which is fine-tuned for the Apple Pencil for a responsive and precise writing experience.
---
Also Read: The Best Writing Apps for iPad
---
GoodNotes 5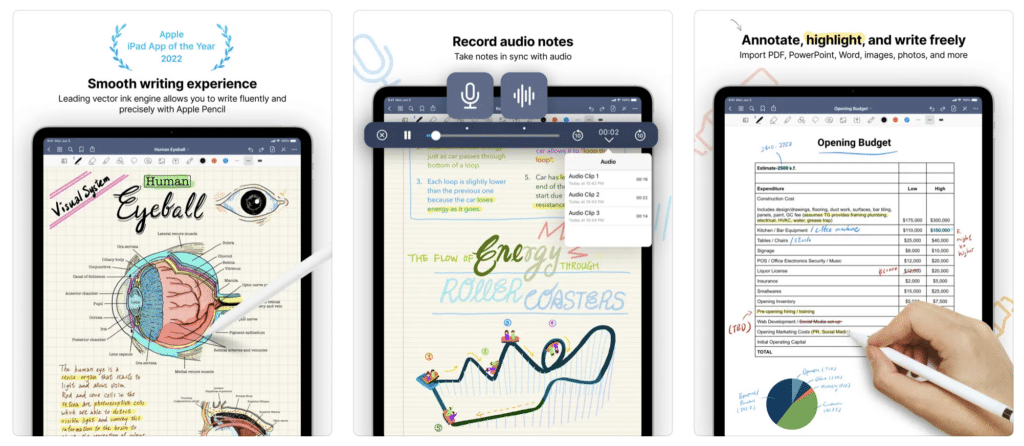 Price: Free / $8.99
Notable Features
Presentation mode & Laser Pointer support
Collaboration support 
Large template library
GoodNotes 5, which is preferred by many users despite being a paid app, is one of the best note taking apps for iPad, having everything you want to take notes and organize your notes. The interface of the app is based on the folder system. In this way, you can easily organize your documents and find them easily. In addition, there are many ready-made pages (lined, square, planner, music book, etc.) and funny notebook covers in the app. You can start taking notes directly on it by selecting the page for your note-taking purpose.
GoodNotes 5 lets you adjust the pen sensitivity and palm recognition to suit your writing style. Thanks to the shape pen, you can create perfect circles and rectangles. You can take notes by opening two documents side by side at the same time. GoodNotes 5 recognizes your handwriting. So you can convert your handwriting to text or search your notes.
You can add photos to your notes and resize or crop them. Besides the rectangular cropping option, free cropping is also available. With this feature, you can use only the part of the pictures you want in your notes. GoodNotes 5 includes a "Presentation Mode" that lets you turn your iPad into a digital whiteboard. Using AirPlay or an HDMI cable, you can mirror what you're typing on a larger screen while still seeing the GoodNotes interface on your iPad.
With automatic backup, you can back up to cloud services such as iCloud, Google Drive or Dropbox. Thus, in case you lose your notes, you can protect your documents by importing them without backup. When you make a one-time payment, you can use GoodNotes 5 on your Apple devices. Sharing options are also plentiful. For example, you can send your notes to the drive or share them via email. Before sharing, you can change the format of the document to pdf, image or goodnotes format.
---
Also Read: The Best To-Do List Apps for iPhone
---
Microsoft OneNote

Price: Free / Starting at $6.99
Notable Features
Office Lens support
Sticky notes synchronization
Password protection for notes
Microsoft OneNote is a popular note-taking app suitable for all devices. One of the biggest advantages is that it is free (if you have a Microsoft 365 account) compared to GoodNotes 5. OneNote is not only available on every major platform, it's also very useful in that it lets you organize your notes.
OneNote for iPad offers a variety of multimedia features: You can write text, add graphics, and even add audio recordings. You can also search notes for specific words and view your notes across devices. Additionally, anything you create in OneNote is automatically backed up to OneDrive.
You can share your notes as pdf or invite other OneNote users to your notes so they can view and edit them. It also has the ability to set a password while sharing files. If you're already using Microsoft apps, OneNote will easily integrate into your workflow.
Microsoft OneNote on the App Store
Nebo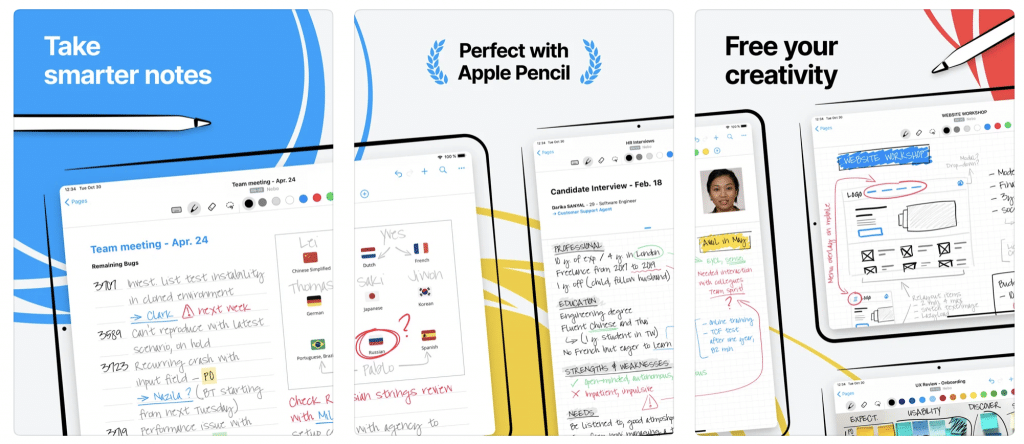 Price: Free / Starting $1.99
Notable Features
Handwriting match equations and matrices across several lines
Screen split support
Handwriting recognition
With features like handwriting recognition, productivity shortcuts for editing notes, and reusing freeform content on regular pages, Nebo is one of the best note-taking apps for iPad. 
Although Nebo offers features such as note-taking, page creation and editing for free, you must purchase a paid version for features such as importing documents.
---
Also Read: The Best Drawing Apps for iPad
---
Evernote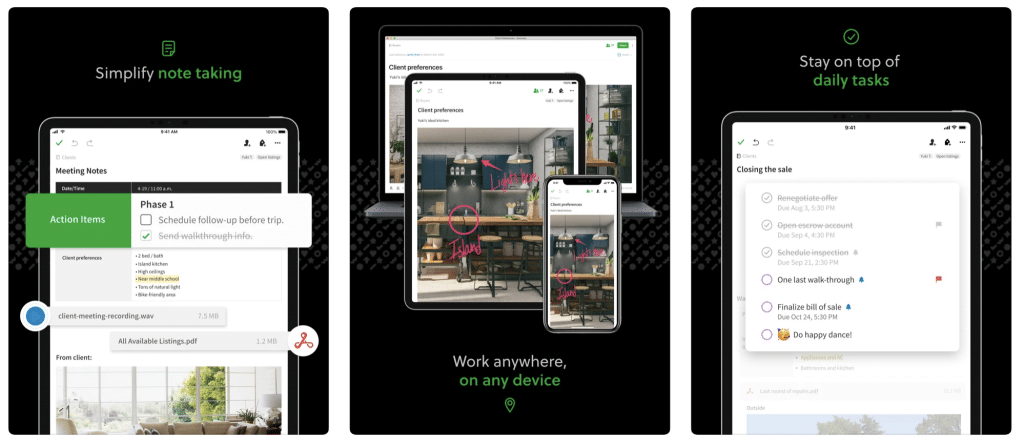 Price: Free / $4.99
Notable Features
Document scanning 
Device synchronization
Task management support
Evernote, which provides easy synchronization between your notes and your devices, is also one of the best note taking apps for iPad Pro. In the popular app, you can add various content types such as pictures, links, sound files, tables, drawings, and checkboxes to your notes, and scan documents using your phone's camera.
In paid versions of Evernote, you can access your notes offline, add multiple Google Calendar accounts, track your tasks, and more.
Noteshelf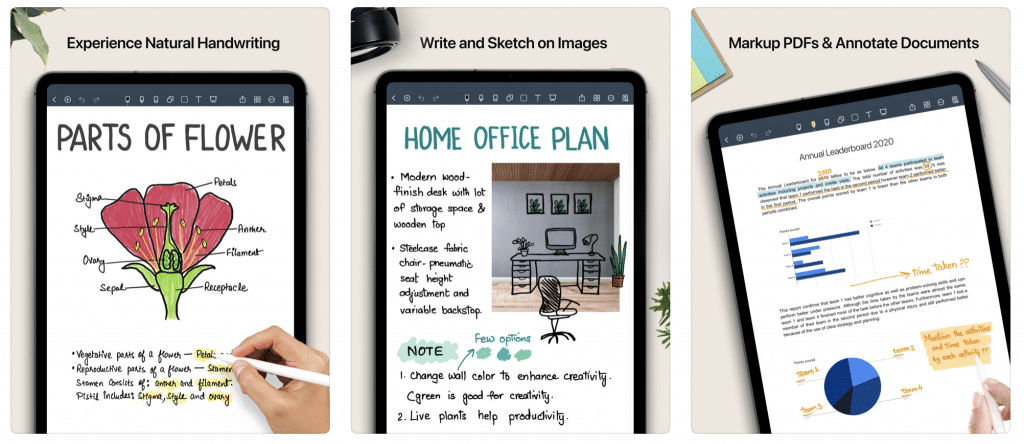 Price: $9.99
Notable Features
Recognizing more than 65 languages of handwriting
Syncing all notes via iCloud
Audio recording
If you speak or write multiple languages, Noteshelf's ability to recognize handwriting in 65 different languages ​​will come in handy. It has many of the features we love in Notability, including the option to annotate PDFs and multitask with the iPad's split screen. You can also record audio notes in your documents to be used with your handwritten notes.
Noteshelf's simplified interface gives you a streamlined experience. The app doesn't clutter your workspace with unnecessary menu options or selection tools. Instead, it provides as much white space as possible for you to have your own place. You will also feel the fluency and naturalness of your writing in this application.
Finally, Noteshelf lets you export your notes to iCloud, Dropbox, Google Drive, OneDrive and Evernote. The export to Evernote option is noticeably missing from Notability, making this Noteshelf our top pick for serious Evernote users.
---
Also Read: The Best iPad Productivity Apps
---
Bear
Price: Free / $14.99 per year
Notable Features
Apple Watch dictation support
Sketch support
Note taking via Siri and iOS shortcuts
Allowing you to create notes with Siri and iOS shortcuts, Bear also lets you dictate and append to recent notes using your Apple Watch. You can organize your notes with tags using Bear, which also contains the basic features of other note taking apps in the list. In the app with multiple export options, you can also sync notes via iCloud.
---
Also Read: The Best Graphic Design Apps for iPad
---
BONUS: Apple Notes
Apple's pre-installed app Apple Notes, one of the best free note taking apps for iPad, is also one of the best note taking apps for iPad Pro as it supports both sketching and handwriting. Using Notes, you can capture a quick thought, create checklists, pin your top notes, scan documents, and add attachments like web links and photos. It also offers a clear organization option with folder structure.