A powerful to do list app enables you to organize your daily tasks, form a daily habit, and improve your productivity by helping you to manage your time effectively. Today, to do list apps are preferred for both business and personal purposes from reminding you to drink water to sending a notification for an upcoming business meeting.
There are plenty of to-do list apps available in the Apple Apple Store for free or subscription-based. Although most of them offer similar features, choosing the best one for your needs is not easy. If you are looking for a short list of the best alternatives, here is a compilation of the 7 best to do list apps available in the App Store for iPhone users. 
The Best To Do List Apps for iPhone
Productive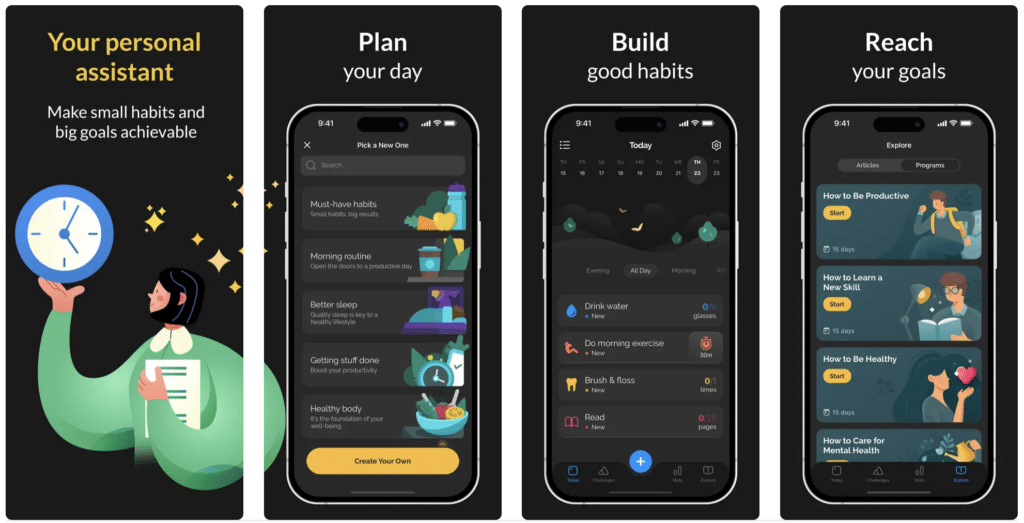 Productive is a free to download to do list app that mainly focuses on creating personal habits via positive routines. Productive users can set personal goals related to the habit that they want to form, track their progress daily, weekly, and monthly, and get reminded of upcoming tasks. Productive's interface is clean and easy to use.
As one of the best to do list apps for iPhone, Productive offers paid subscriptions for premium features including location based reminders, unlimited number of habits, habit-based statistics, habit trends with weekly data, and more. The monthly paid subscriptions start from $3.99 per month and the app also offers yearly subscription packages starting from $11.99.
---
Also Read: The Best Habit Tracker Apps
---
Any.do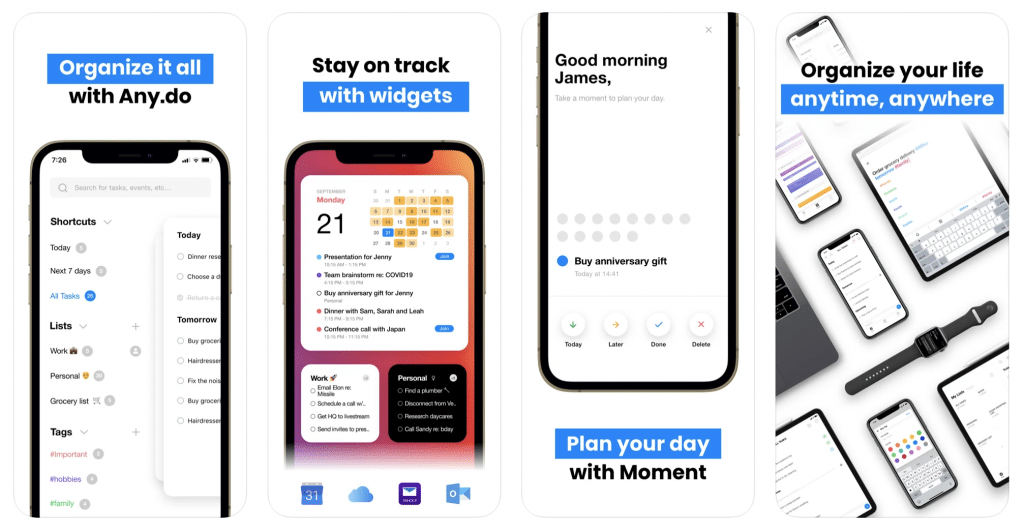 Any.do is among the most popular to do list apps in the App Store, used by more than 25 million people worldwide. The free to download app allows users to create and organize their tasks, lists, and reminders and sync between all devices (mobile, tablet, Apple Watch, and PC) to avoid missing a thing.
Any.do provides a calendar to control your day for both personal and business purposes, that integrates with the most popular calendars including Google Calendar, iCloud, Outlook, and more.
Any.do users can share their task lists and tasks with friends or colleagues to collaborate and work together.
As one of the best to do list apps for iPhone, Any.do enables you to add voice entries where you can easily create a to do by just speaking. You can also get one-time, repeating, or location-based reminders (which will help you to remember to buy milk on your way home). Any.do also understands natural language, understand the date and the time you mean when you write "tomorrow".
PRICING
$9.99 – monthly plan
$26.99 – 6 months plan
$59.99 – 12 months plan with 7 days trial (50% OFF)
---
Also: The Best Reminder Apps for iOS and Android
---
Microsoft To Do

Mainly for personal purposes, Microsoft To Do is one of the best free to do list apps helping its users to organize their daily activities by taking notes, setting reminders, and making task lists.
The app provides synchronization with Microsoft 365 to access tasks and reminders from other devices. It also allows capturing tasks from different Microsoft apps, including Outlook and Cortana and synchronizes them with Microsoft To Do.
The to do list app offers a personalized daily planner, called My Day, with suggested tasks. Users can add notes to tasks, attach files to tasks, add sub-tasks to main tasks, share their lists with their friends, family members, or colleagues, and set one-time or recurring reminders.
---
Also Read: The 7 Best Note Taking Apps for iPad
---
Things 3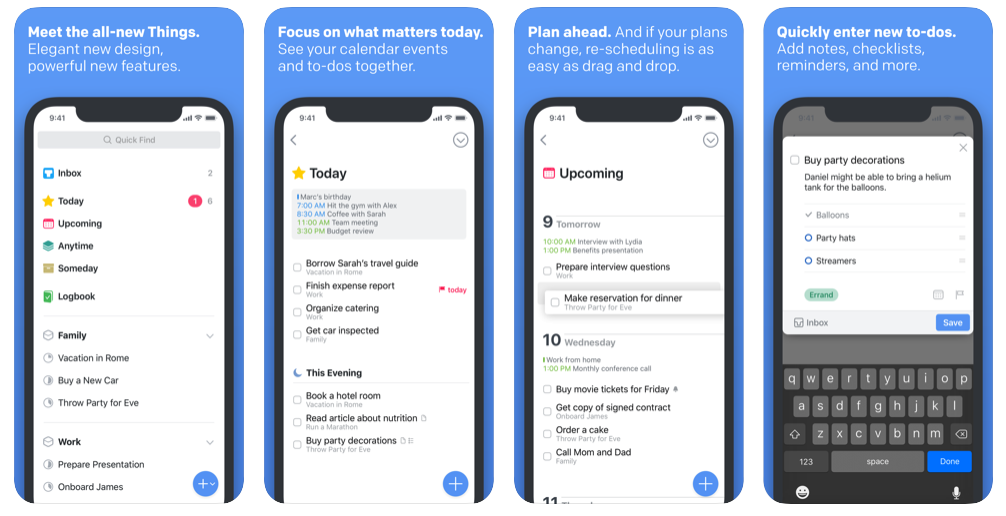 Things 3 is a paid to do list app that costs $9.99. The app allows its users to create to-do lists, projects for big goals that need to include plenty of to-dos, and areas for different spheres of work, personal life, finance, and more. 
Via Things 3, you can create reminders and repeaters for upcoming tasks, check your evening activities with the 'This Evening' feature, integrate your calendar to see your events, use the 'Magic Plus' + button to add a to-do anywhere in a to-do list, forward an email to the app, create to-dos with content from other apps like adding a link to a website you want to get back to, and more. Things 3 has also an app for Apple Watch to track your tasks, mark to-dos, and dictate a new task.
---
Also Read: The Best Apple Watch Apps
---
OmniFocus 3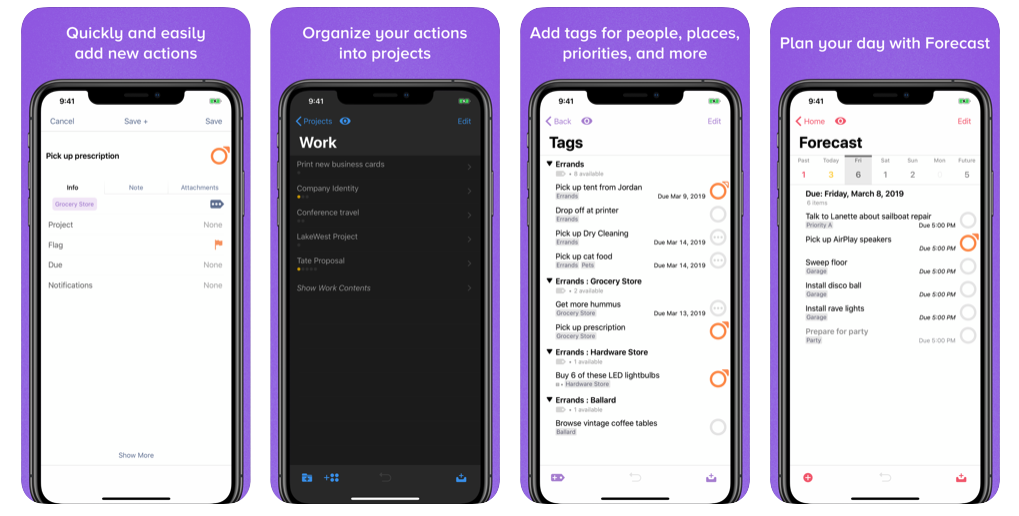 OmniFocus 3 is a free-to-download to do list app that offers a two-week free trial. After the trial period, there are two different paid subscription options available. OmniFocus Standard Plan costs $49.99 / year and OmniFocus 3 Pro Plan costs $74.99 / year. 
In OmniFocus Standard Plan, users can create tasks and projects, add tags to organize, see tasks and projects in order with The Forecast view, set repeating tasks, add tasks to Inbox to organize later, add attachments, add tasks with Siri, add tasks via email, and use Today Widget to see important tasks without opening OmniFocus app.
In OmniFocus Pro Plan, in addition to the Standard Plan's features, users can customize the sidebar and home screen according to their needs, use the Today Widget to see a perspective of their choice in the Notification Center, add tags to tasks in Today's Forecast and reorder them, and use advanced custom filtering rules. 
Google Tasks

Google Tasks is Google's free-to-use to do list app where users can capture, edit, and manage daily tasks with synchronization across all devices. As one of the best free to do list apps, it is simple and easy-to-use app that helps users to manage their tasks created in Gmail or Calendar on the web from mobile devices. The tasks created from an email in Gmail can be traced back to its source email. 
Google Tasks allow users to organize to-dos with drag-and-drop according to their priorities. G Suite users can also connect with their team to share tasks and to-dos.
---
Also Read: The Best Apps for Productivity
---
TickTick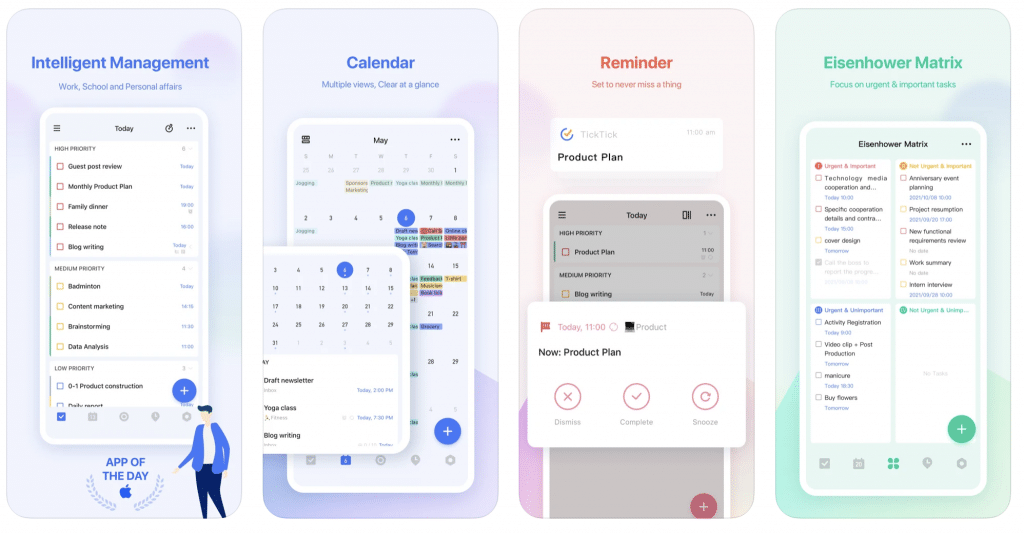 The last in our list of the best to do list apps for iPhone is TickTick which helps you to stay organized by creating, managing and collaborating on tasks, both for business and personal purposes.
TickTick is free to download to do list app that you can sync tasks across PC, tablet, mobile, and Apple Watch, use Siri to create tasks, add tasks via email, add attachments to tasks, add tasks to tasks to organize, create recurring tasks, enable Focus feature to stay concentrated, set goals to form habits, get the time and location reminders, and more. 
The app also provides paid subscriptions for $27.99 / year, which offers premium features including adding up to 5 reminders to each task, adding up to 299 lists, 999 tasks in each list, and 199 subtasks, sharing a task list of up to 29 members, and more.