Many of the things we do during the day are governed by our habits, whether we are aware of it or not. While some of these affect our lives in a bad way, such as smoking, some of them contribute positively to our lives, such as drinking water every morning when we wake up.
Being aware of our habits and taking control is very important in terms of increasing our quality of life and raising awareness, but doing this is often harder than it seems. Habit tracker apps are designed to help us both develop good habits and get rid of bad ones by setting small daily goals for ourselves and tracking them regularly.
In this article, we've brought together the best habit tracker apps to help you make good habits your goals and get rid of bad ones to improve your life.
---
Also Read: The 7 Best To Do List Apps for iPhone
Also Read: The Best To Do List Apps for Android
---
Streaks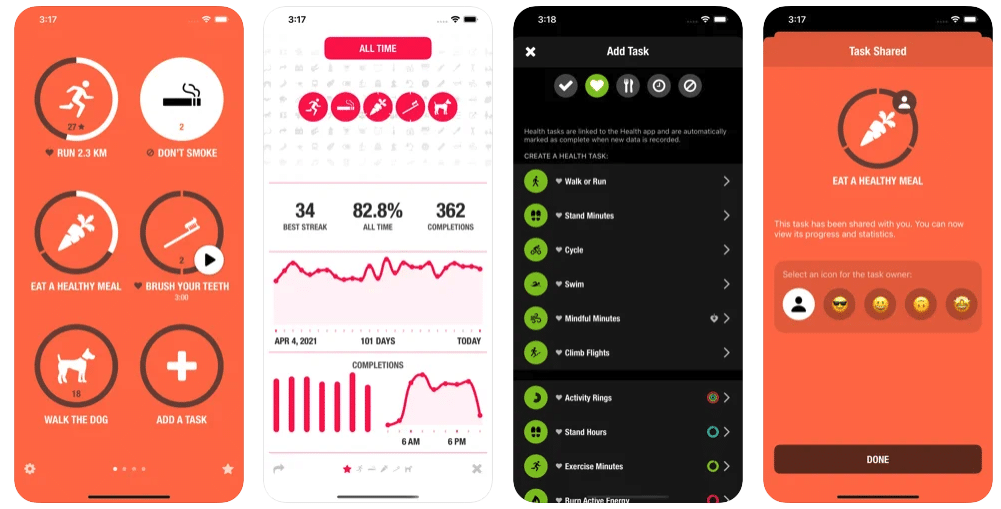 Price: $4.99
Streaks, which has won the appreciation of thousands of users with its award-winning interface and easy use, is a paid habit tracker app that is currently only available in the App Store.
By using Streaks, you can follow up to 24 tasks that you want to make a habit of doing every day, such as brushing your teeth, not smoking, or walking your dog. Thanks to the alarms you set for Tasks, reminders tell you what to do at the times you want every day. You can use the app to develop good habits or to get rid of your bad habits by creating negative tasks.
Streaks, which offers more than 70 theme colors and more than 600 task icons so that you can personalize the interface, can also work in sync with Apple's Health app and iCloud, so you can access the app in sync with all your Apple devices.
Habitify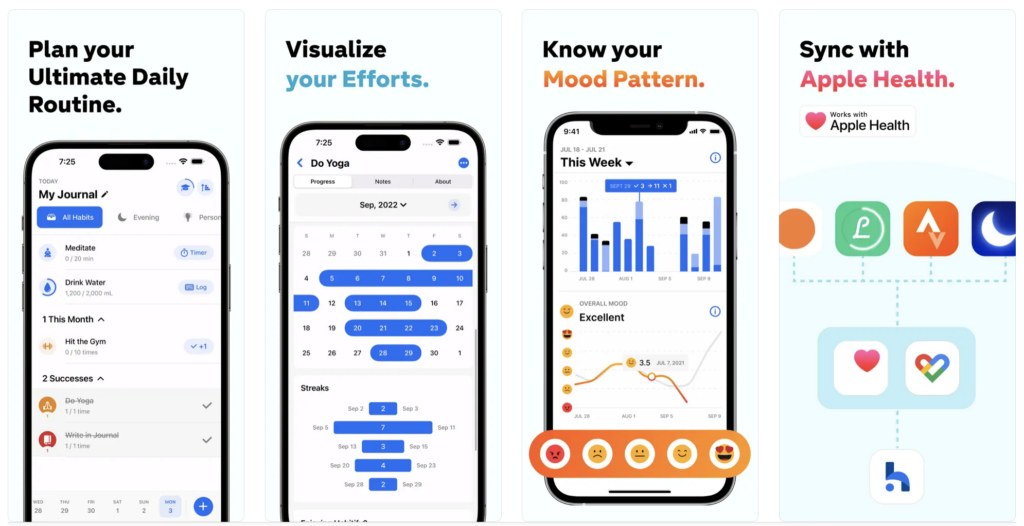 Price: Free / $4.99 per month / $29.99 per year / $39.99 for lifetime subscription
Habitify, the habit tracker app that you can use on both iOS and Android devices, helps you group the habits you want to develop according to certain criteria, remember a habit by setting up smart reminders, track your progress and get to know yourself better in terms of your habits with detailed analysis.
For features like unlimited habits, reminders, skips, notes for reflection, and a privacy lock, you need to purchase a paid subscription package.
---
Also Read: The Best Apps for Productivity
---
Habit Hub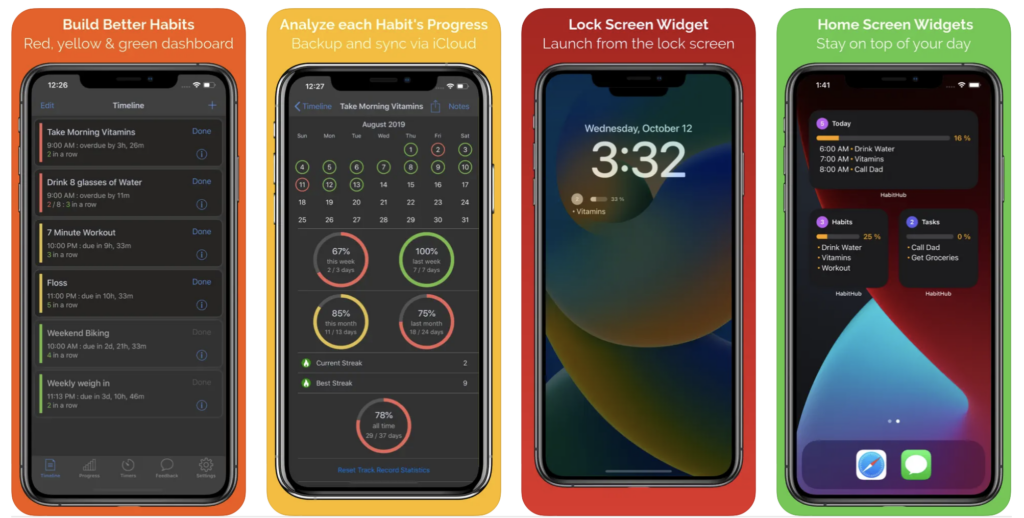 Price: Free / $2.99 for One-Time Premium Upgrade
The popular application Habit Hub, which allows you to both acquire new hobbies and track existing hobbies, allows you to create to-do lists with red, green, and yellow indicators, and if you have more than one hobby, combine them and perform multi-step routines and multi-step timed sessions.
Offering features such as interactive alerts, automatic native iCloud backup and sync support, iOS 16 lock screen widgets, and Android smartwatch support, Habit Hub is ideal for those who want to track multiple hobbies at once.
Tally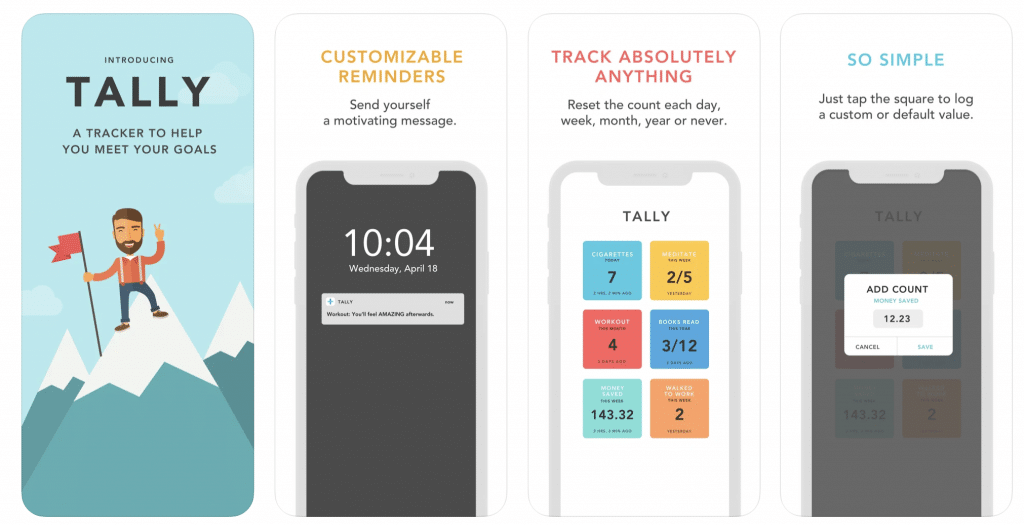 Price: Free / $6.99 for One-Time Upgrade
"The anything tracker" Tally is a comprehensive app that lets you track as many habits as you want and offers highly advanced tools to keep your habits going.
As one of the best habit tracker apps, it lets you create groups for similar habits, add notes, set reminders, and filter your list to see specific habits. Also in Tally, you can sync with Dropbox or iCloud to get a record of your progress.
As in the Momentum app, Tally's free version is limited to tracking three habits for free, but the $6.99 subscription package lets you track as many habits as you want and unlocks a few extra features like multiple reminders and password protection.
---
Also Read: The Best Apps for Sustainability
---
Habitica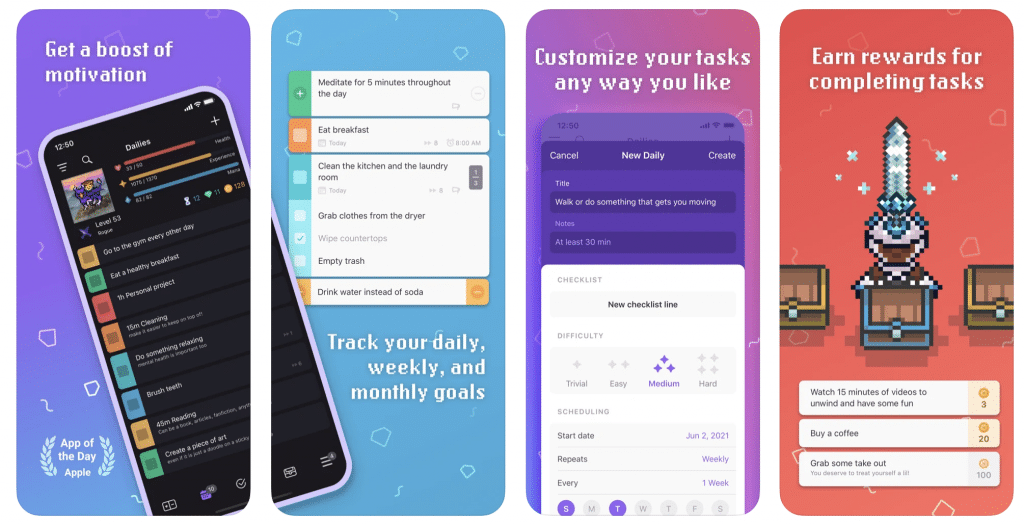 Price: Free / $4.99 per month / $14.99 per three-month / $29.99 per six-month / $47.99 per year
Habitica, an app that will make you feel that you are always progressing with its structure in the form of a role-playing game, is perfect for those who want to follow their habits and goals in an entertaining way.
In this habit tracker app, which allows you to come together with your friends and do some tasks like fighting monsters, you must check off your tasks in order to level up your avatar and unlock features like armor, pets, skills, and quests.
Productive – Habit Tracker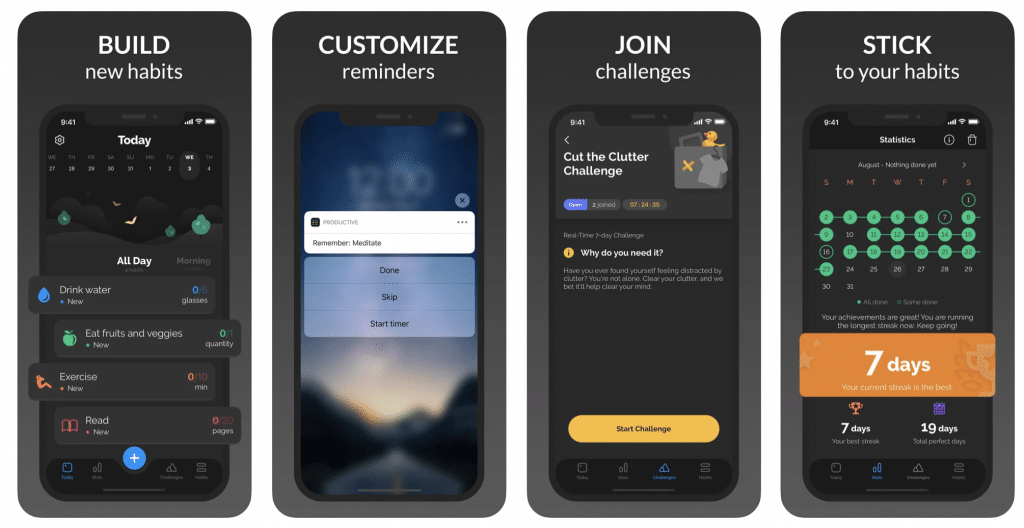 Price: Free
Productive is Apalon's free habit tracker app that allows you to set personal and real-time challenges and get expert insights from articles to improve your motivation.
The habit tracker app offers in its free version features such as setting reminders, analyzes about your completed or ongoing habits, and an interface where you can simply do tasks such as adding and removing habits, which are also found in other reminder apps.
For the features such as unlimited number of habits and location-based reminders, you need to purchase a subscription package.
---
Also Read: The best quit smoking apps
---
Strides
Price: Free / $4.99 per month / $29.99 per year
Strides is a free habit tracker app that makes it easy to track the goals and habits you need to be your best self. After adding each of your individual goals and healthy habits, you will be able to see a list of daily tasks to keep you on target. Strides also sends notifications to your device to remind you of your goals. You can also see your daily and long-term progress using in-app charts.
Tracking all your goals and daily habits in checklist form in one place, Strides works on all Apple devices, including the Apple Watch.