Falling asleep and waking up can sometimes turn into a ''nightmare'' for many of us. But these sleep tracking apps will help you relax, fall asleep and get up easily and quickly, maximize your sleep quality and receive very detailed analysis on your sleep.
In this article, we've brought together the best sleep tracker apps that will allow you to improve sleep quality with advanced features and detailed analytics.
---
Also Read: The 5 Best Yoga Apps for iPhone and Android
Also Read: The 5 Best Sleep Apps for Apple Watch
---
Sleep Cycle – Sleep Tracker
The first on our list of the best sleep tracker app is Sleep Cycle which is available on both Google Play Store and Apple App Store. Personally, I used to find it very difficult to wake up and get out of my bed but a friend of mine recommended it to me and it's my best sleep tracker app since then.
Sleep Cycle aims to help you relax, sleep better and wake up feeling more energized with its advanced sleep tracking features.
Sleep aid lets you relax and fall asleep very easily and the app wakes you up when you're in the lightest phase of your sleep. It also provides you with very detailed sleep stats and graphs enabling you to analyze and improve your sleep quality.
All you need to do to use this app is to connect your phone charger and put your phone near your bed before going to sleep, so that it can track your sleep without any interruptions.
It's also one of the best Apple Watch sleep tracker apps enabling you to get even more detailed analysis as Apple Watch is able to monitor your heart rate.
You can use many of the features it provides for free. Sleep Cycle also offers a Premium Plan which costs $49.99 per year.
Fitbit
Let's continue with Fitbit which is, in fact, a workout app but it is also very good a sleep tracker app. It's available on both Android and iOS stores.
You can use Fitbit to track basic activity stats but in order to use it to track your sleep, improve your sleep quality and access the app's sleep tools like Sleep Score, you need a Fitbit tracker or a smart watch/Apple Watch.
You can download and use Fitbit for free but if you're looking for more advanced features, you can get Fitbit Premium Monthly for $9.99 and Fitbit Premium Annual for $79.99.
If you're planning to use Fitbit Premium, you can try it for 3 months free.
---
Also Read: The Best Home Workout Apps
---
Pillow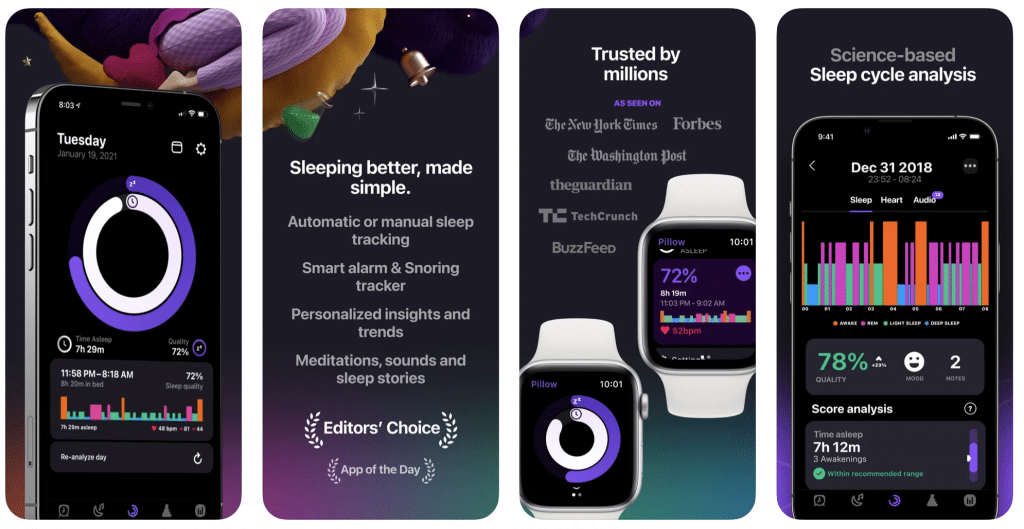 The third one in our best sleep tracker apps list is Pillow by Neybox which is only available on the App Store. So, if you're an Android user, you can continue with the 4th app.
Pillow is one of the best Apple Watch sleep tracker apps that helps you sleep and wake up better with its very advanced tools.
Just like SleepCycle, its smart alarm clock finds the most optimal time to wake you up and its detailed sleep reports enable you to analyze your sleep. It also lets you listen to important audio events during your sleep such as snoring, sleep talking and sleep apnea.
You can also use this app without an Apple Watch, simply putting your phone next to your bed. However, it's best to use it with an Apple Watch.
"The app is excellent." – The New York Times
"Tracking my sleep is easy: my children and cats take turns to wake me up throughout the night. But if you're looking for something more… quantified, then Pillow is well worth a look." – The Guardian
Pillow supports 11 languages including English, Simplified Chinese, Traditional Chinese, Czech, French, German, Italian, Spanish, Russian, Japanese and Korean,
You can download and use this sleep tracking app for free. It also offers Pillow Premium for $4.99 per month and for $27.49 per year.
---
Also Read: The 7 Best Habit Tracker Apps
---
Sleep As Android
Next one is Sleep as Android by Ubrandroid. As the name suggests, it is only available on Google Play Store and it's been downloaded over 10 million times so far.
Sleep as Android's Smart Alarm wakes you up in the most optimal moment, Lullabies help you fall asleep in a much easier way and the Anti-Snoring feature detects when you're snoring and uses vibration or sounds to make you stop.
Using this app, you can also receive useful advice to improve your sleep quality, set bedtime notifications and remind yourself when it's time to go to bed, set little tasks to get out of your bed such as scanning a QR code you locate in your bathroom, solving math problems or shaking your phone, and more.
You can use Sleep As Android with or without your smart watch or wearable sleep tracking devices such as Pebble and Mi Band. It also supports Google Fit and Samsung Health Integration.
Most of the features Sleep As Android offers are free. For more premium features, you can get UNLOCK for $9.99 per month and try it free for 14 days.
---
Also Read: The 8 Best Mood Tracker Apps
---
SleepScore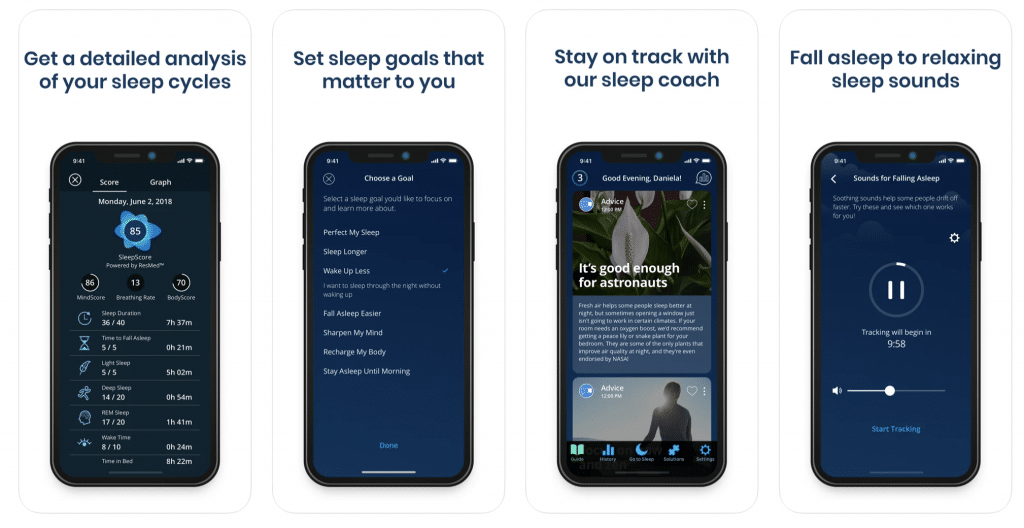 The last one in our best sleep tracker apps list is SleepScore which you can find on both Play Store and App Store.
SleepScore lets you fall asleep very easily and quickly, get very detailed analysis on your sleep cycle and maximize your sleep quality by setting goals and with personalized & actionable sleep advice backed by science.
One of my favorite features of SleepScore is that it offers a feature called Sleep Sanctuary which allows you to measure and improve the temperature, light and sound level in your bedroom.