The podcast industry keeps growing with each passing day. According to a study by Edison Research and Triton Digital, %75 of the United States population, (70% up from 2019) are now familiar with podcasting and over 37% of them, which equals to 104 million, listen to podcasts on a monthly basis.
There is no doubt that the increasing number of podcast apps have greatly contributed to this upward trend in the podcast consumption. But at the same time, the abundance of these apps make it a little bit hard to decide which one to download and use.
In today's blog post, we're going to be talking about the best free podcast apps for Android and iOS, with their main features, website and app store links, app ratings, and more!
Spotify
Spotify is one of the most popular music streaming services with over 500 million monthly active users worldwide, and it is also one of the best podcast apps for Android and iOS hosting more than 5 million podcast titles on its platform. As well as on the Google Play Store and App Store, it's also available on the web.
Spotify lets users play millions of songs and podcasts for free. It also has premium plans which you can try free if you want to listen to podcasts without any ads and download them to play when you're offline. 
Rolled out paid podcast subscriptions for creators in the United States in April 2021, Spotify acquired podcast delivery platform Podz in June. As of April 2022, Spotify has started to expanded Video Podcasts to all creators in the US, Canada, New Zealand, Australia, and the UK.
---
---
Also Read: The Best Music Streaming Apps
---
Podcast Addict
Let's continue with Podcast Addict which is one of the best podcast apps Android users love and use very actively. It is only available on Google Play Store and has been downloaded over 10 million times so far.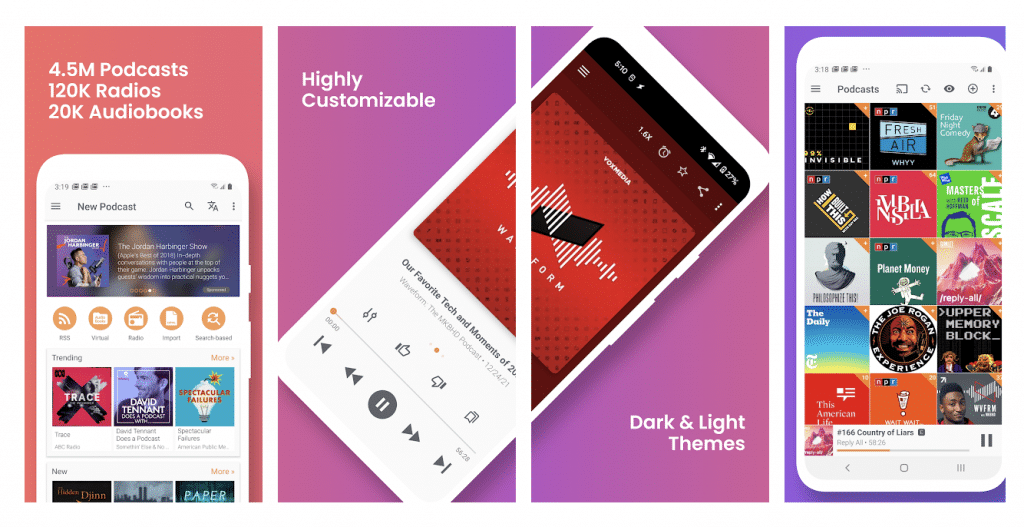 Podcast Addict offers more than 4.5 million podcasts, 120K radios, and 20K audiobooks for free! It also lets you access Youtube channels and RSS feeds, download them for later use and change audio settings. It's a highly customizable podcast app. 
---
Also Read: The Best RSS Reader & News Aggregator Apps
---
Google Podcasts
Next in our list of the best podcast apps is Google Podcasts. Just like Podcast Addict, it is one of the best podcast apps for Android. It is also available on the App Store but not as popular there as it is on the Play Store.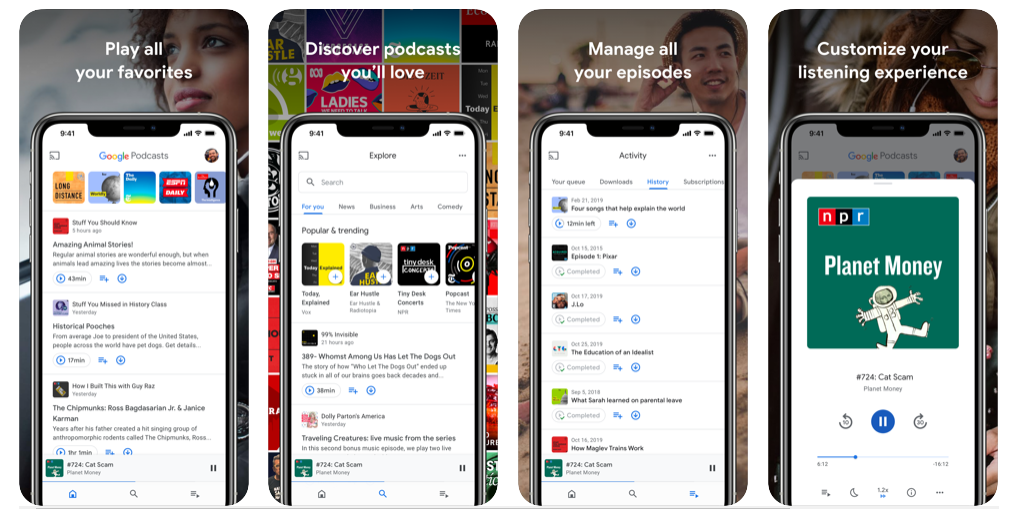 Google Podcasts lets you play your favorite shows and receive personalized podcast recommendations in many categories such as comedy, news, history, music, business, arts, science, sports, TV & film, education, health & fitness, technology and more.
It allows you to customize your listening experience by adjusting audio settings, listing episodes to listen to them in order and tracking your podcast activities.
It also works with Google Assistant allowing you to play podcasts without losing time.
And it's free!
Apple Podcast
Let's move on to Apple Podcast, one of the best podcast apps iOS device owners widely use. It is only available on the App Store.

Apple Podcasts lets you explore and stream more than 750,000 shows with over 20 million episodes for free. It allows you to subscribe to your favorite shows and receive notifications on new episodes, find the most trending podcasts in Browse, save your data while listening to them, download them to listen to when you're offline and more!
---
Also Read: Apple Music Revenue and Usage Statistics
---
Overcast
The last one in our best free podcast apps list is Overcast which is, just like Apple Music, only available on the App Store.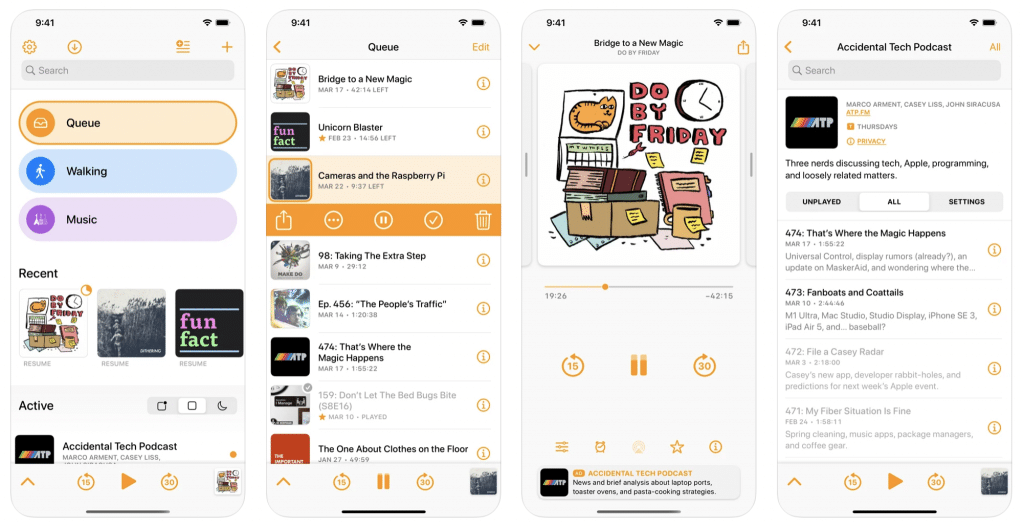 Overcast is a very simple podcast player with many useful features such as Smart Speed, Voice Boost and Smart Players which will greatly improve your listening experience.
With the Overcast app, you can stream your favorite shows, explore new podcasts by searching and with personalized recommendations, download them to play whenever and wherever you want, set a sleep timer and more. You can also use it with your Apple Watch and it offers Apple Car support too.
Overcast is free but you can purchase Overcast Premium if you want to remove ads.
In today's blog post, we've talked about the best free podcast apps for both Android and iOS. Leave a comment below and let us know which one is your favorite!
Bonus: Moonbeam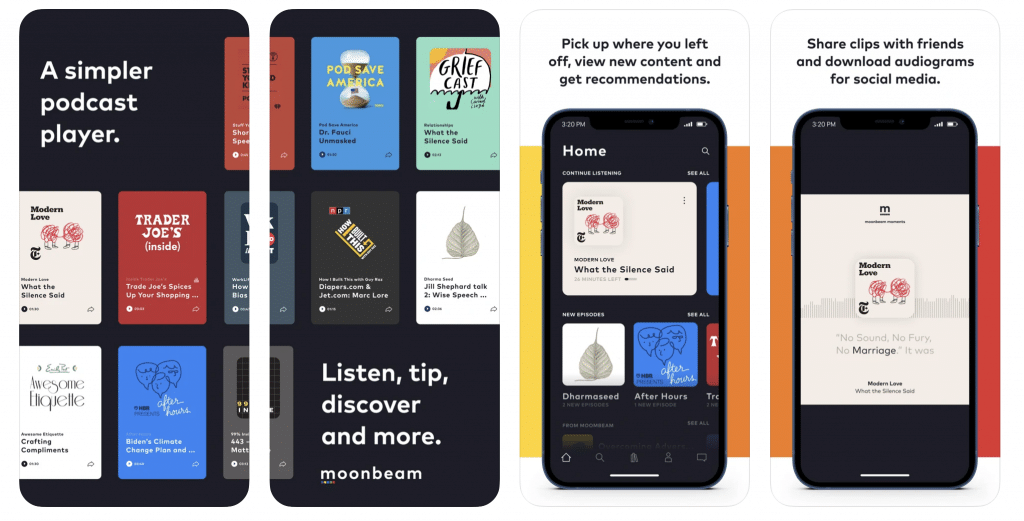 "Simply swipe through your personalized, ad-free feed of curated "moments" to discover great new shows and ideas."
Launched in June 2021 by Kayak's co-founder Paul English, Moonbeam is the newest podcast app on our list. It mainly serves as a podcast discovery app by offering personalized podcast recommendations using machine learning and human curation. The app also allows you to send tip to your favorite podcasters.