Spotify today announced that it is rolling out paid podcast subscriptions for creators in the United States. The company aims to expand in other regions in the months ahead.
Starting today, through Spotify's podcast creation tool Anchor, creators in the U.S. will have the ability to mark podcast episodes as subscriber-only and publish them on Spotify and other podcast listening platforms.
Podcasters have three monthly pricing tiers to choose from: $2.99, $4.99, or $7.99.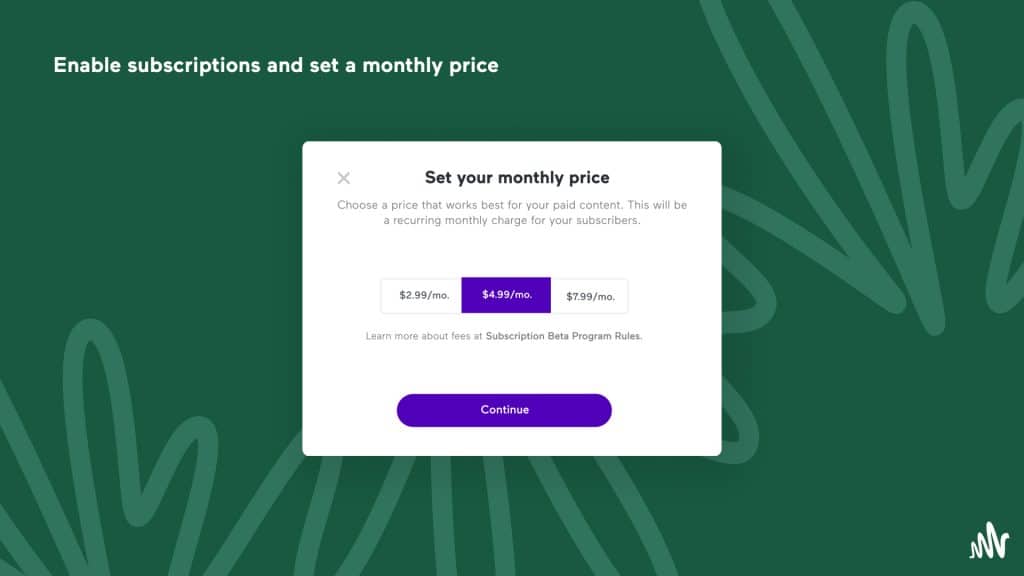 Podcast creators, regardless of their audience size, can sign up for the access to paid subscriptions without platform fees, keeping 100% of their subscription revenue, until 2024, the company said in a statement. Creators will only cover the cost of transaction fees through Spotify's payment partner Stripe. Spotify plans to begin taking a 5% fee for access to the feature in 2023.
12 independent shows, including Wild Thing; Tiny Leaps, Big Changes and Mindful in Minutes, will offer paid subscriber-only bonus episodes.
The launch comes a week after Apple unveiled its Apple Podcasts Subscriptions, a global marketplace for listeners to discover premium subscriptions offered by their favorite creators. Apple takes a 30% fee for the podcast revenue in year one and 15% in year two.
According to eMarketer's latest forecast, Spotify's US podcast listeners will overtake Apple Podcast's in 2021. The report estimates that in 2021, 28.2 million people will listen to podcasts on Spotify on a monthly basis, while 28.0 million will listen via Apple Podcasts.
At the "Antitrust Applied: Examining Competition in App Stores" hearing that took place last week, music streaming service Spotify said Apple is abusing its market power to disadvantage its rivals.
"Apple abuses its dominant position as a gatekeeper of the App Store to insulate itself from competition and disadvantage rival services like Spotify," said Horacio Gutierrez, Spotify's Chief Legal Officer. He added that Apple's restrictions on developers "are nothing more than an abusive power grab and a confiscation of the value created by others."