Spotify announced a new ad format for podcasts called call-to-action (CTA) cards. The new ad format will appear in the Spotify app when a podcast ad begins to play, and will reappear while exploring the Spotify app.
CTA Cards allow users to access deals and product promotions with one click without having to memorize or copy and paste affiliate links or codes. "You're often forced to remember a promo code or URL, or make a mental note to look up the offer when you return to your phone or laptop. This process is far from seamless. That's why we're excited to announce a new ad experience launching across podcasts called call-to-action (CTA) cards. " Spotify said in a statement.  
Advertisers can customize CTA cards with their own images, text, and other clickable buttons that direct listeners to the action they hope to encourage. The cards are powered by Spotify's Streaming Ad Insertion (SAI) ad technology, and are designed to be seen while an ad is playing and after the ad has been heard.
"Once a listener hears your podcast ad, corresponding CTA cards will appear in relevant places to where the ad was originally heard – like the podcast episode page or show page. This means your message can be delivered with increased frequency up to seven days after hearing the initial podcast ad (unless your campaign ends earlier)." Spotify added.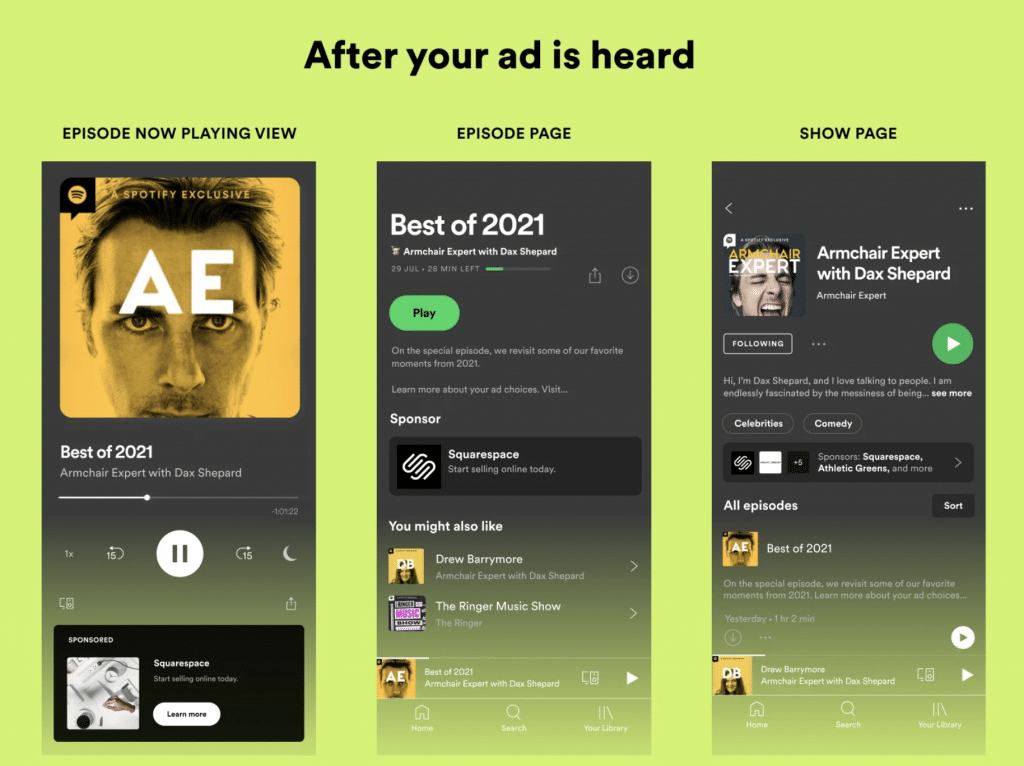 CTA cards are now available across select Spotify Original & Exclusive podcasts in the U.S and they will be served to both Spotify's remium and free users.
Spotify has long invested in product development and acquisitions on the podcast discovery and advertising side. The company last acquired Whooshka in December 2021, an Australia-based podcast technology platform to host, distribute, monetize, and track podcasts. The acquisition follows the company's earlier acquisitions in the podcast market, including US-based podcast advertising & publishing firm Megaphone and podcast discovery platform Podz.