​​Although texting apps are basically very similar to each other, they differ from each other in terms of security and the different conveniences they offer. Today, most of users pay attention to the ease of use and widespread use, as well as the support for end-to-end encryption.
In this article, we've listed the best texting apps for iPhone, which have been highly rated by users in terms of both personal data security and the features they offer.
Things to Consider When Choosing a Texting App
End-to-end encryption: End-to-end encryption means that data traveling in a communication system can only be decrypted by two communicators (sender and receiver). No one, not even the organization providing the communication, can decrypt this encrypt. A good texting app has to be user-oriented in terms of security as well as the features it offers. Therefore, when choosing your texting app, you should make sure that it has end-to-end encryption support.
User-Oriented Privacy Policy: At the beginning of 2021, WhatsApp announced that it would update its privacy terms, and all users were worried about the use of their data and turned to alternatives. Although WhatsApp emphasizes that the data of its users is safe at every opportunity, the importance of Privacy Policy has become known to all users. When choosing a texting app, you should make sure that the privacy policy is prepared to keep your data safe and updated accordingly.
Ease of Use: When it comes to the ease of use of texting apps, you need to consider whether it has a simple navigation and an interface that will allow you to easily access the features you need.
Speed: A texting app that can send and receive your messages as quickly as possible is important for everyone. For this reason, it is important to turn to apps whose value proposition is fast communication.
User-Focused Features: Texting apps do not neglect to add advanced features that will improve the experience of users, as well as simple messaging features. It is also useful to consider features such as Disappearing Messages when making a decision.
Device Synchronization: It is an important advantage that a texting app allows you to send and receive messages synchronously from your different devices. Although we do most of our communication on phones, using a synchronized texting app, especially while working, can help you not to miss messages and use your time efficiently.
The Best Texting Apps for iPhone
Telegram
Signal
WhatsApp
Kik
Messages by Apple
TextNow
textPlus
Telegram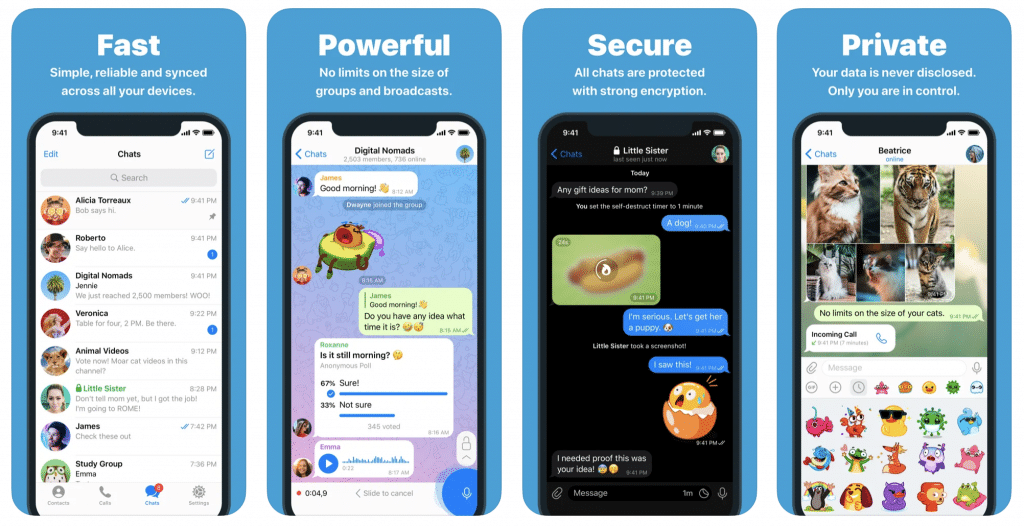 Telegram is one of the best texting apps for iPhone with 700 million active users. Claiming that it is the fastest and the most secure messaging app on the market, Telegram lets you access your messages from all your devices at once as it does not require you to keep your phone connected. The free texting app also allows you to send media and files with no limit on type and size.
Telegram encrypts all files including media, group, and chats using a combination of 256-bit symmetric AES encryption, 2048-bit RSA encryption, and Diffie–Hellman secure key exchange.
In the app, you are also allowed to create group chats with up to 200,000 members, share large videos, documents of any type (.DOCX, .MP3, .ZIP, etc.) up to 2 GB each, and even set up bots for specific tasks.
It is also worth noting that Telegram launched its premium tier on June 2022. As well as the existing features, Telegram Premium includes exclusive features such as 4 GB file uploads, quicker downloads, special stickers and reactions, and enhanced conversation management.
---
Also Read: The Best Spam Call Blockers for iPhone
---
Signal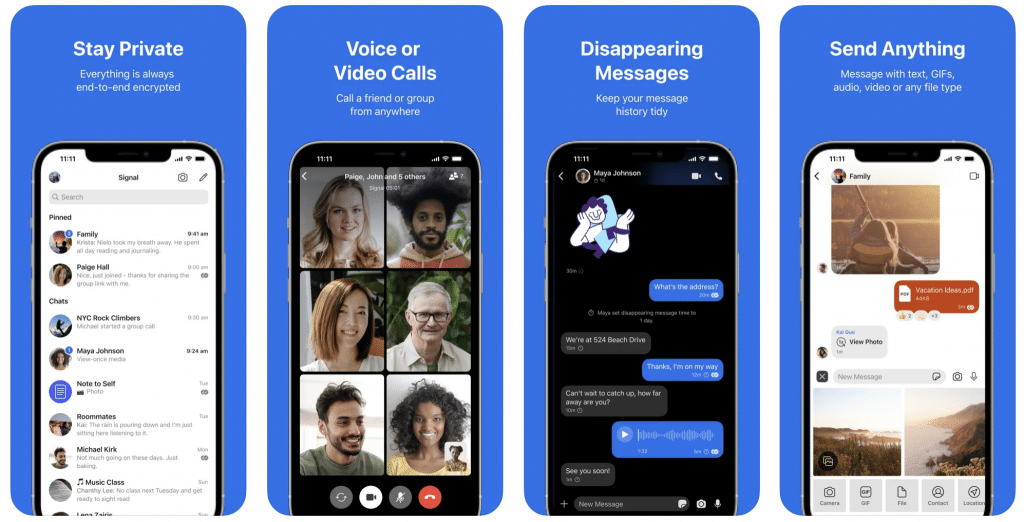 Keeping conversations secure with end-to-end encryption, Signal also works well on slow networks to let you send and receive messages quickly. In the app, you can use your existing phone number and address book to securely communicate with your friends.
Signal also allows you to choose custom alerts for each of your contacts or to disable noises completely. In addition, the ad-free texting app offers image editing features to sketch, crop, and flip your outgoing photos.
---
Also Read: The Best Video Editing Apps for iPhone
---
WhatsApp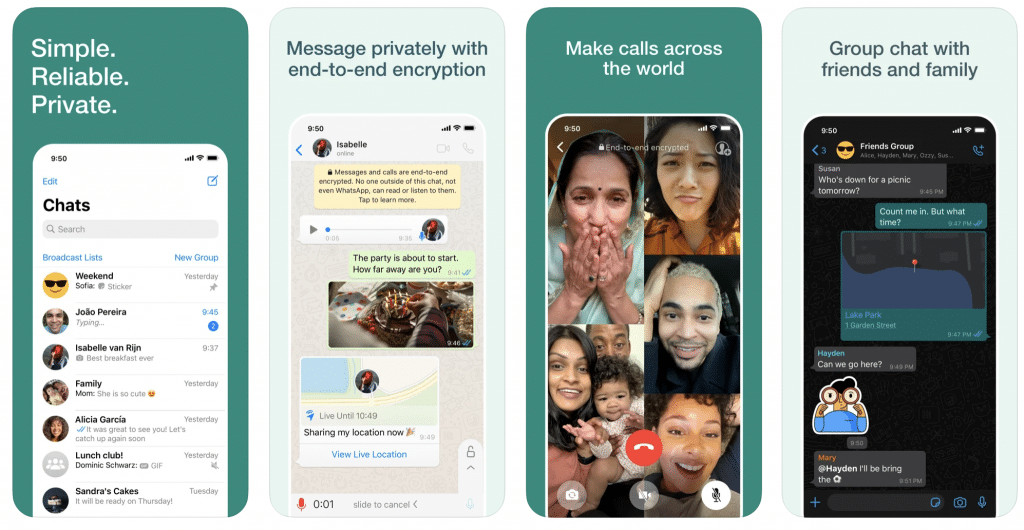 WhatsApp, which received serious reactions from both users and lawmakers with its Controversial privacy policy, is still one of the most used texting apps.
Announcing both security updates and new features to keep its users in the app and attract new users, WhatsApp announced a feature that allows users to set new chats to disappear by default. Also offering a Story-like Status feature, WhatsApp allows group chat, voice and video calling, and real-time location sharing.
Other notable features of WhatsApp include disappearing messages and setting new chats to disappear by default. Thanks to these features, users can be sure that the chats are deleted in the timeframes they choose.
---
Also Read: The Best Camera Apps for iPhone
---
Kik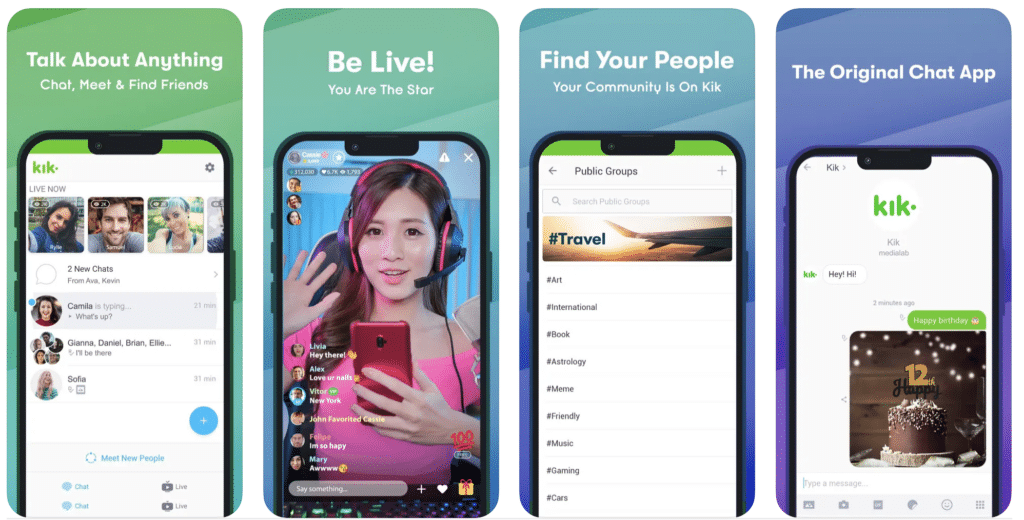 Kik, one of the best texting apps for iPhone, allows you to make new friends with the same interests, unlike other apps on the list. Kik, where you can socialize with people by joining public groups in different categories such as astrology, gaming, and art, is not only a texting app but also a social networking app in this regard.
You can share photos, gifs, games, and more in the app where you can both one-on-one chat and group chat.
Messages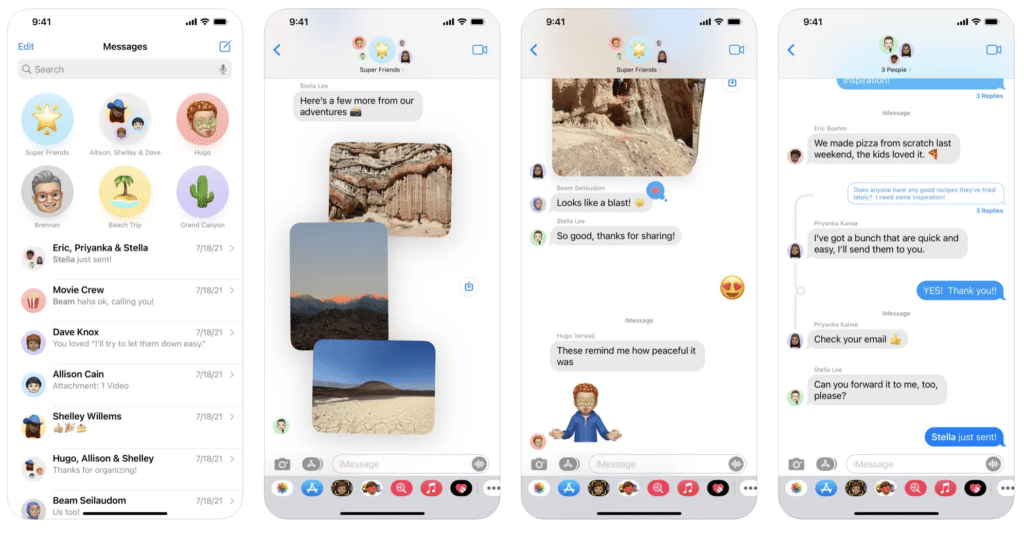 Messages, the texting app on your iPhone by default, has improved itself with every new iPhone model. Using the Messages app, you can collaborate with users in a conversation, decorate messages with stickers, share songs, and more, all without leaving the app.
Another important feature of the app is that it allows you to unsend any message for up to 2 minutes after sending it. You can also use Messages in iCloud to keep your entire message history updated and available on your iPhone, iPad, iPod touch, Apple Watch, and Mac, even when you set up a new device.
---
Also Read: The best free scanner apps for iPhone
---
TextNow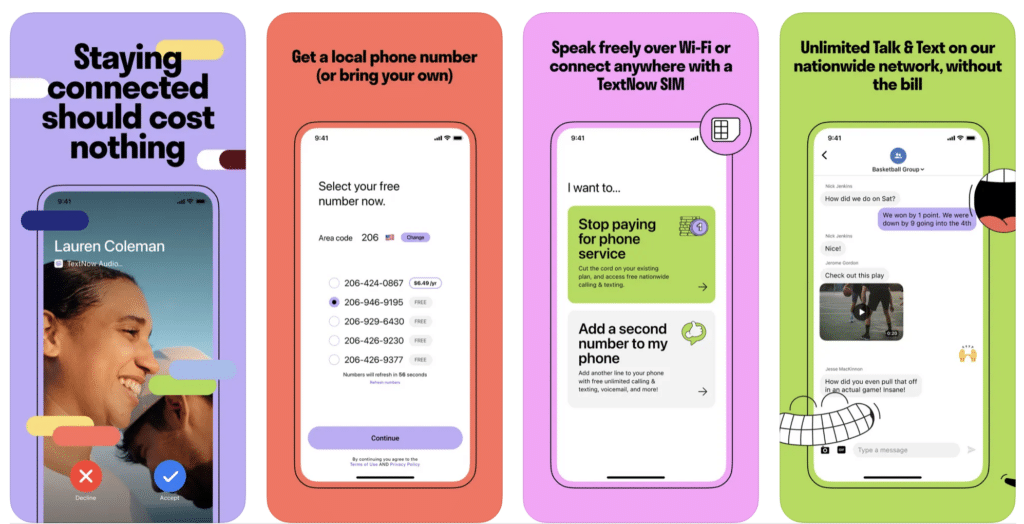 TextNow provides users with a 2nd local phone number to stay connected with friends and family, allowing them to make free calls, free video calls and free text messages in the USA over WIFI or wirelessly via TextNow's nationwide network.
The app offers international calls to over 230 countries starting at $0.01 per minute. The app also offers multiple device support so you can send unlimited messages on your computer or tablet.
textPlus
Offering features like free texting, free picture messaging, a free US phone number, free incoming calls, and cheap outgoing calls, textPlus is one of the best texting apps for iPhone. Working like Apple's Messages app, textPlus works also well over WiFi so you don't even need a 3G/4G connection.
Although it does not have as advanced features as WhatsApp and Telegram, in the app, which is liked by most of its users, you need to pay $0.99 per month if you want to get rid of banner ads.
---
Also Read: The Best Texting Apps for Android
---