In today's world, where staying connected with friends and family is more important than ever, free texting apps for iPhone have become increasingly popular. With so many options available, it can be overwhelming to choose the best one. In this review, we will discuss some of the top free texting apps for iPhone that offer a range of features and benefits to enhance your messaging experience.
WhatsApp Messenger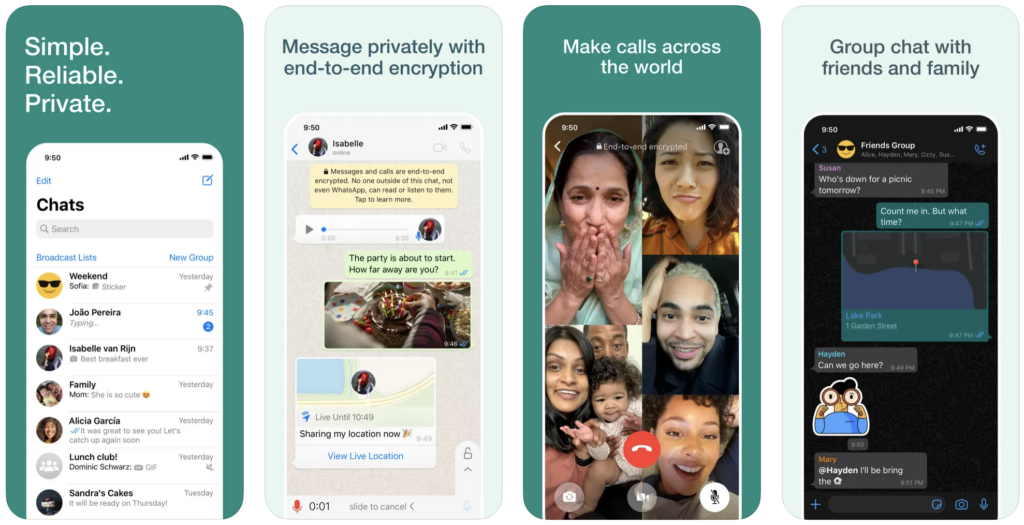 WhatsApp Messenger from Meta is a popular and free texting app for iPhone used by over 2 billion people worldwide in more than 180 countries. The app offers end-to-end encryption for private messaging and calls, ensuring that only the intended recipients can access them. With WhatsApp, you can easily connect with your friends and family without any subscription fees, and it works seamlessly across mobile and desktop devices, even on slow connections. You can also make high-quality voice and video calls with up to eight people for free and stay in touch through end-to-end encrypted group chats. Plus, WhatsApp lets you share daily moments with your contacts through status updates that disappear after 24 hours. Visit WhatsApp's website for more information.
WhatsApp Messenger on the App Store
Snapchat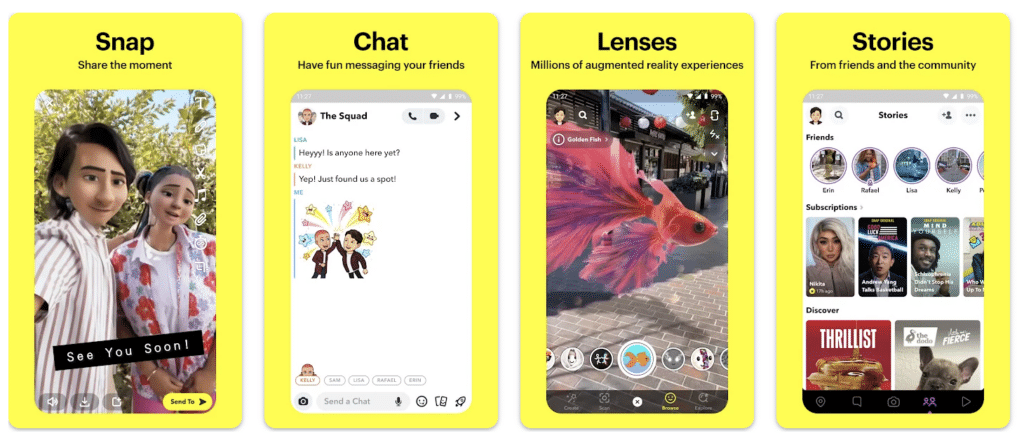 Snapchat is a popular social media app that allows users to share moments with friends and family in a fun and interactive way. While it is not a traditional texting app, users can stay in touch through live messaging and group stories. Additionally, Snapchat offers features such as video chatting with up to 16 friends at once, exclusive Bitmoji made for you and a friend, and the ability to save unlimited photos and videos in Memories. The app also has a unique map feature where you can share your location with friends or explore live stories from around the world. While not exactly a free texting app for iPhones, Snapchat offers a creative and dynamic way to connect with loved ones. Go to Snapchat's website to learn more detailed information about the app.
---
Also Read: The 8 Best AI Chatbot Apps
---
Google Chat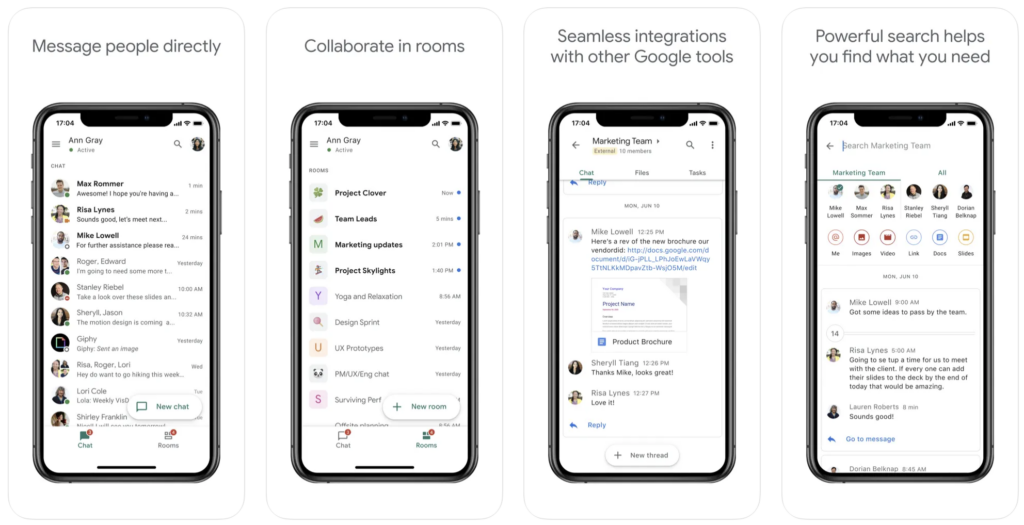 Google Chat is a superb team communication and collaboration tool that offers a seamless experience for group messaging and content creation. This app allows for easy integration with Google Workspace, providing a variety of features for effective team collaboration, including side-by-side editors, document creation, and shared files. With Google's search functionality, users can easily filter and find relevant conversations and content.
Also, Google Chat is equipped with enterprise-grade security features such as data loss prevention, compliance, and admin settings. While Google Chat is not exactly a free texting app for iPhone, it offers a comprehensive and secure platform for teams to communicate and collaborate efficiently. Check out Google Chat's website for detailed information.
TextPlus: Text Message + Call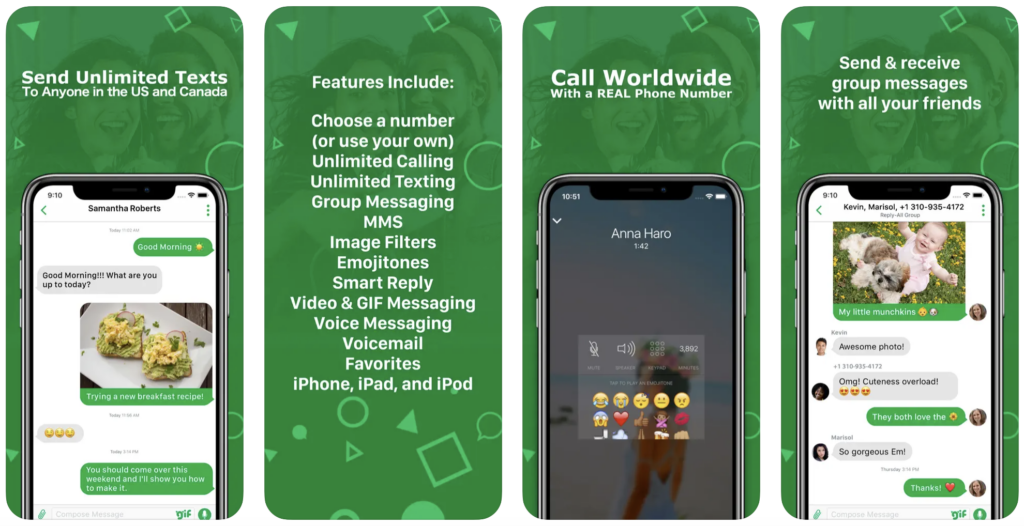 Looking for a free texting app for iPhone that allows you to keep in touch with friends and family around the world without incurring hefty fees? TextPlus is a fabulous option for it. The app has been providing free texting, picture messaging, a free US phone number, and even free inbound phone calls for nearly a decade. With textPlus, you can send SMS and MMS messages to any US or Canadian mobile number, as well as enjoy group chat. The app allows you to pick your area code for your free US phone number. Plus, you can make inexpensive outbound phone calls and enjoy toll-free calling from anywhere in the world with no restrictions. And with no contracts or surprise costs, TextPlus is a great way to save money on your mobile phone bill. You can turn your iPod touch and iPad into phones with TextPlus. Visit the website of TextPlus to learn more.
TextPlus: Text Message + Call on the App Store
---
Also Read: The 7 Best Anonymous Chat Apps
---
Skype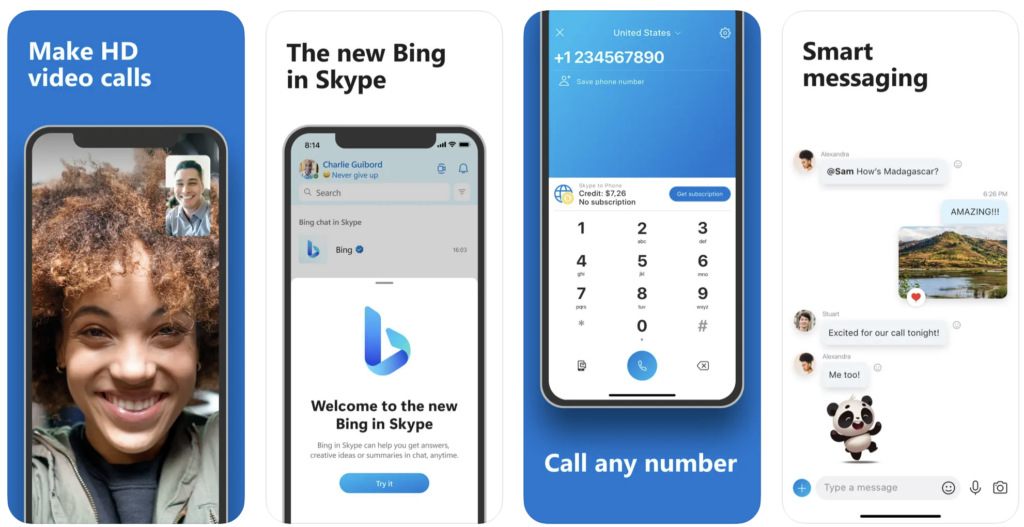 Skype is a popular communication app that allows you to stay connected with people all around the world. Whether you prefer instant messaging, voice calls, or video calls, Skype has you covered. With its availability on phones, tablets, PCs, and Macs, you can stay connected with your loved ones no matter what device they use.
Skype offers a range of features, including HD video calls, instant messaging, and voice calls, allowing you to connect with anyone in the world. The new Bing integration in Skype provides you with AI-powered recommendations and answers within the context of your conversations. You can also share photos and videos with your family and friends and even send SMS messages to mobiles worldwide. Also, Skype-to-Skype calls are free; however, operator data charges may apply. With its ability to connect people worldwide, Skype stands out among the free texting apps for iPhone. Go to Skype's website to learn more.
Kik Messaging & Chat App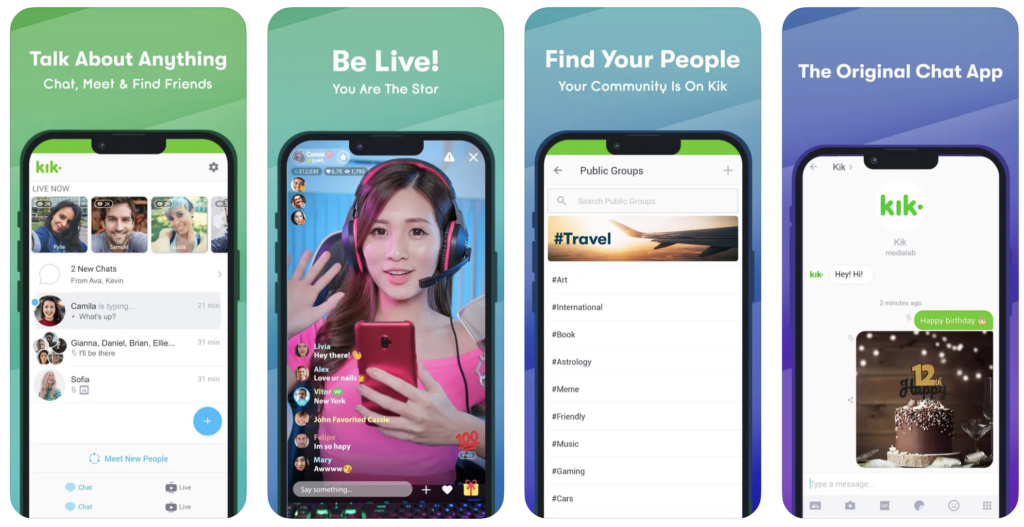 Kik is considered to be among the free texting apps for iPhone, and it offers more than just texting. The app allows users to easily connect with friends, stay updated on the latest happenings, and explore new things through chat. With Kik, there's no need for phone numbers, as users can simply choose a username. The app allows users to choose who they want to chat with, whether it's a one-on-one conversation or a group chat. Additionally, users can share pictures, videos, gifs, games, and more, making their conversations more interesting and engaging. With Kik, users can also meet new friends who have similar interests, making it a great platform to expand social circles. To learn more about the app, go to Kik's website.
Kik Messaging & Chat App on the App Store
---
Also Read: The Best Apps for Video Chat with Strangers
---
Telegram Messenger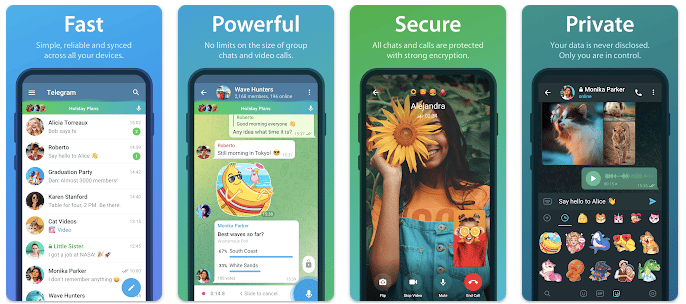 Telegram Messenger is a terrific option among the free texting apps for iPhone. With Telegram, you can sync your messages across all your devices, send unlimited media and files, and create group chats with up to 200,000 members. The app also offers powerful editing tools, fully customizable themes, and an open sticker/GIF platform. And perhaps most importantly, Telegram takes your privacy seriously and encrypts all your chats and messages using advanced security measures. Plus, it's completely free to use, and it has a free API for developers. Overall, Telegram is a reliable and secure messaging app that's definitely worth checking out. Check out Telegram's web version with the QR code feature.
Telegram Messenger on the App Store
WeChat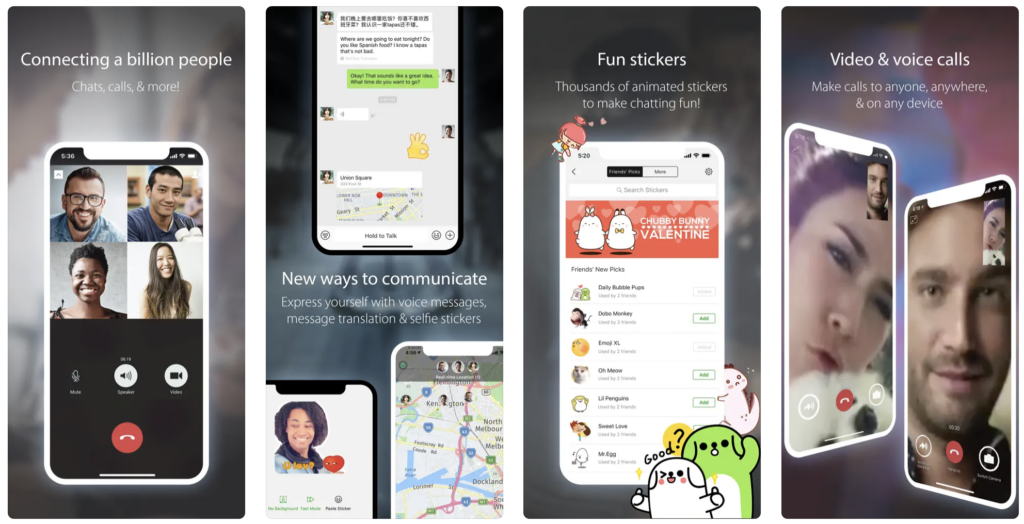 WeChat is a fabulous free texting app with handy features. WeChat offers real-time location sharing, allowing you to easily communicate your whereabouts. You can create group chats with up to 500 members and make high-quality voice and video calls anywhere in the world. WeChat also has a range of fun features, such as Moments, where you can post photos and videos to share with friends, and a Sticker Gallery with thousands of animated stickers to express yourself in chats. Plus, the app supports 20 different languages. For more information, visit WeChat's website.
---
Also Read: The 8 Best Video Chat Apps
---
Facebook Messenger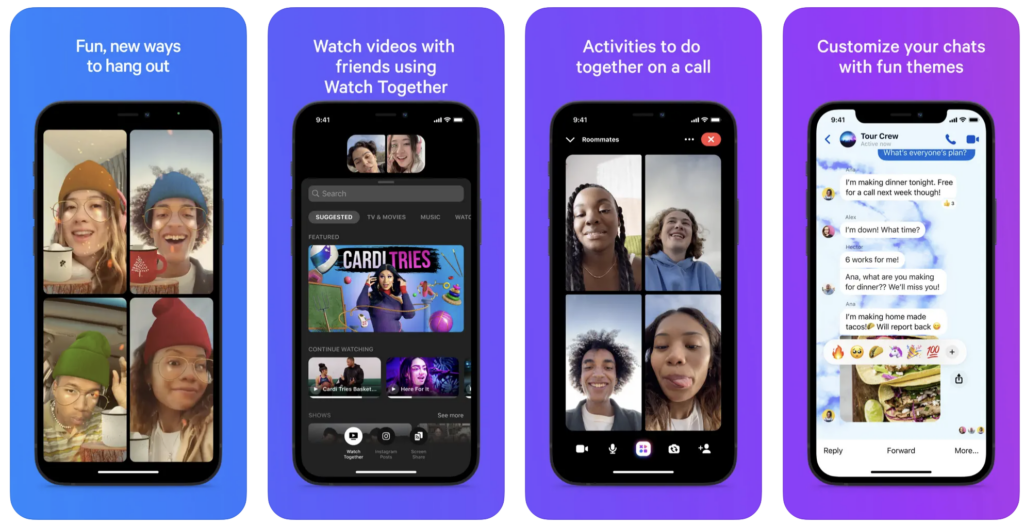 Another amazing free texting app is Facebook Messenger. This all-in-one communication app offers unlimited text messaging and phone calls to your Facebook friends across the world. With privacy settings that allow you to choose who can reach you and where your messages are delivered, you can communicate with ease and peace of mind.
Furthermore, Messenger offers customizable reactions, chat themes, and a dark mode to make your experience even more personal. Want to watch videos with friends or split expenses with group payments? Messenger has you covered with its Watch Together and Send Money features. And if you need to connect with businesses, Messenger has that covered too. For more detailed information, browse Facebook Messenger's website.
Facebook Messenger on the App Store
TextFree: Private Texting App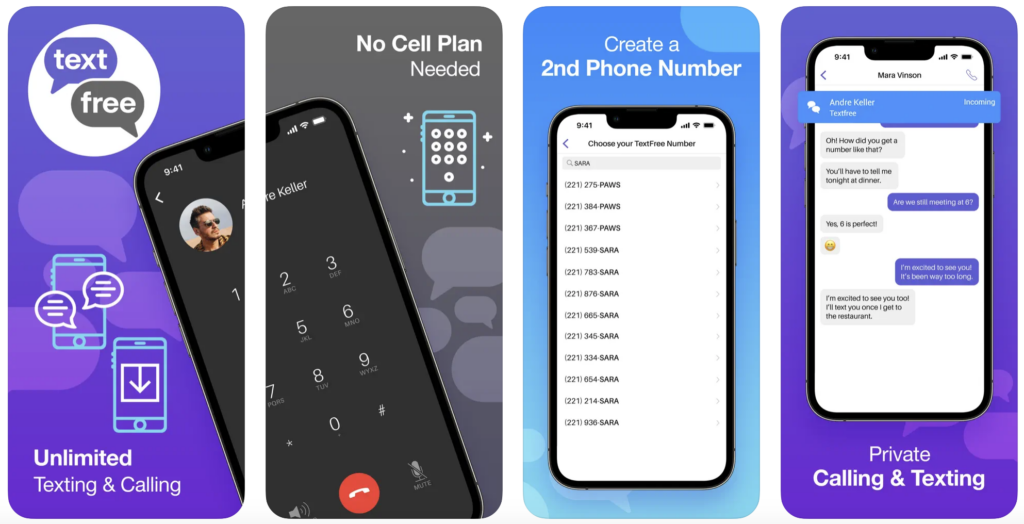 TextFree is the last on the list, which includes free texting apps for iPhone. TextFree allows you unlimited text and picture messaging anywhere you have a WiFi connection. Plus, you can choose a free phone number to use as your primary or secondary number, with added privacy and security features like end-to-end encryption and blocking unwanted callers. TextFree also offers a group chat feature, perfect for connecting with friends, family, or colleagues.
TextFree: Private Texting App on the App Store