​​Texting apps provide a convenient way to communicate with friends, family members, and coworkers. However, it is important to pay attention to online privacy and security when using these apps.
The main security concern with messaging apps is the possibility that third parties, i.e. the companies behind the apps or governments collecting information about their citizens, could read private messages. The following should be considered when evaluating the security of the messaging app:
1. End-to-end encryption
Does your app use end-to-end encryption (E2E)? End-to-end encryption encrypts your private chat messages and only the sender and receiver of the message have the "key" to read them.
2. Open source code
Does it use open source code? Open source code means that the application is open to external accountability and expert audits. This is a useful method for detecting vulnerabilities and vulnerabilities in code.
3. Self-destruct messages
Messages that self-destruct or disappear are completely deleted after a certain period of time according to the selected settings.
4. Data usage
Although most secure messaging apps use end-to-end encryption, these apps still collect some data about you, called metadata. Information collected includes who you talk to, how long you talk to them, your IP address and phone number.
What are the most secure and the best texting apps for Android?
There are many messaging apps that we can use today for our Android devices. However, some of them have proven to be safer than others. Here's a closer look at some of the best texting apps for Android, in terms of keeping your data safe and their security weaknesses.
The Best Texting Apps for Android
Threema.
Telegram
Wickr Me
WhatsApp
Signal Private Messenger
Threema.
Price: $5
Threema is one of the best texting apps for Android as it uses end-to-end encryption. Unlike many other apps, it offers its users a high level of anonymity, as it does not require you to enter a phone or email address to open an account.
Its features include text messages, voice messages, video calls, and groups. Threema, which is based in Switzerland, is not free, so you have to pay for its use.
The basic principle of Threema is the restriction of metadata. To ensure that data is not used for malicious purposes, Threema servers permanently delete a message after it is delivered to the recipient.
Usually information managed on a server is managed here locally on the user's device, meaning any conversation is protected from eavesdropping. As a result, there are no problems with decrypted connections and no one can read a Threema message except the recipient of the message.
Threema is open source so users can independently verify the scope of encryption.
However, the app does not support two-factor authentication.
---
Also Read: The Best Teleprompter Apps for Android
---
Telegram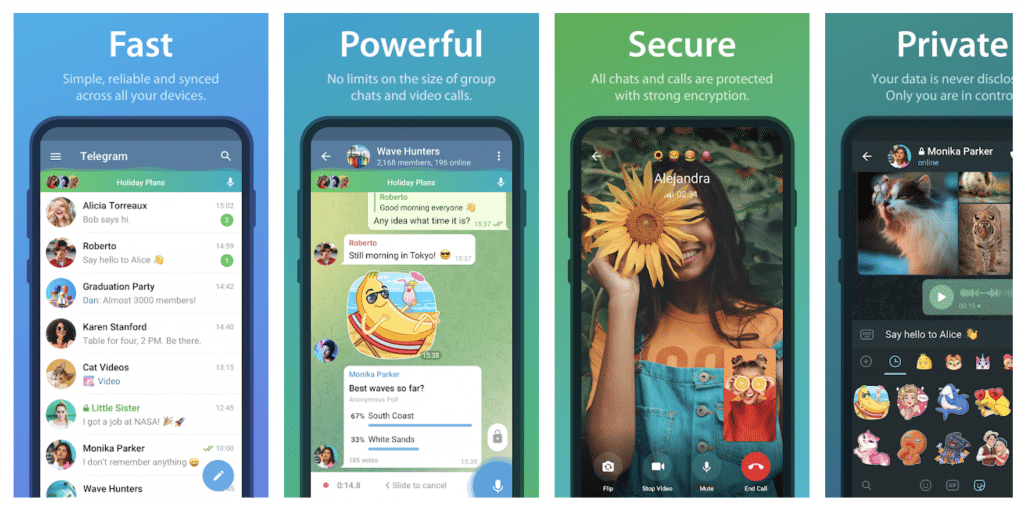 Price: Free
If you are looking for the best free messaging app for Android, Telegram is one of the best in terms of security and popularity. Founded by Russian entrepreneur Pavel Durov, Telegram is a multiplatform messaging service first released for iOS and Android in 2013.
Telegram's most basic functionality is the same as other messaging apps; You can send messages to other Telegram users, create group chats, search for contacts, send files and tags.
Telegram also uses end-to-end encryption. Thanks to its encryption, no one other than the people on both ends of the message, namely the company, government, hackers or anyone else, can see what is sent.
However, Telegram only uses this encryption for calls and the "secret chats" feature, not for regular chats. They are encrypted only during the client-to-server transfer phase.
The reason why Telegram usage has increased so much is that it uses cloud technology more. It basically stores all your messages and photos on a secure server. This makes Telegram more suitable for use on more platforms than other chat apps like WhatsApp, as it means you can access your messages from any internet-connected device.
Selling your data does not form the basis of Telegram's business model, which is a plus for Telegram's security. An option is provided for messages, photos and videos that self-destruct after a certain period of time after they are received or sent. Once a message is received, it stays in the chat for a certain period of time and is then deleted. You can choose between one second and one week for this period.
Wickr Me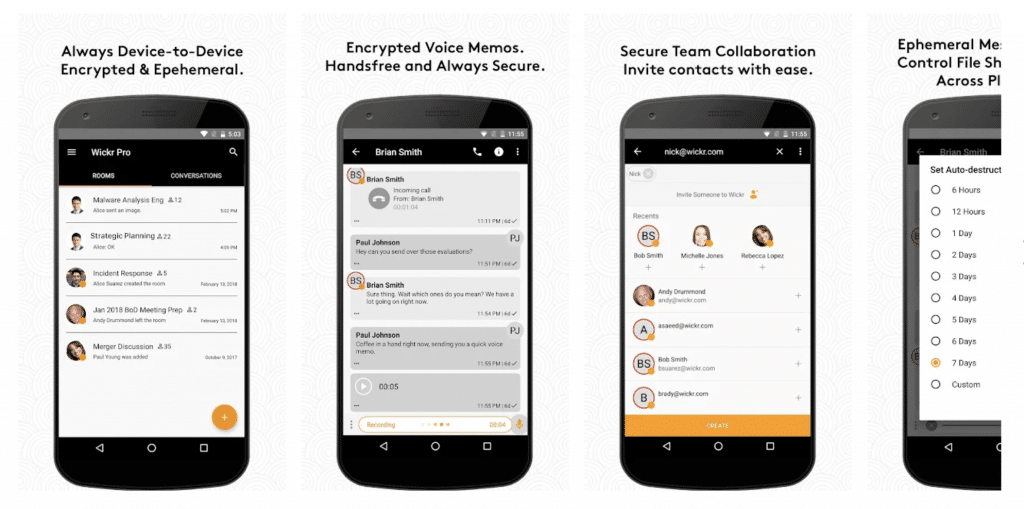 Price: Free
Wickr was founded in 2012 by a group of security experts and privacy advocates. It is one of the safest messaging apps that can be used anonymously in the real sense. It has different apps such as Wickr Me, Wickr Pro, and Wickr Enterprise targeting different user groups. Wickr Me targets personal users.
Wickr Me does not ask for an e-mail address or phone number during registration. Thus, user data is not collected and the app does not have access to this data. Thanks to its features such as screen, location and online status sharing, Wickr can be used not only as a messaging app, but also as a collaboration tool.
The app uses end-to-end encryption for all messages and files including photos and videos. Thus, third parties cannot access data while it is being transferred from one device to another.
All communications on Wickr are locally encrypted on each device with a newly generated key for each new message, giving Wickr users the keys to decrypt their content. In addition to encrypting user data and dialogs, Wickr separates metadata from all content transmitted over the network.
Encryption is turned on by default and transparency reports are available to anyone using Wickr. The app also supports two-factor authentication and does not log IP addresses or other metadata. As one of the best texting apps for Android, Wickr Me is also open source and allows self-destructing messages.
---
Also Read: The Best Wallpaper Apps for Android
---
WhatsApp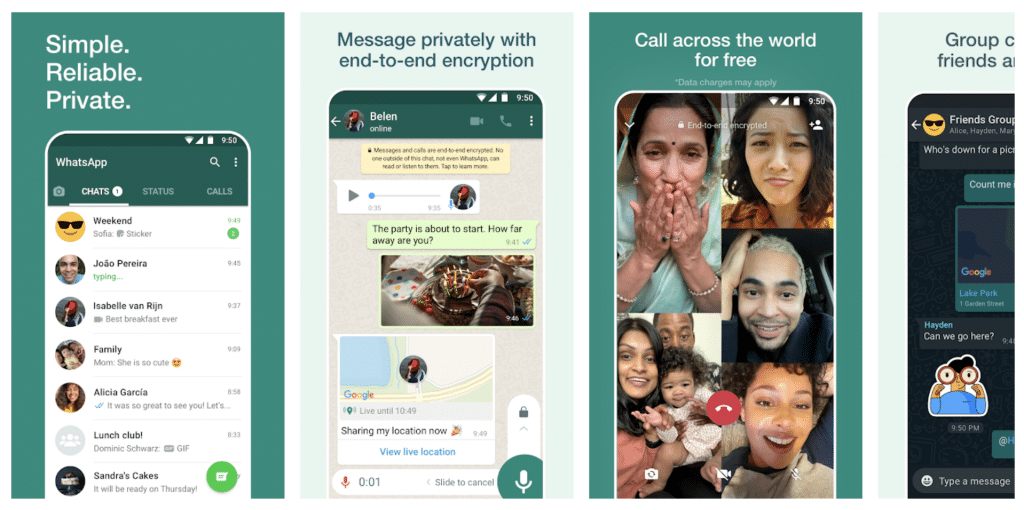 Price: Free
I think that WhatsApp, which is estimated to have 1.5 billion users all over the world, does not need to be introduced. It was one of the first messaging apps to offer end-to-end encryption for more secure communication.
Since WhatsApp is owned by Facebook and due to the latest privacy policy it has implemented as of May 15, 2021, some privacy concerns may come to mind. WhatsApp encryption is built into the app and users are explicitly warned when end-to-end encryption is not applied in a chat.
If you are looking for an app that has very similar features with the popular app WhatsApp, here is the list of the best WhatsApp alternative apps for you.
Signal Private Messenger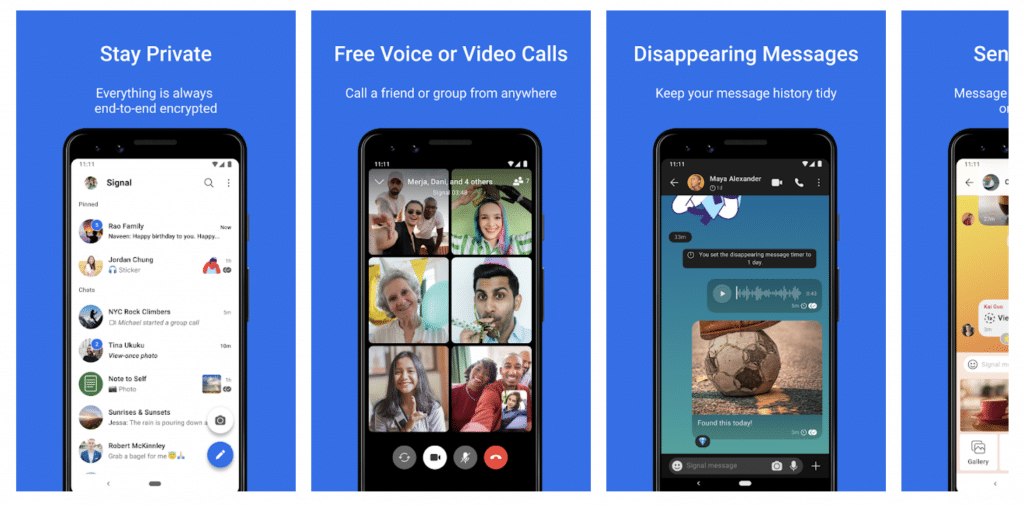 Price: Free
Signal is a cross-platform encrypted messaging app delivered via end-to-end encrypted voice calls and encrypted messages. It is generally considered one of the best messaging apps for Android on the market.
Signal messaging app is free and available for both Android and iOS operating systems. There is also a desktop version for Windows, Mac and Linux. All you need to join is a phone number.
The user experience is similar to popular chat apps like WhatsApp and Facebook Messenger. Its features include one-on-one messaging, group messaging, tags, photo, file transfers, voice and video calling.
Signal has been in service since 2013, but its popularity has grown in 2020 and 2021.
Signal is not owned by a large tech company, it is an open source project supported by donations and grants. In other words, there are no ads, affiliates or secret tracking in the application.
Signal also offers self-destructing, disappearing messages. When this feature is used, messages are automatically deleted after a set time.