WhatsApp's controversion privacy policy that took effect on 15 May 2021 and the Facebook outage that prevented users accessing its apps including WhatsApp, Facebook, and Instagram caused users for looking for WhatsApp alternatives.
According to Google Trends worldwide, interest in queries with the term "WhatsApp alternatives" rose sharply on January 6 and on October 4th, following WhatsApp's announcement of the privacy policy and the Facebook outage.
Social media users, especially well-known names such as Elon Musk and Telegram CEO Pavel Durov, have almost turned against WhatsApp. While Elon Musk recommends those who do not want to use WhatsApp to use the messaging application Signal, an important user base also recommends Telegram. However, of course, these two are not the only alternatives to WhatsApp.
If you are looking for WhatsApp alternatives, we have prepared a list of the best messaging apps for you.
Signal
Price: Free
Signal is a messaging app developed by the Signal Foundation, whose mission is to "develop an open source privacy technology that protects free expression and enables secure global communication". Signal is one of the best WhatsApp alternative apps that you can securely message with your friends and family.
The app, which has all WhatsApp features, including video and audio speech and group calls, stands out with its ability to work as an SMS app in the Android version. So you can also change the SMS application on your Android phone with Signal.
It may seem that end-to-end encryption technology has become a part of our lives thanks to WhatsApp, but in fact, this technology has always been in Signal. Due to the security and privacy settings it offers, Signal is highly preferred by journalists in the global arena. It is also highly recommended by experts in data privacy such as Edward Snowden.
We can say that Signal is the ancestor of the "Disappearing Messages" feature that came to WhatsApp in November 2020. 
In addition, Signal securely keeps all the small to large transactions you make in the application, including online backups, on its servers.
If you are looking for an app similar to WhatsApp due to WhatsApp's recent privacy policy update, you can give Signal a try.
Google Play: Store Link
App Store: Store Link
Kik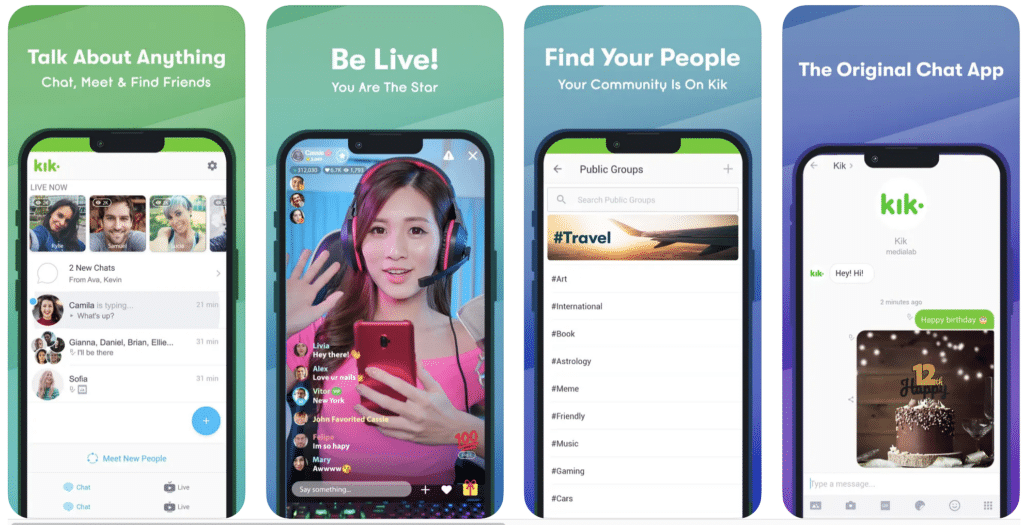 Price: Free
If you say "I want a messaging app that doesn't require a phone number", Kik is the perfect fit for you. Apps like WhatsApp, Telegram, Signal all require a phone number to register for the app; but there is no such requirement in the Kik app. Instead, you sign up for the Kik app using just your email address, that's enough.
Kik, which is at the top of the list of WhatsApp alternative apps, defines a special username for those who register using their email account. Here, all your identity in the app becomes that username and your friends find you with your username.
In the meantime, Kik app includes all the features of WhatsApp including messages, emoji, stickers, GIFs, photo / video sharing and group chats.
Google Play: Store Link
App Store: Store Link
---
Also Read: The 8 Best Video Chat Apps
---
Telegram
Price: Free
Telegram, known as the best WhatsApp alternatives, still continues its life thumping without compromising its title. 
Just like Signal, Telegram, an open source platform, is just one of the most popular messaging apps you can use as an alternative to WhatsApp. In addition to the messaging features in WhatsApp, Telegram includes additional features such as groups that support up to 100,000 participants, channels, custom usernames and support for sharing files up to 1.5 GB.
Of course, since Telegram also claims security and privacy, it does not fail to offer its users end-to-end security features such as encryption and disappearing messages. With Telegram, you can be sure that you will double your comfort on WhatsApp.
By default, the app uses end-to-end encryption for voice calls so that no one can listen to your calls. However, the encryption applied to messages must be manually turned on so that they do not take up much storage space.
Although its interface is difficult for those who are very used to WhatsApp, it easily gets out of all unnecessary messaging features.
Google Play: Store Link
App Store: Store Link
Wire
Price: Free / Paid
Protected by European data protection laws, Wire is a secure messaging app that offers end-to-end encryption.
In addition to free personal accounts, there are also paid business plans that offer additional support and features.
Wire offers extremely clear voice and video calling. Wire also supports one-to-one and group screen sharing, media files sharing and audio filtering.
Available on all major platforms, you can log into your account on eight devices at the same time.
You can format the text in bold and italic, and create a list within the chat. You can also change the file sizes for easy sharing and set a timer for messages to be deleted after a specified period for more privacy.
Google Play: Store Link
App Store: Store Link
---
Also Read: The Best Apps for Video Chat with Strangers
---
Threema
Price: Free
Threema, one of the best texting apps for Android and iPhone, promises complete confidentiality and security. Your contact lists and group information are stored on your phone, not in the app. Messages are also deleted as soon as they are delivered. Also, by using the 8-digit Threema ID to reach people, not your phone number, you better protect your privacy. You can verify people with unique QR codes.
Threema uses end-to-end encryption for all message types including text, voice call, shared files, and group chats. It even encrypts your status messages so no one can track your posts. Messages can only be read by the sender and the recipient.
You can safely use Threema on the browser. As with WhatsApp, the app supports location and file sending as well as formatting features. In addition to WhatsApp, users can create polls and leave "likes" to each message. You can even hide certain chats and protect them with a password.
Threema is of Swiss origin known for its privacy friendly laws.
Google Play: Store Link
App Store: Store Link