In the past, "speech to text", ie "voice to text" apps, which are one of the apps that make life easier in the field of business and education, were used only on the desktop. Over time, this situation has changed and, as with every technological element, the apps of converting audio recordings to text have come to fit in our pockets.
Nowadays, there are many speech to text apps that can successfully translate audio recordings into text. Applications that can do this job are divided into groups within themselves because they have some different features that allow us to distinguish from each other. In this article, we've brought together the best speech to text apps that will allow to take voice notes without wasting time with writing.
GBoard – the Google Keyboard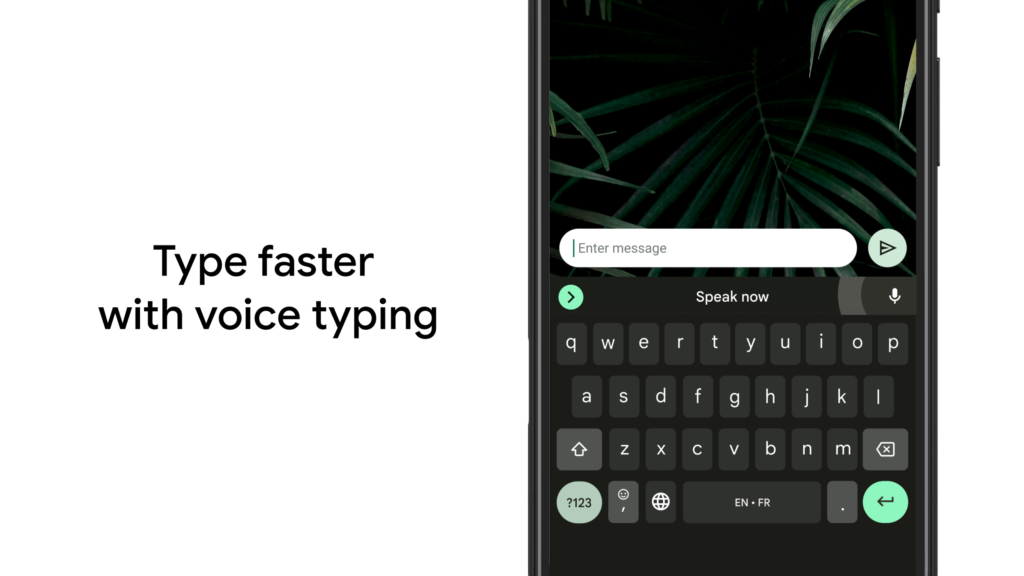 Although the GBoard, programmed by Google, is actually offered to mobile devices as a keyboard app, it is also sufficient for translating the voice recording into text. Working in integration with Google Translate, Google Keyboard can actively translate 60 different languages from voice recording to text.
---
Also Read: The 8 Best Android Keyboards
---
Once you have set Gboard as the default keyboard on your device, you can start taking notes using this keyboard app within any text app. To do this, all you have to do is tap the microphone icon with the Gboard keyboard active and start talking.
Google Play: Store Link
App Store: Store Link
Speechnotes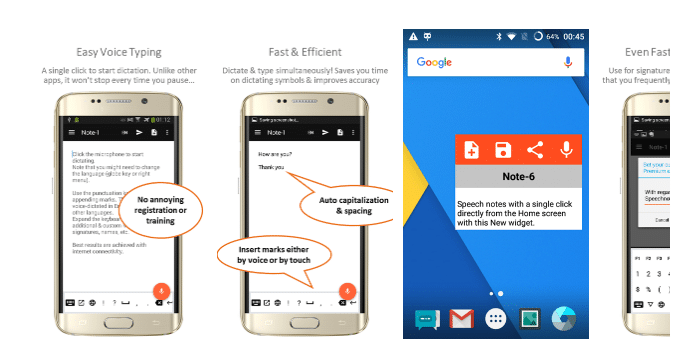 Speechnotes, which serves on a website in addition to the voice to text app, is one of the apps that derives its power from Google. Standing out with its ease of use as one of the best speech to text apps, Speechnotes is only available for Android devices. In addition to the free version of the app, which includes Google's voice recognition technology, there is also a premium version.
Some Important Features
Optional backup to Google Drive & auto saving on every change
Writing short or long texts hands free for hours
Reducing typos & spelling errors
Auto capitalization & spacing
Text editing in dictation mode
Simultaneous voice-typing for words with keyboard for punctuation, symbols & emojis
Google Play: Store Link
Transcribe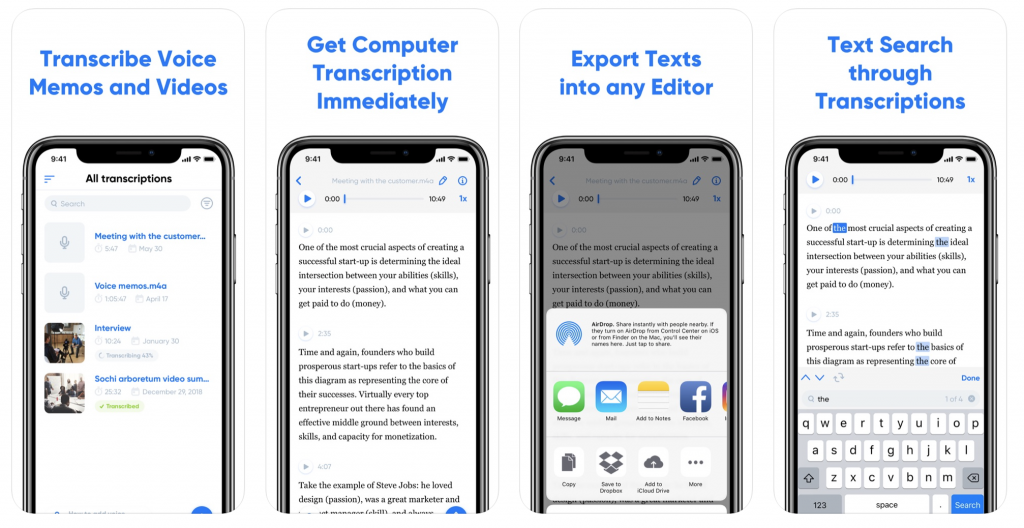 Transcribe, which can compile videos into texts as well as voice recordings, uses artificial intelligence technologies. The app, which can start transcribing voice recording with a single click as in other apps, is not available in the Google Play Store.
TOP FEATURES:
Transcribe any video or voice memo automatically
Supports 120+ languages and dialects
Import files from other apps and DropBox
Export raw text into your favorite text editing app
No ads in free trial version
Transcribe PRO Features:
Exporting to TXT, PDF, DOCX, SRT files
Synchronize unlimited number of files (up to 50 Gb) with our app
3 extra hours of transcription for free every month
App Store: Store Link
---
Also Read: The 6 Best SMS Apps
---
Just Press Record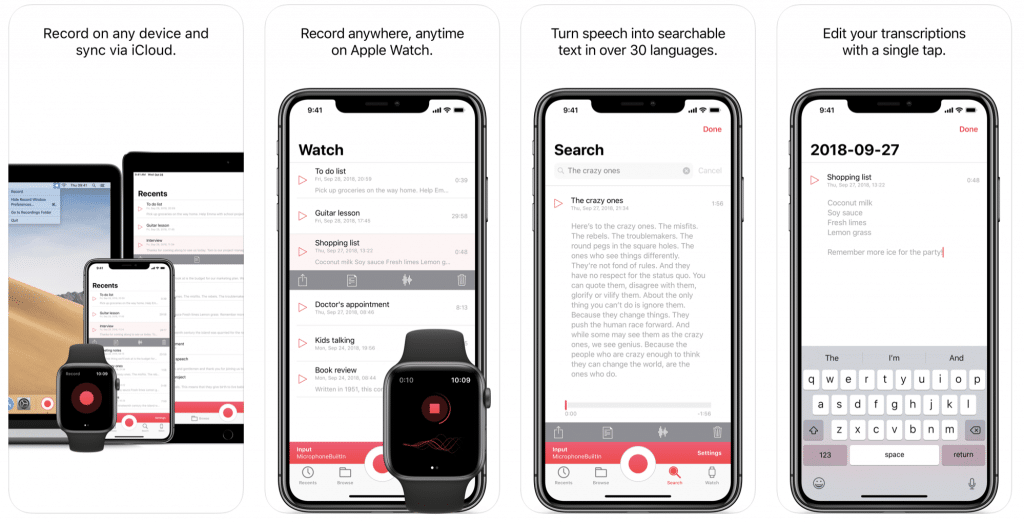 Just Press Record, which includes almost everything we could want in a speech-to-text app, offers features such as one-touch recording, translation, and synchronization between devices like Apple Watch. Currently available for iOS users only, the price of the voice-to-text app in the App Store is $ 4.99.
App Store: Store Link
---
Also Read: The Best Apps for Productivity
---
Otter Voice Meeting Notes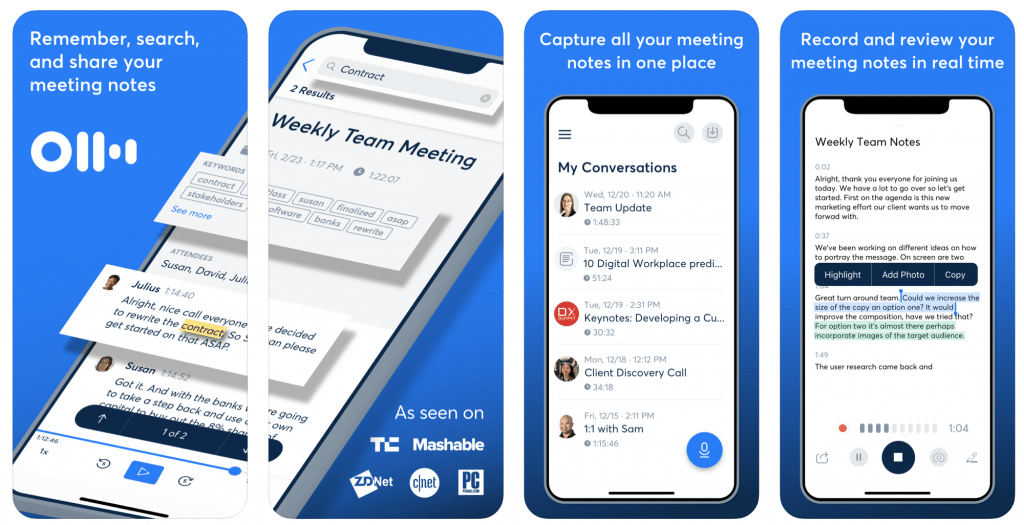 This app is for those looking for a speech to text app on business matters. The app listens to spoken words instantly and converts them into text. In this way, you can both listen to the meeting and record all speeches to the letter.
As one of the best speech to text apps, Otter.ai was developed by a team of formerly AISense, Google, Yahoo, Facebook, MIT, Stanford, Duke and Cambridge. To use it, which has both iOS and Android apps, you first need to create a subscription. You can create a membership using your email address, as well as login to the platform with your Google, Microsoft or Apple accounts. Otter.ai already offers many required features for free, but there is also a premium membership option on the platform.
While 600 minutes are allowed per month for free membership, this number increases to 6 thousand minutes for premium membership. When you use the premium subscription, you can convert audio files and even forward them to Dropbox.Premium membership is $9.99 when charged monthly, and $99.99 for annual membership.
When you integrate the application into your calendar, it defines all your meetings, so you don't have to create a new title for that meeting. All records created in the application can be copied and pasted, edited and shared with others.
Google Play: Store Link
App Store: Store Link