Do you spend hours researching to avoid embarrassing typos and colloquial expressions? There are many grammar checker apps available to eliminate this problem. These apps are preferred not only in schools but also in business life. Grammar checker apps can be used in mail, SMS, and many other communication tools besides writing a thesis. So which ones are the best? We have listed the best grammar checker apps for you. Here are the best!
Grammarly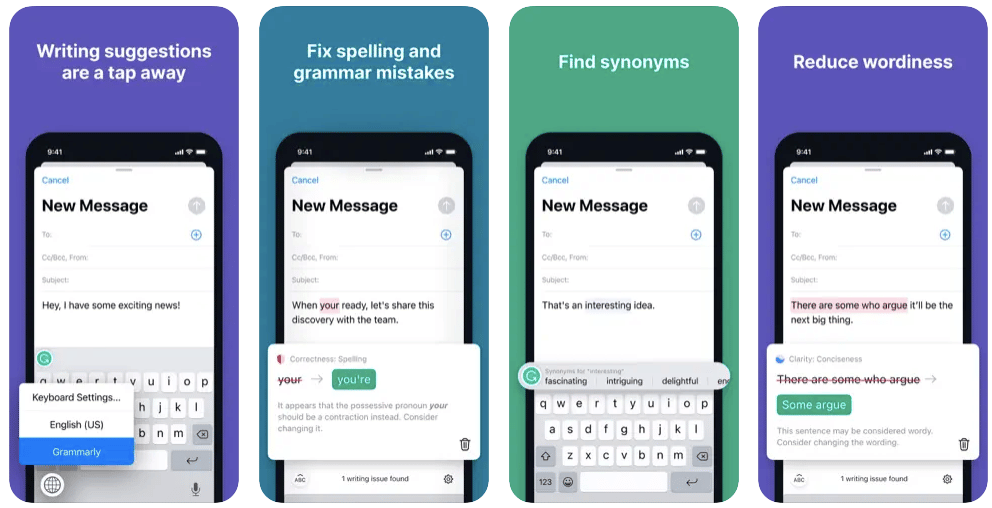 Price: Free/In-App Purchase: $29.99 – $139.99
Grammarly is an app that provides grammar checking and editing. You can edit and correct your grammar with spelling, punctuation, and more with Grammarly. The app allows you to write your texts, confidently, and without errors with its in-app Grammar Keyboard and Proofreader. Advanced features like the thesaurus tool in the app help you improve your vocabulary, and spell-check words. Grammarly lets you improve your writing, from emails to social media posts. Grammarly is one of the best grammar checker apps with its many free features and reliability.
Also, the app's premium features include vocabulary enhancement, clarity improvements, tone adjustments, word choice, level of formality, and fluency.
How Does Grammarly Work?
Download the Grammarly app and enable Grammarly in your Keyboard settings. Also, Grammarly allows you to adjust the look of your keyboard, choose light or dark, key borders, number row, and more. Start typing in any app, and Grammarly will constantly send notifications of typos and suggestions.
Plus, for more information, you can visit Grammarly's website.
Ginger Writer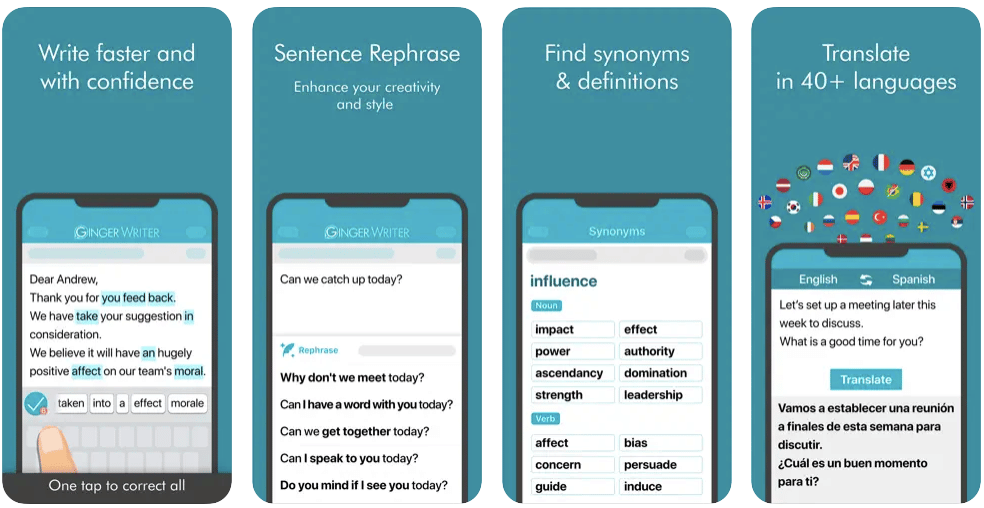 Price: Free/In-App Purchase: $2.99- $19.99
With more than 8 million users, Ginger is among the best grammar checker apps with its AI-powered typing assistant. The app has an AI-powered grammar checker, backed by over ten years of research, and can fix all your mistakes with one click. With the magical Rephraser in the app, you can boost your writing and improve your vocabulary with an integrated thesaurus.
Moreover, Ginger can detect over 100 types of errors and recommends fixes to its users that you can verify with a single click. The app allows you to securely share edited texts via email, iMessage, or SMS, or save them for later use.
Furthermore, the translator of the app is fluent in more than 60 languages. The app has US/UK dialect, and users can make corrections this way. With Ginger's dictionary, you can add slang, proper names, or technical terms and create your dictionary. The app provides a text reader. Thus you can listen to your texts aloud.
Plus, you can have more detailed information from the website of the app.
Ginger Writer on the App Store
---
Also Read: The 5 Best English Dictionary Apps
---
Proofreader Grammar Checker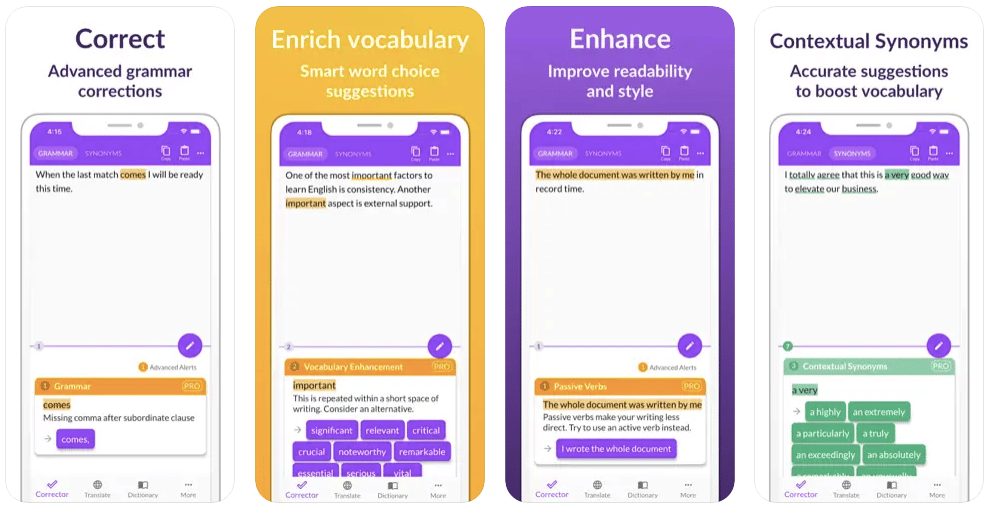 Price: Free/In-App Purchase: $4.99 – $49.99
Proofreader Grammar Checker is a grammar, spelling, and punctuation checker that allows you to write high-quality texts in English and fixes your app errors with explanations. Proofreader Grammar Checker has an advanced translator to translate between 100+ languages.
In addition, Proofreader Grammar Checker provides access to word definitions with example expressions. Users can listen to the texts they write and learn how to pronounce them correctly with the text reader in the app.
Moreover, the premium of Proofreader Grammar Checker is sentence structure, determiners, commas, unnecessary words, etc. The app has additional controls for Proofreader Grammar Checker and lets you enrich your text with vocabulary improvement suggestions and alternative words and phrases.
Proofreader Grammar Checker on Google Play
Proofreader Grammar Checker on the App Store
---
Also Read: ​​The Best Writing Apps for Android
---
LanguageTool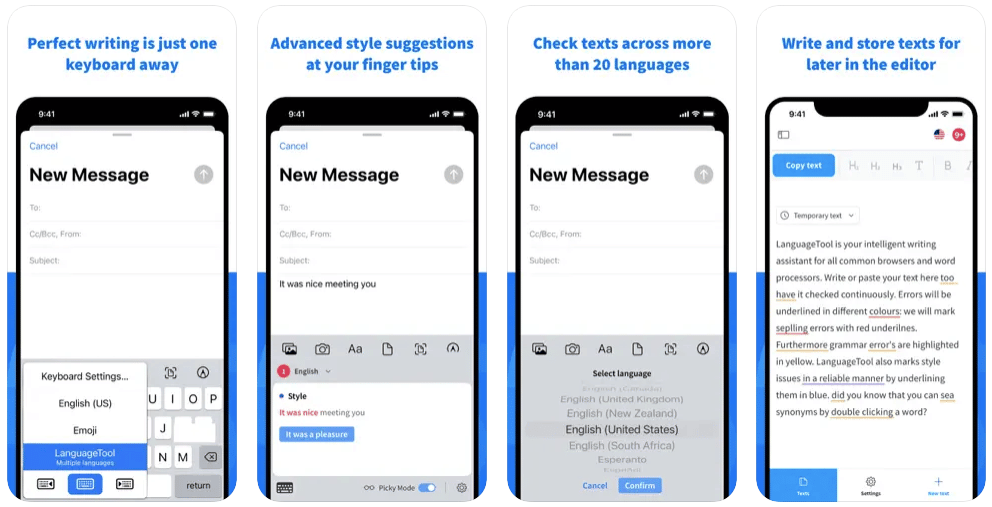 Price: Free/In-App Purchase: $19.99 – $59.99
LanguageTool is your intelligent typing assistant and one of the best grammar checker apps. Using the latest technology, LanguageTool provides helpful grammar and style suggestions for over 20 languages. LanguageTool finds missing commas, helps avoid misunderstandings, and offers synonym word suggestions for commonly used words. Authors can get more suggestions to help them reliably check for inappropriate expressions or colloquialism with Selective Mode in the app.
Additionally, LanguageTool allows you to check text in various languages, including English, German, Spanish, Portuguese, and Dutch, distinguishes between American English and British English, and offers customized suggestions.
Plus, For more detailed information, you can browse the website of LanguageTool
---
Also Read: The 6 Best Writing Apps for iPad
---
CorrectMe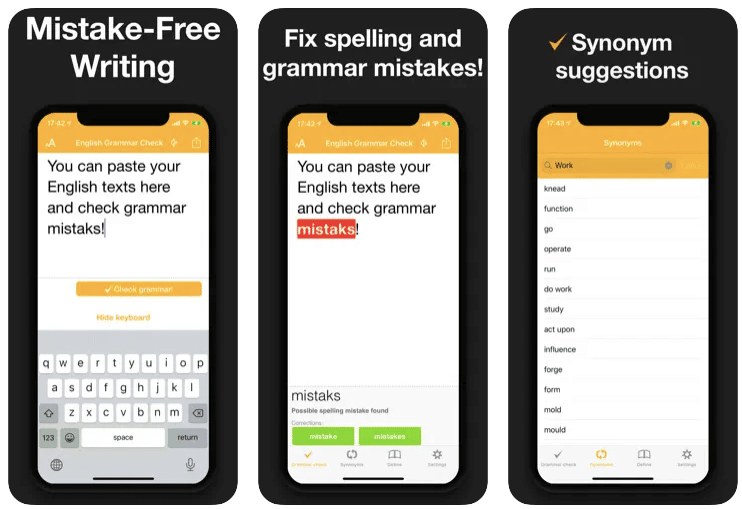 Price: Free/In-App Purchase: $4.99 – $149.99
CorrectMe is a spell-checking app that helps you detect contextual grammatical errors. CorrectMe shows clever suggestions for solving grammar problems and offers synonym suggestions. The app provides definitions of unfamiliar words and allows you to share your texts with other apps with one tap.
Plus, for more information Check out CorrectMe's website.