Even though gardening seems easy, it is pretty tough. A gardener should know the answer to many questions such as which plant is suitable for shade, which plant loves the sun, when to spray, and which dates are available for planting. So how do we keep all that information in our minds? This is where gardening apps come into play. These gardening apps, which beginners can easily use, or advanced gardeners, make garden arrangement, management, and maintenance pretty easy. So which gardening apps are the best? We have listed the best gardening apps for you.
Planter: Garden Planner
Price: Free/In-App Purchase: $0.99 – $24.99
Planter is an app to help your garden and grow vegetables/fruit, and it's one of the best gardening apps. The app provides gardeners and prospective gardeners information about companions, combative plants, and more than 50 fruits and vegetables. Offering a garden schedule for planting or planting times, Planter has a square meter garden layout grid for easy placement.
Moreover, Planter offers features such as adding unique plants, freezing dates, and automatically determining your planting zone. New features are added to the app regularly every week. For more information, visit Planter's website.
Planter: Garden Planner on Google Play
Planter: Garden Planner on the App Store
---
Also Read: The 6 Best Plant Identification Apps
---
Moon & Garden
Price: Free/In-App Purchase: $0.99
Moon & Garden is a gardening app that lets you get the most out of your organic garden using biodynamics. Based on the lunar influence, the app guides you. Whether you're an organic addict, an excellent gardener, or an amateur gardener, Moon & Garden is an easy-to-use app.
In addition, in the Lunar Horticultural Calendar, which is the result of the collection of Millennium experiences related to biodynamics, plants are excessively dependent on the phases of the moon (full moon, new moon…).
Furthermore, Moon & Garden has features such as weather, note taking, moon phases, and reminders in the app. Moon & Garden makes it easy for gardeners and gardener candidates to manage their gardens and allows you to do your gardening work with reminder notifications. For more information, you can visit the app's website.
Moon & Garden on the App Store
---
Also Read: The 8 Best Apps for Sustainability
---
Planta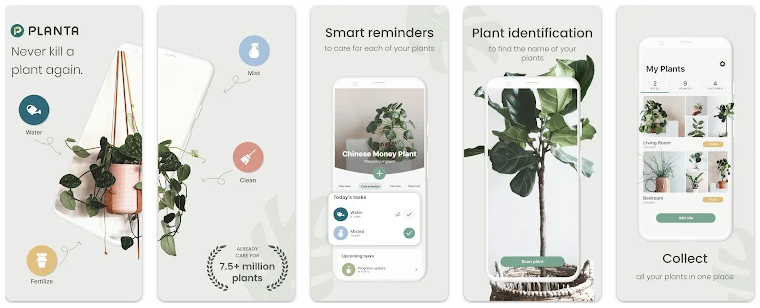 Price: Free/In-App Purchase: $7.99 – $45.99
Planta is an app that allows you to know about plants, keep them alive, and take care of them, and it is among the best gardening apps. The app sends reminders when it's time to water your plants and saves you the trouble of remembering. Also, Planta notifies you with notifications for, fertilize, mist, clean, and repot.
Moreover, with the app's step-by-step care instructions, amateur gardeners can easily manage their gardens. With the light meter in the app, you can guarantee the location of the plants in your garden and home because some plants love the shade, while others prefer the sun. Also, Planta offers plant suggestions according to your style and skill.
In addition, the app has the feature of identifying plants, so you can easily access the flowers in your neighbor's garden and the names of the plants in the park. For more detailed information, you can check the app's website.
---
Also Read: The 10 Best Note Taking Apps
---
myGarden – Pflanzen & Garten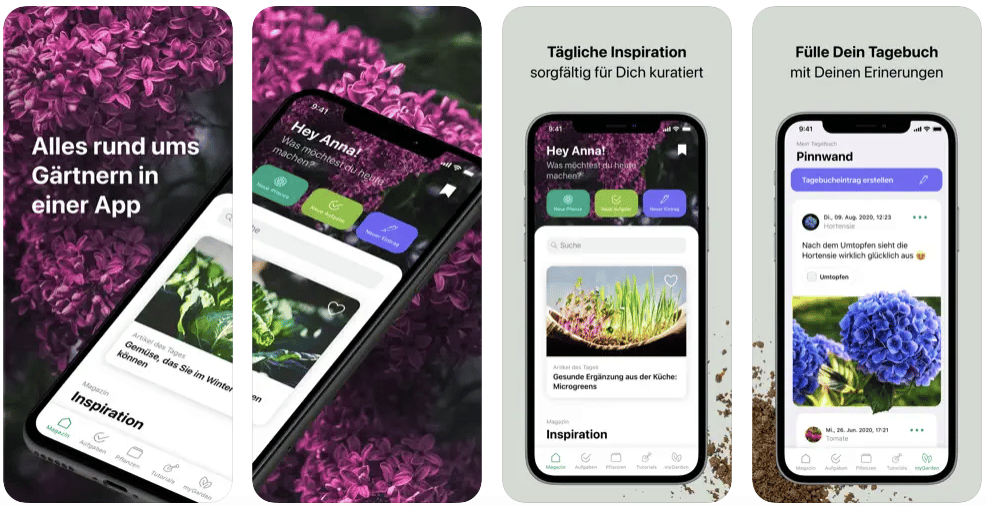 Price: Free
myGarden is a fully featured app developed to help you document, organize, plan, perform and maintain your urban, indoor, or outdoor garden projects and stands out among the best gardening apps. The app helps you document your harvest and plant growth and add photos, and notes to collect your reports in one spot.
Additionally, myGarden provides gardeners and aspiring gardeners with information about plant care, water, location, and fertilization needs, as well as plant characteristics, allergens, toxic parts, and more.
Moreover, Gardeners can add and easily organize their gardening with myGarden. Reminders in the app prevent you from forgetting your plants and always allow you to take care of your plants at the right time. Visit myGarden's website for details.
myGarden – Pflanzen & Garten on the App Store
Gardenize
Price: Free/In-App Purchase: $6.99 – $34.99
Gardenize is an app that helps your garden grow, develop and look beautiful. The app makes it easy to keep track of all your plants, outdoors or indoors, and offers advice on how to care for your plants.
Additionally, the app has smart maintenance reminders so your plants don't get dehydrated and provides information on the fruits, vegetables, and flowers that grow best in your local climate at different times of the year. Browse the app's website for more info.
---
Also Read: The 5 Best Reminder Apps for iOS and Android
---
mySoil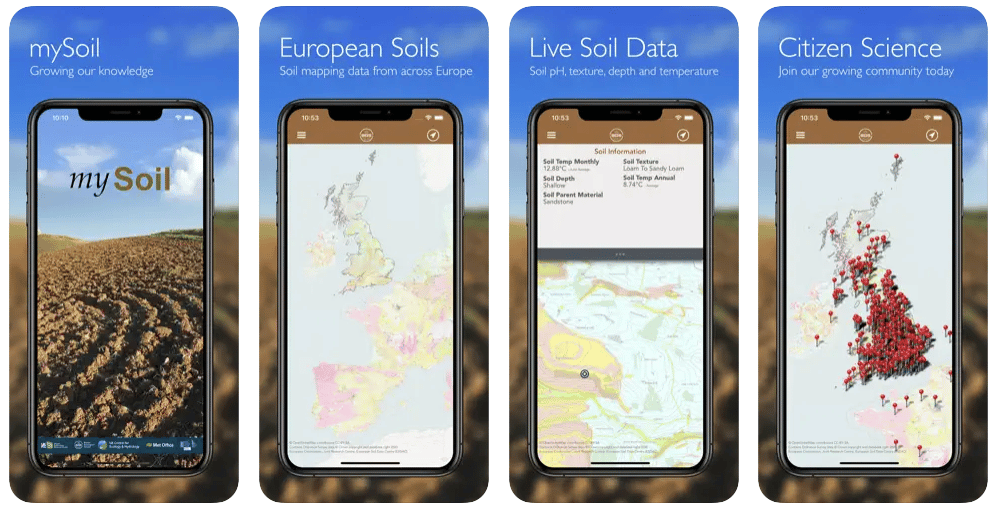 Price: Free
Unlike other apps, mySoil focuses more on the values of the soil of your region and allows you to view the map of the earth in your region. European users can obtain information such as soil depth, texture, pH, soil temperature, and organic matter content of the soil in their region with this app. For detailed information, you can check mySoil's website.