In modern agriculture, where precision and efficiency are paramount, technology emerges as the driving force behind transformative practices. As farmers embrace the digital age, a myriad of apps has revolutionized the way they approach crop management, resource optimization, and decision-making. In this review, we covered "The Best Agriculture Apps," a carefully curated selection designed to cater to the diverse needs of farmers and agribusinesses. From leveraging artificial intelligence for weed identification to providing real-time weather forecasts and personalized crop advisory services, these apps have become indispensable tools for navigating the complexities of contemporary farming. Without further ado, here are the best agriculture apps!
ID Weeds
Price: Free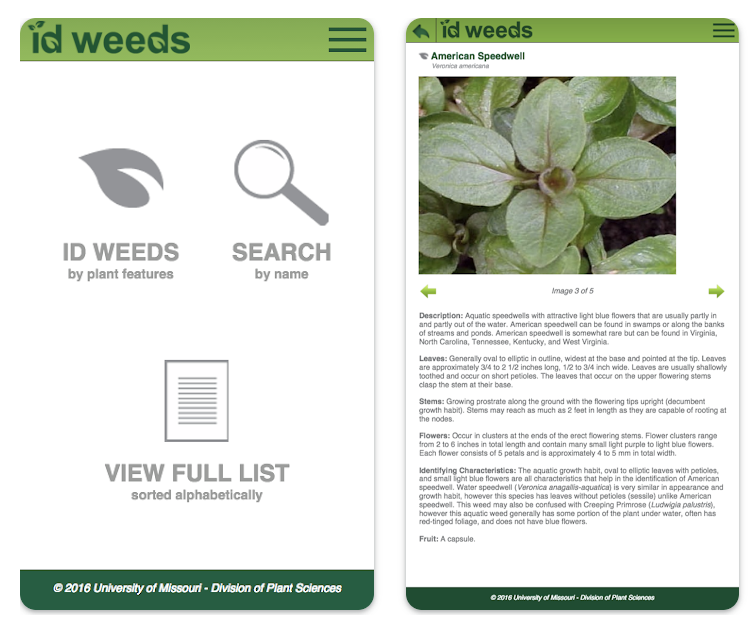 ID Weeds, a product of the University of Missouri, emerges as a pivotal tool for farmers seeking efficient weed control. This free application allows users to identify weeds by common or Latin names, offering comprehensive details and accompanying photographs. Whether searching for weeds or exploring characteristics, ID Weeds, provided by the University of Missouri Extension, simplifies the decision-making process. With its user-friendly interface, this app stands as a valuable resource for farmers navigating the complexities of weed management.
Krish-e
Price: Free
Krish-e, developed by Mahindra & Mahindra Limited, transcends traditional farming practices, offering Indian farmers a digital solution for agricultural success, and it ranks among the best agriculture apps. This free app provides a customized crop calendar and expert advice in multiple languages, covering aspects from weed control to crop planning. Krish-e not only enhances productivity but also acts as a comprehensive guide for farmers, making it an indispensable tool for the modern Indian agricultural landscape.
---
Also Read: The 8 Best Nature Apps
---
Climate FieldView™
Price: Free/In-App Purchase: Up to $ 999.99 for iOS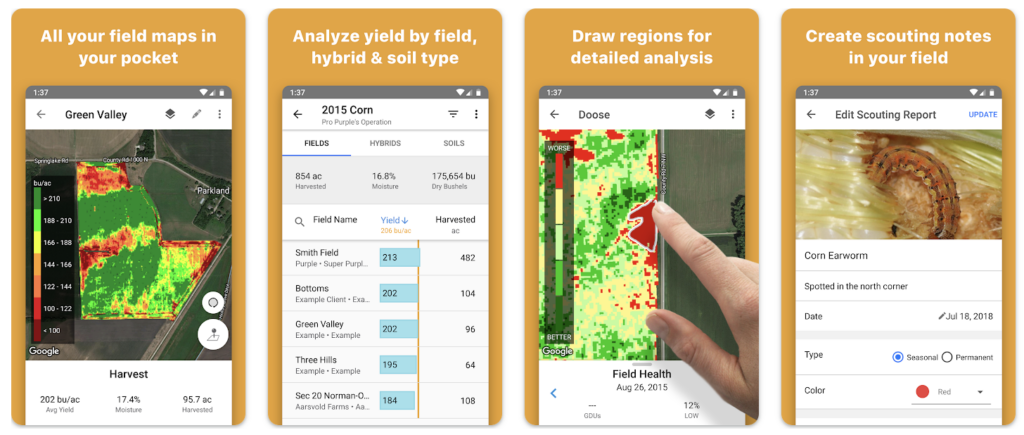 Climate FieldView™ emerges as a powerful digital agriculture tool, providing farmers with a connected suite of tools for data-driven decision-making. This free app allows farmers to seamlessly collect and store critical field data, monitor agronomic decisions' impact on crop performance, and manage field variability through customized plans. With a focus on optimizing yields, maximizing efficiency, and reducing risk, Climate FieldView™ becomes an indispensable companion for farmers committed to precision agriculture. Visit Climate FieldView's website to learn more.
Climate FieldView™ on Google Play
Climate FieldView™ on the App Store
AgriApp : Smart Farming App
Price: Free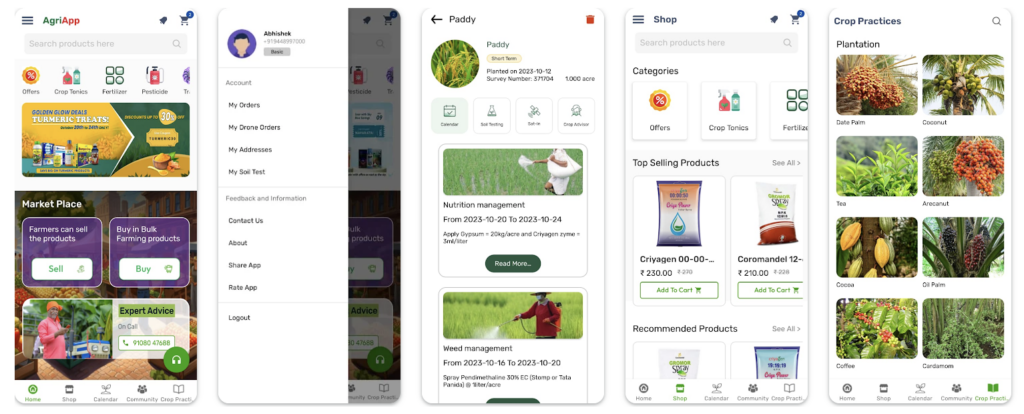 AgriApp, a farmer-centric app with over a million satisfied users, redefines smart farming in India, and it stands out among the best agriculture apps. This agriculture app offers instant access to crop advisory services, an online marketplace for agricultural essentials, and personalized crop calendars. By providing information in multiple languages, including English, Hindi, and more, AgriApp creates a supportive environment for farmers, ensuring they have the knowledge and resources needed for successful farming endeavors. To learn more, check out AgriApp's website.
AgriApp : Smart Farming App on Google Play
---
Also Read: 8 Apps for Watering Plants
---
AgriSync
Price: Free
AgriSync introduces a transformative approach to problem-solving in agriculture through its mobile video customer service platform. The app enables farmers to connect with multiple advisors in real time, facilitating immediate support through video communication. Advisors, in turn, efficiently manage service tickets and provide solutions remotely. AgriSync's practical tips and real-time support make it an invaluable tool for farmers navigating challenges and seeking expert advice in the ever-evolving world of agriculture.
Pusa Krishi
Price: Free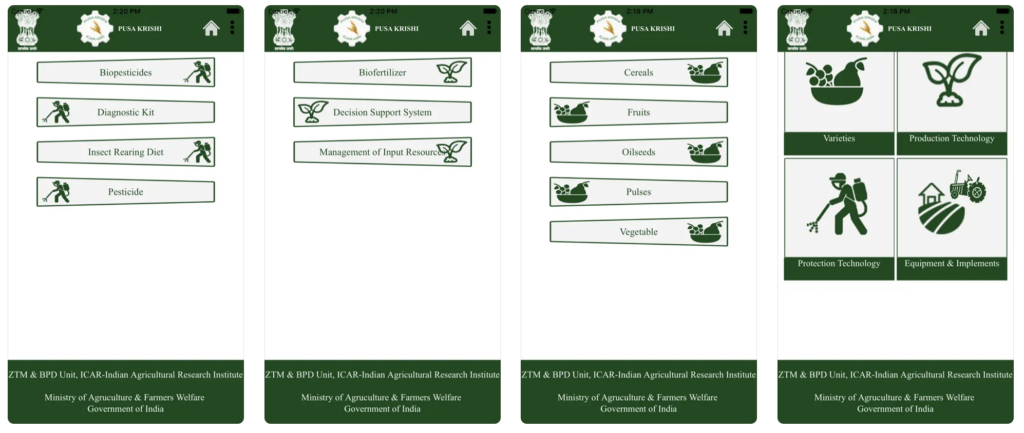 Pusa Krishi, led by ZTM&BPD Unit; ICAR-IARI, New Delhi, acts as a crucial link between the research community and agribusiness. This app focuses on technology development and commercialization, offering a variety of technologies and products for both corporate entities and individual farmers. Pusa Krishi's commitment to linking research with practical application positions it as an essential tool for those looking to integrate cutting-edge technologies into their agricultural practices.
---
Also Read: The 6 Best Gardening Apps
---
BigHaat Smart Farming App
Price: Free
BigHaat emerged as India's largest agriculture digital platform, leveraging years of experience with the power of data and technology, and it is considered one of the best agriculture apps. The app empowers farmers with features such as personalized crop advice, an online farming community, and a diverse marketplace for agricultural products. By connecting farmers with information, quality products, and a supportive community, BigHaat plays a pivotal role in transforming the future of agriculture in India.
BigHaat Smart Farming App on Google Play
FarmBee
Price: Free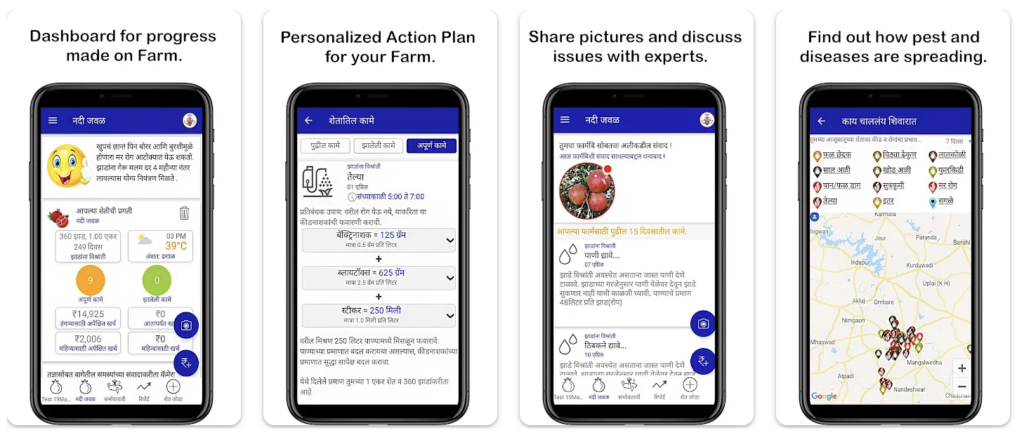 FarmBee, a digital farming app, guides users in cultivating high-quality pomegranates through personalized recommendations and analytics. The app offers solutions for farm management, pest control, disease prevention, and agronomy, providing intelligence gathered from thousands of similar farms. With a focus on precision digital agriculture, FarmBee has become an indispensable tool for farmers aiming to enhance efficiency and profitability in pomegranate cultivation.
---
Also Read: 7 Free Plant Identification Apps for iPhone
Also Read: 11 Free Plant Identification Apps for Android
---
AgriCentral
Price: Free
AgriCentral stands as a technology-driven agriculture app designed to enhance decision-making and profitability for Indian farmers, and it deserves to be among the best agriculture apps. The app utilizes technologies like GPS, satellite imagery, big data analytics, and machine learning to provide farmers with valuable insights. Offering features such as Farm Voice, Crop Care, Market View, and more, AgriCentral becomes a comprehensive resource for farmers seeking to navigate the complexities of modern agriculture successfully.