Are you a seasoned sailor looking to improve your seafaring skills? There is no need to look any further! In this article, we'll delve into the world of sailing apps and look at the best options for making sailing adventures easier and more enjoyable. Whether you're a seasoned sailor or just getting started, these apps are designed to put essential information, navigation tools, and real-time updates at your fingertips. Without further ado, here are the best sailing apps!
PredictWind – Marine Forecasts
Price: Free/In-App Purchase: Up to $99.99
PredictWind is an excellent sailing app that provides sailors with accurate weather forecasts and powerful tools. The app offers access to leading forecast models like the ECMWF, SPIRE, UKMO, and GFS, ensuring reliable weather data. With high-resolution maps displaying wind, waves, temperature, and more, users can make informed decisions about their sailing routes. PredictWind goes beyond forecasts with features such as Weather Routing, which calculates optimal routes based on tides, currents, and wind data. Departure planning helps choose the best departure date by summarizing weather conditions along the route. Additional features include daily briefings, comparison graphs, live observations, and AIS data. PredictWind empowers sailors with the information they need to stay safe and maximize their time on the water.
PredictWind – Marine Forecasts on Google Play
PredictWind – Marine Forecasts on the App Store
Navionics® Boating
Price: Free/In-App Purchase: Up to $129.99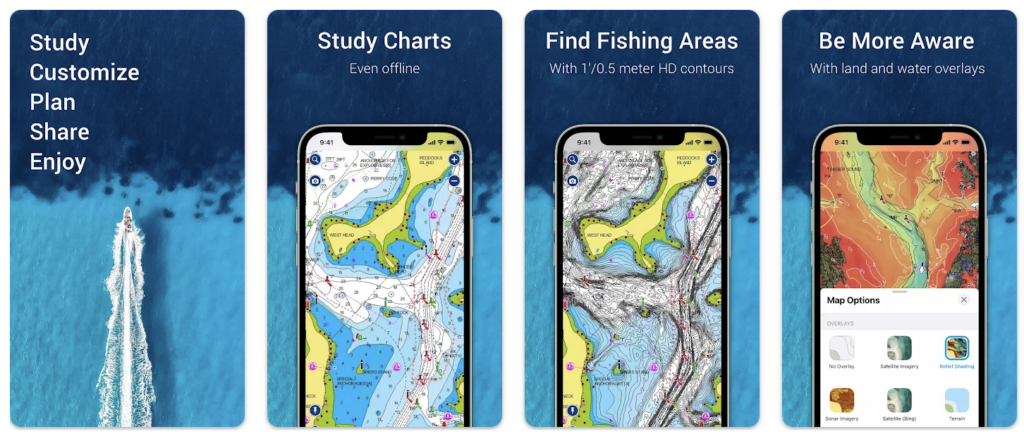 Navionics is a versatile sailing app designed to enhance water activities such as cruising, fishing, sailing, and diving. Its standout feature is the ability to access up-to-date, detailed charts offline, making it convenient for users on the go. The app provides internationally renowned Navionics charts, including nautical charts and SonarChart HD bathymetry maps with exceptional bottom contour detail. With overlays like relief shading and sonar imagery, users better understand the topography and bottom hardness.
Navionics offers tools for planning and enjoying your day on the water, including auto guidance technology for trip planning, real-time weather data, and the ability to mark spots, record tracks, and calculate distances. The app fosters an active community where boaters can share local knowledge and recommendations. Navionics also supports external devices like chart plotters for added features such as plotter sync and SonarChart Live Mapping. Navionics is one of the best sailing apps, offering comprehensive charts, powerful tools, real-time updates, and a connected community, ensuring safer and more enjoyable experiences on the water. Visit the website of Navionics for more information.
Navionics® Boating on Google Play
Navionics® Boating on the App Store
---
Also Read: The Best Weather Apps for iPhone
Also Read: The 10 Best Weather Apps for Android
---
Windy.com
Price: Free/In-App Purchase: Up to $114.99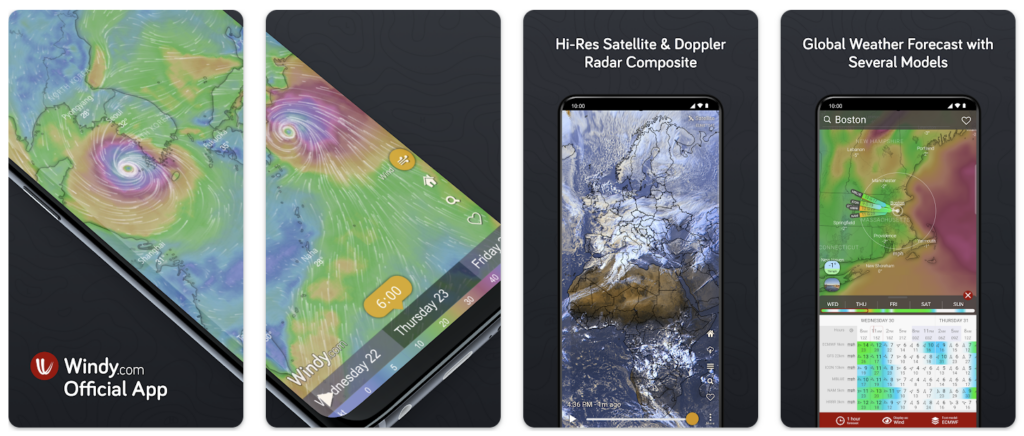 Windy.com is an extraordinary weather app that provides a visually captivating and highly accurate weather forecast experience. Trusted by professionals, outdoor enthusiasts, and government agencies, the app offers a wide range of features and data sources. Users can access detailed weather information with leading weather forecast models, local weather models, and high-resolution satellite composites. The app provides 51 global weather maps, weather radar, and altitude levels, allowing users to explore temperature, precipitation, wind speed, and more. Windy.com offers customizable favorite spots, nearby weather stations, airport data, and specialized forecasts for activities like kiting, surfing, and paragliding. With additional features like weather webcams, tide forecasts, and topographic maps, Windy.com caters to a diverse range of needs.Windy.com is one of the best sailing apps that combines accurate forecasts with a visually stunning interface, making it an essential tool for sailors and outdoor enthusiasts. To learn more, go to the website of the app.
MarineTraffic – Ship Tracking
Price: Free/In-App Purchase: Up to $95.99
MarineTraffic is a functional app for real-time ship tracking and port information, and it deserves to be one of the best sailing apps. With extensive coverage and AIS data from over 100,000 vessels daily, the app provides a live map view and search functionality. Users can access wind forecasts, track vessel movements, and receive port arrival/departure information. The app offers "My Fleet" synchronization, a vast collection of ship-related photos, and augmented reality vessel identification. MarineTraffic is an essential tool for sailors, providing reliable tracking, port details, and comprehensive maritime information in a user-friendly interface. Check out MarineTraffic's website for more detailed information.
MarineTraffic – Ship Tracking on Google Play
MarineTraffic – Ship Tracking on the App Store
---
Also Read: The Best Compass Apps for Android and iPhone
---
Garmin ActiveCaptain®
Price: Free/In-App Purchase: Up to $399.99

Garmin ActiveCaptain is a powerful app designed for Garmin chartplotter owners, offering seamless wireless connectivity and a range of features. With the app, users can transfer and access charts, maps, routes, and waypoints and receive feedback from the ActiveCaptain Community. The OnDeck hub (1) enables boat tracking and monitoring from anywhere. Noteworthy features include OneChart™ for purchasing and uploading charts, trip planning capabilities, user data synchronization, access to the ActiveCaptain Community for reviews and information sharing, control of compatible chart plotters through the app's Helm™ feature, easy software updates, OnDeck hub functionality for remote control, Garmin QuickdrawTM Community for downloading and sharing contour maps, and smart notifications when connected to a chartplotter. Garmin ActiveCaptain is a beneficial app, and it stands out among the best sailing apps. To learn more about the app, browse Garmin ActiveCaptain's website.
Garmin ActiveCaptain® on Google Play