The standard weather app on iPhones cannot meet the expectations of most people, so users prefer to turn to more detailed and accurate weather apps that will meet their needs. Apple also shut down its paid weather app DarkSky on January 1st, 2023. So what is the best weather app for iPhone that you can download as an alternative? We have compiled the most preferred ones for you.
If you have an Android device, you can check out the best weather apps for Android here.
AccuWeather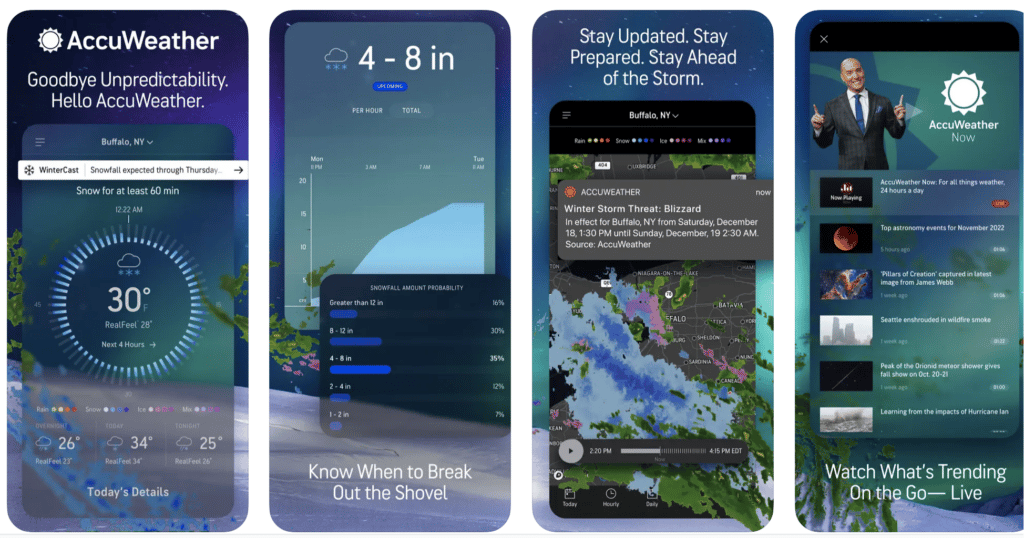 Price: Free
AccuWeather, preferred by millions of people, is at the top of our list of "best weather apps for iPhone". The weather app, which reports the instant weather conditions, offers a richer view to the user with the visual effects it offers. It also shows the current situation in the best way by making predictions according to your region.
The popular weather app, where you can get information about the "minute by minute" weather conditions that you can personalize, gives you an idea about severe weather warnings, live weather forecasts, precipitation conditions, and expected weather events.
AccuWeather, where you can instantly see the temperature and felt temperature values, also stands out with its features such as dew point, UV index, visibility, allergy, precipitation, air quality index reports.
The Weather Channel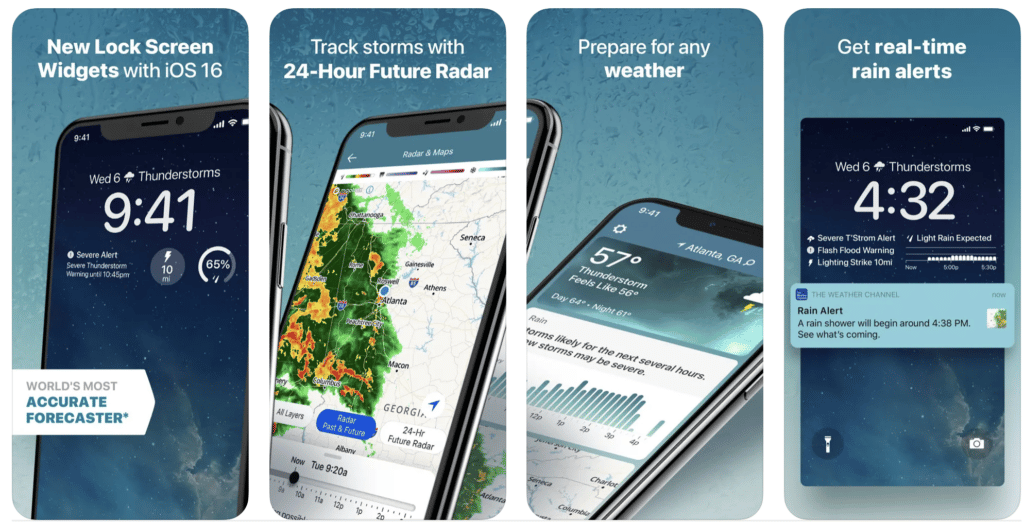 Price: Free
Another successful app that provides weather and forecast reports from all over the world is The Weather Channel. As one of the best weather apps for iPhone, The Weather Channel, which has functions such as live radar, weather maps, forecast updates for severe weather conditions, also has a warning system against storms.
By seeing weather forecasts for up to 15 days, you can access GPS-enabled weather maps and be prepared for any situation in the sky. In the weather app, where you can see hourly and daily updates and real data and forecasts at any time, you can also see detailed reports about sunset times, allergies and pollen forecasts.
The Weather Channel on the App Store
---
Also Read: The 5 Best Calendar Apps for iPhone
---
Weather Underground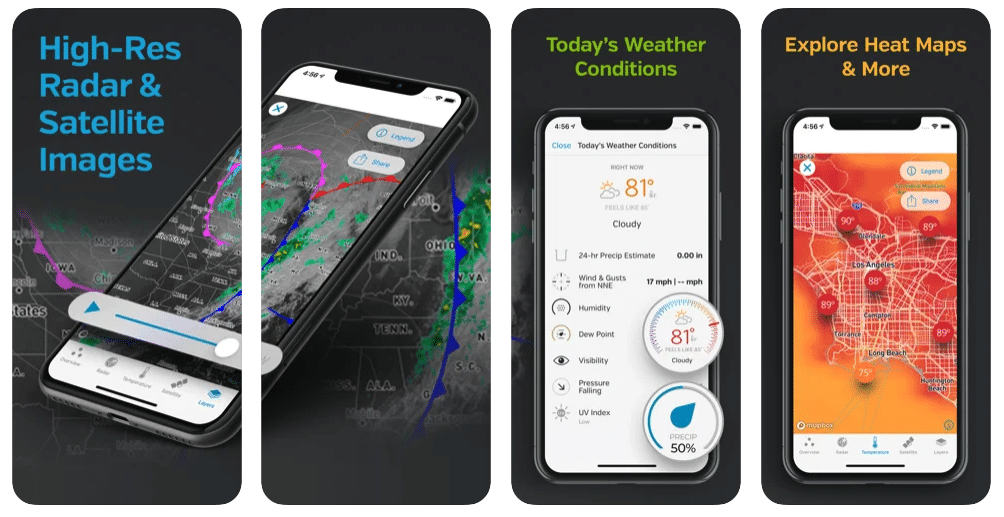 Price: Free
Weather Underground, an app that provides weather forecasts at the microclimate level, evaluates the data of 250,000+ personal weather stations and gives the most possible weather forecasts thanks to a proprietary forecast model. It offers a lot of data such as hurricane warnings, rain and drought probabilities, radar images, and air quality index.
As one of the best weather apps for iPhone, Weather Underground also provides light & dark modes, various map types and units to let you customize your experience.
The app, which has customizable features, brings extensible forecasts up to 15 days with its Premium version to your screen without ads.
Weather Underground on the App Store
---
Also Read: The 6 Best VPN Apps for iPhone
---
eWeather HD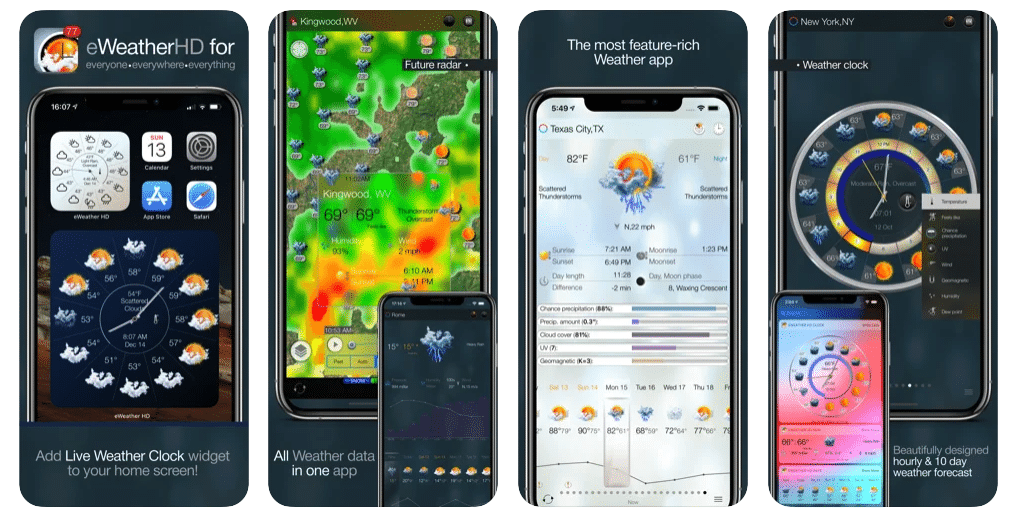 Price: $3.99
Another of the best weather apps for iPhone, eWeather HD matches data from two different providers to make very accurate forecasts. The app, where you can see the hourly and up to 10-day weather conditions, can also support your decision about fishing, as you can see the barometric pressure value both at atmospheric and sea level.
The app, which shows where it will rain and snow in the next hour, also informs you about seven years of weather and ocean temperature for any city in the world, as well as a weather archive for precipitation and clouds.
---
Also Read: The 5 Best Alarm Apps for iPhone
---
WeatherBug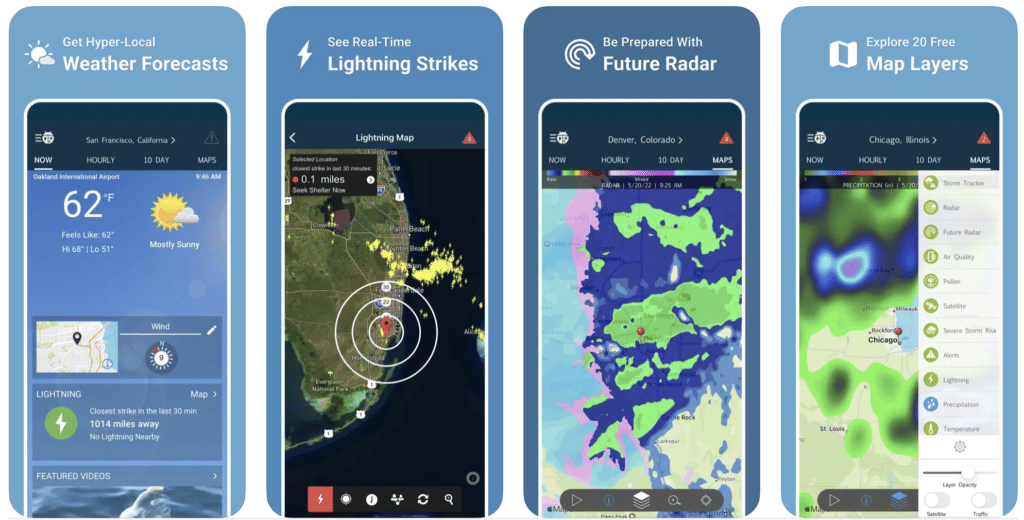 WeatherBug, one of the award-winning weather apps, allows you to have an idea about weather forecasts in the fastest way with live data. The app, where you can see real-time weather conditions, hourly and 10-day forecast reports, has detailed content with more than 20 maps such as Doppler radar, UV index, satellite map, lightning warnings, precipitation, local temperature, wind chill, and road forecast.
The functional app, which brings to the screen from pollen counting to road conditions, from lightning warnings to animated weather maps, is also considered as one of the best weather apps due to its easy use.
---
Also Read: The 7 Best To Do List Apps for iPhone
---
Today Weather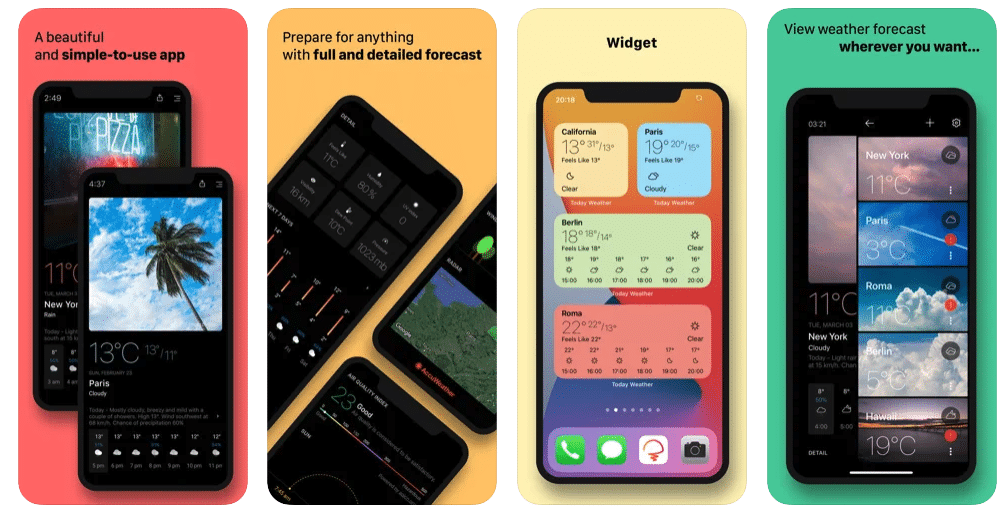 Price: Free
Today Weather, which is both practical and highly acclaimed, has high hit rates with its forecasts created by comparing over 10 sources. In addition to the weather forecast, the app, where you can learn the weather conditions of the whole world in a few seconds, also points out details such as air quality, UV index and pollen count, and moments such as sunrise, sunset, and full moon night. The widget of the app, which has functions such as radar and hurricane warning, is also used a lot.
Today Weather on the App Store
Weather Live°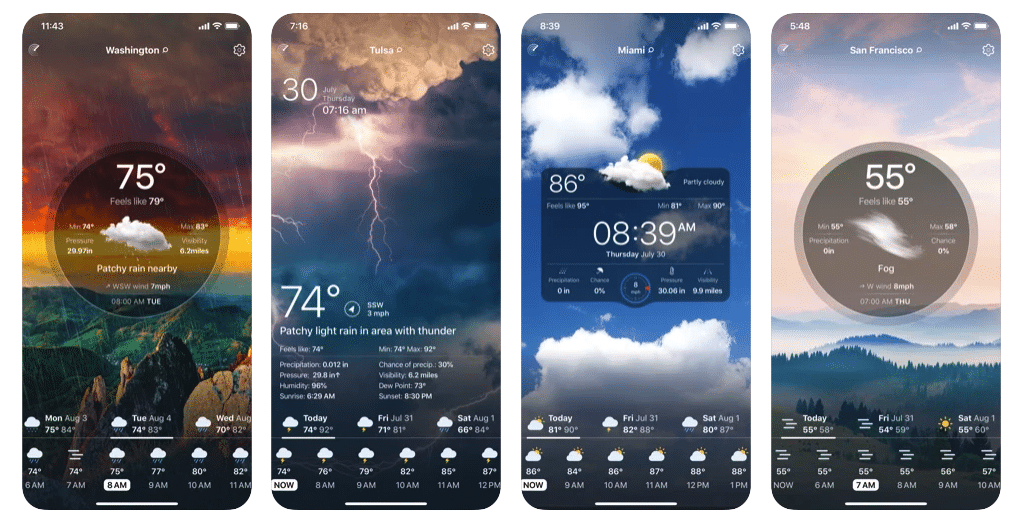 Price: Free
Weather Live°, one of the extremely useful apps developed by Apalon Apps, is another app where you can get accurate weather forecasts. With the app where you can easily see the weather forecast for 7 days in the free version and 14 days in the premium version, you can see both the current and the felt temperature instantly.
The app, which provides information about driving conditions, wind speed and direction, also attracts a lot of attention with its weather radar and lightning tracker. In addition, the bonus of the popular weather app is that you can make personal arrangements and make it most useful for you. However, it should be noted that many features are available to Premium users.
---
Also Read: The 7 Best Fishing Apps for iPhone and Android
---
Yahoo Weather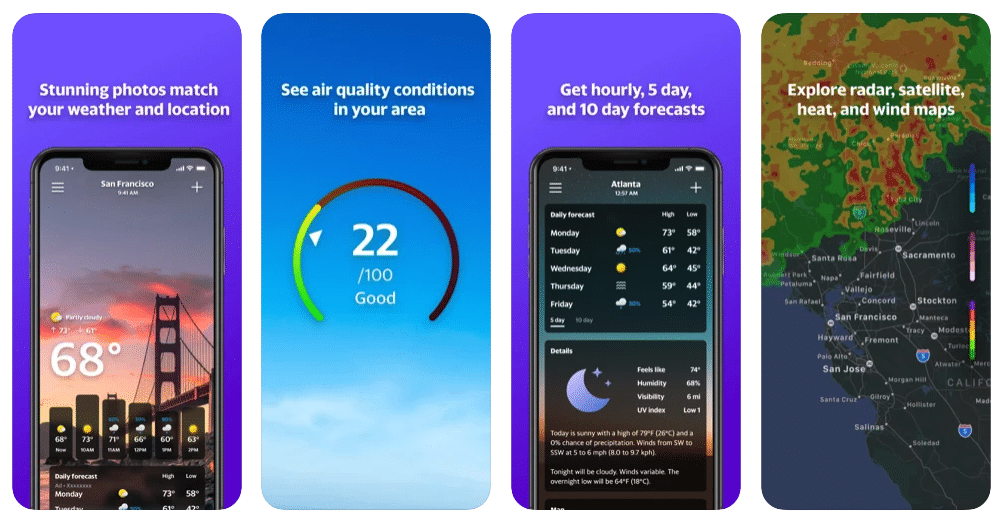 Price: Free
If you are looking for the best free weather app for iPhone, Yahoo Weather is one of the applications that you should definitely give a chance. Yahoo Weather, the weather app of Yahoo, which is appreciated by users with its hourly, 5 and 10-day accurate weather forecasts, stands out with information about your location and Flickr images.
The app, which includes animated sunrise, sunset, wind and pressure modules along with situations such as wind, pressure and precipitation, also shows you interactive maps of radar, satellite, heat and snow. Yahoo Weather, which allows you to track up to 20 different locations, is also very popular with its easy interface.
Yahoo Weather on the App Store
CARROT Weather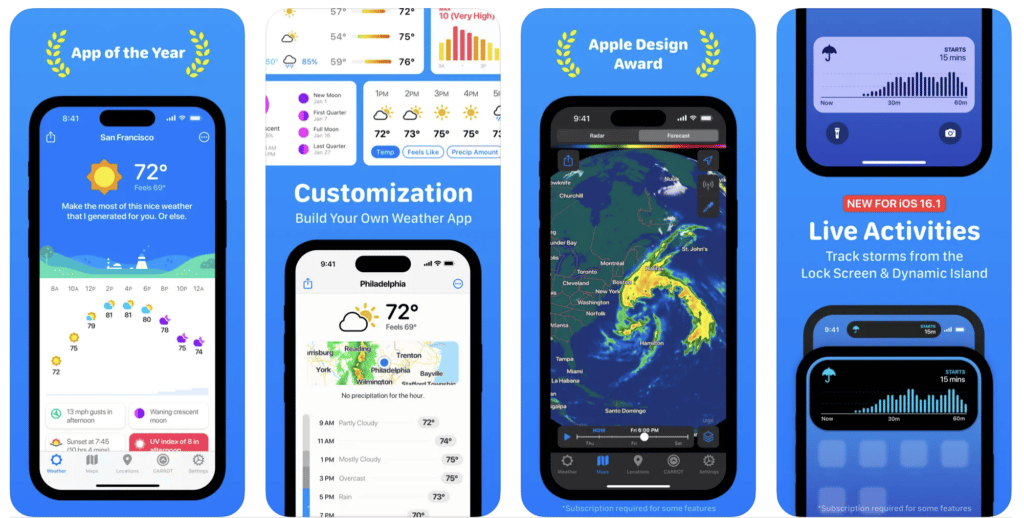 Price: Free
Featured by many media outfits such as Wired and The New York Times, CARROT Weather is one of the best weather apps for iPhone with its accurate data on current, hourly, and daily forecasts. The 5 personalization options it provides allow users to customize their in-app experience to build their own weather app.
Among the other features the app offers are tracking down over 100 secret locations, augmented reality mode, and the ability to film your own TV-news-style weather report videos.