It has been a habit to check a weather app for a forecast before making an outdoor plan for mobile users worldwide. Those apps are mostly used by travelers before packing bags for a trip abroad and locals for getting prepared for a daily plan a few days or weeks later.
There are a lot of different options available for Android users in Google Play. Narrowing down the options for Android users, we brought together the most accurate and the best weather apps available in Google Play.
The Best Weather Apps for Android
1Weather
1Weather is one of the most popular and the best weather apps on Android providing real-time weather forecasts for millions of locations around the world. It uses more than 15 data points for an accurate weather forecast.
1Weather helps users to update their weather data according to their location while they are moving. Users can also see hourly chances of rain and 48 hours detailed forecast. You can save multiple locations for quick access and get a 12-week precision cast. The U.S. users can also set alerts based on weather conditions.
The weather app provides over 10 customizable weather widgets to let users track the weather from their home screen.
AccuWeather
With 170+ forecast models used, 3..5 million locations forecasted, 200 languages supported, and 100+ expert meteorologists on staff, AccuWeather is one of the most accurate weather apps on Android.
AccuWeather users are able to get live weather forecasts, set a live alarm to follow sudden changes in weather, set up severe weather warning, know the difference between how the weather looks and how it actually feels, get local forecasts, look 45 days ahead, and personalize the app depending on the location.
It is a free to download weather app where users are offered in-app purchases for premium features and subscriptions.
Acquired air pollution startup Plume Labs in January 2022, AccuWeather now also allows you to monitor air quality.
---
Also Read: The Best Free VPN Apps for Android
---
Overdrop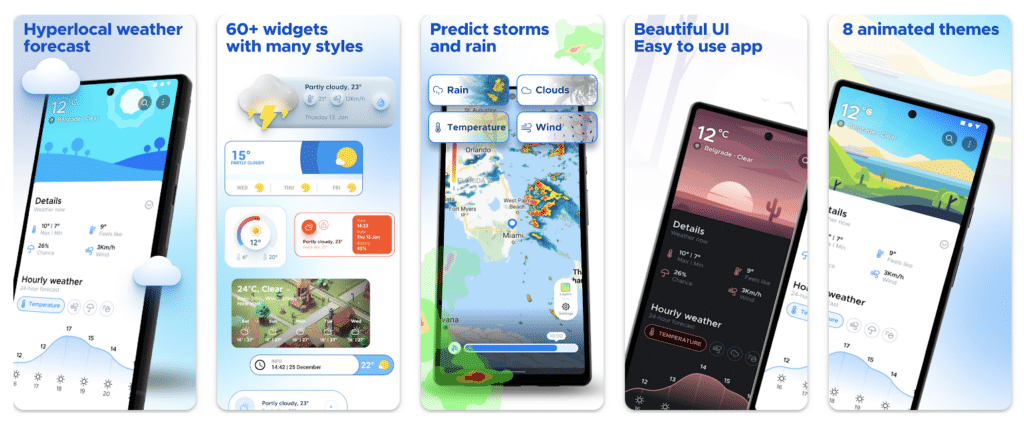 Overdrop is a newly published weather app only available on Google Play that helps users get 24-hour and 7-day weather forecasts, set severe weather alerts, see detailed hyperlocal weather data, and use radar maps.
Providing more than 60 standalone widgets for the home screen to save the battery, Overdrop is one of the best weather apps for Android. The users can choose among the most popular weather forecast providers including AccuWeather, Dark Sky Weather, and WeatherBit.   
Appy Weather
Launched in August 2020, Appy Weather is a personalized mobile weather app that summarizes the weather by avoiding complicated and long information and lists.
As one of the best weather apps for Android, Appy Weather collects forecast data from Dark Sky, OpenWeather, and Foraca in order to provide accurate weather forecasts.
Appy Weather offers a premium package called Appy Weather+ for ad-free experience, 10+ widgets, weather radar, push notifications, weather temperature on the status bar, and usage on the lock screen.
---
Also Read: The Best Android Launchers
---
Carrot Weather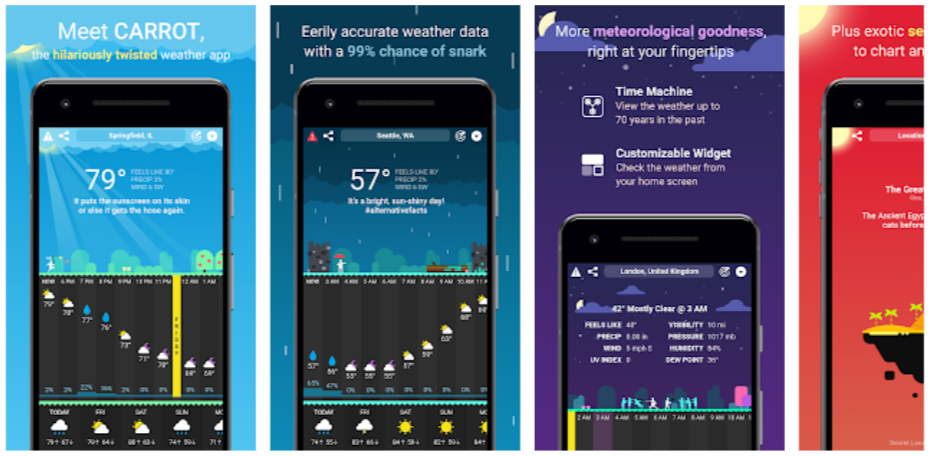 Launched in April 2020, Carrot Weather is a mobile weather app providing a quick access to hourly and daily weather forecasts. Collecting forecast data from Dark Sky, the weather app features 32 secret locations.
Premium Club, Carrot Weather's premium subscription package, helps users to view the weather of any location up to 70 years in the past and 10 upcoming years. It also provides a customizable widget for seeing the weather on the home screen without opening the app.
The Weather Channel
Being one of the most downloaded weather apps on Android, The Weather Channel provides a personalized weather map, weather alerts, storm tracker, live radar, hurricane tracker, UV index, and daily temperature via its easy to use app.
It helps users to get prepared during extreme weather conditions, earthquakes, tornadoes, and storms. Users can also set alarms (including pollen alerts) and read breaking news.
The Weather Channel provides a premium subscription plan for ad-free experience, 96-hour of extended forecast, and premium radar with 24 hour future radar feature.
---
Also Read: The Best Texting Apps for Android
---
Clime: NOAA Weather Radar Live & Alerts
NOAA Weather Radar Live & Alerts provides real-time animated weather radar images on an interactive map including severe weather warnings and weather forecasts. As one of the best weather apps for Android, NOAA both provides how the weather looks and how it actually feels. The users can see the humidity, wind speed and direction, and pressure changes.
NOAA sends push notifications for snow storms, tornadoes, flood warnings, and more severe weather conditions to make the users prepared. The weather predictions are available for both 24-hour and 7-day.
Weather by WeatherBug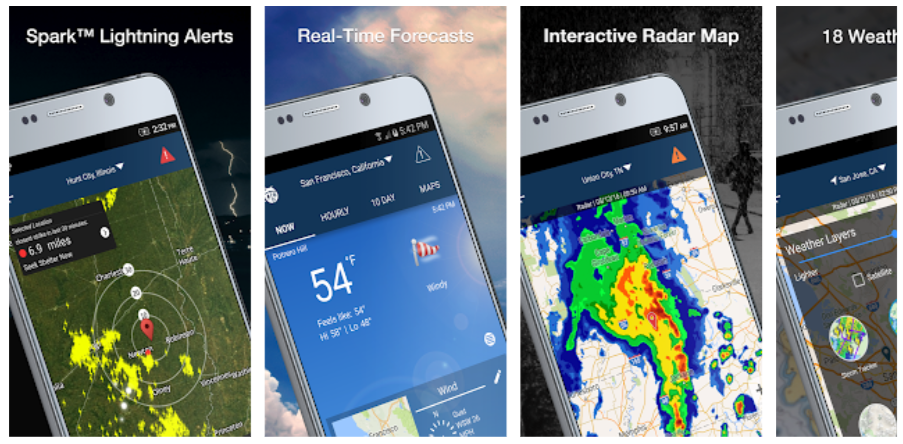 WeatherBug is a popular weather app on Android that provides weather alerts, weather news, weather maps, and more.
Via WeatherBug, users can track temperature, pollen count, global fires, hurricanes, UV index, wind speeds, air quality, and more. The app also provides weather notifications specifically for a user's area and severe weather alerts. WeatherBug users can also set Thunderstorm alerts for their regions.
The app provides multi-language support for English, Japanese, French, Portuguese, Spanish, and German. The users can change the temperature unit to Fahrenheit or Celsius.
---
Also Read: The Best Road Trip Apps
---
What The Forecast?!!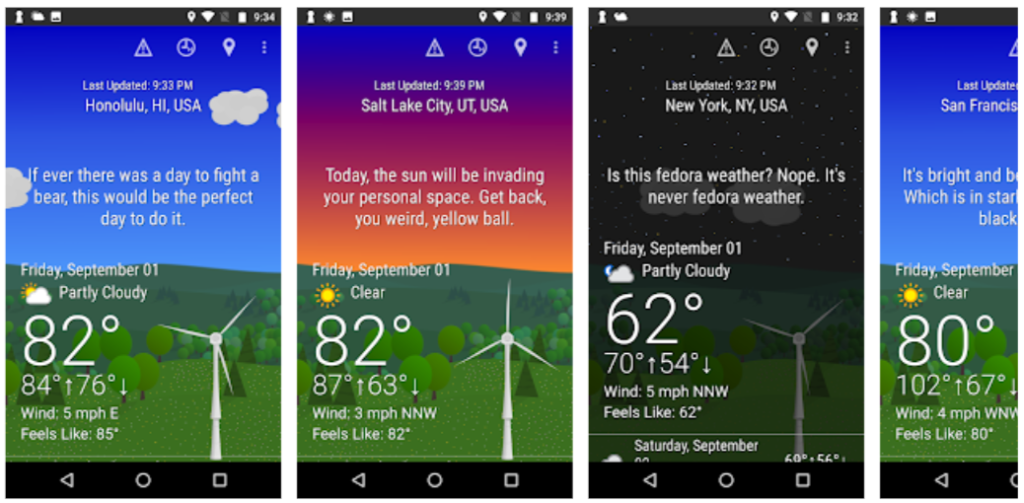 Integrated with AerisWeather, What The Forecast is a fun alternative for the ones looking for a weather app with its more than 9607 funny phrases to describe the weather conditions. The app gives daily weather forecasts for 10 days and hourly forecasts for 48 hours.
What The Forecast provides air condition information, how the weather looks and how it actually feels. It can send weather alerts from NOAA. The users can share the weather reports on social media accounts.
Yahoo Weather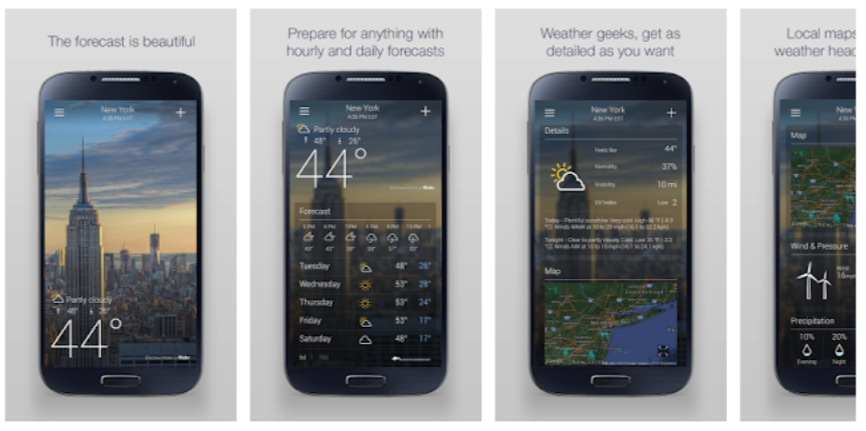 As they state, Yahoo Weather "brings you Flickr photos of your location and current conditions, backed by the most accurate hourly, 5-day, and 10-day forecasts".
The app gives insights for wind, pressure, and chance of precipitation. Users can browse satellite, heat, and snow via interactive maps. Up to 20 cities can be added to the mail screen to track.
---
Also Read: The Best Hiking Apps for iPhone and Android
---