According to recent statistics, 31% of all internet users worldwide use a VPN service in order to unblock websites & apps and browse the internet without any limitations while protecting their privacy.
However, in line with the growing VPN app usage, the number of VPN apps available on Google Play Store and App Store is skyrocketing too. And there are many apps out there that don't offer what they promise and risk users' privacy instead of protecting it. 
To help you decide which one of these apps to use, we've listed the 5 best free VPN apps for Android with their main features, app ratings, download counts and download links.
The Best Free VPN Apps for Android
Hotspot Shield VPN
TunnelBear VPN
Kaspersky VPN Secure Connection
Proton VPN
Star VPN
Hotspot Shield VPN
First in our list of the best free vpn for Android is Hotspot Shield by AnchorFree GmbH which has been downloaded over 100 million times on the Google Play Store.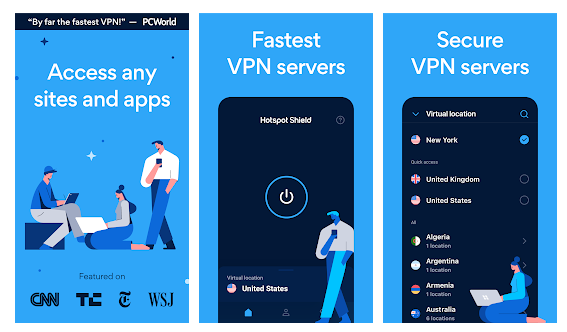 Hotspot Shield Vpn allows you to access blocked sites very quickly while keeping your mobile activities private and secure. It offers VPN coverage from more than 80 countries around the world including the United States, United Kingdom, Canada, Japan and more. It is also a free vpn that works with Netflix and other mobile apps.
Hotspot Shield, which uses 256-bit AES encryption method, additionally uses Hotspot Shield's Catapult Hydra protocol. The popular VPN app, with which you can connect from 5 different devices at the same time, is one of the most user-friendly VPN apps with its simple and easy design.
Hotspot Shield outperforms many of the other top free vpn apps in terms of speed. Speedtest by Ookla chose it as ''the world's fastest VPN'' service and the app has been featured on world famous media networks many times before.
''By far the fastest VPN…'' – PcMag
You can use many of the features Hotspot Shield provides for free and it also has a premium version which offers even more advanced features including unlimited use and an ad-free experience. 
You can try the premium version free for 7 days.
---
Also Read: The Best App Locks for Android to Use in 2023
---
TunnelBear VPN
The second one in our best free vpn apps for Android list is TunnelBear which is used by more than 45 million mobile users and was recently chosen as the #1 VPN for 2021 by Wirecutter.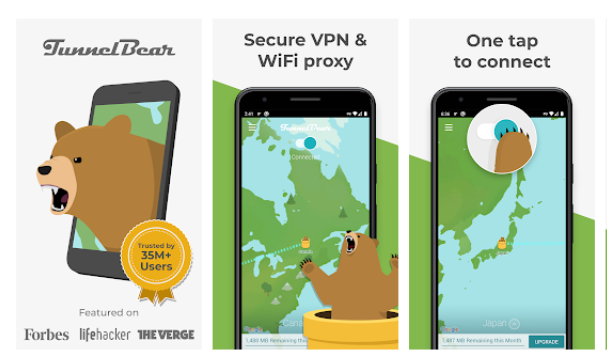 TunnelBear VPN is a very simple app enabling users to browse on the internet freely, privately and securely. It protects your online activities from online threats such as malwares, hackers and advertisers, and allows you to surf on the internet without any blocks. Just like Hotspot Shield, TunnelBear is a free VPN that works with Netflix and other apps too.
"TunnelBear excels in trustworthiness and transparency, and it offers fast, reliable connections, easy-to-use applications on every major platform, and handy features for unstable connections." – Wirecutter
"TunnelBear is an elegant, easy mobile VPN that keeps you safe." – Lifehacker
"TunnelBear, the gorgeous VPN app that wants to bring online privacy to everyone." – VentureBeat
The free version of TunnelBear offers 500 MB of data per month. You can get TunnelBear premium to browse more freely and without any limitation.
---
Also Read: The Best Antivirus Apps for Android
---
Kaspersky VPN Secure Connection
Our next free vpn app for Android is by Kaspersky, a world-famous cybersecurity company trusted by 400 million users worldwide.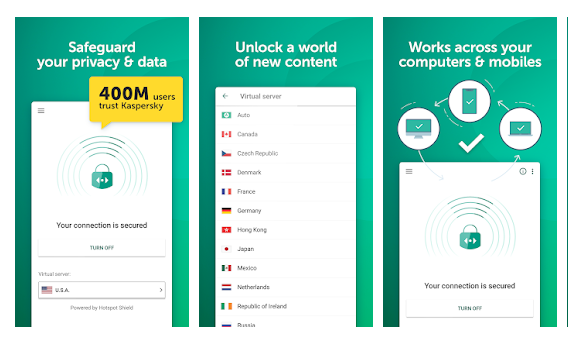 Kaspersky VPN Secure Connection allows you to explore the internet in a private and secure way. Its friendly interface makes it very simple to use it and it offers a very quick browsing experience.
It works with apps like Netflix and is also widely used by the growing number of gamers as it helps them to improve their ping and FPS.
"It's one of the fastest services for those who need access to the US, something that's still a challenge for many of its rivals…" – Trustedreviews.com
Just like the apps above, the free version of Kaspersky Secure Connection is a little bit limited and it also offers a premium for more advanced features.
Proton VPN
Let's continue with Swiss-based Proton VPN which has been downloaded by more than 1 million Android users. It is one of the best unlimited free vpns in the market that doesn't limit how much data you download.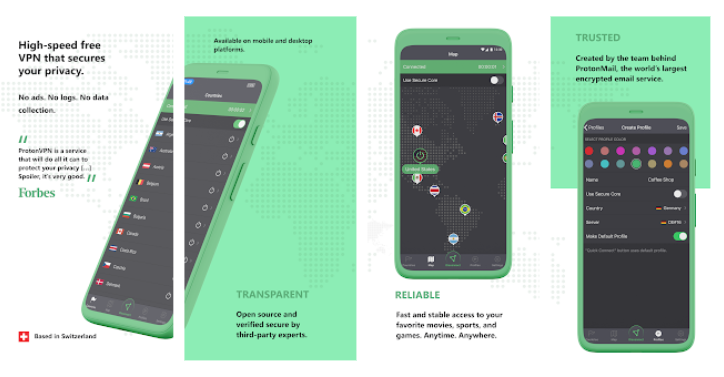 Proton VPN promises that it doesn't sell your data to third parties, record your browsing activities and show ads that invade privacy which makes it much more safe to use it.
"There are many VPN vendors out there, but not all of them are created equal. ProtonVPN offers a secure, reliable, and easy-to-use VPN service and is operated by the makers of ProtonMail, a respected, privacy-oriented email service." – Mozilla
"(ProtonVPN's) focus on exacting security at an affordable price tag makes it a compelling choice. Plus, its free version is the best we've tested so far." – PCMag
While it's free version is probably going to be enough to meet most of your needs, it also offers some paid features such as high speed up to 10 Gbps and connecting up to 10 devices to VPN simultaneously.
---
Also Read: The Best Android Keyboards
---
Star VPN
And the 5th best free VPN for Android is Star VPN which was launched in November 2016 on the Play Store and has been downloaded over 1 million times so far.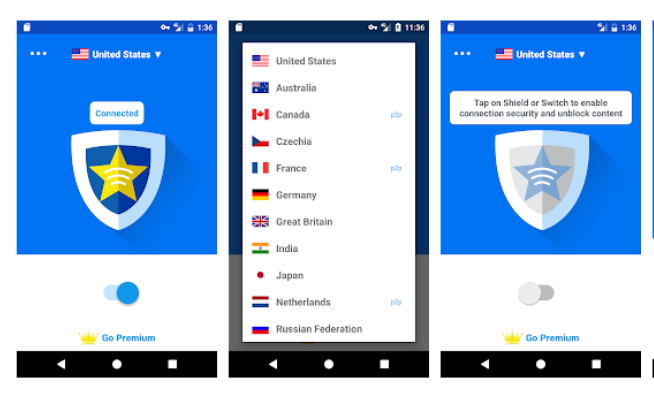 Star VPN changes its users' IP's and locations so that they can freely browse on the internet while protecting their privacy. As well as websites, it also lets you unlock mobile apps too such as Facebook, Twitter, Snapchat, Youtube and more.
---
Also Read: The 6 Best Android Launchers
---
Bonus: ExpressVPN
If you don't want to compromise on security and privacy, ExpressVPN will meet your expectations. Offering a very secure connection to its users with its user-friendly interface and 24/7 customer support, ExpressVPN is one of the best vpn apps for Androd, in terms of speed.
ExpressVPN, one of the most used VPN apps in the world with more than 3,000 servers in a total of 94 countries, provides services in a total of 16 different languages. On the security side, the app using 256-bit AES encryption method, together with the Kill Switch feature, blocks your internet until the connection is restored to prevent your data from being exposed in case of sudden disconnections. In this way, your data and privacy are not exposed.
If you are looking for a VPN app for Android, ExpressVPN is an app that you can download to your device with peace of mind. Although the subscription fee is a bit high, this app, which has 10 million or more downloads on the Google Play Store, offers a 7-day free trial.
---
Leave a comment below and let us know which one of these best vpn apps for Android is your favorite.