It's 2023, but storage is still a major problem for many smartphone users, who usually end up removing various apps from their device to open up free space to download new ones. Earlier this week, Google introduced a new feature called ''auto-archive'' that could significantly ease their burden although it won't entirely solve the problem.
In a blog post, the tech giant said that the new feature will allow Android users to automatically free up to almost 60% of the storage used by an app, without having to remove that app or their data from their phones.
Once they turn on the new feature, Google will now recommend them apps that could be archived if they encounter such a storage problem while installing an app from the Play Store.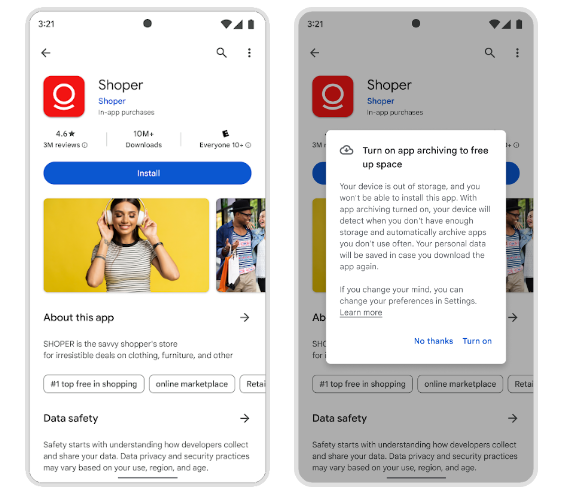 ''Auto-archive is a new feature that allows users to free up space on their device without the need to completely uninstall an app,'' Google Play's Product Managers Chang Liu and Lidia Gaymond explained. ''Once the user opts in, infrequently used apps will be partly removed from the device to save space, whilst the app icon and the user's personal app data will be preserved. When the user wants to start using the app again, they can simply tap to re-download it and pick up where they left off (as long as the app is still available on Google Play).''
---
Check out the best cleaner apps for Android & iOS
---
They noted that the feature will be available for apps that have the Android App Bundle (.aab) format, which has been mandatory for all new apps published after August 2021.
Last week, Google also introduced a new account deletion policy to enable Android users to remove their accounts directly within a mobile app or through an online form.