Google announced that it'll require new Android apps to be published with the Android App Bundle format starting August this year. 
First introduced back in May 2018, the publishing format helps developers improve user experience by delivering apps in 15% smaller app size (on average) than the APK format.
''To bring these benefits to more users and focus on modern Android distribution that benefits all developers, Google Play will start requiring new apps to be published with the Android App Bundle starting August 2021. This will replace the APK as the standard publishing format,'' said the company in a blog post. 
Google also announced that there are now more than 1 million apps and games using app bundles including Twitter, Netflix, Adobe, Duolingo, Gameloft, redBus and Riafy. The format will now be mandatory for all the new apps that will be launched after August 2021.
In addition, developers will also be required to replace OBB expansion files with Play Asset Delivery or Play Feature Delivery.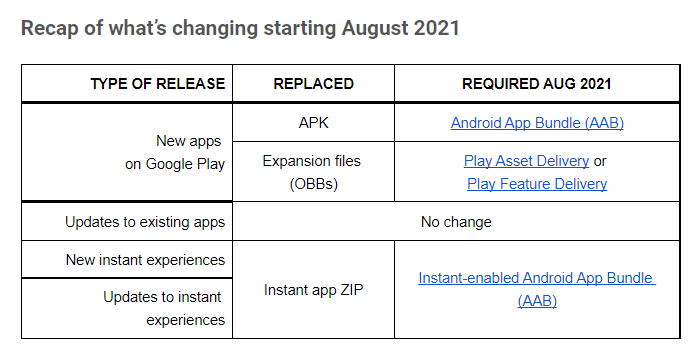 The changes won't affect existing apps and private apps for managed users.