In a world dominated by touchscreens and keyboards, the S Pen stands out as a digital artist's dream and a productivity wizard's best friend. This slender stylus, designed by Samsung for their Galaxy Note series, has revolutionized the way we interact with our devices. It's not just a mere tool; it's a gateway to a world of creativity and efficiency.
In this review, we covered the best S pen apps that harness the power of this remarkable stylus, unlocking a universe of possibilities for both work and play. Whether you're an artist, a student, or a professional, these apps are poised to elevate your digital experience to new heights. Without further ado, here are the best S pen apps!
DocuSign
Price: Free/In-App Purchase: Up to $299.99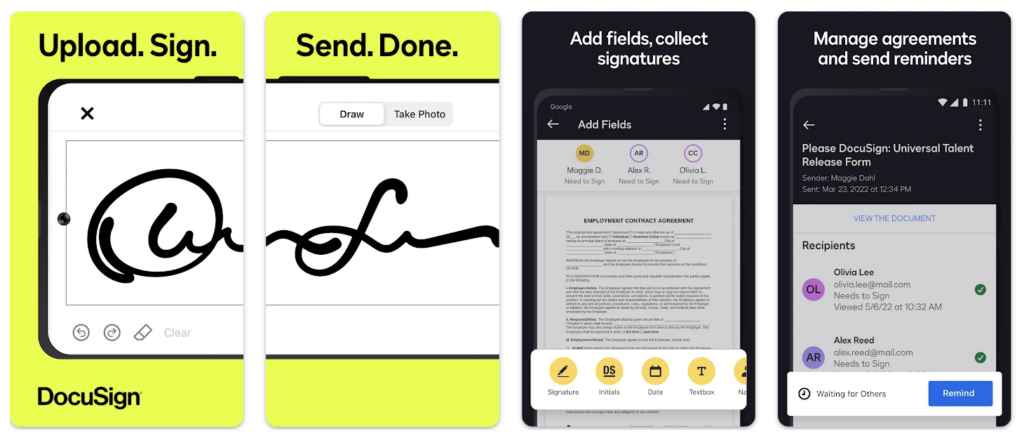 DocuSign eSignature revolutionizes the agreement process for both individuals and businesses. Seamlessly send and sign agreements from any device, anytime, anywhere, with the user-friendly DocuSign app. Craft your unique digital signature, upload documents with ease, and e-sign unlimited documents for free, without monthly limitations. Prepare, manage, and send agreements efficiently; add "Sign Here" tags; and establish signing workflows for multiple parties.
Also, DocuSign is not only legally binding but also secure, and compliant with the eSign Act, and ISO 27001 SSAE16 standards. The app supports various document types and is perfect for non-disclosure agreements, sales contracts, healthcare documents, financial agreements, and more.
MediBang Paint
Price: Free/In-App Purchase: Up to $8.99
MediBang Paint is one of the best S pen apps and empowers your artistic expression. With 180 default brushes, 700 more available in MediBang Premium, and 1000 screen tones, you can create professional-quality artwork. The app also supports multiple devices, allowing you to switch seamlessly between desktop and mobile. Collaborate with friends on a single canvas, create structured notes, and personalize your content with various pen types, photos, sketches, and smart objects. Go paperless by scanning receipts and important documents. MediBang Paint is the ideal choice for both personal and professional use. Explore MediBang Paint's website for more detailed information.
---
Also Read: The 8 Best Free Drawing Apps
---
MyScript Calculator 2
Price: $2.99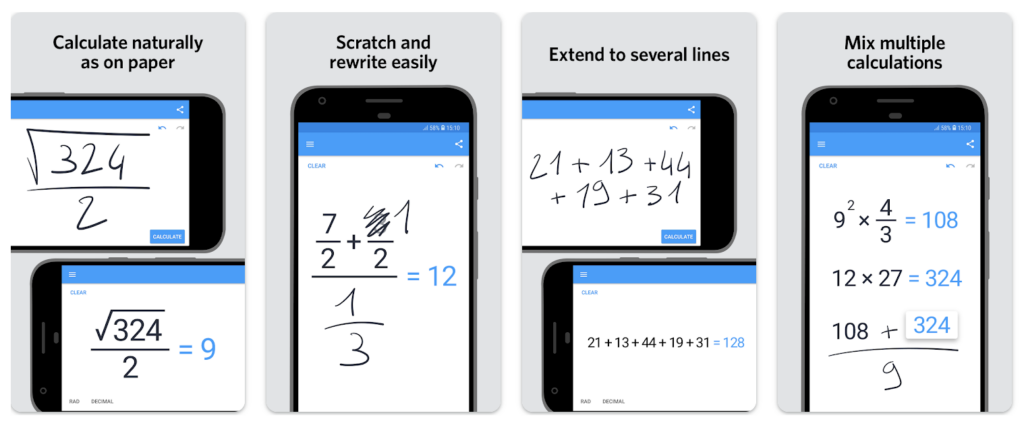 MyScript Calculator 2 transforms your device into an interactive digital notepad. Write calculations naturally, erase with gestures, and drag and drop results for easy reuse. MyScript Calculator 2 interprets your calculations on the fly, supporting basic operations, powers, roots, brackets, trigonometry, inverse trigonometry, logarithms, and more. Its intuitive interface allows for easy editing and formatting. Solve mathematical problems, make complex equations, and simplify calculations using this innovative calculator app.
MyScript Calculator 2 on Google Play
Nebo: Notes & PDF Annotations
Price: $11.99

Nebo is a versatile note-taking app that combines handwriting, text, drawings, diagrams, and images on an expandable canvas, and it stands out among the best S pen apps. Convert handwriting to text, create responsive documents, and import existing PDFs for annotation. Write, type, draw, and express your thoughts in a natural and intuitive way. Nebo adapts to your writing style and helps you stay organized. It's perfect for personal use, professional note-taking, or education. This app streamlines the way you capture, manage, and present your ideas.
Nebo: Notes & PDF Annotations on Google Play
---
Also Read: The 8 Best Handwriting Apps for Android
---
Microsoft OneNote
Price: Free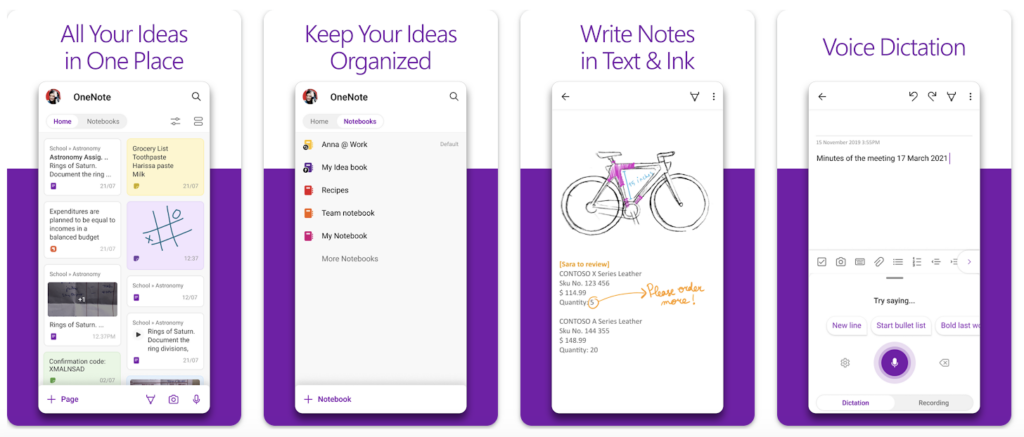 Microsoft OneNote is your all-in-one digital notepad, and it deserves to be among the best S pen apps. Capture ideas, manage tasks, and stay organized across all your devices. With features like Tasks, Google Calendar integration, and a customizable Home dashboard, you can effortlessly keep your life in order. It supports multiple languages, making it accessible to users worldwide. Take notes, share ideas, and collaborate with colleagues or classmates. Microsoft OneNote is a versatile tool for personal and professional use, making it easy to stay productive on the go.
Microsoft OneNote on Google Play
PENUP
PENUP is a creative social network based on pen-generated images. Express your creativity by drawing, coloring, and participating in challenges. Share your imagination with a global community of creative minds. Whether you're into drawing, coloring beautiful sketches, following live drawing videos, or creating art from photos, PENUP has you covered. Join challenges, enjoy real-time popular artworks, and interact with others through drawing comments.
---
Also Read: The 10 Best Note Taking Apps
---
Gboard
Price: Free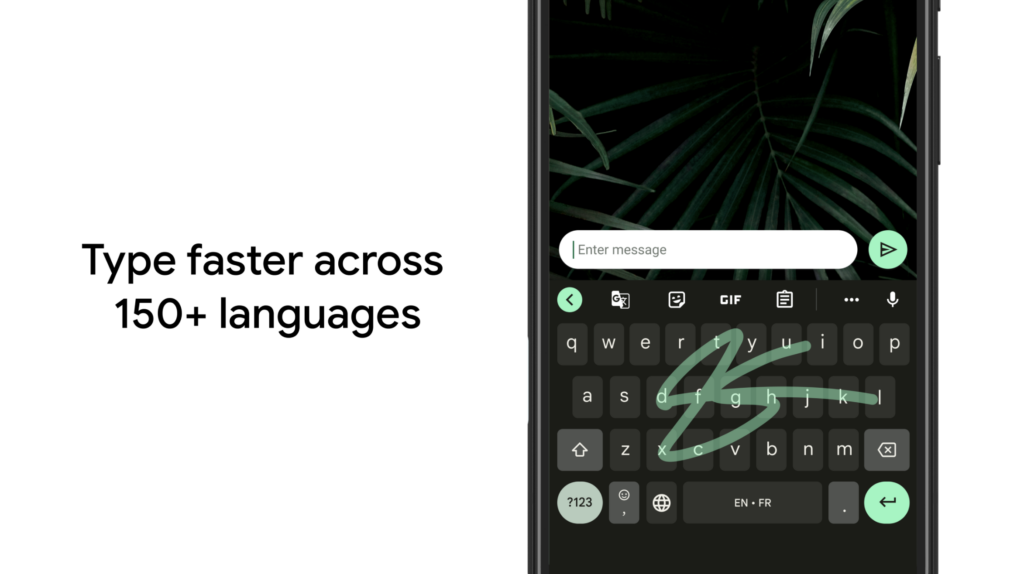 Gboard combines speed, reliability, and various features like Glide Typing, voice typing, handwriting, emoji search, and GIFs. Type faster with Glide Typing, dictate text on the go with voice typing, and add a personal touch to your messages with emojis and GIFs. Multilingual typing, Google Translate integration, and wear OS support make Gboard a versatile keyboard that enhances your communication experience, and it ranks among the best S pen apps.
Adobe Fill & Sign
Price: Free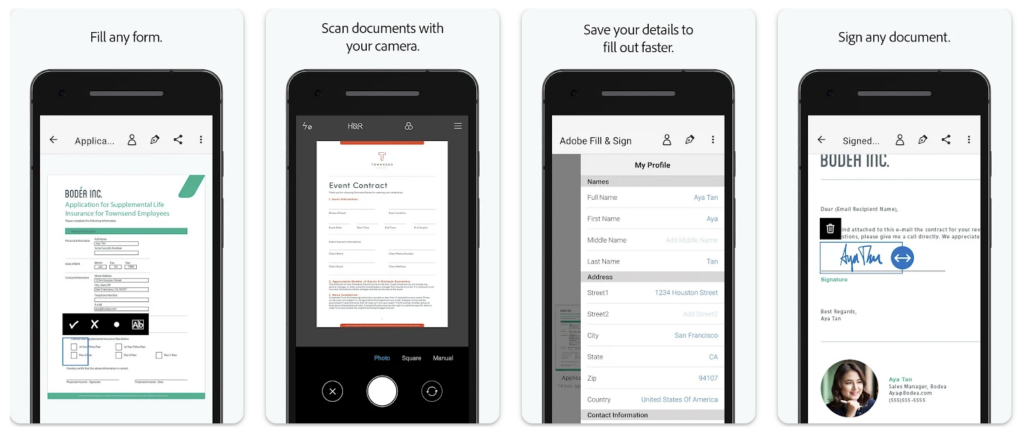 Adobe Fill & Sign simplifies paperwork and enhances productivity by allowing you to fill, sign, and send forms with ease. Scan paper forms, enter text, add signatures or initials, and send them via email. Save documents digitally, go green, and organize your forms effortlessly. The transition to Adobe Acrobat Reader makes it even more convenient to streamline document management.
Adobe Fill & Sign on Google Play
---
Also Read: The 8 Best Free Art Apps for Android
---
Evernote
Price: Free/In-App Purchase: Up to $169.99
Evernote brings all your notes, to-dos, and schedules together, making it easier to organize your thoughts, ideas, and plans. Capture inspiration, create to-do lists, connect your Google Calendar, and customize your Home dashboard. With cross-device synchronization and an intuitive interface, Evernote helps you stay organized and productive no matter where you are, and it stands out among the best S pen apps. Browse Evernote's website to learn more detailed information.
RoughAnimator
Price: $5.99
RoughAnimator is a professional hand-drawn animation app for Android. It offers a full suite of features, from a timeline with unlimited layers to custom brushes and export options. Whether you're a beginner or a professional animator, RoughAnimator provides the tools you need to create traditional hand-drawn animations. Support for pressure-sensitive devices like the Samsung S-Pen and compatibility with various platforms make it a versatile choice for animators.