Expanding the boundaries of art is now just a touch away! It's time to turn your Android device into a canvas and set your creativity free. This review, titled "The Best Free Art Apps for Android," brings freedom and inspiration to art enthusiasts and creators at the tip of their fingers. What's more, they're all free! With these apps, you can create realistic paintings, craft digital artworks, and unleash your creative potential. Without further ado, here are the best free art apps for Android!
ArtFlow
ArtFlow is the key to transforming your Android device into a powerful digital sketchbook. With a wide range of features and over 80 paint brushes, including smudge, fill, and eraser tools, ArtFlow opens the door to limitless creativity. This fast and intuitive painting and drawing app is designed to bring your imagination to life. Whether you're a professional artist or just exploring your artistic side, ArtFlow caters to all levels of expertise.
One standout feature is its support for pressure-sensitive pens like Samsung's S Pen, making your device feel like a real canvas. While ArtFlow offers a free version, advanced features can be unlocked with a pro license in-app purchase, which applies to all devices linked to your Google account. Explore ArtFlow's website for more detailed information about the app.
Infinite Painter
Infinite Painter is a top-tier painting, sketching, and drawing app designed for a wide range of devices, including tablets, phones, and Chromebooks, and it stands out among the best free art apps for Android. Loved by millions, this award-winning app boasts a minimal and intuitive interface packed with robust, powerful tools.
Also, it's known for its impressive brushes, with a variety of built-in options and over 100 customizable brush settings. Whether you're sketching or creating detailed illustrations, Infinite Painter offers a realistic brush-to-canvas interaction. It also supports stylus devices with full pressure and tilt sensitivity, allowing you to achieve precise and expressive strokes. Check out Infinite Painter's website for more detailed information.
Infinite Painter on Google Play
---
Also Read: The Best Drawing Apps for Android
---
Sketchbook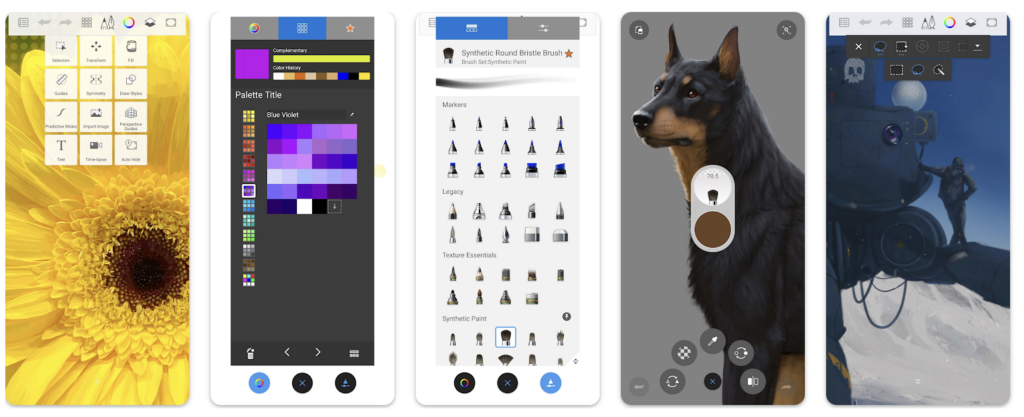 Sketchbook is an award-winning sketching, painting, and drawing app that caters to artists and illustrators of all levels. It's known for its professional-grade features and highly customizable tools, making it a top choice for creative expression. Sketchbook offers a diverse range of brush types, including pencils, markers, airbrushes, and more, all of which can be finely adjusted to suit your preferences. The app provides precision tools like guides, rulers, and stroke features, ensuring accuracy in your artwork.
With the ability to work with layers, blend modes, and a full complement of blend modes, Sketchbook provides flexibility in building and exploring your drawings and colors. Its interface is designed to be clean and unobtrusive, allowing you to focus solely on your creative process, and it deserves to be among the best free art apps for Android. Browse Sketchbook's website to learn more detailed information about the app.
ibis Paint X
ibis Paint X is a versatile drawing app with a vast array of features and tools. With over 15,000 brushes, 15,000 materials, 1,000 fonts, 80 filters, and much more, the app offers a professional-grade drawing experience on your Android device. This app is a favorite among artists, boasting features such as stroke stabilization, various ruler options, symmetry tools, and clipping masks. You can even record your drawing process and share it with the ibis Paint community, making it an excellent platform for learning and sharing techniques. Discover ibis Paint X's website for more information about the app.
---
Also Read: The 6 Best Apps for Designing Clothes
---
MediBang Paint
MediBang Paint is one of the best free art apps for Android. It offers a wide range of features and tools to help you create, collaborate, and share your artwork with ease. With 180 default brushes that are highly customizable, you can achieve the exact look you want in your drawings. Whether you're into sketching, painting, or comic art, MediBang Paint has you covered. It also includes over 1,000 screen tones and 60 fonts for professional-quality results.
One standout feature is its cloud functionality, allowing you to work seamlessly across multiple devices. You can even collaborate with others on the same canvas, making it an excellent choice for team projects. Visit MediBang Paint's website for more detailed information.
PENUP
PENUP is a creative social network centered around pen-generated images. It provides a platform for artists to draw, color, and share their artwork with a global creative community. PENUP offers various drawing and coloring tools, making it easy for anyone to express their creativity. You can follow drawing tutorials, engage in challenges, and explore popular artwork created by fellow users. The app encourages users to interact with each other through drawings, adding a fun and collaborative element to the creative process.
---
Also Read: 9 Architectural Design Apps
---
PaperColor
PaperColor is a terrific painting application designed for both casual doodlers and serious artists. With a wide range of paintbrush styles and a rich color library, it's an excellent choice for creating beautiful artwork on your Android device. The app provides various tools, including pens, rulers, and erasers, to suit your drawing needs. You can even mark up photos or draw directly on them, adding a creative touch to your images.
Moreover, PaperColor offers an intuitive drawing experience with features like handwriting signatures, dexterous scaling, and real-time previews. It's an ideal companion for those moments when you want to paint, draw, or doodle, whether you're on a journey, at a party, or simply looking to pass the time.
Dotpict Easy to Draw Pixelart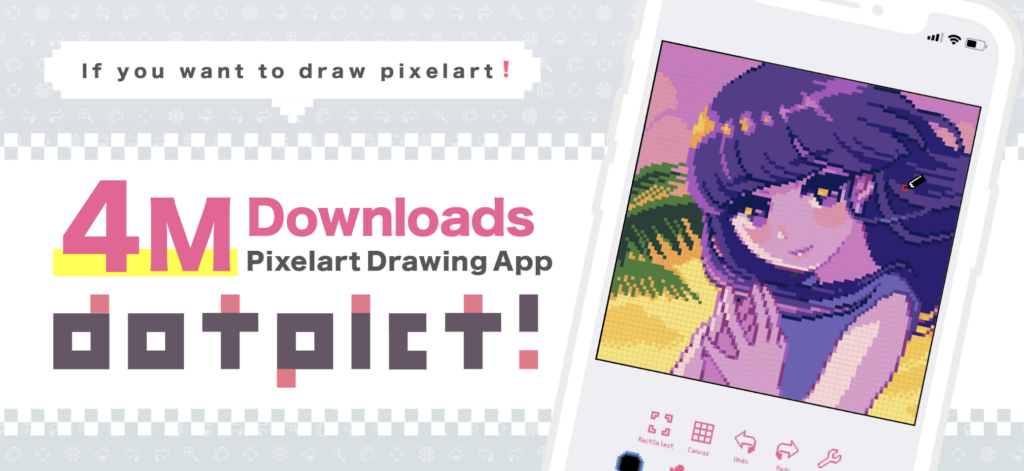 Discover the captivating world of pixel art with Dotpict, a specialized application designed for pixel art enthusiasts. Dotpict offers a unique platform to unleash your creativity and connect with a vibrant community of pixel art creators. With its user-friendly features, you can effortlessly create pixel art, including animations, using a wide array of brushes and tools. The application also hosts daily challenges and events, providing you with inspiration and opportunities to showcase your artistic talents, and it ranks among the best free art apps for Android.
Dotpict Easy to Draw Pixelart on Google Play