We're here to help you maximize the capabilities of Samsung's latest technical marvel, the Galaxy Watch 5, by locating the best apps to enhance your experience. While the Galaxy Watch 5 has a number of smart capabilities, these apps can enhance your experience. Do you enjoy working out? Perhaps you're a travel enthusiast? Or do you simply wish to improve how you handle your daily tasks?
In this review, we covered the best apps for the Galaxy Watch 5, so you may use it in a variety of ways. Throughout this review, we provided you with deep insights into each app's features and how to utilize them efficiently. Without further ado, here are the best apps for Galaxy Watch 5!
Komoot
Price: Free/In-App Purchase: Up to $99.99
Komoot is your ultimate outdoor adventure companion, perfect for those with a passion for hiking, road cycling, and mountain biking. With its user-friendly interface, you can easily plan your ideal route, taking into account factors like surface, difficulty, distance, and elevation profile. The turn-by-turn GPS voice navigation ensures that you never lose your way while keeping your eyes on the breathtaking scenery. One standout feature is its offline trail maps, which come in handy when you're in remote areas with limited internet access. Plus, you can explore the community's favorite spots highlighted on the trail map. Whether you're an experienced outdoor enthusiast or just starting, Komoot is your go-to app for a memorable adventure. To learn more, visit Komoot's website.
Spotify
Price: Free/Subscription Available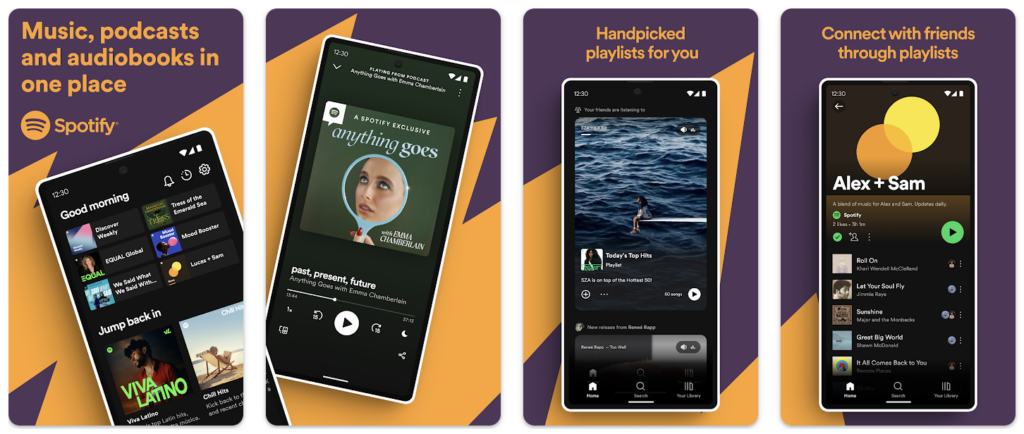 Spotify, the leading music and podcast app, is a must-have for Galaxy Watch 5 users, and it stands out among the best apps for Galaxy Watch 5. With access to an extensive library of over 80 million songs and 4 million podcasts, it's your one-stop entertainment hub. Whether you're in the mood for the latest hits and audiobooks or discovering new artists, Spotify has it all. The app offers remarkable sound quality across all devices, and you can even create and share personalized playlists to match your mood. With the convenience of offline listening and the ability to subscribe to your favorite podcasts, Spotify ensures you have your favorite content at your fingertips wherever you go. Go to Spotify's website to learn more.
---
Also Read: The 10 Best Apps for Galaxy Watch 4
---
Google Keep: Notes and Lists
Price: Free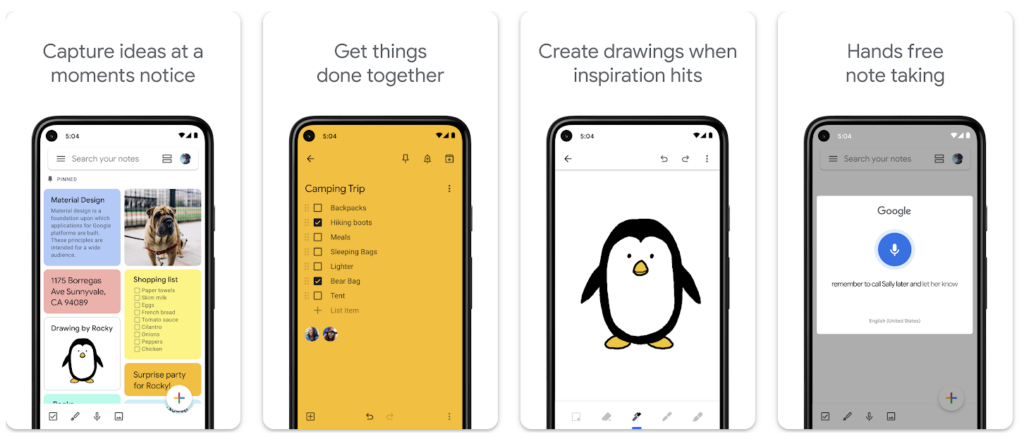 Google Keep is your versatile digital note-taking companion, suitable for quick reminders, to-do lists, and organizing your thoughts. With its voice memo feature, you can effortlessly record on-the-go notes, which are then transcribed for easy reference. Keep's organizational capabilities allow you to categorize and color-code your notes, ensuring you stay on top of tasks and ideas. The best part? Your notes sync seamlessly across all your devices, making them accessible whenever and wherever you need them. Google Keep is your solution for staying organized and never forgetting essential information, and it deserves to be among the best apps for Galaxy Watch 5.
Google Keep – Notes and Lists on Google Play
MyFitnessPal
MyFitnessPal is your comprehensive health and nutrition app, tailored to your fitness and weight management goals. With features like a digital food diary, calorie counting, and activity tracking, it's the perfect tool to keep your health on track. Whether you're aiming for weight loss, muscle gain, or healthier eating habits, MyFitnessPal offers personalized meal plans and access to a supportive community. The app's versatility extends to tracking glucose levels on select devices, making it an all-in-one health companion. Browse MyFitnessPal's website to learn more.
---
Also Read: 9 Free Sleep Apps for Android
---
Google Pay: Save and Pay
Price: Free
Google Pay is your secure and convenient digital wallet, offering various ways to manage your money, and it ranks among the best apps for Galaxy Watch 5. Whether you want to make payments, send money to friends, or earn rewards for your transactions, Google Pay has you covered. It simplifies group payments and provides offers from your favorite local businesses. You can also monitor your spending and maintain a budget, ensuring your finances are in order. Google Pay keeps your financial data safe by using a unique virtual account number for transactions, adding an extra layer of security to your payments.
Google Pay: Save and Pay on Google Play
Hole19 Golf GPS & Range Finder
Price: Free/In-App Purchase: Up to $69.99
Hole19 is an excellent companion for golf enthusiasts. It offers accurate yardage, scoring, and live leaderboards, enhancing your golfing experience. What sets it apart is its compatibility with various golf tools and wearables, making it a versatile addition to your game. Whether you're on the golf course or practicing at home, Hole19 provides exercises and workouts to help you improve your skills. With a user-friendly interface and access to thousands of golf courses, it's your go-to app for lowering your scores and elevating your golf game. Explore the website of Hole19 Golf GPS & Range Finder for more detailed information.
Hole19 Golf GPS & Range Finder on Google Play
---
Also Read: The 9 Best Alarm Apps for Android
---
Google Assistant
Price: Free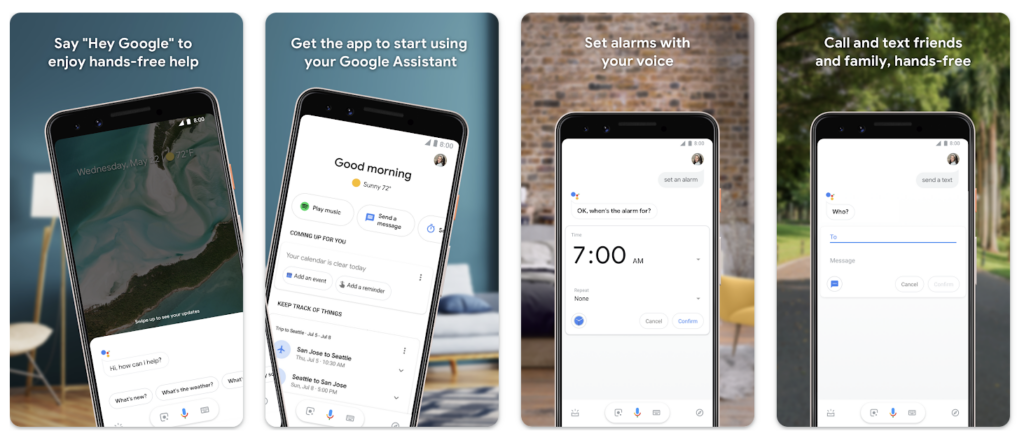 Google Assistant is your virtual personal assistant, making tasks hands-free and efficient. It's the ideal companion for managing your schedule, sending messages, and answering questions while you're on the move. By simply using your voice, you can open apps, adjust settings, and even send texts and emails to your contacts. It's your go-to tool for staying connected and organized. Google Assistant also offers proactive information and contextual reminders, ensuring you have the right information when you need it most. Plus, it seamlessly integrates with smart home devices, allowing you to control your home even when you're away.
Google Assistant on Google Play
Fitify: Fitness, Home Workout
Price: Free/In-App Purchase: Up to $149.99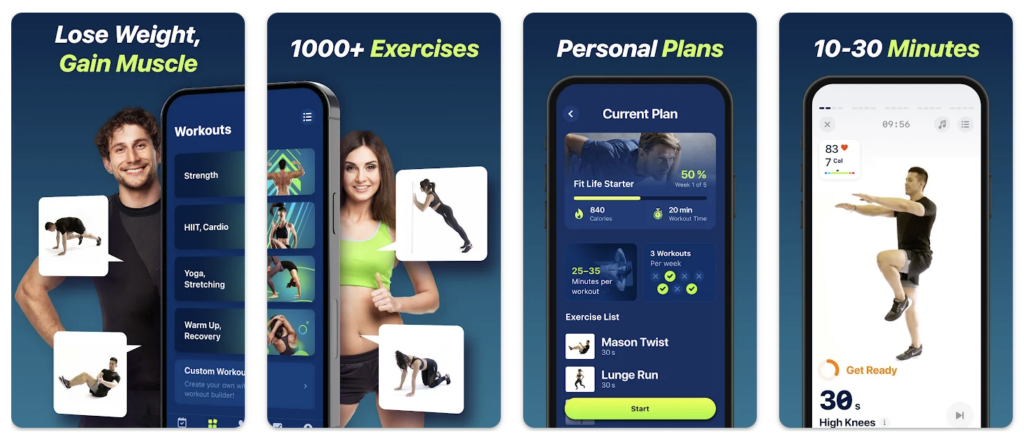 Fitify is your ultimate home workout app, offering a diverse range of exercises and training plans to help you achieve your fitness goals. Whether you prefer bodyweight workouts or have access to equipment like kettlebells, dumbbells, or resistance bands, Fitify has you covered. With over 900 exercises, you can create personalized workouts or choose from prebuilt routines. Fitify also provides recovery sessions, stretching, and yoga to enhance your overall well-being. It's the perfect solution for staying fit and healthy, whether you're a beginner or a fitness enthusiast. Additionally, the app tracks your progress, allowing you to see how far you've come on your fitness journey, and is considered one of the best apps for Galaxy Watch 5. Go to Fitify's website to learn more.
Fitify: Fitness, Home Workout on Google Play