In the age of digital innovation, architects and designers have powerful tools at their fingertips to turn visions into reality. Whether you're an aspiring architect, a seasoned pro, or just someone with a knack for design, the world of architectural design apps is here to revolutionize your creative process. From crafting floor plans to bringing 3D models to life, these apps offer a gateway to a world of endless possibilities.
In this review, we'll dive deep into a selection of architectural design apps that cater to professionals and enthusiasts alike. Whether you're sketching out your dream home, collaborating on a large-scale project, or simply exploring your creative boundaries, these apps have something special to offer. Join us on this journey as we unveil the features, functionalities, and unique advantages of each app, helping you choose the perfect tool to transform your architectural dreams into tangible designs. Without further ado, here are the architectural design apps!
Home Design 3D
Price: Free/In-App Purchase: Up to $19.99
Home Design 3D is an excellent architectural design app. This remarkable floor plan app offers an immersive experience with VR export capabilities, allowing you to step inside your designs. Whether you're remodeling, decorating, or creating from scratch, Home Design 3D has you covered.
Also, from 2D to 3D, adjust wall heights and thicknesses and resize rooms effortlessly. Customize interiors and exteriors with ease, thanks to intuitive tools. Editing objects on walls, duplicating favorites, and experimenting with sizes and colors is a breeze. Dive into a world of endless design possibilities with Home Design 3D.
Home Design 3D on the App Store
Magicplan
Price: Free/In-App Purchase: Up to $199.99
Magicplan is your go-to app for crafting and sharing floor plans, field reports, and cost estimates, and it ranks among architectural design apps. The app's flexibility allows you to work from anywhere, ensuring your projects are always on track. With measurements, 2D/3D sketches, photos, markups, and 360° views, Magicplan has it all. Accurate calculations, visuals, and contextual data reduce miscommunication. Seamlessly integrates with over 2,000 other apps for a comprehensive experience. Learn more on Magicplan's website.
---
Also Read: The 6 Best Apps to Measure Distance with iPhone and Android
---
Planner 5D
Price: Free/In-App Purchase: Up to $99.99
Planner 5D redefines interior design with augmented reality room visualization and a 3D room planner. Create stunning interiors for homes, offices, and more. There are no limitations on room selection, plan creation, or floor plan design. Users can modify completed projects effortlessly. The app allows users to add finishing touches with a variety of interior decor options. Edit in both 2D and 3D modes, and even build houses to your liking. Planner 5D speaks multiple languages and works offline, and it stands out among the architectural design apps. Explore the website of Planner 5D to learn more detailed information.
BIMx
Price: Free/In-App Purchase: Up to $49.99
BIMx revolutionizes architectural exploration on Android, and it deserves to be among the architectural design apps. This app offers dynamic access to Building Information Modeling (BIM) projects on your device. Users can dive into 3D models, explore building components, and immerse themselves in virtual environments. Streamline collaboration and design review among stakeholders for efficient communication. BIMx empowers architects and designers to bring their visions to life. Get started on your architectural journey with BIMx.
---
Also Read: The 5 Best Interior Design Apps
---
Construction Master Pro
Price: Free/In-App Purchase: Up to $39.99
Construction Master Pro is the ultimate feet-inches-fraction calculator for construction professionals. Trusted by carpenters and framers for over 30 years, it now comes as a handy app. Boost speed, accuracy, and productivity on your projects. Perform layouts, plans, bids, and estimates effortlessly. Work with various dimensional formats and tackle complex calculations. Explore trigonometric functions and much more. Make construction calculations a breeze with Construction Master Pro.
Construction Master Pro on Google Play
Construction Master Pro on the App Store
Polycam
Price: Free/In-App Purchase: Up to $499.99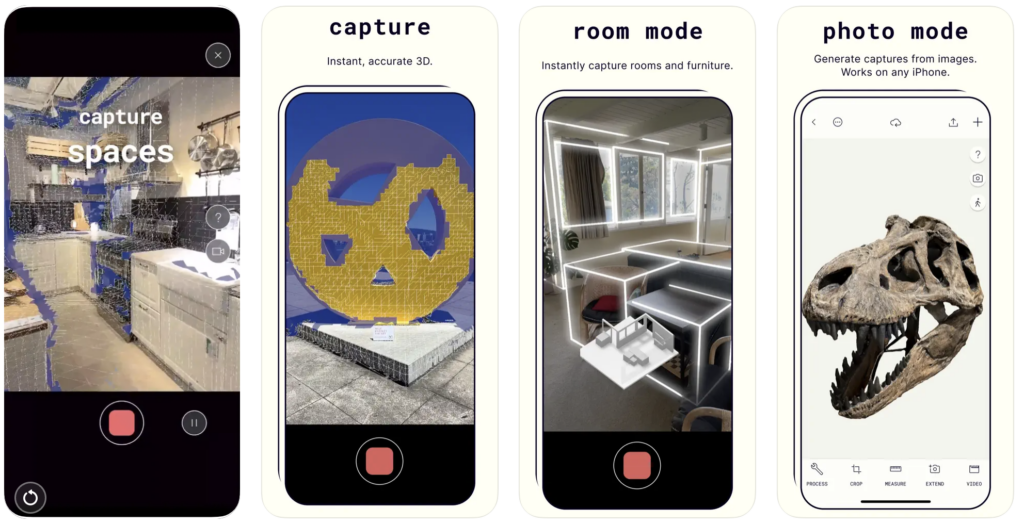 Polycam offers a groundbreaking 3D capture experience, empowering you to transform ordinary photos into intricate 3D models using advanced photogrammetry techniques, and it ranks among the architecture design apps. With a focus on detail, this app excels at scanning complex objects and scenes, resulting in ready-to-use 3D assets suitable for a wide range of computer graphics applications. Remarkably, Polycam's performance remains smooth on any Android device with 2GB or more of RAM.
Polycam also equips you with a suite of advanced editing tools to perfect your 3D captures. You can crop your 3D models for ideal composition, freely rotate them to examine them from every angle and rescale them to achieve the desired size.
In addition to its exceptional capture and editing capabilities, Polycam Pro enhances your workflow with versatile export options. You can export mesh data in various formats, such as .obj, .dae, .fbx, .stl, and .gltf, ensuring compatibility with your preferred applications. Furthermore, Polycam Pro allows you to export color point cloud data in formats like .dxf, .ply, .las, .xyz, and .pts. If you need blueprints, you can export them as .png images or .dae files. To learn more, visit Polycam's website.
---
Also Read: The 8 Best 3D Scanner Apps
---
Homestyler
Price: Free/In-App Purchase: Up to $99.99
Homestyler is the ultimate architectural design app, offering a seamless experience for planning, decorating, and furnishing your home or apartment. With its user-friendly online 3D floor planner, you can effortlessly bring your design ideas to life. This powerful tool simplifies spatial layout, room renovation, and redecoration, making interior design a breeze.

In addition, the app boasts an extensive library of 3D models, including furniture, décor, fireplaces, and more, letting you explore and select from a wide range of options. What's unique is the ability to find and incorporate real-world furniture from popular stores like IKEA, Target, and Crate into your designs. For a personal touch, you can upload photos of empty rooms and transform them into unique templates. Also, the AR design mode allows you to scan your surroundings and experiment with remodeling and redecorating right within the app. Go to Homestyler's website for more information.
AutoCAD
Price: Free/In-App Purchase: Up to $99.99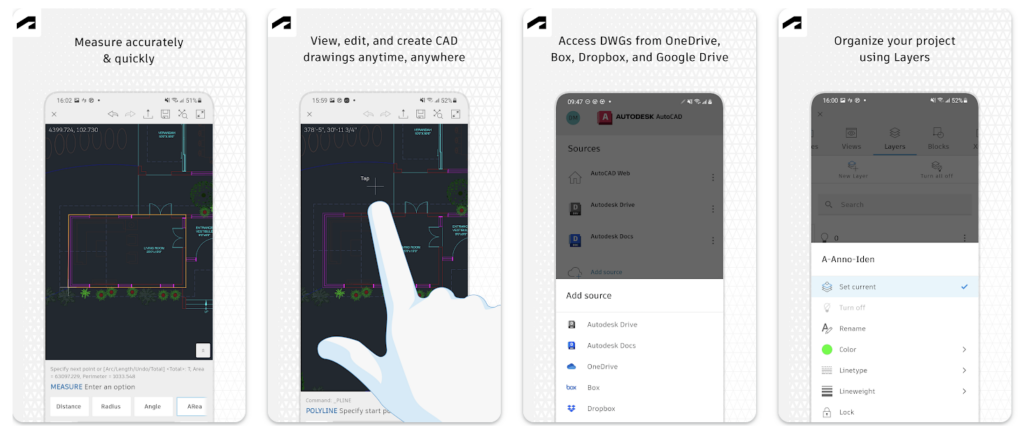 AutoCAD is a game-changer for architects, engineers, and designers, offering a versatile platform with an array of benefits. Its offline work capability allows for uninterrupted productivity, and secure drawing storage ensures your work is always accessible. Real-time collaboration minimizes errors, and the app's ability to replace traditional blueprints with digital drawings on mobile devices is a time-saving innovation.
Moreover, AutoCAD simplifies workflows by enabling direct access to DWG files from various cloud platforms. In terms of features, it excels with 2D file viewing, editing, and sharing, alongside robust tools for drafting, geometry editing, annotations, and measurements. Its layer management ensures organization, while block insertion streamlines design. Whether you're on-site or working remotely, AutoCAD's comprehensive feature set and seamless integration make it an indispensable tool for precision, efficiency, and accuracy in architectural and design projects.
---
Also Read: The 8 Best Home Buying Apps
---
3D modeling
Price: Free/In-App Purchase: Up to $34.99
The 3D Modeling App is a powerful architectural design app that unlocks creativity on your mobile device or tablet. With intuitive gesture controls, it allows you to effortlessly craft 3D models, art, CGI graphics, and even 3D games. This versatile app caters to professionals in various fields, serving as a 3D graphic design, builder design, engineering, and woodworking design tool. It's a boon for industrial designers, landscape architects, and automotive engineers who can use it for car design. Notably, you don't need a stylus pen for 3D pencil drawing, though it supports one if you prefer.