3D scanning is a technique used in many areas of life such as architecture, graphic design, art, construction, gaming, and more. 3D scanning with smartphones has become quite simple with the development of technology. In the past, a lot of equipment was required for 3D scanning, but nowadays, software developers are developing successful lidar apps. So which ones are the best? We have reviewed and listed the best lidar apps for you. If you're curious, keep reading!
3D ProBox
Price: Free
3D ProBox is an app that allows you to produce 3D models by scanning in 3D with high image quality and is among the best lidar apps. Users have access to opportunities such as taking/loading object photos, producing 3D models with high image quality, and making high-accuracy 3D measurements with 3D ProBox. The app allows up to a minimum of 20 and a maximum of 2000 photos. Users can make 3D scans with drones and cameras as well as mobile phones.
Also, 3D ProBox allows the publication of 3D models privately (confidential) or publicly. Users can save 3D model files as .glb, . gltf, .obj, and texture editing can be downloaded in .jpeg format.
Moreover, 3D ProBox includes building & decoration, furniture & home, graphic & design, gaming, developers, characters, e-commerce, art, people, fashion & style, cars & vehicles, places & travel, science & technology, film & cinema. and can be used in many more areas. Visit 3D ProBox's website to learn more.

3D ProBox on Google Play
KIRI Engine
Price: Free/In-App Purchase: Up to $194.99
KIRI Engine is a 3D scanning app to recreate real-life objects in 3D with artificial intelligence-based photogrammetry algorithms. Users can get a 3D scan by taking at least 20 photos from all over the object. The app processes photos to cloud servers, so they don't take up space on users' devices. Users can export with STL, OBJ, PLY, FBX, and more. Check out KIRI Engine's website for more detailed information about the app.
Polycam
Price: Free/In-App Purchase: Up to $499.99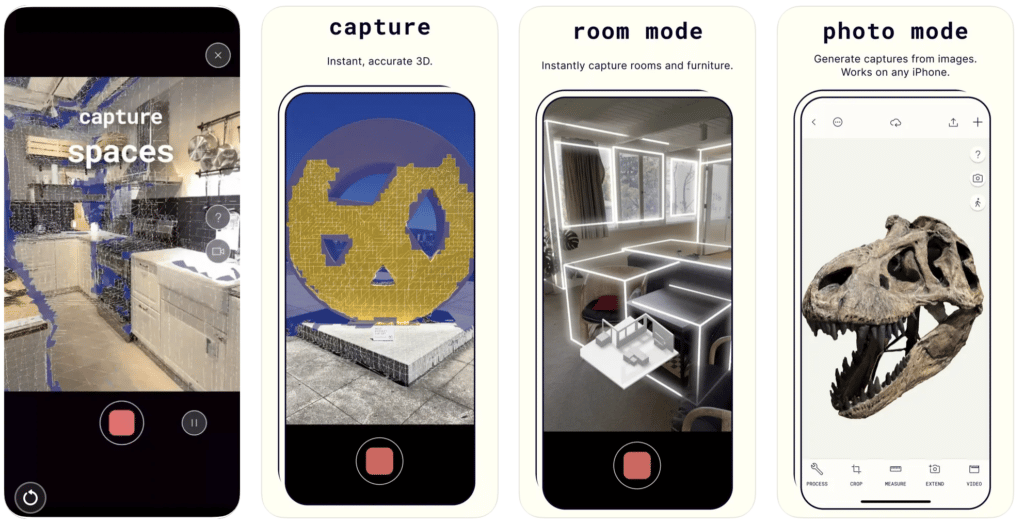 Polycam is a 3D capture app and is among the best lidar apps. Users can create high-quality 3D models in Polycam and view their 3D captures on the device. The app allows exporting and sharing with friends in more than a dozen file formats including .obj, .dae, .fbx, .stl, and .gltf.
Additionally, users can take photos in Polycam and convert photos into 3D models with photogrammetry. Polycam is a beneficial app for scanning detailed objects. Browse Polycam's website to learn more about the web.
---
Also Read: The 5 Best Interior Design Apps
---
Magicplan
Price: Free/In-App Purchase: Up to $199.99
Magicplan is a functional app appropriate for field use. Users can plan floor plans, site reports, and more in Magicplan. The app allows users to navigate and draw interior plans in 2D and 3D. Also, users can report and add notes, images, custom forms, and more with Magicplan. For more detailed information, check out the website of the app.
Revo Scan
Price: Free
Revo Scan is a handheld 3D scanner and is among the best lidar apps. Revo Scan is an app that is applied to Revopoint series products such as POP and POP 2. Users can perform 3D scans and model reconstructions. The app has six scanning modes including Dark, Face, Feature, Marker, Head, and Body. Revo Scan has two modes of texture matching, Colored and Colorless.
In addition, Revo Scan comes with two different scanning modes, fast scanning, and high-accuracy scanning. Users can access and edit all scan files through the model list in Revo Scan. The app supports OBJ, PLY, and STL formats for export.
---
Also Read: The 7 Best Graphing Calculator Apps
---
Widar
Price: Free/In-App Purchase: $4.99
Widar is a useful satellite that helps you scan and edit 3D models. Users can create high-quality 3D content with Widar and view it on their devices. The app allows 3D content to be played in AR and shared within the app. Widar can be used in fields such as games, movies, architecture, construction, AR, VR, 3D printing, and NFT. To learn more about the app, check out Widar's website.