In the fast-evolving landscape of construction, staying ahead requires not just grit but also the right tools. For contractors navigating the complexities of project management, communication, and on-site efficiency, the quest for the best apps is paramount. In this digital era, where every swipe can streamline tasks and enhance productivity, "The Best Apps for Contractors" emerge as indispensable companions for construction professionals. From seamless daily reporting to efficient production tracking and robust safety management, these apps promise to revolutionize the way contractors operate. Without further ado, here are the best apps for contractors!
Raken
Price: Free/In-App Purchase: Up to $79.99
Raken emerges as a game-changer in construction management, offering a robust set of features to optimize productivity. With a user-friendly interface, construction superintendents and foremen can effortlessly input job site information, update worker hours, and sync data to the office. Raken's comprehensive suite includes daily reporting, production tracking, time cards, toolbox talks, and checklists, providing a seamless solution for efficient construction field reporting. The app's offline mode ensures accessibility anytime, and its integration capabilities with various software solidify its position as an indispensable tool in the construction industry. It also stands out among the best apps for contractors. Visit Raken's website to learn more.
Fieldwire
Price: Free/In-App Purchase: Up to $499.99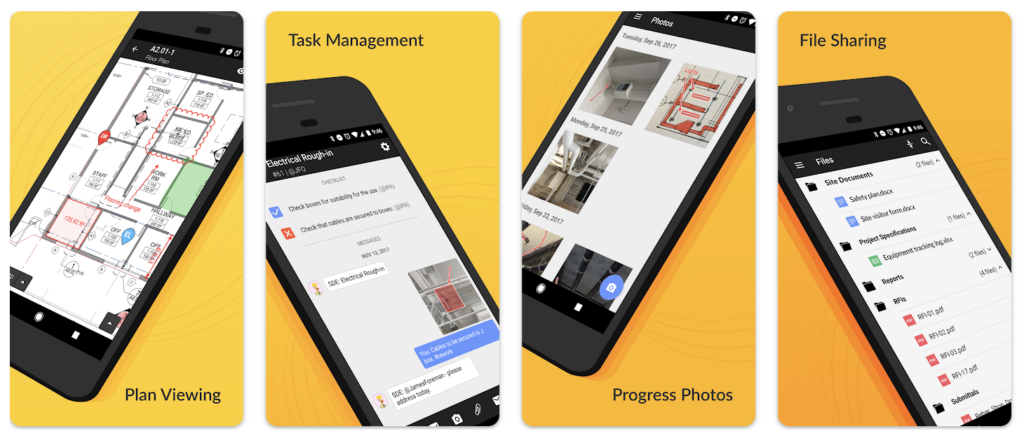 Fieldwire, the go-to construction management app, stands out with its user-friendly interface and comprehensive functionality. Trusted by over a million construction professionals, Fieldwire connects the entire field team, from project managers to specialty contractors' foremen, on a single platform. The app facilitates efficient drawing and blueprint management, lean construction scheduling, project management, building inspection, punch list tracking, and more. With offline capabilities, selective sync, and exceptional customer support, Fieldwire emerges as an essential tool for construction projects, ensuring real-time collaboration and streamlined operations. Go to Fieldwire's website to learn more.
---
Also Read: 9 Architectural Design Apps
---
Connecteam
Price: Free
Connecteam's employee app proves to be a simple, capable, and affordable solution for managing non-desk employees, and it deserves to be among the best apps for contractors. With an intuitive UI and versatile features, Connecteam enhances internal communication through live chat, work directories, posts, and updates. The app also excels in task management, checklists, forms, employee time clocks, and work scheduling. Offering easy access to files, searchable online libraries, professional courses, and quizzes, Connecteam empowers employees to enhance their skills. Whether you're a dentist clinic owner, administration manager, or project director, Connecteam ensures efficient communication and streamlined employee management. Browse Connecteam's website for more detailed information.
Procore
Price: Free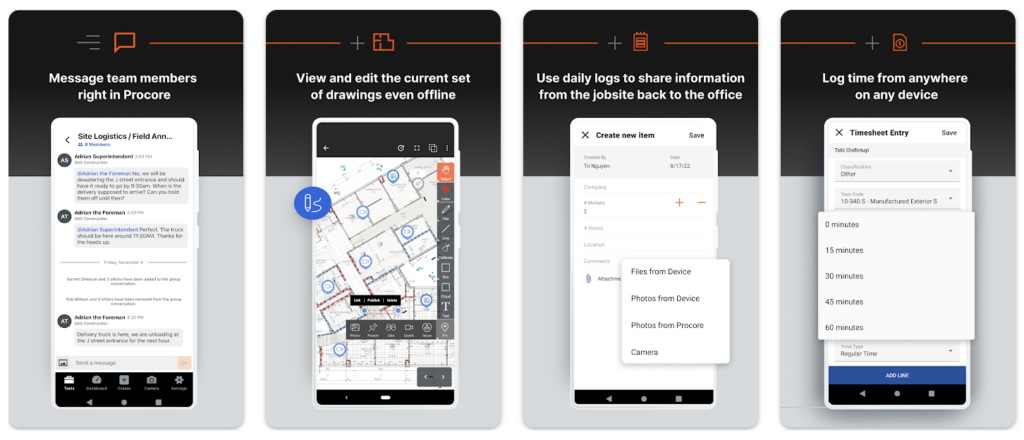 Procore, a leading construction management platform, connects millions of construction professionals globally, and it ranks among the best apps for contractors. With its field enablement tools, Procore ensures real-time collaboration between office and field teams. The app covers a spectrum of project management aspects, including drawings, daily logs, punch lists, RFIs, photos, documents, timecards, and more. Procore's quality and safety management solutions, along with its project financial features, make it a comprehensive tool for construction projects. Whether tracking project items, managing workforces, or ensuring project visibility, Procore proves to be indispensable for construction professionals worldwide.
---
Also Read: The 6 Best Apps to Measure Distance with iPhone and Android
---
Autodesk Construction Cloud
Price: Free/In-App Purchase: Up to $139.99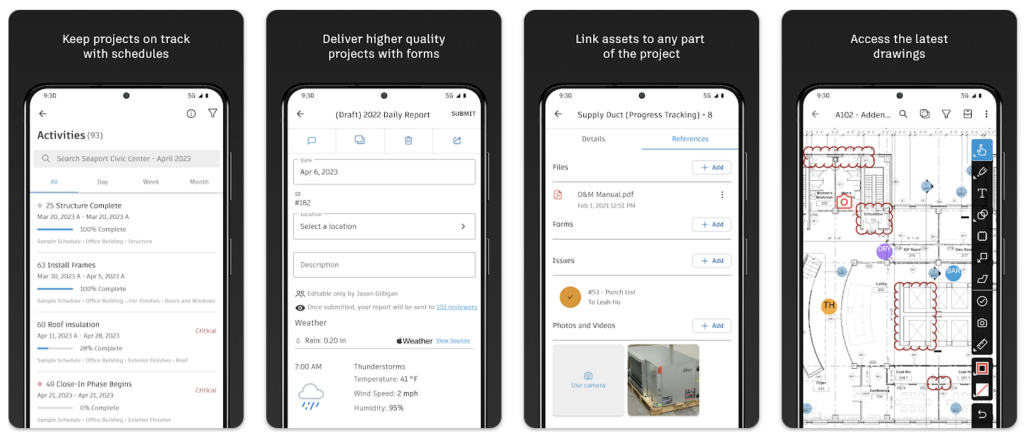 Autodesk Construction Cloud, the best-in-class construction management app, simplifies project management for teams across 2.5 million projects. Offering seamless automation, smart connections between tools, and comprehensive workflows, Autodesk Construction Cloud ensures quality construction projects on time and within budget. The mobile app brings together Autodesk's key tools, including Build, BIM Collaborate, Docs, Revit, Navisworks, PlanGrid, and AutoCAD, providing access to construction and document management, collaboration tools, and project data from anywhere. From construction collaboration to file management, quality control, and project financials, Autodesk Construction Cloud delivers an integrated solution for construction teams.
Autodesk Construction Cloud on Google Play
Autodesk Construction Cloud on the App Store
LetsBuild Aproplan
Price: Free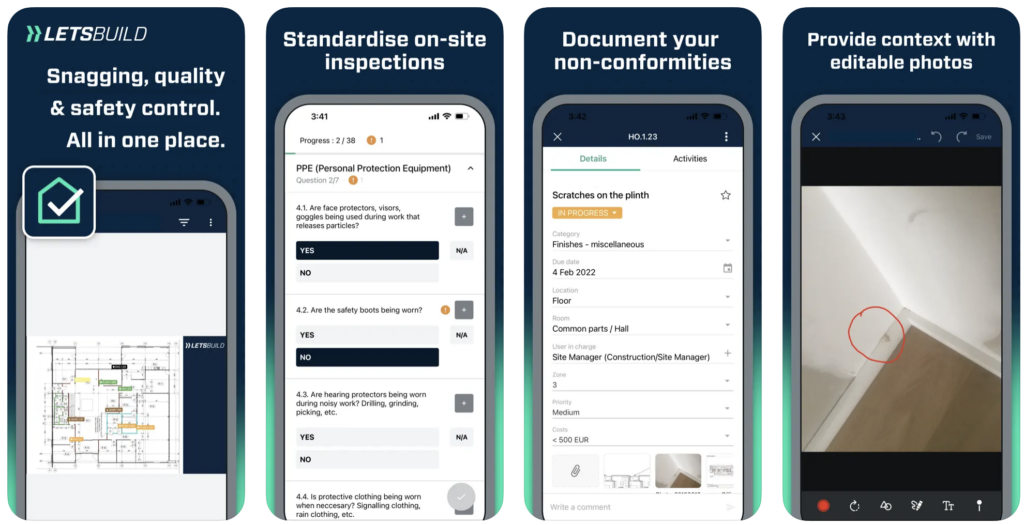 LetsBuild's Aproplan, a construction phase support app, enhances collaboration between site teams and offices. With real-time information sharing, Aproplan minimizes interruptions on construction sites by 60%. The app centralizes documents, manages quality control, simplifies site management, and ensures efficient communication. Whether you're an architect, engineer, project director, or subcontractor, Aproplan streamlines workflows and boosts project efficiency. With annotations and comments on plans, a digitized QHSE system, and standardized compliance processes, Aproplan proves to be a valuable asset for construction professionals, ensuring seamless collaboration and efficient project management. Explore LetsBuild's website to learn more.
LetsBuild Aproplan on the App Store
---
Also Read: The 5 Best Interior Design Apps
---
Construction Master Pro
Price: Free/In-App Purchase: Up to $39.99
Construction Master Pro, an award-winning feet-inch-fraction calculator, remains an essential tool for professionals seeking precision in construction calculations, and it is considered one of the best apps for contractors. With a proven track record of over 30 years, this app ensures accuracy and productivity on construction sites. Offering powerful built-in solutions for dimensional math and conversions, right-angle solutions, area and volume calculations, special functions, and app-enhanced features, Construction Master Pro is a must-have tool. Whether you're a carpenter, framer, or anyone working with dimensions, this app simplifies complex calculations, reducing errors and saving valuable time on construction projects.
Construction Master Pro on Google Play
Construction Master Pro on the App Store