While designing our living spaces, we can not decide between multiple ideas and designs. Most of the time we get confused and the result is not what we want. When designing our living spaces, we want them to be in the best way that appeals to our eyes. So, can we do this without professional help? The answer to this question is yes. While designing, many apps come to our aid at points that we cannot foresee. So which one is the best? We have listed the best interior design apps for you to enjoy reading while drinking your coffee or tea. Here are the best interior design apps.
Houzz
Price: Free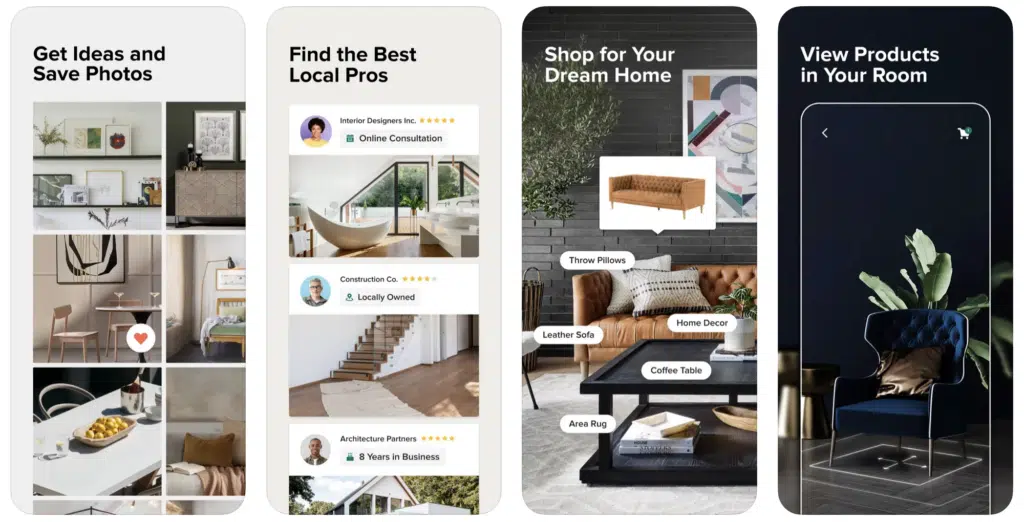 Houzz is an app that plays number one among the best interior design apps. Although it is the first decoration that comes to mind when Houzz is mentioned, Houzz also offers its users the opportunity of construction and renovation. The app has more than 25 million photos suitable for high-resolution decoration ideas for indoor and outdoor use. Save the photos of the decoration ideas you like or think your friend will like and share them with your loved ones.
Also, Houzz offers features like annotating and drawing photos. Read verified product reviews of your favorite products and get up to 75% off on featured deals. Another remarkable feature of this app is the Visual Matching technology, you can instantly find the photos of the products you like with the visual recognition technology. In addition, with the "3D View in My Room" option, you can see how your favorite products look in your room and express your creativity with the help of your phone or tablet camera.
Furthermore, Houzz's website is available to see more products and ideas together.
Chairish
Price: Free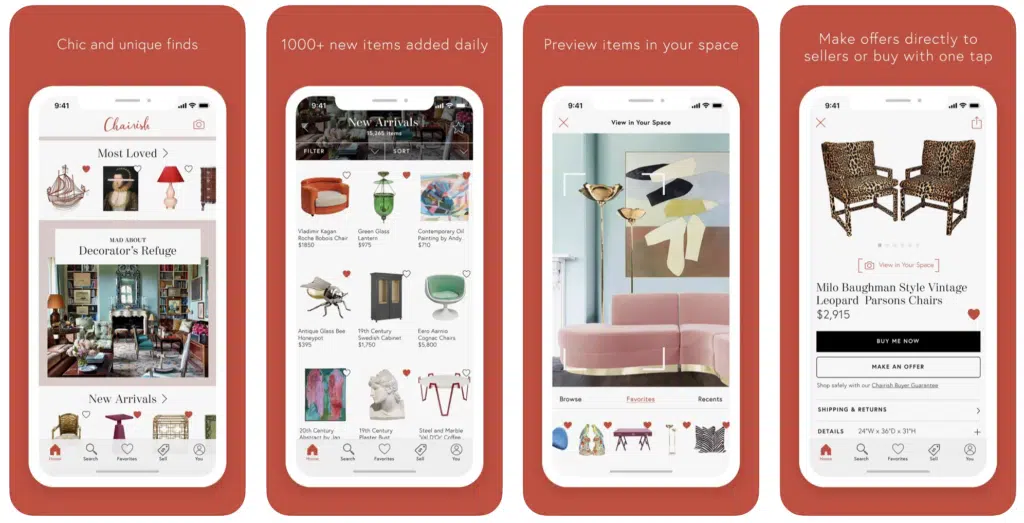 One of the indispensable apps of designers, Chairish brings together styles of Igne Roset, Knoll, Scalamandre, DWR, Stark, and Schumacher, Mid-Century Modern, French Modern, Hollywood Regency, Haute Bohemian, and many more. The Chairish app has made a name for itself with praise in famous architecture magazines such as Architectural Digest.
Moreover, the app allows sellers to effortlessly post items for sale. Users can bid on the products they want to buy and collect the products they like in one place. You can display extraordinary items such as a vintage lamp without the list price and sell them without any shipping problem.
Additionally, you can visit Chairish's website and see more design options.
---
Also Read: The Best Dog Training Apps for iPhone and Android
---
Havenly
Price: Free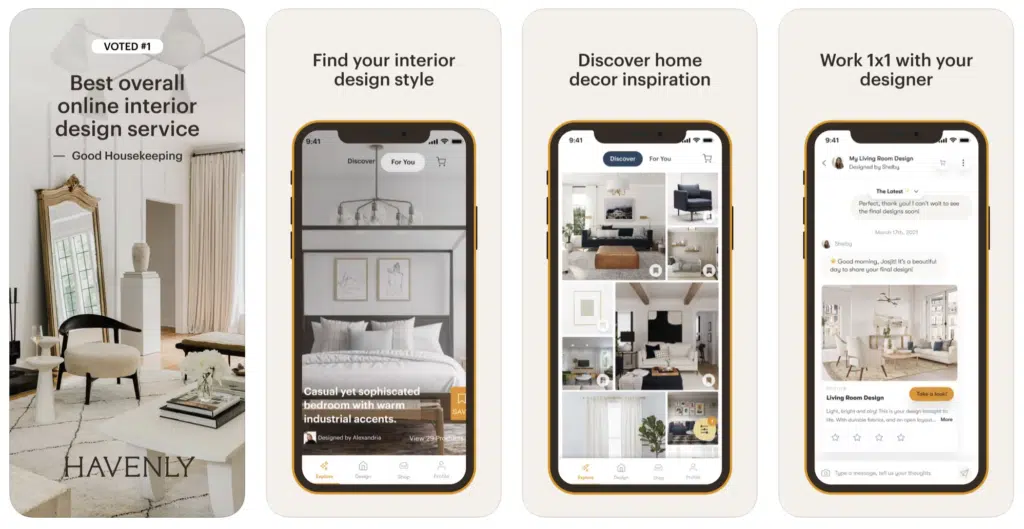 This app, which is only available in the App Store, is among the best interior design apps. Havenly offers users new ideas thanks to rooms designed by interior architects.
Get confused about so many design options? Here is the solution, take the Havenly style quiz and find your interior design style. Where the Havenly style test falls short, the app offers the opportunity to match with a team of talented interior designers and get professional help with design opportunities for every budget. Furthermore, Havenly provides easy access to new personalized design ideas with the widget. Also, see how your ideas will look in real life with 3D imaging, and don't take risks.
Moreover, you can visit Havenly's website to get more design support.
IKEA Place
Price: Free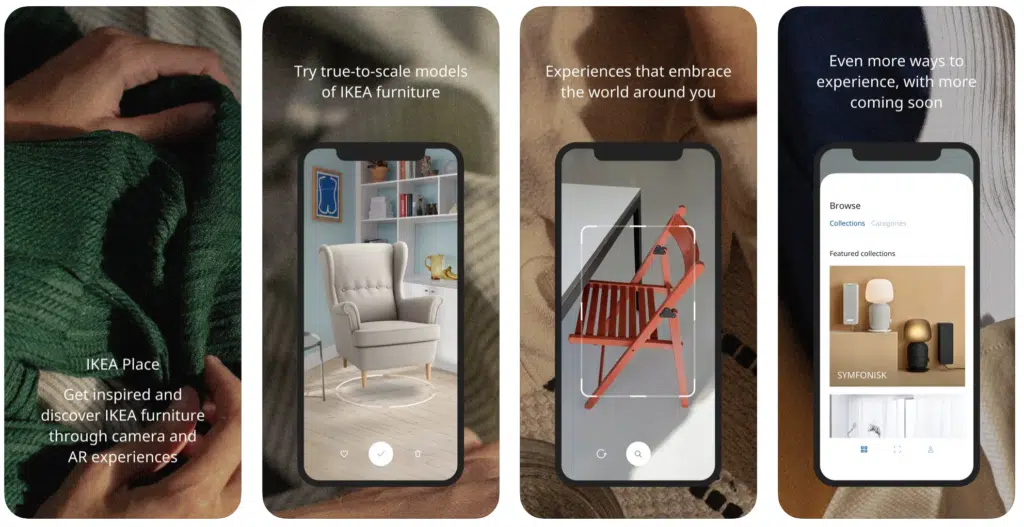 Today, no one can say that they do not know IKEA, a Swedish brand! IKEA Place is an iOS app only. In addition, Ikea, which attracts the attention of designers with its original designs, allows you to place it virtually in your own space with real-scale 3D models and AR technology. Recreate your entire room at the click of a button and enjoy designing with IKEA's unique products.
Also, you can visit IKEA's website to discover creative products and different designs.
---
Also Read: The 13 Best Interior Design Apps for iPad
---
Planner 5D
Price: Free / In-App Purchase ​​$6.99 – $89.99
Planner 5D is an interior design app where you can create beautiful designs with over 6723 decor items. View your selected products with the help of AR Room visualization or a 3D room planner. The catalogs offered in the app are updated regularly and the items can be customized. In this app, it is possible to plan the landscape design of the house for those who do not want to stay with only interior design. Moreover, language options such as English, German, French, Spanish, Italian, Portuguese, Russian, Japanese, and Chinese are available.
​​In addition, you can have preliminary information by looking at the website of the app.