As can be understood from the mummies tattooed in the Ancient Egyptian society in the 2000s BC, the tattoo tradition is quite old and dates back to BC. It dates back 30,000 – 10,000 years. Some societies consider it appropriate only to get tattoos on noble and heroic people, while others use it as a sign to identify criminals and slaves.
Also, in the absence of clothing, tattoos were used on the body to frighten wild animals and reveal leadership, power, and superiority in the tribe. These tattoos, whose meanings have changed according to communities and regions in the past, are used as a means of self-expression and storing memories in our bodies today.
Additionally, have you ever looked at tattoo design apps for inspiration for the design of the tattoo you will carry on your body for years? Get inspired or design, don't choose a tattoo without reviewing the best tattoo design apps for your style! We have listed the top tattoo design apps for you, here are the best ones!
Tattoodo
Price: Free/In-App Purchase: $29.99 – $79.99
Tattoodo is a fantastic app to discover tattoo inspiration and discover the best tattoo artists around the world to suit your style, budget, and location. The app helps you find and book the perfect local tattoo artist that fits your idea, style, budget, or location. By sharing the details and photos of your tattoo idea in the app, you can ensure that the app finds the most suitable artist for you.
Additionally, the app has thousands of tattoo photos, fonts, motifs, and designs, therefor whether your style is black & gray or realistic, you can find similar tattoo designs that fit your style. Also, tattoo lovers can save all the inspirational tattoos they like on their mood boards and share them with their friends.
Plus, browse the app's website for more info.
Tattoo Maker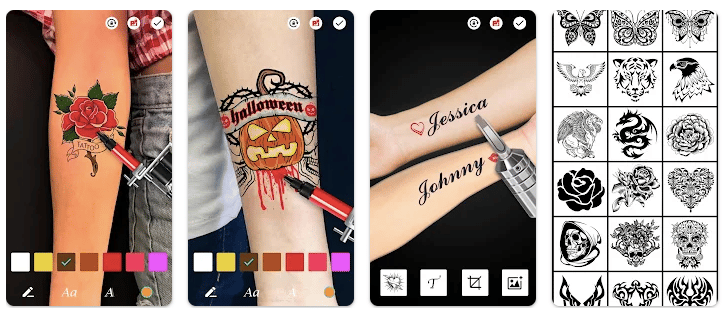 Price: Free/In-App Purchase:$3.49 – $3.99
How about designing your name on Tattoo Photos? Tattoo Maker allows you to use your tattoo ideas to create your tattoo art. Tattoo lovers can tattoo their photo and give it a tattoo look with Tattoo Maker. Also, Tattoo Maker has awesome tattoo designs like Love, dragon, fantasy, butterflies, animals, skulls, and wings, and lets you be inspired by Amazing Ink.
---
Also Read: Best Free Online Image & Graphic Design Tools
---
Tattoo Planet
Price: Free
Bringing tattoo enthusiasts and artists together in one place, Tattoo Planet is one of the best tattoo design apps. The app offers tattoo creations from artists around the world to tattoo lovers and helps you connect with top-notch local tattoo shops or independent artists. You can find inspiration for your next tattoo by following creative tattoo shops and talented artists with Tattoo Planet.
Additionally, the app offers promotions for local tattoo shops and exceptional artists and allows you to keep track of your upcoming tattoo appointments.
Tattoo Planet on the App Store
​​InkHunter
Price: Free
Wondering how your designed tattoo will look on your body? InkHunter offers its users a virtual tattoo experience with augmented reality. If you don't have a tattoo design of your own, you can try one from the app's gallery. The app offers a view of the tattoo from different angles. Thus you can reach exact results. Check out InkHunter's website for more information.
Soundwave Tattoos™ by Skin Motion™
Price: Free
How about turning your loved one's voice into a tattoo where you can listen to your pet's voice, your favorite song, or any sound you want? Skin Motion is a patent pending augmented reality app and one of the best tattoo design apps with its extraordinary style.
Additionally, the app is quite simple to use, you can create your Soundwave Tattoo by uploading your Voice to SkinMotion.com and using the Skin Motion app to play the sound.
Moreover, the app offers information on a Skin Motion licensed tattoo artist trained to make Soundwave Tattoos.
Soundwave Tattoos™ by Skin Motion™ on Google Play
Soundwave Tattoos™ by Skin Motion™ on the App Store
---
Also Read: The 7 Best Drawing Apps for iPad
---
Tattoo Font Designer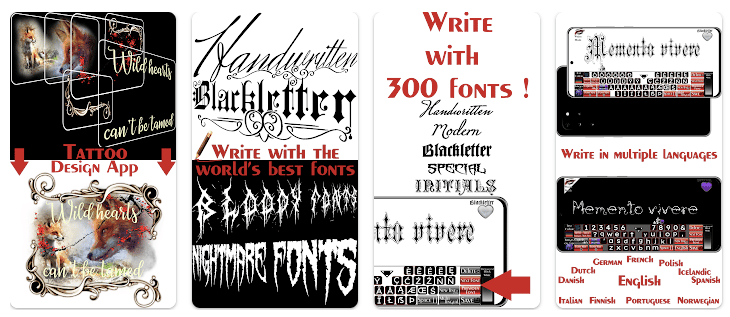 Price: Free/In-App Purchase: $9.49
Tattoo Font Designer is an app that lets you create a tattoo with fonts and is magnificent for calligraphy. The app, which allows you to make great pictures without the need for a pen, has training videos, therefore you can make art extremely fast. Also, you can explore tattoo ideas in the app and get inspired.
Furthermore, the app has precision brushes in layers and allows you to create extraordinary digital drawings. You can save your designs on your phone and share them with your loved ones.
Tattoo Font Designer on Google Play