In this article, we have brought together the best drawing apps for iPad that will allow you to make more creative and detailed drawings by using your imagination.
Procreate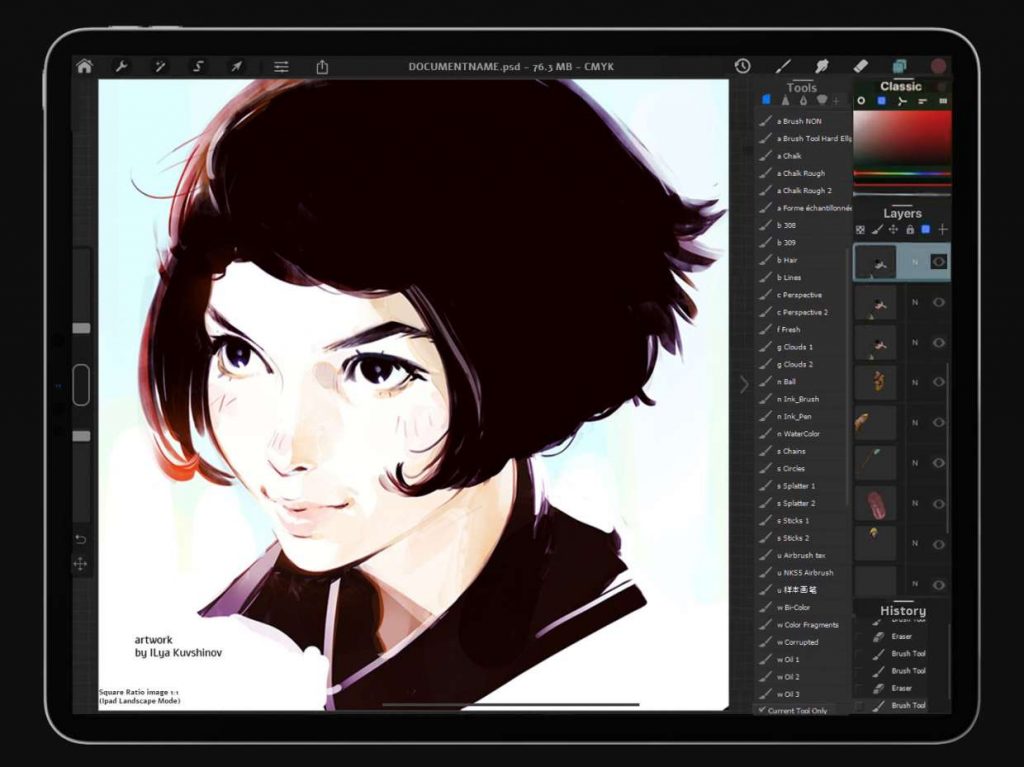 Price: $12.99
Procreate is a drawing app for iPad designed with the needs of professionals in mind and works in perfect harmony with the Apple Pencil. In addition to over 200 handcrafted brush models, the app with a very simple user interface comes with an advanced layer filter.
Using Procreate, you can create sketches, rich paintings, illustrations as well as animations. Its powerful multi-touch gestures make it easier for professionals and artists to keep creative workflow at maximum efficiency.
Having features including dual texture brushes, alpha locks, highly responsive smudging tools, blend mode, and clipping masks, the advanced drawing app also allows you to save your work in PSD, native .procreate, TIFF, transparent PNG, animated GIF, MP4s, multiple PDF page and JPEG formats.
Procreate also supports high definition canvases up to 16k by 4k on iPad Pros. It also provides 250 levels of undo and redo.
App Store: Store Link
---
Also Read: The 7 Best Note Taking Apps for iPad
---
Adobe Fresco

Price: Free
Adobe Fresco is one of the best drawing apps for iPad, for both professional artists and beginners. 
The app provides more than 50 Photoshop brushes and vector brushes as well as Live Brushes to deliver a natural painting and drawing experience. Using the app, you can work with vector and raster brushes and work with watercolors and oils on the same canvas. You can also access your custom brushes via Adobe Capture or other libraries.
If you have projects on Adobe Illustrator Draw or Adobe Photoshop Sketch, Adobe Fresco allows you to migrate your works automatically. You can also export your files as PNG or JPG.
It is free to download and use Adobe Fresco but it also offers a premium version that has 100GB of cloud storage, an expanded library of over 1,000 brushes, brush import feature, and more.
App Store: Store Link
Inspire Pro

Price: $9.99
Featuring one of the fastest and most realistic rendering engines and providing a fluid and natural drawing experience, Inspire Pro is one of the best drawing apps for iPad. The app features 150 high-quality brushes to choose from, divided into 15 sets and more than 20 different settings to customize brush strokes.
Using the app, you can create a canvas of any size up to 16K. The app also has full-fledged Apple Pencil support for pressure, tilt angle, orientation, and double-tap. There is also 1000 levels of undo and redo in the app.
App Store: Store Link
---
Also Read: The 10 Best Apps for Apple Pencil
---
Linea Sketch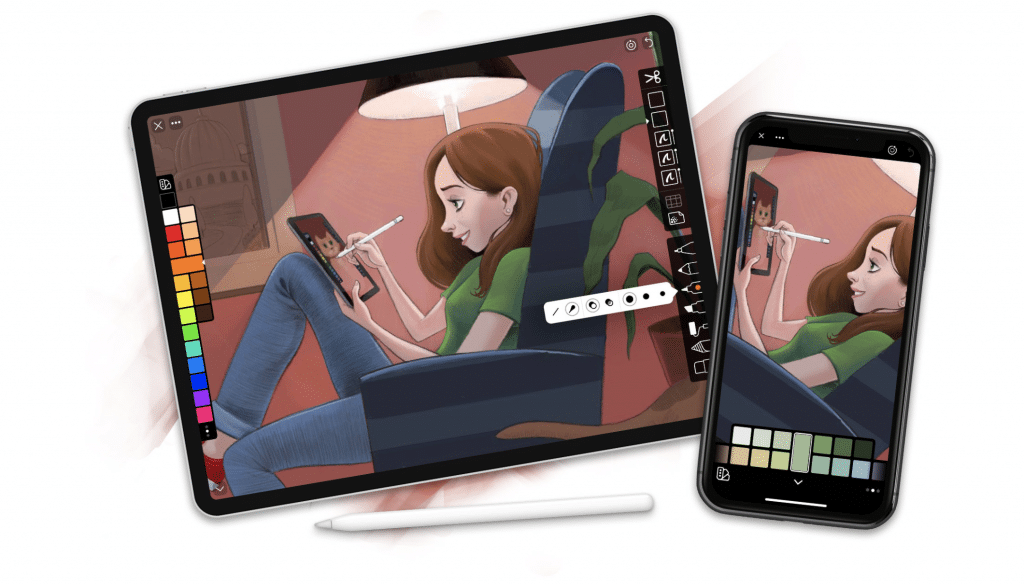 Price: Free
Linea Sketch is a drawing app for iPad that is extremely easy to use and allows you to take notes with your handwriting as well as drawing, prototyping an app interface, and storyboarding. The app is optimized for Apple Pencil and the gesture control experience is pretty good.
The feature that distinguishes Linea Sketch from other drawing apps for iPad is its structure that allows you to create perfect shapes and suggest matching colors for the shapes you have already created. You can save your work as PSD, JPG or PNG with the app that also has layer support and split screen feature.
App Store: Store Link
Paper by WeTransfer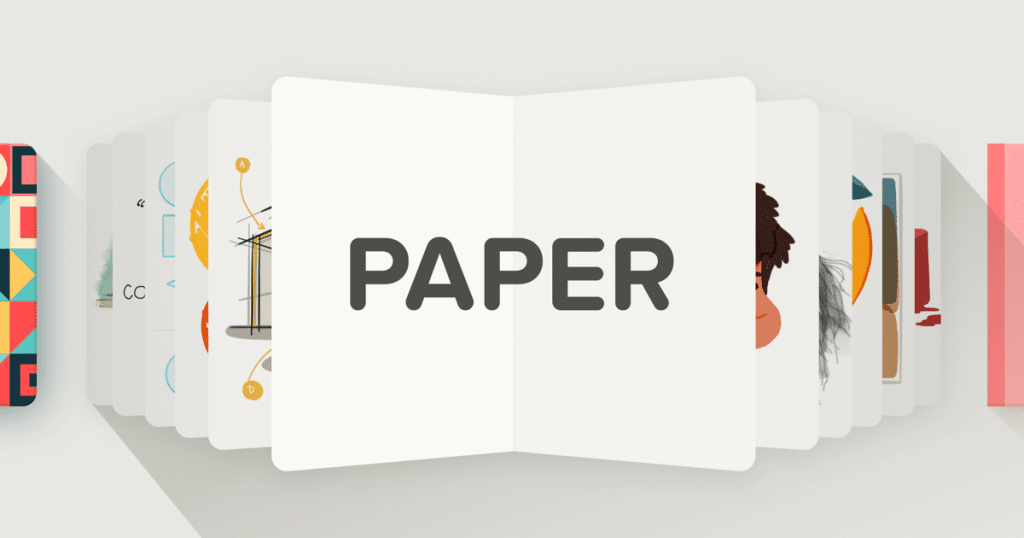 Price: Free
Paper, one of the most preferred apps by those who use iPads for drawing purposes, is a free drawing app for iPad. The interface of the app is very simple and extremely easy to use. The drawing app, which is quite sufficient in brush and color options, has adequate features to make drawing sketches.
Paper, which is one of the most downloaded art apps in the App Store and received lots of positive reviews, actually appeals to everyone who likes to draw with its basic tools for outlining, writing, and drawing, guides and how-tos, and layer support. The app also includes many templates and it is possible to develop your drawings and notes on these templates.
It is a free app but you need to subscribe to the Pro package to get the most out of it. The Pro subscription costs $7.99/mo or $11.99/year.
App Store: Store Link
---
Also read: The 5 Best Alternatives to Photoshop for Photo Editing
---
Autodesk Sketchbook

Price: Free
With Autodesk Sketchbook, you can produce a wide range of drawings from 3D drawings to anime characters. Supporting JPG, PNG, BMP, TIFF and PSD formats, the free drawing app also lets you create fully functional layers, allowing you to achieve more professional drawings.
The app has an extremely simple user interface and it supports Scan Sketch for the new iPad and the new Apple Pencil, which has double-tap functionality.
Autodesk Sketchbook has dozens of brushes as well as intuitive motion detection and Copic Color color library.
App Store: Store Link
Sketch Club

Price: $3.99
Sketch Club is a drawing app for iPad with a great set of tools for creating digital artworks. The app provides a unique set of flexible digital brushes, pens, vector tools, layer support, and procedural tools.
Sketch Club has many settings to customize the app to your own unique preferences including customizable shortcut bar and configurable color themes. It also offers horizontal, vertical, and dual mirroring modes.
Canvases can go up to 16K with presets including standard 300 DPI print sizes. It also supports canvas recording and export in full 1080 HD.
A great feature of this app is that it has an integrated online community. Here you can upload your sketches to allow others to rate and comment on your work, as well as participate in daily challenges and fun weekly competitions.
App Store: Store Link