There are a lot of multiplayer game alternatives on the App Store in different genres.The increasing number of alternatives can make it even more difficult to find a game that everyone in a friend group can love in common. Here are the best multiplayer iPhone games of 2021 for the ones looking for games to play with friends.
Zarta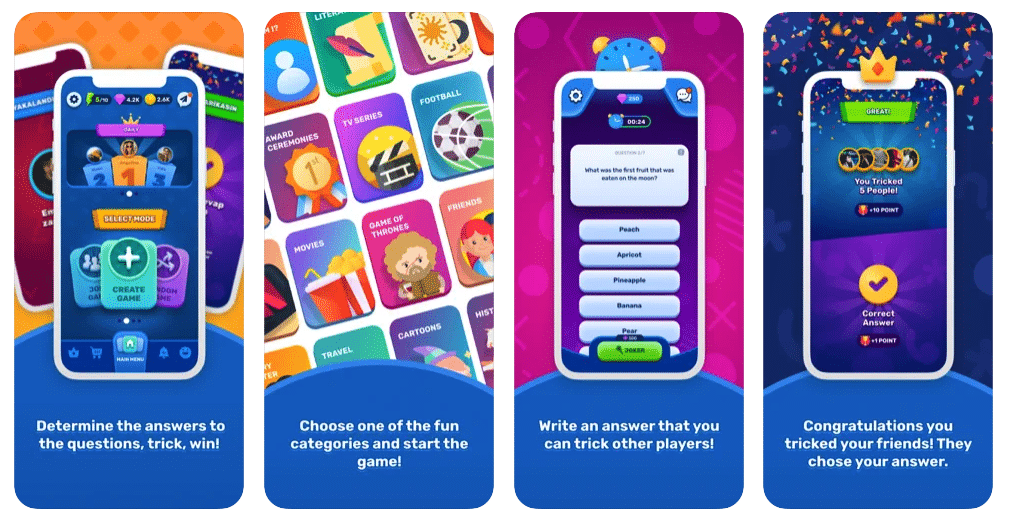 If you want to improve your general knowledge while having a good time with your friends, Zarta is one of the best houseparty trivia games that provide you both. In Zarta, your goal is to trick your friends with misleading answers to the questions and collect the highest score.
You can choose from more than 10 different question categories such as music, history, art, and entertainment, invite your friends, and have a pleasant time at Zarta during class breaks, in the evenings or during a coffee break at work.
App Store: Store Link
Words With Friends 2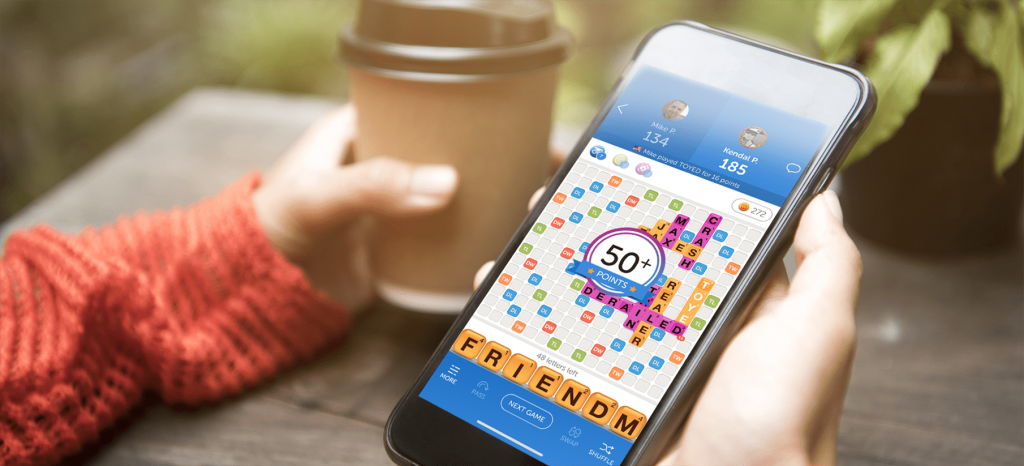 If you are a group of friends who love word games and puzzles, Words With Friends might be the multiplayer game that you and your friends are looking for. In Words With Friends 2, published by Zynga, you can create a word game to challenge your friends and family members, or you can use Smart Match to find your perfect opponent.
The multiplayer iPhone game provides daily, weekend, and weekly goals to earn keys and unlock exclusive collectible rewards. You can also try its Solo Challenge mode to play against themed WordMaster characters to test and improve your spelling, vocabulary and word skills.
App Store: Store Link
Battle Bay
You will enter sea battles in Battle Bay, a MOBA type war game prepared with colorful and fun graphics. The iOS multiplayer game, in which you manage cute and powerful ships of many different genres, allows you to play with friends or new people and increases the spirit of challenge between players through the leaderboard.
You can host a competition with your friends and guild mates in Custom Battles by creating a lobby and inviting up to 10 friends into 2 teams, plus up to 5 spectators. You can either play your own 5v5 tournaments or prove your skills in 1v1 duels.
App Store: Store Link
---
Also Read: The Best Pokemon Games for iOS
---
Roblox
Roblox, a mobile RPG that you can play with your friends, is one for those who expect fun and adrenaline from a multiplayer game. Due to its nature, you can discover new places and features in the world of Roblox with your friends, and due to the nature of the RPG, you write your own story.
App Store: Store Link
Brawl Stars
Brawl Stars is a popular 3v3 multiplayer hero shooter and battle royale game that allows users to play with friends or solo across a variety of game modes. Supercell's popular game has become the developer's latest title to surpass $1 billion in lifetime revenue.
App Store: Store Link
Shadowgun Legends
Shadowgun Legends is an FPS (first person shooter) game that adopts PvP and Co-op game modes. The collaboration elements in the game are similar to the game Destiny, which has been mentioned a lot on computers and consoles.
In the game, you can join forces with friends and defeat giant enemy bosses for glory and legendary loot.
App Store: Store Link
Zooba
Combining the traditional war games we are used to with the MOBA genre, Zooba adapts all competition to the animals in a zoo. This multiplayer game, which we encounter with the traces of the Battle Royale genre, is one of the titles you should consider if you are looking for fun with your friends.
App Store: Store Link
---
Also Read: The 10 Best Offline Games for iPhone
---
Soul Knight
There is only one purpose underlying the fantastic elements that Soul Knight hosts: to destroy everything that moves in your way, except for the friends you take with you.
There are numerous enhancement options in the game. New weapons and new enhancement items are placed in random places on the map each time you skip a level. If you want to team up with your friends, you can join up to three people.
App Store: Store Link
The Greedy Cave 2
The Greedy Cave 2 belongs to a genre called "roguelike". "Roguelike" type games can be described as turn-based role-playing games with 2D graphics. The Greedy Cave 2 collects these mechanics in a mobile game that you can play with your friends.
There are many dungeons in the game that you can enter with your friends and clean. All dungeons are randomly generated. There are "boss" fights that has various skills and will diversify the gameplay.
App Store: Store Link
Among Us
With Among Us, one of the most talked about games of recent times with more than 500 million monthly active users, you can play games with up to 5 to 10 friends at the same time.
Working as a team and finding the spy among you is your most important task. If you are a spy you have to act like a member of the team. It is included in our list as one of the best iOS multiplayer games that you can play together while away from your loved ones.
App Store: Store Link
Heads Up!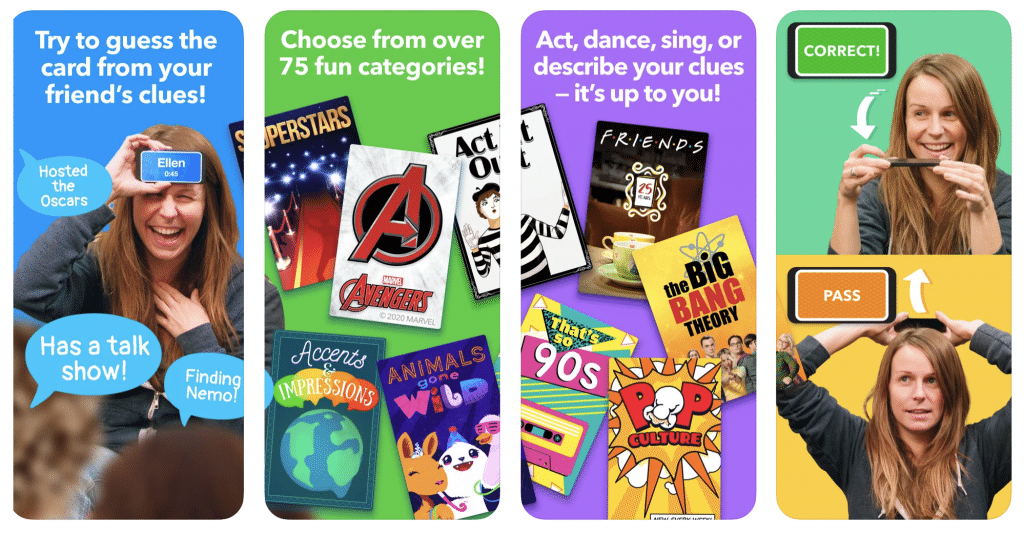 Heads Up! is a fun charades game that provides more than 75 game categories to pick from. In this multiplayer game, from naming celebrities, to singing, to silly accents, you guess the word on the card that's on your head from your friends' clues before the timer runs out.
App Store: Store Link