Supercell's Brawl Stars becomes the developer's latest title to surpass $1 billion in lifetime revenue, according to Sensor Tower.
The popular multiplayer game generated approximately $526 million from user spending in 2020 with a 27.5% year-over-year growth joining the list of billion-dollar games of the Finnish mobile game developer Supercell which includes Clash of Clans, Clash Royale and Hay Day.
---
Also Read: The 10 Best Multiplayer Games
---
While Brawl Stars was the developer's fastest growing title in 2020 which is largely thanks to its release in the Chinese market, Clash of Clans surpassed the game in terms of revenue generating $681 million from player spendings.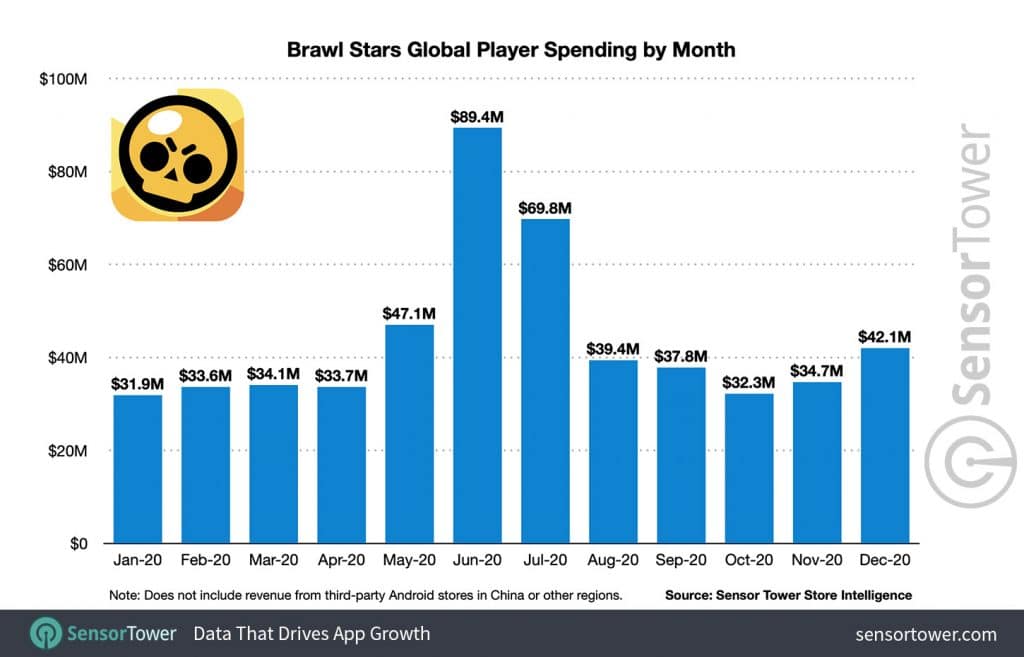 June 2020 was the most profitable month for the title when it was launched on the Chinese App Store and Brawl Stars hit $89.4 million with a 90% monthly increase. The Chinese market accounted for 52.6%, or $47 million, of the total monthly revenue.
U.S. player spending in Brawl Stars surpassed $143.5 million
According to Sensor Tower, the U.S. mobile players have spent $143.5 million in Brawl Stars so far, followed by South Korea at No.2 with $138.5 million, and China with $100 million.
While Apple's App Store accounted for $521.6 million, or nearly 52%, of Brawl Stars's total revenue, Google Play Store generated $490.6 million.
Meanwhile, outside of the Chinese market, Google Play Store generated 53.8% of the global revenue while the App Store accounted for the remaining 46.2%.
Brawl Stars hit 265 million global downloads
Sensor Tower also found that Supercell's rising title Brawl Stars has generated 265 million global downloads so far. Russia generated nearly 30 million, or 11.3%, of the total downloads, followed by Brazil with 24.3 million and Turkey with 19 million installs.
While Google Play Store accounted for 196.5 million, or 74.2%, of the total downloads, Apple's App Store generated the remaining 68.4 million.