Trending game creation app Roblox has surpassed $2 billion in mobile player spending as it's preparing for an initial public offering, according to the recent data by Sensor Tower.
Roblox mobile user spending reached $500 million in its first 7 months and hit $1.5 billion in May 2020, when the app generated around $113 million with a 300% YoY increase largely thanks to the growing number of mobile users looking for apps to spend time under lockdowns.
During the 5 months after May 2020, Roblox generated another $500 million and surpassed $2 billion in user spending on mobile alone.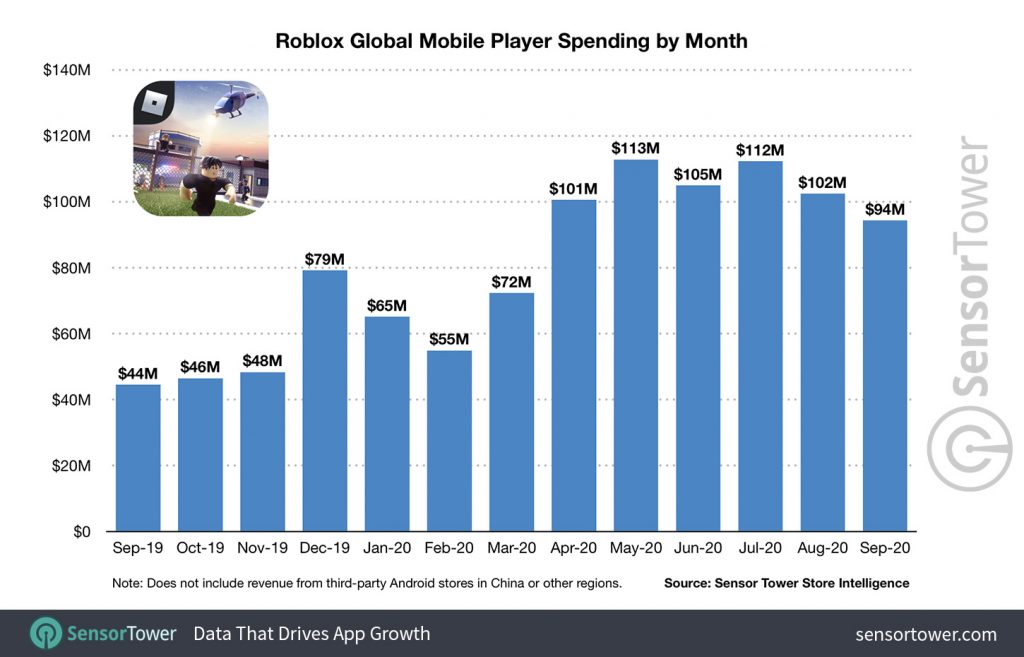 Sensor Tower data shows that Roblox is the top grossing Simulation app in the United States where it generated over $535 million between the first and the third quarter of 2020. It was followed by Township from Playrix with $119 million and Klondike Adventures from Vizor with more than $80. Mojang owned Minecraft and Jam City owned Harry Potter: Hogwarts Mystery were the top 5 titles in the Simulation category during Q1 and Q3 2020.
The U.S. has also been the most lucrative market for Roblox when it comes to its global lifetime revenue, making up around 65% or $1.3 billion of the total revenue, followed by the United Kingdom at No.2 with $161 million (8%) and Canada at No.3 with around $81 million (4%) in user spending.
---
Also Read: Over Half Of US Kids And Teens Under 16 Play Roblox
---
Apple's App Store accounted for nearly $1.5 billion or 73% of the total player spending so far, while Google Play Store accounted for $545 or 27%.
Roblox has been downloaded around 129 million times in 2020 and 437 million times on mobile so far. Again, the United States ranks number 1 with 113 million downloads or 26% of the total downloads, followed by Brazil with nearly 48 million (11%) and Russia with around 24 million (5.5%).
Google's Play Store accounted for over 328 million Roblox downloads (75%) while Apple's App Store accounted for close to 109 million downloads (25%).